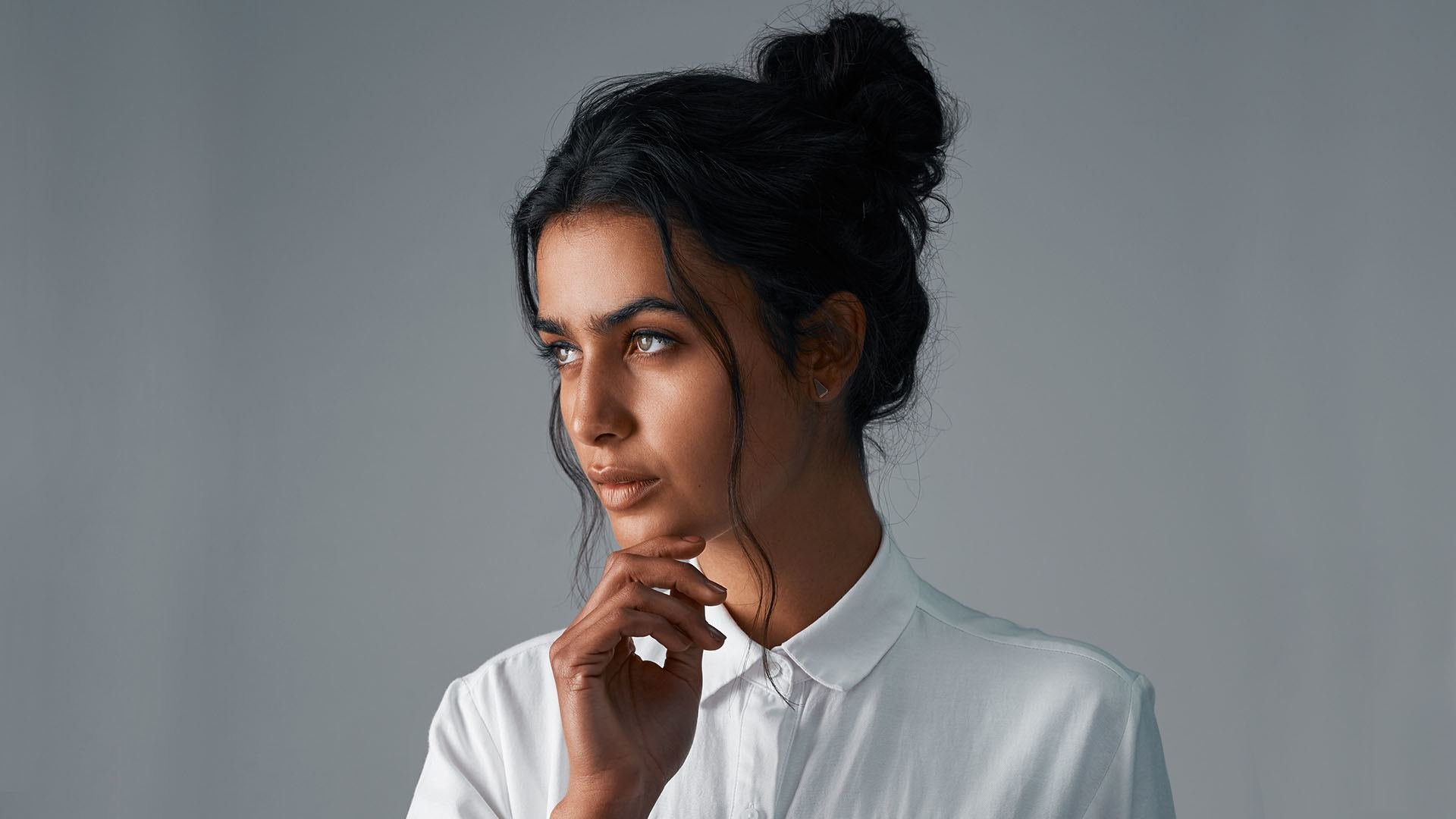 hairstyle trends
23 Hairstyles For Hiding Greasy Hair
We've all been there: Instead of following through with a regular shampoo routine, you skip a few days and find yourself dealing with greasy locks. While it can be a pain to tackle, it doesn't mean that all is lost on the hairstyling front. If you're in a lazy rut or are all out of dry shampoo, there are a myriad of hairstyles that can tide you over.
The possibilities for concealing your oily hair are vast, and for anyone looking for a quick and stylish fix, we're rounding up everything from chic updos to half-up styles. Below, we're sharing the 23 best hairstyles for greasy hair that will help disguise your soiled strands perfectly.
1. MESSY BUN
A messy bun is a fabulous option for those who are not too skilled at styling their locks. It's not labor-intensive to execute while also appearing chic. Plus, it hides those greasy locks seamlessly, since your strands are pulled upward on your head and away from your face. And it's rare to find anyone who it looks bad on. Head on over to our article, How to Create a Messy Bun, for a step-by-step tutorial.
2. LOW BUN
The low bun offers an elegant and polished finish. This stylish number also keeps your hair looking smooth at all angles for an overall winning look. Start by gathering all of your hair at the nape of your neck and pull it into a low ponytail. Roll the length around its base to form a bun. Secure with bobby pins to hold the style in place.
3. DOUBLE DUTCH BRAIDS
Speaking of plaits, double Dutch braids make for a solid pick. This trendy hairstyle keeps your strands stylishly tucked away and disguises second-day hair or greasy strands. It's a nice change of pace from other braided 'dos that require a ton of time standing in front of the mirror to style. Click through to our article, How To Dutch Braid Your Hair, for all the deets on creating this woven masterpiece.
4. DOUBLE DUTCH LOW BUN
As you can see, we have a thing for bun hairstyles. Another one on our radar—which happens to be fantastic at concealing greasy hair—is the double Dutch low bun. This style pairs a beautiful woven pattern with an edgy updo for a statement-making finish.
Kick things off by splitting your hair with a middle part and clip one side out of the way. Grab three equally-sized sections at your hairline and weave a Dutch braid. When you reach the nape of your neck, secure it with a hair elastic. Repeat the process on the other side. Once your Dutch braids are in place, combine the ends of both braids together and twist it into a bun. Secure flyaways and loose strands with bobby pins, and your look is complete.
5. SLEEK SIDE BUN
The sleek side bun is another hairstyle that can do your greasy mane justice. We also love that it's different from the everyday bun style you've grown accustomed to thanks to its asymmetrical vibe. All you need is a touch of hair gel, and it will be difficult to tell that you're working with unwashed hair.
To start, simply add a bit of hair gel, like the L'Oréal Paris Studio Line Clean Gel to your roots. Brush your hair toward either side of your head. Secure your strands with a side ponytail and twist the length to create a bun. Feel free to add a few pins into the mix to achieve the ultimate sleek style.
6. SPACE BUNS
If you're like us, then you're always looking for ways to spice up your beauty look. There are a variety of bun styles out there, and space buns continue to reign supreme. It's a playful and carefree option that masks your greasy locks without any fuss. Score an out of this world hairstyle by reading our article on How To Do Space Buns.
7. BRUN
The brun hairstyle is one in which the stylish braid meets the classic bun. This hairstyle will come to the rescue for anyone looking to rock an intricate-looking style without the fuss. Visit our article, Braid Meets Bun: How to Get a Brun Hairstyle, to discover more about this head-turning look.
8. SIDE BRAID WITH HEADBAND
Consider the side braid with a headband as a quick pick to jazz up your greasy locks. The super-pretty style features a classic side plait with a crowd-pleasing headband. To DIY, brush your hair toward either side of your head, gather three equally-sized strands, and weave away. Once you reach the ends, secure with a hair tie. Place a glitzy headband of choice on your head. Easy!
9. HALO BRAID
Whimsical hairstyles give your mane a romantic touch, and the halo braid falls right in line. It's a classy option that's playful, sassy, and keeps your hair off of your face. Check out our article, Look Like an Angel: Halo Braid Tutorial, to master the trend.
10. FISHTAIL BRAID
Now that we have classic styles on the top of your mind, let's not forget about the Pinterest-worthy fishtail braid. This look consists of an intricate braiding technique that provides your hair with a chunky, yet eye-catching style. For some pointers on how to create this look yourself, read our article: How To Do a Fishtail Braid.
11. FISHTAIL PONYTAIL BRAID
A fishtail ponytail can add some pizzazz to your strands. Consider it as having the best of both worlds: a chic fishtail pattern married to a totally functional updo. The style may seem like a difficult one to master, but it's actually pretty easy to DIY.
Try it at home by pulling your strands into a ponytail as you normally would. Next, split the length of your ponytail into two even sections. Take a tiny amount of hair from the outer edge of one section and cross it over to the other side. Continue switching back and forth between sections until you reach the end of your hair.
12. FRENCH BRAID WITH HEADBAND
Plaited hair looks are right on-trend, and the tried-and-true French braid is no exception. The French braid is an elegant and stylish number that's fit for a celebratory occasion. Adding a headband to the look gives it a flattering, face-framing element. Visit our article, Braiding Basics: How To French Braid Your Hair, to give your greasy hair a graceful vibe.
13. SLEEK PONYTAIL
It may seem like an obvious option, but that doesn't mean you shouldn't try the sleek ponytail. It's a versatile style that is all about creating a smooth finish for a fresh-out-of-the-salon look. It's also a modern option that works for the office or enjoying a girl's night. Click through to our article on How To Create a Sleek Ponytail to get started.
14. CLASSIC BRAIDED PONYTAIL
Hairstyles for greasy hair don't have to be complicated, and the braided ponytail makes a snazzy case for the fact. Pulling your hair back is a foolproof method for masking grease, and the woven detailing adds an unexpected touch that works in your favor. We also dig that you can style this look in a few minutes. Start by fastening your hair into a ponytail. Separate your hair into three equally-sized sections and create a three-strand plait. Secure the end of the plait with a hair tie.
15. BUBBLE PONYTAIL
The bubble ponytail will add a fun vibe to your strands and elevate your ponytail style. This fabulous style revamps your look and flaunts the ponytail aesthetic you love with a volumized spin. Check out our article, How To Create the Perfect Bubble Ponytail, to help you bring this look to life.
16. HALF-UP TOP KNOT
Half-up top knots are an old-school look that still has a large fanbase. And with many influencers wearing the style, it comes in handy as a fashionable way to conceal greasy hair. It keeps the oiliest sections of your hair tamed while allowing the remainder of your hair your locks to hang free.
To get the look, divide your strands into two parts—a top and bottom layer. Clip the bottom half out of the way. Gather your top section into a ponytail and twist the length around its base. Secure it with a few bobby pins.
17. HALF-UP BEEHIVE
Retro hairstyles make it easy to give styles of the moment a break. The half-up beehive helps you score your major height and pays homage to the '60s era. Start by splitting your hair into a top and bottom section. Clip the bottom half away. Using a rattail comb, tease the top section of hair, smooth your hair back, and secure with bobby pins for a voluminous look. Release your bottom layer of hair.
18. SLICKED BACK
The slicked-back hairstyle will come to the rescue if you don't have enough time for a wash session. It's a loose look that gives your strands a super-sleek finish without any flyaways. Brush through your hair to take out any tangles or knots. Using a rattail comb, tease your hair at the crown. Apply a small dollop of hair gel to your roots and smooth your hair back. Pin the sides of your hair with a few bobby pins to keep your hair in place.
19. TEXTURED FAUX HAWK
This style is a textured spin-off of a rocker-inspired look that's perfect for those with natural hair. All you need to do is apply a small amount of gel to the sides of your hair and brush upward. Finish up by pinning your hair in place and fluffing your strands.
20. HIGH PUFF WITH A HEAD SCARF
A high puff with a colorful headscarf is a simple look that doesn't skimp on style. It's a popular choice for hiding greasy locks since the headscarf wraps around a large part of your hair. To create the look, add a small amount of hair gel to your roots and brush your strands toward the top of your head. Gather your mane into a high ponytail and secure it with a hair tie. Wrap your headscarf around the back of your head and pull the ends toward the front. Create a small knot with the headscarf just above your bun.
21. SIDE-PART WITH SPARKLY BOBBY PINS
Your first thought may be that wearing your greasy locks in a loose style is the ultimate no-no. Thankfully, you can make some magic happen with a side part and sparkly bobby pins. After all, hair accessories are a chic distraction from greasy hair. Simply create a side part on either side of your head, and comb through your strands. On the other side, place pins with the grooved side up in your hair for a stacked look.
22. LOOSE CHIGNON
The loose chignon is a tasteful style that steers away from the classic bun. It's a French variation of the timeless look that leaves you with a sophisticated 'do. Read through our article, How To Master a Chignon Hairstyle in 5 Easy Steps, to see what all the hype is about.
23. BANTU KNOTS
Last but certainly not least, we have the trendy Bantu knot hairstyle. This style is a natural hair staple that involves creating tiny buns throughout your mane. It's a unique option for those looking for protective styles without the need for hair extensions. We also appreciate that this look protects your hair from the elements without sacrificing your style. Check out our article, How To Do Bantu Knots, for a hairstyling lesson.
Discover more tips & tricks
Keep your skin happy
See all articles