all hair types
What is Clarifying Shampoo?
February 01, 2019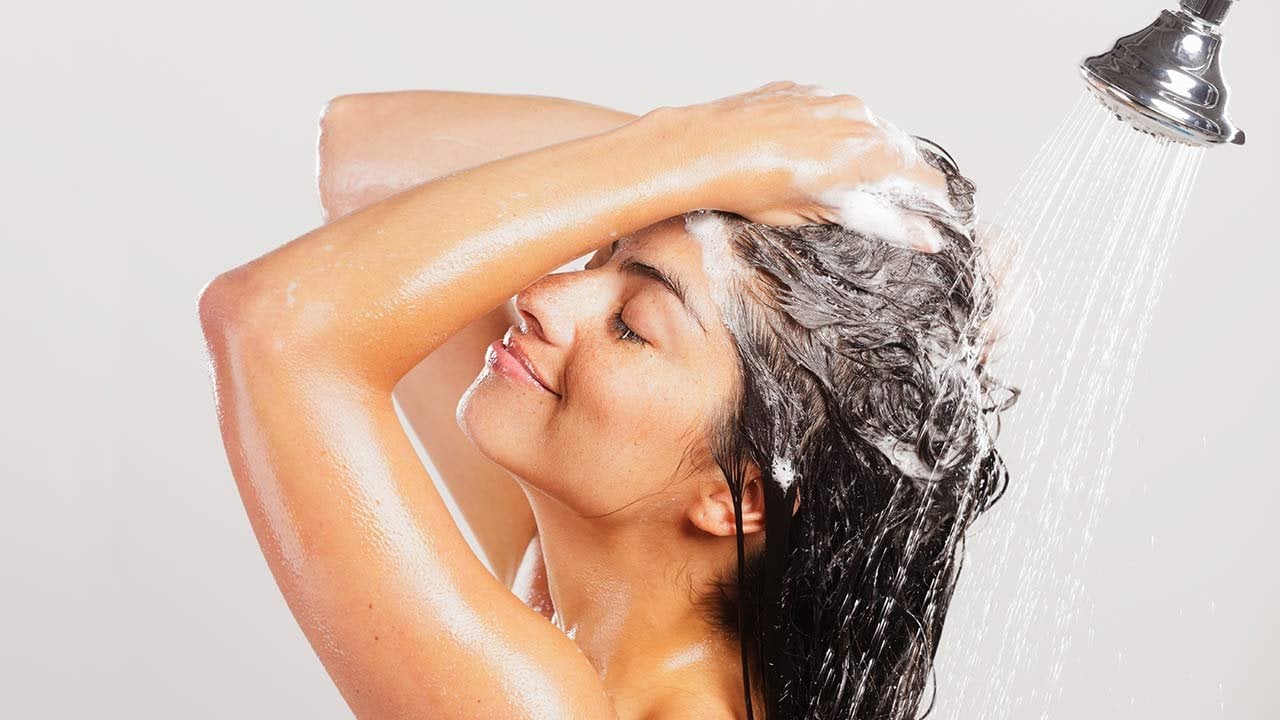 If your hair sometimes looks dull, flat, and oily even after you've washed it with your go-to shampoo and conditioner, you're not alone. Perhaps you've gone a bit overboard with styling products, or your hair simply needs a refresh. Enter clarifying shampoo—a special kind of shampoo reserved for when you're in need of a real deep clean. It's one of the most beneficial hair care products, but it's often overlooked. If you're not familiar with clarifying shampoo, we've got you covered! Keep reading for everything you need to know about how to clarify with shampoo as part of your hair care routine so your strands can look their best.
WHAT IS CLARIFYING SHAMPOO?
Over time, your hair collects a buildup of dirt, oil, styling products, and residue from your shampoo and conditioner. Buildup can form from things like overdoing it with styling products and sweating through a workout and it can cause your hair to look oily and weighed-down even after you've done your best to cleanse it. That's exactly what a clarifying shampoo, also referred to as a detoxifying shampoo, can help with. What does clarifying shampoo do? As you may have guessed, this shampoo essentially gives your hair an extra deep cleansing to rid it of any impurities, leaving it "clarified" and ultra-clean. A clarifying shampoo for curly hair can also help reset your curls by removing buildup, which helps revive your natural curl pattern.
Typically, clarifying shampoo is meant to be used anywhere from once a week to once a month, depending on the amount of buildup on your scalp.
You may be wondering what a clarifying shampoo will do to colored hair—will it remove permanent hair color? The answer is yes—and no. Using a clarifying shampoo on color-treated hair once a month is generally okay, but if you use one more frequently, your hair color may fade more quickly than normal. If you're going to use a clarifying shampoo more frequently, opt for a color-safe formula so you know your hair color will remain in prime condition.
OUR BEST CLARIFYING SHAMPOOS
Now that you know more about what a clarifying shampoo is, you may be itching to get your hands on one. Below, we're sharing our best picks that will help you revive your hair.
The L'Oréal Paris Elvive Extraordinary Clay Shampoo, which is formulated with three refined clays to instantly purify oily roots while hydrating dry lengths will leave your mane looking beautifully fresh and clean from your scalp to your ends.
The L'Oréal Paris EverPure Sulfate Free Scalp Care + Detox Shampoo works as a member of a three-part system with the EverPure Sulfate Free Scalp Care + Detox Conditioner and the EverPure Sulfate Free Scalp Care + Detox Scrub to detoxify your scalp and rid it of excess buildup and oil. Start by exfoliating your scalp with the scrub to remove flakes, oil and dandruff. Then, apply the shampoo to ensure your scalp is fully cleansed, and finish with conditioner to lock in moisture.
HOW TO USE CLARIFYING SHAMPOO
Want to add a clarifying shampoo to your hair care routine? Follow the steps below to clarify with shampoo the right way.
STEP #1: WASH YOUR STRANDS
There's no preamble to this routine—it starts immediately with cleaning your hair. Make sure your scalp and strands are saturated with water, then it's time to reach for your clarifying shampoo. Massage the formula onto wet hair—focusing on your scalp as that's where excess oil and buildup gathers—and then lather and rinse.
STEP #2: CONDITION YOUR STRANDS
To complete your clarifying hair care routine, you'll want to follow up your shampoo with a conditioner. While it may be tempting to skip conditioner when you're used to having oily-looking hair, it isn't a great idea. After all, cleansing and conditioning go hand in hand! While shampoo cleanses your hair of too much oil, conditioner is important for adding back necessary moisture into your strands. So, go ahead and grab your conditioner and apply to the lengths and ends of your hair after shampooing and leave on for a few minutes, then rinse.
Photo Credit: Photography: Chaunte Vaughn, Senior Art Director: Melissa San Vicente-Landestoy, Associate Creative Producer: Becca Solovay, Makeup Artist: Jonet Williamson, Hair Stylist: Akihisa Yamaguchi, Wardrobe Stylist: Adriana Perez-Bell, Digital Tech: Paul Yem, Model: Chelsea Vaughn
Discover more tips & tricks
Keep your skin happy
See all articles
Shop Featured products
Discover More