hairstyle trends
3 Chic Ways To Style Your Hair With A Claw Clip
Claw clips are making a comeback.
May 24, 2022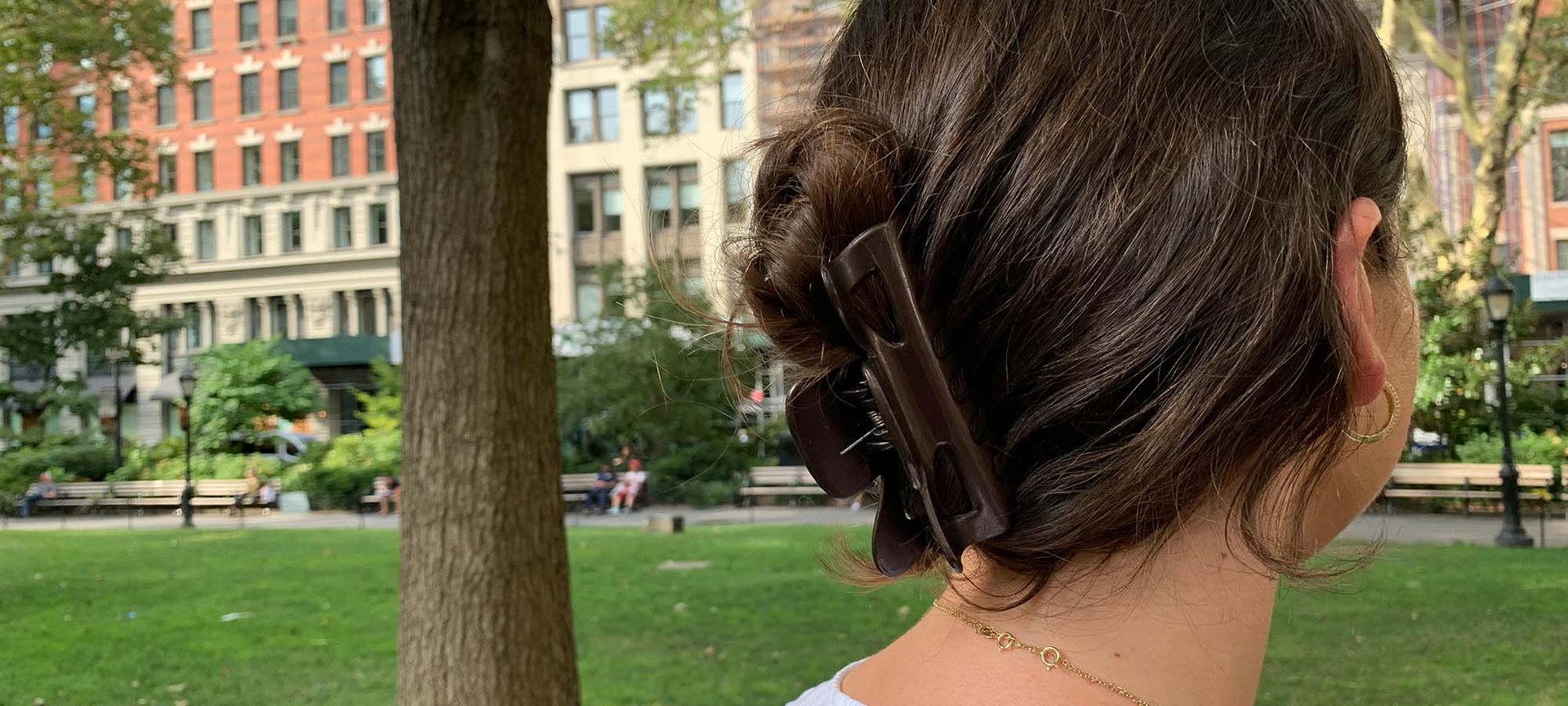 When it comes to fashion and beauty trends, they're almost always cyclical. Styles that were once popular and then totally out of style make their way back into "cool" territory a couple of decades down the line. The perfect example of this? Claw clip hairstyles. This '90s hair trend has made a big comeback recently 一 it's being sported by models, influencers and celebrities. Not only are claw clips available in cute patterns and colors (and all different sizes), but they can also be used for some of the easiest and cutest everyday hairstyles. Read on for three simple, chic claw clip hairstyles to help you get in on the trend.

3 Ways To Wear a Claw Hair Clip
Claw clips are more versatile than you might think. There are quite a few hairstyles you can create using a claw clip and we're naming three favorites below.

1. Half-Up, Half-Down
Half-up, half-down hair is a classic hairstyle, and using a claw clip to achieve it is quite possibly the most foolproof way to get the look. Use your fingers to section your hair horizontally and clip the top layer at the center of the back of your head. That's all there is to it. You can wear your hair straight, wavy, or curly to put your own spin on the style.
Another option is to experiment with wearing multiple claw hair clips. Try dividing your hair down the center, then section it horizontally. This should leave you with four sections of hair. Clip the top two sections back using smaller claw clips so the clips sit parallel to each other at the back of your head. It's a great way to add dimension and playfulness to your hairstyle.

2. Ballerina Bun
With a classic ballerina bun, your hair accessories are usually kept hidden. The elastic or bobby pins you use to secure your hair end up disguised within your strands. Conversely, this hairstyle puts your claw clip front and center so that it's part of the style. Twist your hair into a bun as per usual. Then use a large claw clip to secure the ends and hold the bun. Make sure the clip latches onto both the ends of the bun and your hair underneath. If you want to make the style a bit more casual, pull small strands out at your ears for a loose, lived-in look.
Editor's tip: If you have thicker hair, a claw clip may not be enough to hold your ballerina bun. You can sport the same look with the help of a hair elastic and a few spritzes of L'Oréal Paris Elnett Precious Oil Satin Hairspray to keep your hair in place. Form your strands into the bun, then wrap the hair tie around its base. The elastic will be responsible for actually keeping your bun in place—the claw clip will serve simply as decoration.

3. Twisted '90s Updo
We mentioned that claw clips remind us of '90s hairstyles, and this look is exactly what comes to mind. Start by pushing all of your hair behind your shoulders. Gather it as if you were creating a low ponytail, then twist it until you reach your ends. Next, pull the hair upward against the back of your head. The twist will lay against your head with the ends pointing up. Place a large claw clip around the twist to hold it in place and leave the ends hanging over the top. It's the ultimate '90's supermodel hairstyle.

Next: 21 Best Hairstyles For Thick Hair

Written by: Alyssa Kaplan, Photo Credit: Caitlyn Martyn
{ "@context": "https://schema.org/", "@type": "WebPage", "speakable": { "@type": "SpeakableSpecification", "cssSelector": ["speakable-content"] }, "url": "https://www.lorealparisusa.com/beauty-magazine/hair-style/hairstyle-trends/claw-clip-hairstyles" }
Discover more tips & tricks
See all articles
Shop Featured Hair Style products
Discover More
{ "@context": "http://schema.org", "@type": "BreadcrumbList", "itemListElement": [ { "@type":"ListItem", "position": 1, "item": { "@id": "/", "name": "Home" } } , { "@type":"ListItem", "position": 2, "item": { "@id": "https://www.lorealparisusa.com/beauty-magazine", "name": "Beauty Magazine" } } , { "@type":"ListItem", "position": 3, "item": { "@id": "https://www.lorealparisusa.com/beauty-magazine/hair-style", "name": "Find Your Next Hot Look" } } , { "@type":"ListItem", "position": 4, "item": { "@id": "https://www.lorealparisusa.com/beauty-magazine/hair-style/hairstyle-trends", "name": "Hairstyle Trends" } } , { "@type":"ListItem", "position": 5, "item": { "@id": "https://www.lorealparisusa.com/beauty-magazine/hair-style/hairstyle-trends/claw-clip-hairstyles", "name": "claw-clip-hairstyles" } } ] }