hairstyle trends
4 Easy Hairstyles That Don't Require Bobby Pins
January 29, 2021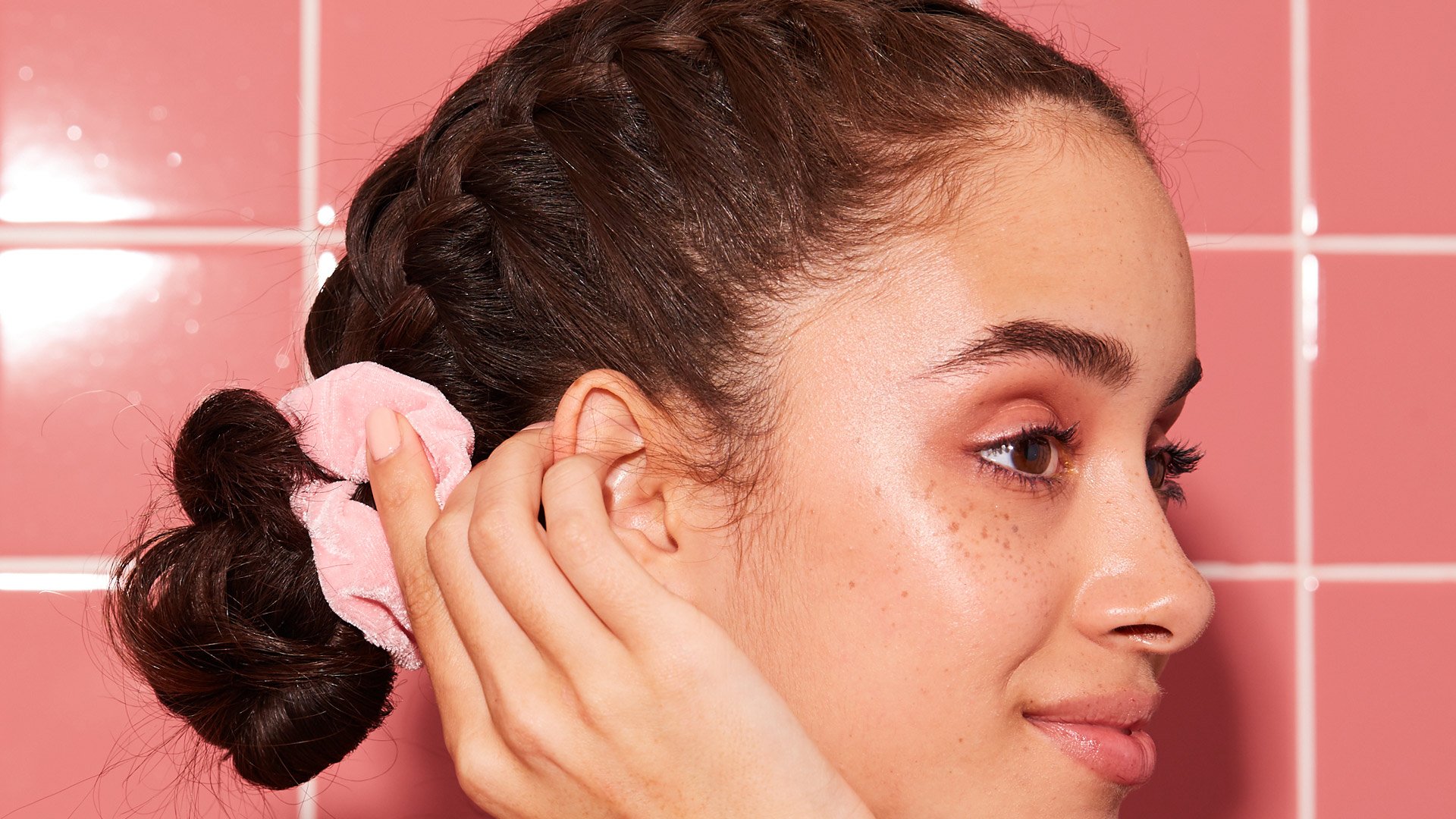 Bobby pins are the wonder accessories that we rely on to literally pull many of our favorite hairstyles together. They can help you do some pretty magical things to your hair, but they aren't without their downsides. For one, the removal process isn't nearly as magical. Pulling out a ton of bobby pins can get pretty tiresome. And, let's not forget the fact that when you're wrist deep into perfecting a style, those tiny little helpers often seem like they're hiding. We could go on, but let's just say this: It isn't every day that you'll want to deal with a hairstyle full of bobby pins. Reserve them for special hairstyles on special occasions.
On days you'd like to avoid using bobby pins, or times when you don't have any bobby pins available (or just can't find any), all you need to do is try one of the four bobby pin-free, easy hairstyles below. Don't worry, you won't have to compromise on style or complexity. Passing on bobby pins doesn't mean you have to rock your locks completely down. With the aid of hair spray and hair gel (and more) you can style your hair in updos and braids—without the assistance of a single bobby pin. Read on to find out how.
EASY HAIRSTYLE #1: Braided Pixie
One thing you can always turn to bobby pins for is getting your bangs out of your face, especially during that awkward growing out phase. So, what's a girl to do when she can't pin her hair back? Braid it!
Step 1: Braid your bangs. There isn't much more we can say. Braid all of your hair forward in the same pattern your pixie typically lies. If your hair is straight and your braids are likely to come loose, add small clear rubber bands at the ends.
Step 2: If you don't want the hair to just fall to the front of your face, gather and sweep the hair to one side and braid it at the end. If it's long enough tuck it behind one ear to keep in place, in lieu of a bobby pin.
Step 3: Using a small amount of the L'Oréal Paris Advanced Hairstyle LOCK IT Clean Style Gel, smooth down any stray pieces.
EASY HAIRSTYLE #2: Ballerina Bun
Think back to all the recitals from your dance class days. Mixed in with memories of tutus and pirouettes, will be ones of lots and lots of bobby pins. How else would you secure a perfect ballerina bun atop your head? Well, we're here to tell you, you can accomplish the same style without any bobby pins.
Step 1: First, use a heat protectant. Spray your strands with the L'Oréal Paris Advanced Hairstyle SLEEK IT Iron Straight Heatspray.
Step 2: Grab a flatiron and smooth out your strands. If you're heat free, be sure to use a hair serum like the L'Oréal Paris Dream Lengths Frizz Killer Serum Leave-In to tame frizz and static and to prevent the base of your bun from looking poofy.
Step 3: If you spot any frizzies popping up, go ahead and smooth them out with a hair cream, like the L'Oréal Paris Advanced Hairstyle Blow Dry It Thermal Smoother Cream. It's a heat protectant but also great for taming frizz and flyaways.
Step 4: Gather all of your hair high on your head, as if you were about to secure it in a ponytail. Begin twisting the ponytail, wrapping it around its base to form a bun. Slip a hair tie over the bun to secure and ta-da!
EASY HAIRSTYLE #3: Braided Chignon
Whether you're headed into an important meeting or standing up in a wedding, you'd be hard pressed to find an occasion where a chignon doesn't fit the bill. That's why you'll be pleased to hear that you can create one anywhere, anytime, with just one hair tie. To give it an upgraded spin, add a cornrow (or faux cornrow) french braid to it.
Step 1: Start by braiding one side of your hair back and down in a French braid, cornrow style. If you're not skilled at braiding close to the head, pull three pieces of hair from the side of your head and create a loose braid.
Step 2: Pull all of your hair (braid included) into a low ponytail. Keep looping your hair through the hair tie as many times as needed to get that ponytail nice and taut. But as you go to pull your hair through the hair tie one last time, pull just a small portion of the ponytail through, leaving a small loop at the top with your ends hanging out.
Step 3: Taking one half of the hair that's hanging out (the ends), twist it and wrap it up and around the loop. When you finish wrapping it, simply tuck the ends into the elastic. Repeat the same with the other half.
Step 4: Finish by spraying the entire style with the L'Oréal Paris Elnett Satin Hairspray Extra Strong Hold.
EASY HAIRSTYLE #4: Dominatrix Ponytail
Just because you're steering clear of bobby pins doesn't mean you have to be totally hair accessory averse. As long as you have a scarf or piece of fabric on hand, some hair extensions (this ponytail is all about length) you can create this 'do—which sounds way more complicated than it is.
Step 1: Gather and pull your hair into a ponytail as you normally would. The higher on your head the more dramatic. Let hair gel replace bobby pins to keep the ponytail base sleek and the added hair in place while you complete the next steps. We recommend the L'Oréal Paris Advanced Hairstyle Lock It Clean Style Gel.
Step 2: You have two options for how to proceed at this step. If your hair is short or medium length you'll need to braid in some extra hair. If you want to wrap your ponytail in the fabric, simply braid your ponytail and then start wrapping the scarf or fabric around it in a twirling motion, starting at the base. Work your way around to the tip of the ponytail and tie the fabric at the end instead of pinning it.
Step 3: Another option is to braid the scarf or fabric into the ponytail. Braid the extensions into your natural hair and stop about two inches from the base, then grab your scarf and finish the braid, weaving it into the ponytail like you would a piece of hair. If the ends of the scarf are sticking out, tuck them into the braid. And voilà—your more-is-more style without the accessories overload.
{ "@context": "https://schema.org/", "@type": "WebPage", "speakable": { "@type": "SpeakableSpecification", "cssSelector": ["speakable-content"] }, "url": "https://www.lorealparisusa.com/beauty-magazine/hair-style/hairstyle-trends/easy-hairstyles-you-can-do-without-bobby-pins" }
Discover more tips & tricks
Keep your skin happy
See all articles
Shop Featured Hair Style products
Discover More
{ "@context": "http://schema.org", "@type": "BreadcrumbList", "itemListElement": [ { "@type":"ListItem", "position": 1, "item": { "@id": "/", "name": "Home" } } , { "@type":"ListItem", "position": 2, "item": { "@id": "https://www.lorealparisusa.com/beauty-magazine", "name": "Beauty Magazine" } } , { "@type":"ListItem", "position": 3, "item": { "@id": "https://www.lorealparisusa.com/beauty-magazine/hair-style", "name": "Find Your Next Hot Look" } } , { "@type":"ListItem", "position": 4, "item": { "@id": "https://www.lorealparisusa.com/beauty-magazine/hair-style/hairstyle-trends", "name": "Hairstyle Trends" } } , { "@type":"ListItem", "position": 5, "item": { "@id": "https://www.lorealparisusa.com/beauty-magazine/hair-style/hairstyle-trends/easy-hairstyles-you-can-do-without-bobby-pins", "name": "easy-hairstyles-you-can-do-without-bobby-pins" } } ] }