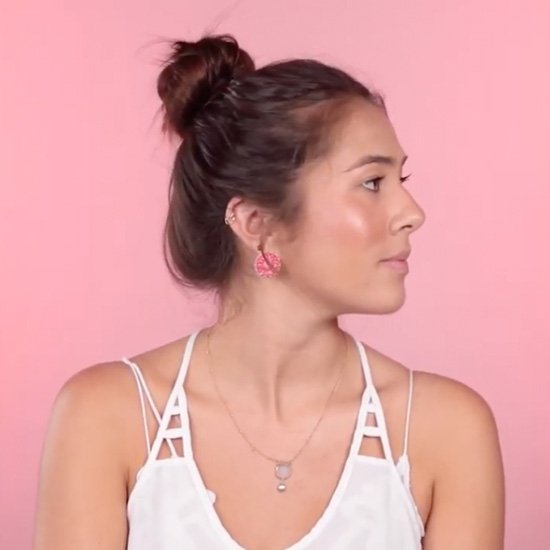 updo and bun hairstyles
How to Create a Messy Bun
Good news for our hairstyle-challenged friends—not every updo requires an expert's skill set. An oh-so-easy messy bun is always an option! Seriously, if you've mastered how to create a ponytail—and we're confident you have—you can handle styling a messy updo. And lucky for you, if you had to choose a single hairstyle to have in your wheelhouse, a cute messy bun is the perfect one. Grab a hair brush, texturizing spray, hair elastic, bobby pins, and hair spray, because we're breaking down exactly how to do a messy bun and sharing a messy bun tutorial for super long hair.
HOW TO DO A MESSY BUN
If you have short or medium-length hair, this is the messy bun tutorial for you.
Step 1: Brush Through Your Hair
While it's true a messy bun is meant to be imperfect, that doesn't mean tangled hair is ideal. Start by gently brushing your hair until it's smooth and knot-free.
Step 2: Use Texturizing Spray
The more texture your hair has, the better your messy bun will look. No need to worry if you have super straight hair—that's what texturizing spray is for. Before you stress over the state of your strands, spritz your hair all over with the L'Oréal Paris Advanced Hairstyle Boost It High Life Creation Spray to create body and all-over fullness.
Step 3: Gather Hair an a Ponytail
Now it's time to put your ponytail skills to good use. That's right, the trick to getting a good messy bun is to actually start with a ponytail. Collect all of your hair at the back of your head and tie into a ponytail—no need to fuss over every little bump.
Step 4: Form an Imperfect Messy Bun
Begin twisting the ponytail and wrap it around its base.
Step 5: Secure with a Hair Elastic
Loop a hair elastic around the messy bun you just created two to three times to hold it in place.
Step 6: Pin Down Stray Strands
Have pieces of hair sticking out in places you don't want them to be? Consider it handled. If your messy bun is looking too messy for your taste, use bobby pins to secure unruly locks of hair. (Check out our 11 Bobby Pin Hacks to Up Your Beauty Game.)
Step 7: Finish with Hair Spray
To prevent your messy bun from unraveling as the day goes on, use the L'Oréal Paris Advanced Hairstyle LOCK IT Bold Control Hairspray to help lock it in place. After all, you'll be disappointed if your bun starts to fall out throughout the day.
Bonus Step: Add a Touch of Flair
The messy bun may be a total classic, but you may want to spice things up. Here are a few of our favorite messy bun upgrade ideas:
For a special occasion: To instantly make a messy bun fit for a fancier occasion, top it with a bejeweled hair accessory.
For a festival: If you have a festival in your future, don't shy away from switching up the shade of your messy bun. You can use a temporary hair color spray, like the L'Oréal Paris Colorista 1-Day Spray, to make your messy bun stand out in a crowd.
For every day: You don't need special plans to take your look to the next level. Try adding a touch of retro flair to your bun by securing it with a fabric-covered elastic instead of a regular old hair tie. Extra points if it's furry or made of satin!
HOW TO DO A MESSY BUN FOR LONG HAIR
While super long hair may intimidate you when it comes to creating a messy bun, it's actually easy to master. The only thing you need is a bit more patience and more bobby pins. Start with the same steps you'd use to make a messy bun with short hair. Texturize your roots, brush your hair into a ponytail, and secure with a hair elastic. Now, this is where you things switch up a bit. As you twist your hair loosely into a bun, pin your hair section by section to keep your strands in place. Remember, the more disheveled your bun looks, the better!
Totally feeling this unfussy hairstyle? Well, there's more where that came from! Head on over to our article, 20 Messy Hairstyles for Men and Women.
Discover more tips & tricks
Keep your skin happy
See all articles
Improve your routine
Show your new look more love:
makeup