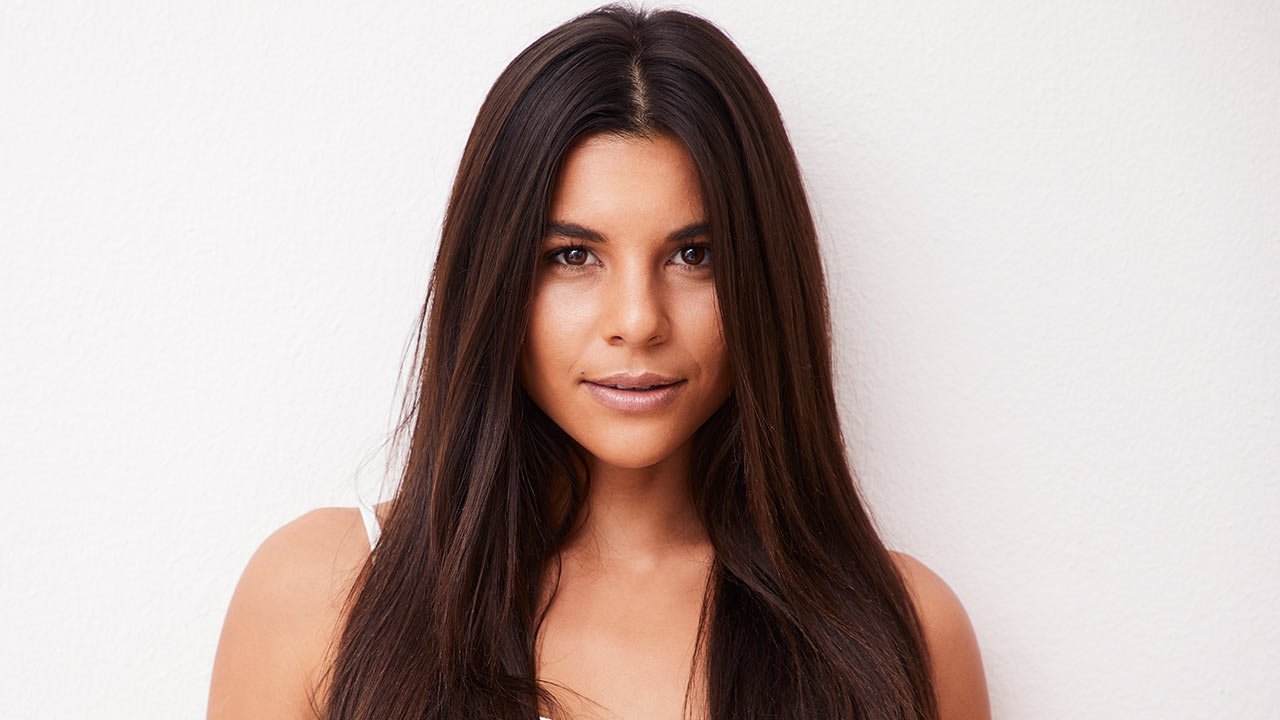 hairstyle trends
Embrace the Middle Part Trend with These 8 Hairstyles
Side-swept hairstyles are stepping to the side and letting a new hair part placement take the spotlight. We're talking about the middle part! Middle part hairstyles have been making a major comeback in 2019, and they don't seem to be going anywhere any time soon. If you're as eager to get in on this hairstyle trend as we are, you may be wondering what the best middle part hairstyles are. Below, we're sharing eight hairstyles to help you embrace the middle part trend as part of your beauty look.
MIDDLE PART HAIRSTYLE #1: SLICK PONYTAIL
One of our favorite ways to wear a middle part? A slick, low ponytail! To do so, first, straighten your hair with a flat iron. Then, apply a frizz-fighting hair serum, like the L'Oréal Paris Elvive Smooth Intense Frizz Taming Serum, throughout your mane to tame any flyaways and aid in getting your slick look. Once your hair is smooth and straight, pull your strands back into a low ponytail, making sure there are no knots or bumps, and secure with a clear elastic at the nape of your neck. Simple, right?
MIDDLE PART HAIRSTYLE #2: BLUNT BOB
There's one thing we love more than a traditional blunt bob—a blunt bob with a middle part! We're sure you've seen this trendy middle part hairstyle circulating your social media feeds. A middle part bob is an ultra-chic and edgy way to style the sharp, short cut.
MIDDLE PART HAIRSTYLE #3: LONG LAYERS
If you're more of a long hair gal, consider rocking a middle part with long layers. Have the layers start just below your chin for a gorgeous, face-framing effect. The middle part will help to perfectly emphasize the symmetry between your long layers.
MIDDLE PART HAIRSTYLE #4: SLEEK AND STRAIGHT
Did we mention a middle part looks stunning when paired with sleek hair? Another smooth hairstyle option is to wear your super-straight strands parted down the middle. Pin-straight strands will draw the eye to your faultless middle part for a mane that looks as though it walked off the runway.
MIDDLE PART HAIRSTYLE #5: LOOSE WAVES
Just because sleek hair looks fabulous with a middle part doesn't mean its wavy counterpart can't look equally gorgeous. We're referring to voluminous, loose waves. To get the look, part your hair down the middle, then curl your mane with a wide-barrel curling iron. After you finish curling, gently brush through your curls to loosen the look and add volume. The finishing touch? Spritz the L'Oréal Paris Advanced Hairstyle BOOST IT High Lift Creation Spray throughout your mane for an instant boost of body and fullness. Talk about #hairgoals!
MIDDLE PART HAIRSTYLE #6: SPACE BUNS
Want to embrace your fun, flirty side with a middle part hairstyle? Look no further than space buns! This quirky style requires a middle part to be done correctly, and is perfect for your next concert, festival, or Halloween costume.
MIDDLE PART HAIRSTYLE #7: LOW BUN
On the opposite end of the spectrum, a low bun paired with a middle part is a professional and sophisticated hairstyle option. After parting your hair down the middle, apply a hair gel, like the L'Oréal Paris Advanced Hairstyle LOCK IT Clean Style Gel, throughout your mane and slick your strands backward. Then, twist the length of your hair into a tight, low bun at the nape of your neck. Secure with a few bobby pins and you're good to go!
MIDDLE PART HAIRSTYLE #8: BRAIDED PIGTAILS
Last but not least, this nostalgia-inducing hairstyle just wouldn't look right without a middle part! After parting your hair down the middle, weave each section of hair into a Dutch braid. Double Dutch braids, anyone? Talk about a blast from the past.
Next up: Hesitant to try a middle part for fear it won't be flattering on you? Here's How to Find the Best Part for Your Face Shape and Hair Type.
Discover more tips & tricks
Keep your skin happy
See all articles