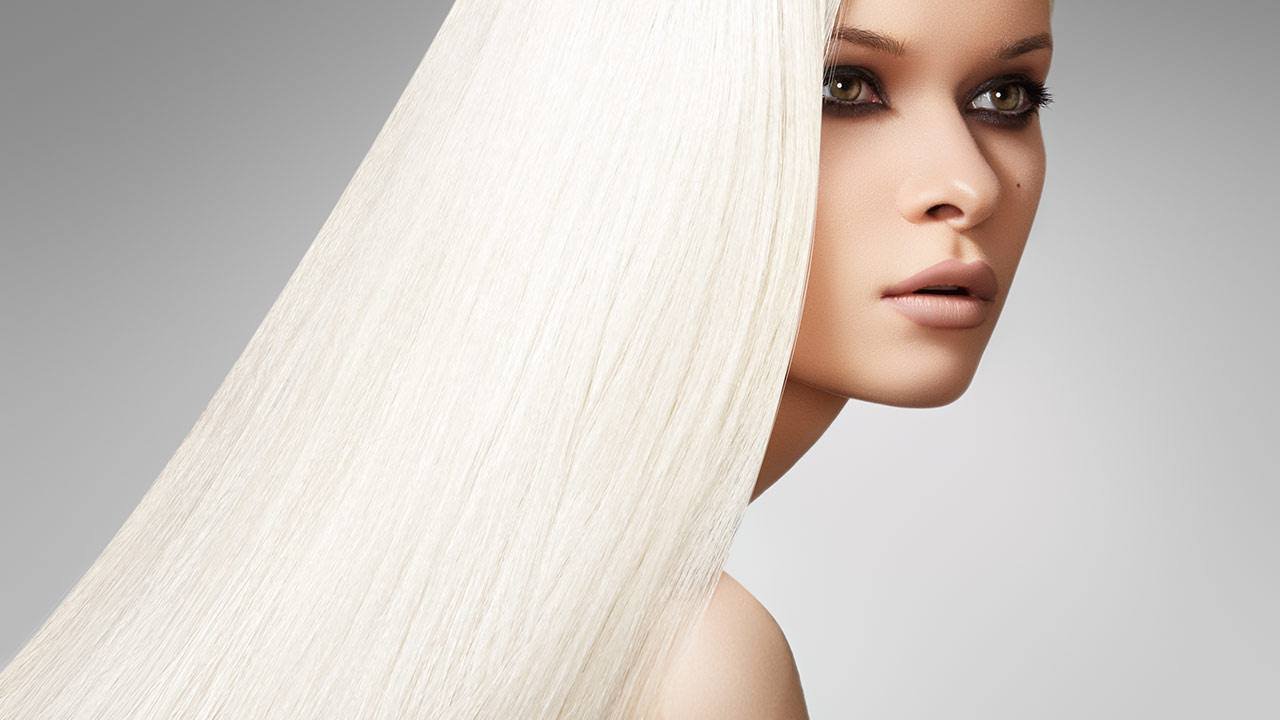 hair color tutorials
How to Take Your Dark Brown Hair to Platinum Blonde
It could be time to lighten up! No, we're not talking about your attitude but your hair color. If you're bored with your dark brown locks, why not consider going blonde? But any ol' blonde shade won't do. Platinum (which is basically as light as you can go) is one of the most popular blonde hair colors of the moment. But how the heck are you supposed to go from super-dark to super-light? This is definitely a dramatic hair color change, so it's important to understand what the process entails. Here, learn about how to transform your hair hue from deep brunette to white hot platinum.
1. Decide if Platinum Blonde is Right for You
You're likely wondering if platinum blonde is the right color match for you. Who, exactly, can pull off this statement-making shade? The answer just might surprise you. Platinum isn't as selective in who it suits as you would think. In fact, it's almost a universally flattering shade. The color is so light and unnatural that it's eye-catching on just about anyone.
2. Seek a Pro's Help
Once you know that you're ready to dive into platinum blonde-ness, your next most important decision is how you're going to get there. Since going from a very dark brown to an extremely light blonde is very drastic, it's best to seek out a professional colorist to get you there. Keep in mind that this process will require bleaching, and possibly more than one round of bleaching.
3. Determine Realistic Expectations
Whether or not you walk out of the salon with a color you love comes down to how reasonable and realistic your expectations are when it comes to going platinum. For starters, show up for your appointment at the salon with images of the exact color you're hoping to achieve. While there isn't a ton of variance in platinum shades, it helps to know you're on the same page as your colorist. An expert will also be able to tell you if dyeing your mane will take just one session or multiple. While you may want to leave the salon immediately with platinum hair, in reality that may not be possible—especially if you're starting with a dark brown base. It's always better to find out the answers to these questions prior to the start of processing.
4. Learn How to Care for Your Platinum Locks
Once you've achieved your new hue, you'll want to switch up your hair care routine, as blonde, color-treated hair has different needs.
Use a system of shampoo, conditioner, and mask formulated for blonde, color-treated hair. Make room in your shower for a system of products thatare formulated specifically for blonde, color-treated hair, like the L'Oréal Paris EverPure Blonde Shampoo, L'Oréal Paris EverPure Blonde Conditioner, and L'Oréal Paris EverPure Blonde Shade Reviving Treatment. The EverPure Blonde system can help neutralize unwanted tones and hydrate over-processed hair. Swap out the conditioner for the mask once a week.
Go in for trims and touchups. The most time-consuming aspect of having the lightest-of-light blonde hair is the maintenance. If you've made the switch from dark brown to platinum, then you're going to deal with root regrowth somewhat frequently. So, book regular appointments with your colorist to touch up your color. Ends feeling on the dry side? Get a trim. Consider opting for an edgy haircut (like a pixie) to match your edgy new shade.
Air dry your hair. Pair your platinum locks with your hair's natural texture. That means put down the heat tools and air dry your strands instead! Create carefree beachy waves by spritzing on the L'Oréal Paris Advanced Hairstyle AIR DRY IT Wave Swept Spray to towel-dried hair. Create a braid, let your hair dry, then undo the braid and shake out your hair. For added volume, apply an egg-sized dollop of the L'Oréal Paris Advanced Hairstyle AIR DRY IT Ruffled Body Mousse to wet hair, flip your hair to scrunch it, then let it dry. No blow-dryer needed!
Now, go have your blonde moment!
Discover more tips & tricks
Keep your skin happy
See all articles