hair color trends
How to Safely Bleach Your Hair At Home
Go light the right way.
February 18, 2022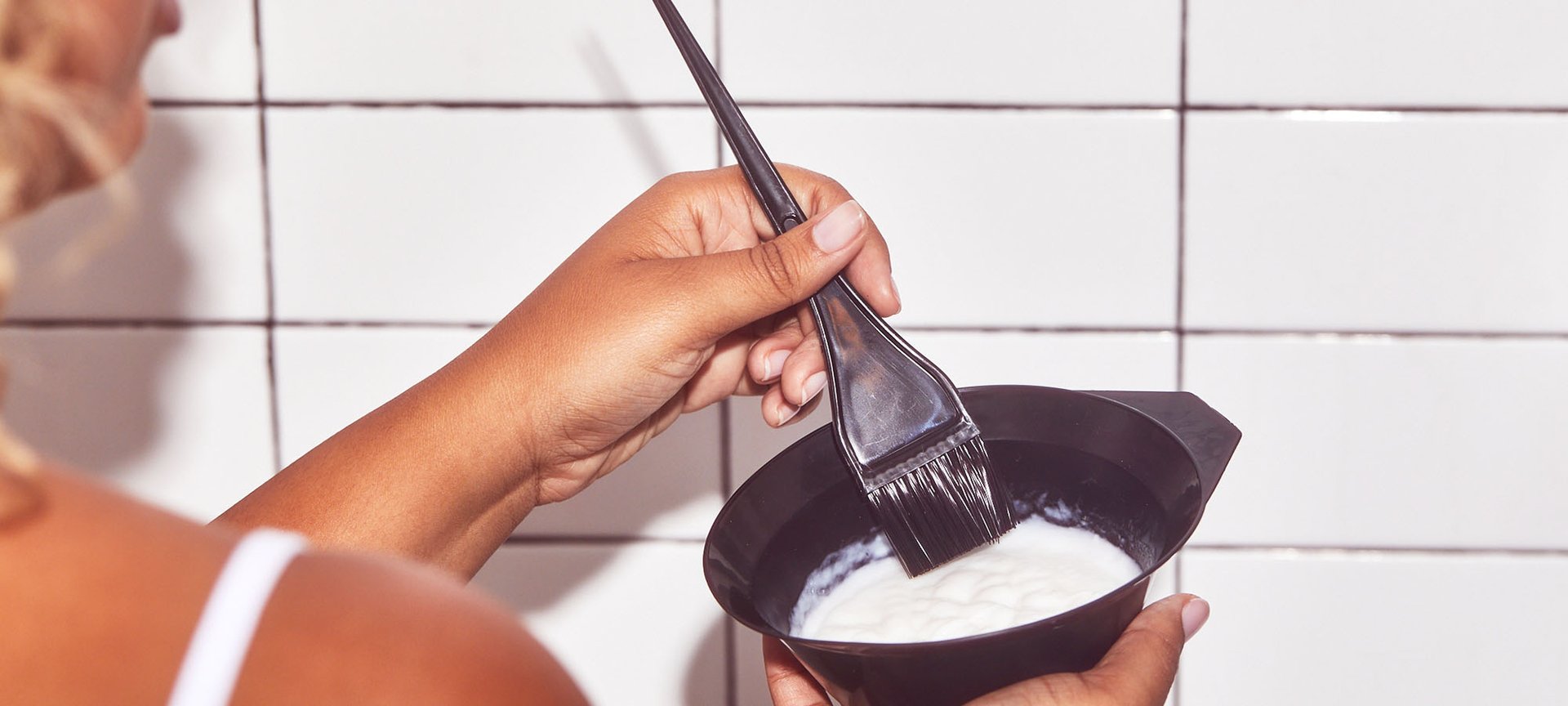 Whether you want to get blonde hair, indulge in the icy hair trend or try a fun pastel hair color, one thing's for certain — getting a lighter hair color will require using hair bleach. If you prefer to color your hair at home as opposed to visiting the salon, it's essential to know how to bleach hair properly to get your desired results.
Luckily, bleaching hair at home is easy with the right at-home bleach kit. Keep reading to learn how to bleach your hair on your own — and the best L'Oréal Paris bleach products you can use to do it.
What You Need to Know Before Bleaching Your Hair
If you're looking to take the plunge and go blonde or try a trendy shade like lavender hair, it'll take patience. Depending on how dark your starting color is (your base color), it could take multiple sessions for you to achieve your desired hue. And if you want to make a seriously drastic change — like going from dark brown hair to platinum blonde — it may be a good idea to visit a professional colorist, as this could take quite a bit of work and skill to achieve.
That being said, you can learn how to bleach your hair at home with the right know-how. Keep reading to learn what to do.
How To Bleach Your Hair At Home
Now that you're a bit more aware of what your hair transformation will require, it's time to dive into the actual process.
First things first, grab a hair bleaching kit. Sticking with a kit will make things simple, as it will include everything you need: bleach powder, developer, gloves and instructions. Speaking of instructions, be sure to follow the ones in your kit and note that they will differ a bit from product to product.
A general breakdown of how bleaching your hair works is as follows: First, you'll mix together bleach and developer, then you'll brush the mixture onto your hair, being careful not to get it on your skin or clothes (we recommend wearing something no longer in your outfit circulation).
After applying, the bleach should be left on your hair for typically somewhere between 15 and 30 minutes. How long bleach is left on hair can vary depending on your starting color, the product you're using, the volume of your developer and whether your strands have been bleached before.
Once the bleach is ready to be rinsed out, you'll need to shampoo and condition your mane. Most bleach kits come with an extra nourishing conditioner, so make sure to slather your strands with that. Rinse once more, then wait for your strands to dry to see your amazing results.
After your strands are bleached — if you want a hair color besides blonde — follow up with the color of your choice. You may need to wait between bleaching and coloring if you're using a permanent hair color.
We recommend consulting with a professional via the L'Oréal Paris Hair Color Concierge. They can answer questions regarding how long you need to wait to color after bleaching, give you recommendations about which hair bleach may suit you best, as well as which hair color kit to use after you've lightened your strands.
Our Best Bleach For Hair
Looking for the best bleach for hair? Try one of our favorite hair bleach kits below.
L'Oréal Paris Féria in Hyper Platinum Advanced Lightening System Bleach: Ideal for those starting with darker base colors, this hair lightening system can lift up to eight levels without compromising your hair's health.
L'Oréal Paris Super Blonde: This bleaching kit can lighten dark brown and medium brown hair. With its advanced super-lightening action, it delivers smooth, even blonding from root to tip and lightens natural or color-treated hair in one simple step.
L'Oréal Paris Colorista Bleach All Over: This hair bleach is designed to work on dark blonde, light brown, and medium brown hair. The kit contains a developer crème, bleaching powder, lightening crème, anti-brass conditioner, gloves, and an instruction sheet.
Editor's tip: If you're leaving your hair blonde, you may want to tone your hair after bleaching. Be sure to use an at-home hair gloss once a week to get rid of unwanted brassiness. We love the L'Oréal Paris Le Color Gloss OneStep In-Shower Toning Gloss for a deep conditioning treatment that boosts color and shine — no gloves or mixing necessary.
Next: How to Care for Bleach-Damaged Hair
Photography: Chaunte Vaughn, Senior Art Direction: Melissa San Vicente-Landestoy, Senior Visual Designer: Hannah Packer, Associate Creative Producer: Becca Solovay, Makeup Artist: Jonet Williamson, Hair Stylist: Akihisa Yamaguchi, Wardrobe Assistant: Victoria Ochoa, Digital Tech: Kyle Thompson, Model: AnnChristine Velazquez
Discover more tips & tricks
Keep your skin happy
See all articles
Shop Featured Hair Color products
Discover More