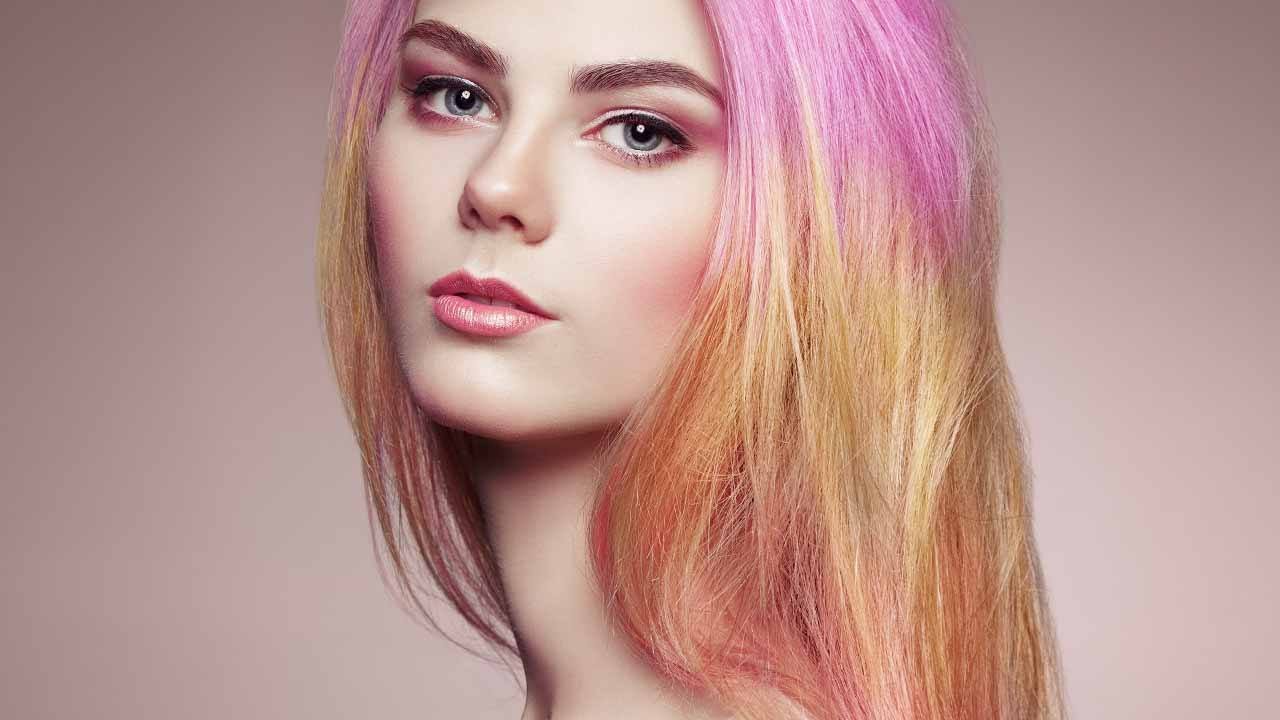 hair color trends
28 Hair Color Terms Every Beauty Junkie Should Know
We've all been there. You walk into the salon, plop down into the swivel chair, and listen as your colorist starts rattling off about a million words and phrases that go way over your head. Or, you pick up a box of hair dye and realize you've never heard of some of the hair colors, like denim hair or nude hair, before. What does it all mean? Even more so, what do you do? Since you only have one head of hair, we're firm advocates for the importance of understanding the hair processes that work to give us our very best-looking hair color, as well as what makes this year's top hair color trends so unique. So, pull up a chair and get ready to get schooled—consider this the ultimate guide to hair color terms!
THE ULTIMATE DICTIONARY OF HAIR COLOR TERMS
Below are terms worth knowing if you're considering coloring your hair.
Babylights
A very fine version of highlights that mimic the natural look of a child's hair that's been kissed by the sun.
Balayage
A hair painting technique that was developed by French colorists. It involves hand painting strands for a natural-looking, easy-to-maintain 'do. Since it utilizes a free-hand technique balayage can be customized to your lifestyle and ideal maintenance schedule.
Base Color
The color that is applied all over your head as a starting point for your dye job. Typically, highlights and lowlights follow in order to veer away from a monochrome, one-dimensional look.
Chocolate Mauve
Just think of it as the brunette version of rose gold hair. When you choose this hair color, you're looking at a dark brown base that's layered with a pink balayage technique. No wonder this look is filling social media feeds left and right.
Contrast
The shade of your highlights. Think: high-contrast for lighter, more noticeable highlights and low-contrast for more natural-looking swipes of color.
Cool Tones
Although you might be the epitome of a "cool girl," this term actually refers to the tonal value of the dye you select. Cool tones include blues, purples, and greens, while cool colors range from platinum and ash browns to plum reds and blueish blacks.
Denim Hair
It's no secret that denim is uber-popular these days, and there's no sign of this trend slowing down any time soon. So, is it any wonder why the beloved fabric has made its way into the realm of hair inspo? Think: a gradient-rich blue hue from root to tip. Get the look with the L'Oréal Paris Féria in Downtown Denim.
Dimension
The opposite of flat hair. Dimension is the difference between lackluster locks and a head full of movement brought on by highlights and lowlights.
Double Process
When you sit in the salon chair through not one, but two coloring techniques within one hair appointment to achieve optimal dimension. Example: base color + highlights.
Foiling
When a colorist paints your hair inside strips of foil which are then folded around the sections of hair to create highlights and lowlights.
Full Highlights
Highlights everywhere! Who would've guessed? No, this doesn't mean that all your hair is being dyed. Rather, it means that sections of hair will be highlighted all through your hair, instead of just on the topmost layer. Get the look with the L'Oréal Paris Touch-On Highlights.
Jewel Toned Hair
2018's amped up version of pastel tresses. These are brighter, bolder hues that embody the brilliance of some of the world's most beautiful gems.
Lowlights
Where highlights use blonde streaks to brighten up tresses, lowlights darken strands to add depth and dimension.
Nude Hair
The no makeup, makeup of the hair world. It's super-neutral and super-chic.
Ombré
The low maintenance look that's the result of the beautiful balayage technique. Since strands are only colored from mid-shaft to ends, you won't need to worry about growth or touch-ups nearly as often with this look. Get the look with the L'Oréal Paris Colorista Bleach Ombré.
Partial Highlights
Typically face-framing or top layer lightening to add the illusion of volume and body.
Pastel Hair
The lightened, extra playful hair colors that span across the rainbow. Lavender locks, anyone? Grab a box of the L'Oréal Paris Colorista Semi-Permanent Hair Color in the pastel shade of your choice and watch as your mermaid-y tresses make a splash. Looking for something more short-lived? The L'Oréal Paris Colorista 1-Day Sprays can help you create a pretty pastel hair color that washes out with a single shampoo.
Pintura
A process that focuses on hand-painting (yes, just like balayage) specific patterns around the bends of each curl to create a one-of-a-kind dimensional look. And you thought your curls alone were eye-catching. Well, this little technique will most definitely rev up the head-turning factor.
Platinum
The blondest of blonde hair. Easily one of the most time-consuming, maintenance-requiring hair shades a girl can choose. But if ice cold color is what you're after, then a platinum blonde hair color might be in your future. Get the look with the L'Oréal Paris Féria in Absolute Platinum Extreme Platinum.
Pumpkin Spice Hair
Don't go looking in your coffee cup for a hint as to what this hair color looks like—you'll be unnecessarily disappointed. Instead, imagine a more orange version or traditional strawberry blonde tresses that embody all of fall's most beautiful colors.
Rose Gold Hair
What once was just a beloved metal has quickly turned into one of the trendiest hair colors the past few seasons. From jewelry and laptop cases to home goods and hair colors, rose gold is the it color we're all not-so-secretly obsessing over. Get the look with the L'Oréal Paris Féria Fashion Metallics in Rose Gold.
Single Process
One and done, meaning you can get your desired hue in just one sitting.
Soft Jet Hair
A toned-down version of the blackest of black hair. When asking your colorist for this hair color or bringing it to life yourself, understand that when you look in the mirror you'll catch glimpses of a blueish tint that softens the traditionally harsh black. Trust us: This is a color that looks good on everyone! Get the look with the L'Oréal Paris Superior Preference in Deep Blue Black.
Sulfate-Free
Easily one of the most need-to-know hair color terms in this guide. Sulfates are detergents found in everything from household cleansers to shampoos. If you have color-treated hair, consider trying the L'Oréal Paris EverPure Repair & Defend Shampoo, L'Oréal Paris EverPure Rapair & Defend Conditioner, and L'Oréal Paris EverPure Repair Remedy Balm. Together, these products can help maintain the integrity of your color-treated hair.
Tiger's Eye
Topping 2018's Hot List, this hue is known for its combination of balayage coloring that mimics the palette of the popular stone.
Tone
Essentially the adjective that describes a hair color. While there are black, blonde, brunette, and red hair colors, tones break it down even further. Think: soft jet black, platinum blonde, strawberry blonde—you get the idea.
Tortoiseshell
Similar to tiger's eye, tortoiseshell dye jobs coat strands with a mixture of hues ranging from gold to dark brown to give the appearance of a slightly subtler, natural-looking ombré.
Warm Tones
The other side of the tone spectrum. Where cool refers to blues, purples, and greens, warm tones lean towards yellows, oranges, and reds. !
With all this color talk, are you ready to embrace a new look? Check out our article, How to Get Rainbow Grunge Hair, for a little inspo.
Discover more tips & tricks
Keep your skin happy
See all articles
Shop Featured Hair Color products
Discover More