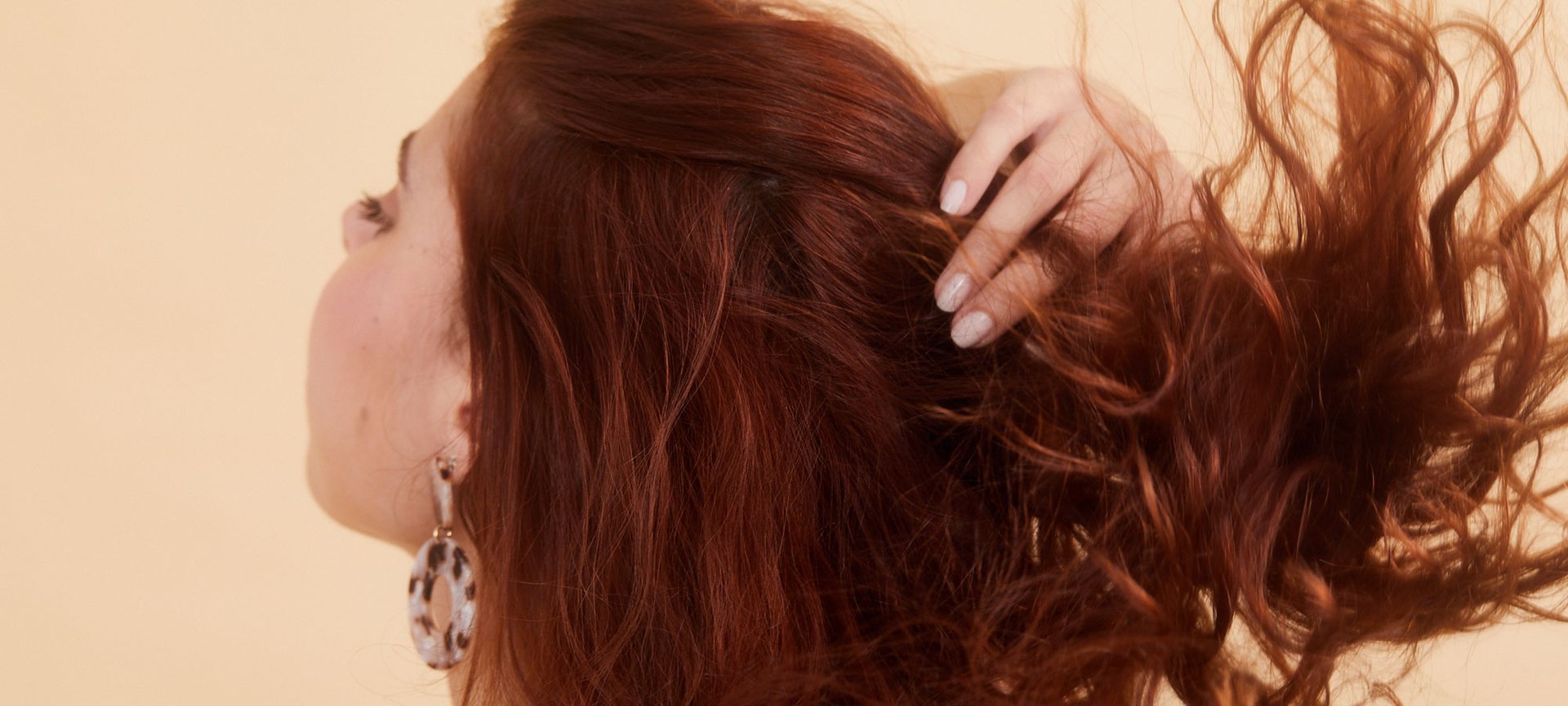 hair color application
How To Dye Your Hair With The Least Damage
Change your hair color without damaging your strands.
Sometimes the simplest way to transform your beauty look is by changing your hair color. With so many hair color trends these days, from platinum gray to eggplant purple, there's never been a better time to try out a fun new hue. However, before you start planning out your color palette it's important to know how often your strands can withstand a new color without suffering a bunch of damage. Below is our guide to helping you maintain a strong, healthy mane through every type of color change, as well as a few hair care tips, like using a hair gloss, to keep your color looking bright in-between salon visits and box dyes.

How Often Can You Dye Your Hair?
So, how often can you dye your hair? The answer really depends on three main factors.

1. What Is Your Starting Color?
First thing's first—what hair color are you starting out with? If you have black or brown hair and are coloring your mane a shade of blonde, you'll likely be damaging your strands more than if you were to stay one to two shades within your starting color. More specifically, if bleach is used to color your hair and achieve a lighter shade, you'll want to put more space in-between your coloring sessions.
Do you have virgin hair? If so, you can probably get away with dyeing sessions that are a little more frequent, as your strands won't have any prior damage.

2. How Damaged Is Your Hair?
While we're on the topic of hair damage, you should also base how often you dye your hair with the amount of hair damage you have. After all, you wouldn't want to damage your strands further, would you? If your hair has minimal damage, you can go ahead with more frequent coloring sessions. If your hair is super damaged, your best bet is to put off dyeing your strands as much as possible.
Editor's note: Try a temporary hair color spray that doesn't penetrate the hair shaft if you're really itching for a new hue. We love the L'Oréal Paris Colorista Hair Makeup 1-Day Hair Color Spray which lets you try out fun colors that wash out with just one shampoo.

3. What Type Of Hair Dye Are You Using?
Last but not least, take into account the type of hair dye you're using. If you're using a hair bleach like the L'Oréal Paris Feria Hyper Platinum Advanced Lightening System Bleach, you'll want to wait at least 14 days between sessions. That being said, to avoid bleach damaged hair, keep those dye jobs to a minimum for the sake of your hair's health.


If you're using permanent hair dyelike the L'Oréal Paris Feria, give your strands a break in-between dyeing sessions, waiting until your roots grow out. When you do need a refresh, simply do a root touch-up rather than coloring your entire head of hair.

If you're using semi-permanent hair dye like the L'Oréal Paris Colorista Semi-Permanent Hair Color, wait for your hair color to fade—which typically takes between four and ten shampoos—then color as you wish!
Editor's note: If you're still unsure, it's never a bad idea to turn to a professional who can gauge the health of your strands. Try booking a consultation with the L'Oréal Paris Haircolor Concierge. You can schedule a virtual session with a professional colorist to help determine when you should have your next coloring session.

3 Hair Care Tips To Keep Your Color Looking Its Best
In-between color sessions and noticing your color looking not-so-great? If you aren't ready to dye your hair again, there are a few tips and tricks you can put to use to disguise grown-out roots, get rid of brassiness, and keep your color looking its best.

Tip #1: Choose A Proper Hair Care System
The first step for keeping your color looking fresh is using a hair care system for color-treated hair. We recommend the L'Oréal Paris Elvive Color Vibrancy Protecting Shampoo and the L'Oréal Paris Elvive Color Vibrancy Protecting Conditioner, which work together to instantly repair dry, damaged, color-treated strands for nourished, protected hair and vibrant, lasting color.

Tip #2: Try A Hair Gloss
Hair glosses are a popular option for freshening up your hair hue without dyeing your mane all over again. The L'Oréal Paris Le Color Gloss One Step In-Shower Toning Gloss is an at-home treatment that works to enhance your hair color and tone, while also deeply conditioning your strands.
Tip #3: Use A Root Spray
You can also keep your color looking fresh with the help of root cover-up. Both the L'Oréal Paris Magic Root Cover Up and the L'Oréal Paris Magic Root Precision Pen come in a range of shades to conceal your roots in a flash while rinsing out in just one shampoo.
Photo Credit: Chaunte Vaughn, Art Director: Hannah Packer, Associate Creative Producer: Becca Solovay
{ "@context": "https://schema.org/", "@type": "WebPage", "speakable": { "@type": "SpeakableSpecification", "cssSelector": ["speakable-content"] }, "url": "https://www.lorealparisusa.com/beauty-magazine/hair-color/hair-color-application/how-often-can-you-dye-your-hair" }
Discover more tips & tricks
Keep your skin happy
See all articles
Shop Featured Hair Color products
Discover More
{ "@context": "http://schema.org", "@type": "BreadcrumbList", "itemListElement": [ { "@type":"ListItem", "position": 1, "item": { "@id": "/", "name": "Home" } } , { "@type":"ListItem", "position": 2, "item": { "@id": "https://www.lorealparisusa.com/beauty-magazine", "name": "Beauty Magazine" } } , { "@type":"ListItem", "position": 3, "item": { "@id": "https://www.lorealparisusa.com/beauty-magazine/hair-color", "name": "Bold Ideas From Hair Color Pros" } } , { "@type":"ListItem", "position": 4, "item": { "@id": "https://www.lorealparisusa.com/beauty-magazine/hair-color/hair-color-application", "name": "Hair Color Application" } } , { "@type":"ListItem", "position": 5, "item": { "@id": "https://www.lorealparisusa.com/beauty-magazine/hair-color/hair-color-application/how-often-can-you-dye-your-hair", "name": "how-often-can-you-dye-your-hair" } } ] }