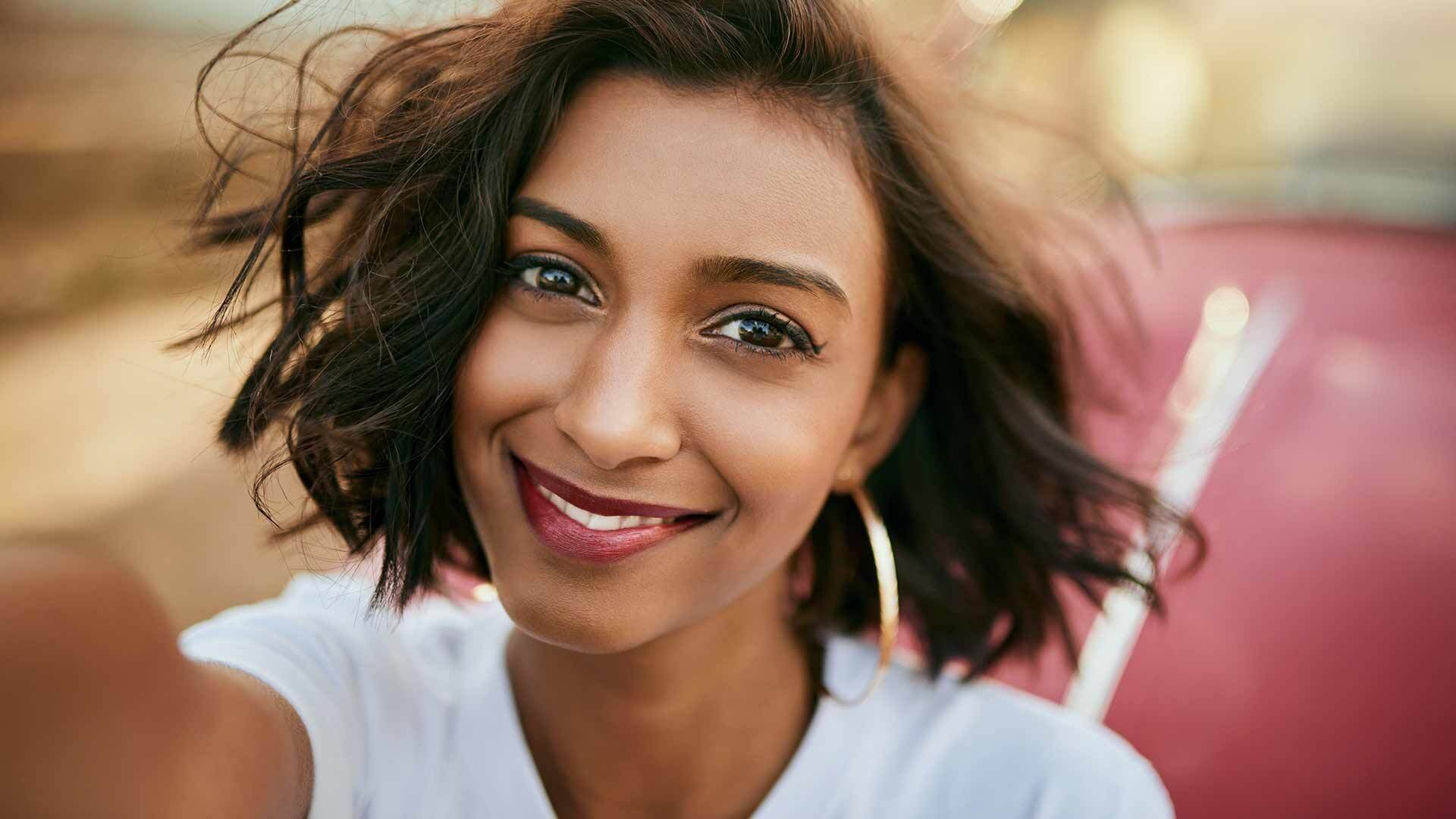 hair color ideas
How To Find The Best Brown Hair Color For Your Skin Tone
Brown hair sometimes gets overlooked as a boring and simple hue. But the truth is, brown hair is undeniably gorgeous. With the right shade—especially one that's perfect for your skin tone—brown hair can be just as exciting as a pink, purple or blonde hue. Whether you've been thinking about ditching your blonde, black, or red hair in favor of brown hair dye or you simply want to enhance your natural hair color, the possibilities are almost endless. There's nothing boring about that! So after you've decided that a brown hair color is for you, the next step is to find your most flattering shade. Keep reading to learn how to figure out your undertones so that you can pick a gorgeous brown hair shade to complement your skin tone, and what products you can use to keep it vibrant and healthy.
DETERMINE YOUR UNDERTONES FIRST
Your undertones will play a large part in how you choose your brown hair color. The key to finding your perfect pretty brown hair color is to pick shades with undertones that are the opposite of your skin's undertones. So, when it comes to picking a shade from all the brown hair colors out there, just remember you want to choose cooler shades for warmer skin and warmer shades for cooler skin.
Unsure of how to identify your skin's undertones? Instead of looking super-closely at your skin in hopes of having a better idea of what your undertones are, there are a couple of tricks you can adopt. Flip your wrist. If you see greenish veins, you have warm undertones, blue veins point toward cool undertones and if your veins seem to be somewhere in-between, your undertones are likely neutral.
THE BEST SHADE OF BROWN HAIR FOR YOUR SKIN TONE
Unless you majored in color theory, it's understandable that you might still be scratching your head wondering which brown color is really best for you. We've got your covered! Consider these recommendations of brown hair color to suit your undertones. And remember, sky's the limit when it comes to experimenting with hair colors so feel free to explore all the possibilities.
If you have warm undertones, brown shades like chestnut, dark chocolate, mushroom brown, and dark auburn will look fabulous with your skin. By pairing these complementary hues together, you can help brighten up the look of your complexion. What's more, a cooler hair color can help make yellow undertones look a bit creamier for an overall softer effect. Try L'Oréal Paris Féria in Cool Medium Brown or L'Oréal Paris Superior Preference in Cool Darkest Brown to get the look.
If you have cool undertones warm shades can work magic for your complexion. Think: amber, caramel with blonde highlights, golden brown, honey, or warm red. When you rock warm colors, this can help make your hair color really pop. Some of the alluring shades we love are L'Oréal Paris Féria in Light Golden Brown, L'Oréal Paris Excellence Creme in Light Reddish Brown, or L'Oréal Paris Superior Preference in Lightest Golden Brown for easy at-home hair color.
If you have neutral undertones that means you can rock any shade of brown hair, but we recommend not going too warm or too cool. That means you have plenty of options from a classic medium brown hair color to trendy nude hair. To DIY a gorgeous brown hue try L'Oréal Paris Féria in Hi-Lift Browns Downtown Brown, L'Oréal Paris Superior Preference in Medium Brown, or L'Oréal Paris Excellence Creme in Dark Chocolate Brown.
HOW TO CARE FOR BROWN, COLOR-TREATED HAIR
Remember, once you've achieved your desired hair color, you'll want to switch up your hair care routine and tailor it to color-treated hair. Use a shampoo, conditioner, and hair mask that are formulated to be safe for colored hair, like the L'Oréal Paris EverPure Repair & Defend Shampoo, L'Oréal Paris EverPure Repair and Defend Conditioner, and L'Oréal Paris EverPure Repair Remedy Balm. Use the shampoo and conditioner daily, switching out the conditioner for the hair mask a few times a week.
Next: How to Get Ashy Brown Hair
Discover more tips & tricks
Keep your skin happy
See all articles