hair color ideas
How To Get A Gorgeous Amber Hair Color
Warm hues are trending this year.
March 20, 2020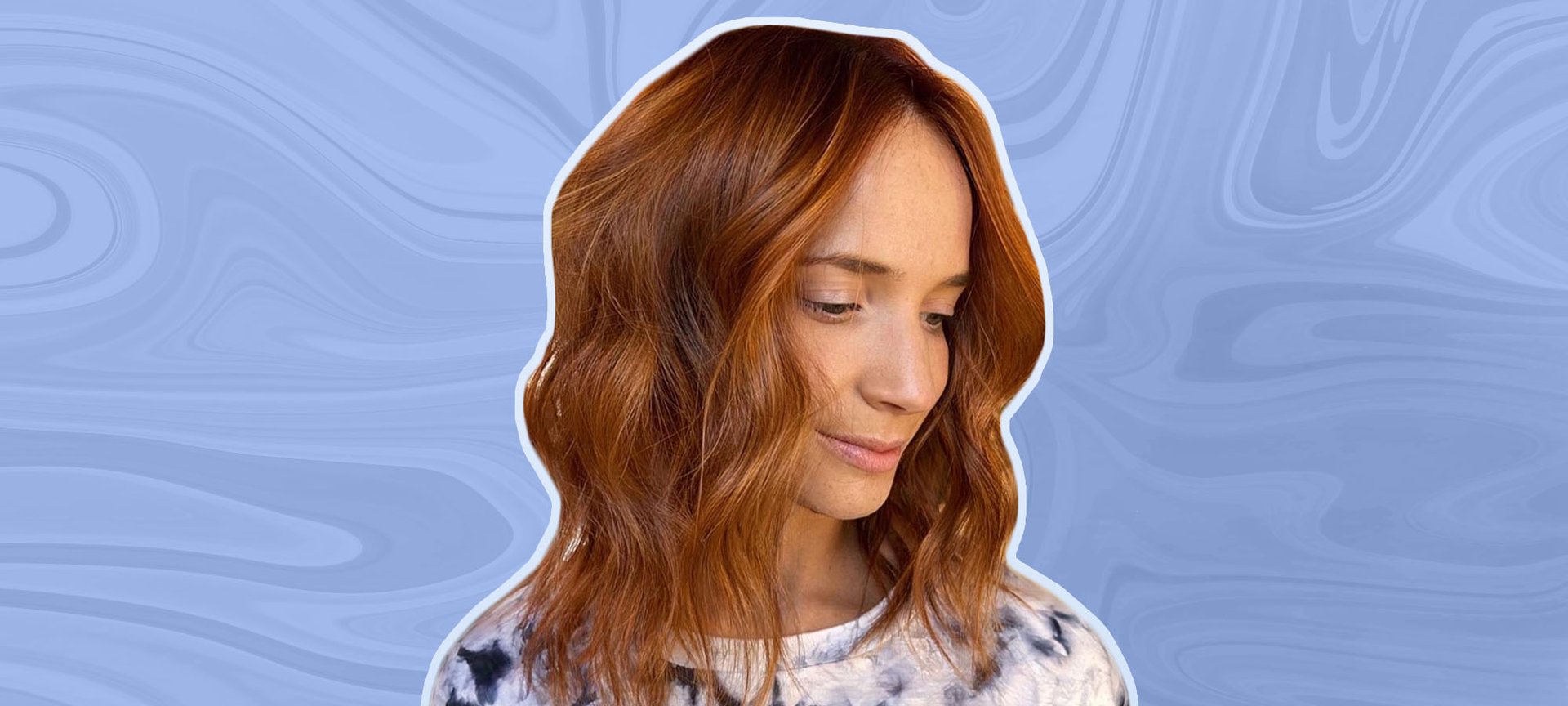 After years of cool tones dominating hair color trends, warm hues are making a major comeback. One of our favorite warm shades is amber, a beautiful hybrid between red hair and strawberry blonde. If you're looking to change up your 'do and opt for a new warm shade, keep reading because we're sharing how to achieve a gorgeous amber hair color. Plus, how to keep your fresh color looking its best.

What's An Amber Hair Color?
Like we mentioned, amber hair falls somewhere between red and strawberry blonde hues. However, like all hair colors, it's customizable and can certainly vary. In general, it features hints of gold, red, and orange tones, making for a warm shade that's full of dimension.
How To Get An Amber Hair Color
If you're planning on achieving an amber color with added dimension from highlights or balayage, then you're better off leaving it to a professional colorist. However, if you're game for saving a few bucks and coloring your mane at home, getting an amber hair color sans salon visit is totally doable. Just consult with the L'Oréal Paris Hair Color Concierge and check out our L'Oréal Paris hair color recommendations below.

For A Light, Golden Amber
To rock a light version of the shade with golden undertones, opt for the L'Oréal Paris Superior Preference Fade-Defying Shine Permanent Hair Color in Light Amber Brown. It delivers a rich color that lasts up to eight weeks.

For A Rich, Reddish Amber
If you're looking for a deep amber, try the L'Oréal Paris Superior Preference Fade-Defying Shine Permanent Hair Color in Chic Auburn Brown.

For A Reddish, Blonde Amber
For a shade that's just a bit richer than strawberry blonde, go for the L'Oréal Paris Excellence Créme Permanent Triple Protection Hair Color in Medium Reddish Blonde. This formula offers 100 percent gray coverage so It's a great option if you have budding silver strands that you're hoping to cover .

For A Deep, Coppery Amber
The L'Oréal Paris Féria in Auburn Brown is perfect if you're looking for a rich, brown-toned amber with hints of copper. It provides intense color payoff with multifaceted shimmer.

How To Care For Amber Hair
To keep your amber hair in great shape, treat your colored mane with care by following the tips below.

1. Use Hair Care Products For Color-Treated Hair
Since you've switched up your hair color, you'll want to follow suit with your hair care routine. This means you should replace your go-to shampoo and conditioner with formulas that are made for color-treated hair. We love the L'Oréal Paris EverPure Sulfate-Free Bond Strengthening Color Care Shampoo and L'Oréal Paris EverPure Sulfate-Free Bond Strengthening Color Care Conditioner because they're gentle on color, and they work to strengthen the hair by reinforcing weak hair bonds.
Editor's tip: Keep in mind, you should always turn the dial down as you wash your strands. Super-hot water can dry out your hair and cause your color to fade.

2. Always Use Heat Protectant
If you can't resist heat-styling your amber hair, make sure you use a heat protectant — every single time. The L'Oréal Paris EverPure Sulfate-Free Weightless Blow Dry Primer, Heat Protectant is great because you can use it on damp hair to protect against damage up to 450 degrees, as well as give you a smooth blowout.

3. Tone Your Hair
If you notice that your hair color is fading, use a hair toning gloss to give it the boost it needs. The L'Oréal Paris Le Color Gloss One Step In-Shower Toning Gloss in Copper works to condition the hair, boost shine, and tone color in just 15 minutes.
Next: 17 Biggest Hair Trends Of 2022

Edited by: Alyssa Kaplan, Photo Credit: IG/@samuelcronkhair
Discover more tips & tricks
Keep your skin happy
See all articles
Shop Featured Hair Care products
Discover More