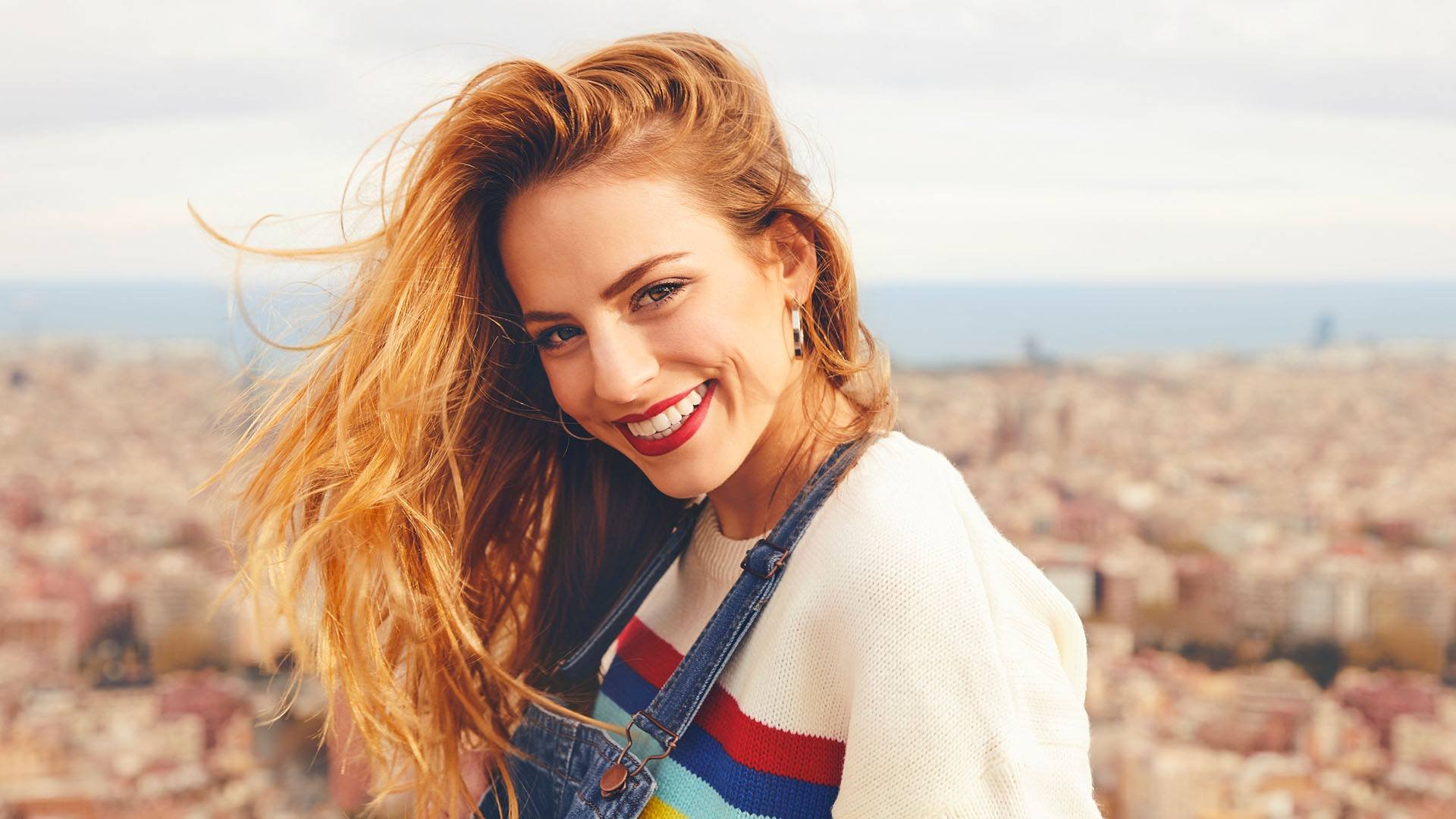 hair color ideas
How to Get a Gorgeous Amber Hair Color
Ready to switch things up in the hair color department? We have a feeling that one of the hottest hair color trends just might inspire a mane makeover. Amber hair, all eyes are on you! For those who are looking to add some warmth to their mane just in time for warmer weather, an amber hair color is perfect for the change of seasons. Want to give this hair color idea a try? Keep reading to find out how to DIY a gorgeous amber hair color, along with some hair care tips for maintaining your new hue.
WHAT IS AN AMBER HAIR COLOR?
Amber hair falls into the red color family, but there are quite a few variations of the trend, because this hue can easily be customized to flatter your complexion. The color features notes of gold, red, and orange tones, making for a warm shade that's full of dimension. You can even take your amber hair color a step further by adding blonde into the mix! Whether you prefer an all-over amber color or amber lowlights, the possibilities are truly endless.
HOW TO GET AN AMBER HAIR COLOR
It's easy (and sometimes smart) to leave your hair color job to your colorist, especially if you're going for a drastic change. However, if you're game for saving a few bucks and coloring your mane at home, getting an amber hair color sans salon visit is totally doable. That's right, you can bring the amber hair color of your dreams to life all on your own—all you need is the right hair color kit. First, take a scroll through Pinterest to find which amber hue suits your style, then choose one of the hair color options below, so you can start working some magic.
For an orange-gold amber hair color…pick up a box of the L'Oréal Paris Superior Preference Fade-Defying Shine Permanent Hair Color in Light Amber Brown.
For a reddish-blonde amber hair color…try the L'Oréal Paris Superior Preference Fade-Defying Shine Permanent Hair Color in Light Reddish Blonde.
For a golden brown amber hair color…give the L'Oréal Paris Superior Preference Fade-Defying Shine Permanent Hair Color in Hi-Lift Golden Brown a try.
For a coppery amber hair color…reach for the L'Oréal Paris Féria in Power Copper.
HOW TO TAKE CARE OF AMBER HAIR
Congratulations on your new amber hair color! We're sure you want to make sure your hard work doesn't go to waste. To keep your amber hair in tip-top shape, treat your color-treated mane with care using the four tips below.
TIP #1: USE A NOURISHING COLOR-TREATED HAIR CARE SYSTEM
Since you've switched up your hair color, you'll want to follow suit with your hair care routine. This means you should replace your go-to shampoo and conditioner with nourishing hair care products that will give your color-treated strands the TLC they deserve. Kick things off with the L'Oréal Paris Elvive Color Vibrancy Protecting Shampoo and the L'Oréal Paris Elvive Color Vibrancy Protecting Conditioner. Swap your conditioner with the L'Oréal Paris Elvive Color Vibrancy Repair and Protect Balm once or twice a week for extra care.
Editor's note: Keep in mind, you should always turn the dial down as you wash your strands. Super-hot H2O can dry out your hair, which is the last thing you need!
TIP #2: ALWAYS USE HEAT PROTECTANT
If you can't resist heat-styling your amber hair, make sure you spritz on a heat protectant. Heat damage can do a number on your mane, and we wouldn't want to see your beautiful hair color get ruined in the process. Keep the L'Oréal Paris Advanced Hairstyle SLEEK IT Iron Straight Heatspray, which helps to calm frizz, seal in shine, and protect your hair from heat damage, on your vanity.
TIP #3: AIR DRY YOUR STRANDS
While we understand that some styles call for using heat-styling tools, that doesn't mean that you can't take a break every once in a while. Air drying your hair works wonders to keep color-treated hair as vibrant as can be without skimping on style. Skeptical? Add an egg-sized amount of the L'Oréal Paris Advanced Hairstyle CURVE IT Elastic Curl Mousse to your strands, scrunch, and enjoy soft and bouncy curls. It's that easy!
TIP #4: GET FAMILIAR WITH TOUCH UPS
Like it or not, in order to keep your amber hair color looking gorgeous, touch-ups will be necessary. Be sure to have an extra box of hair dye on-hand so you can maintain your 'do when the time comes.
Next up: Interested in learning more about which hair colors are trending? Head on over to our article on 50 Popular Hair Color Trends for 2020.
Discover more tips & tricks
Keep your skin happy
See all articles
Shop Featured Hair Care products
Discover More