hair color tutorials
18 Chestnut Brown Hair Color Ideas You'll Want to Try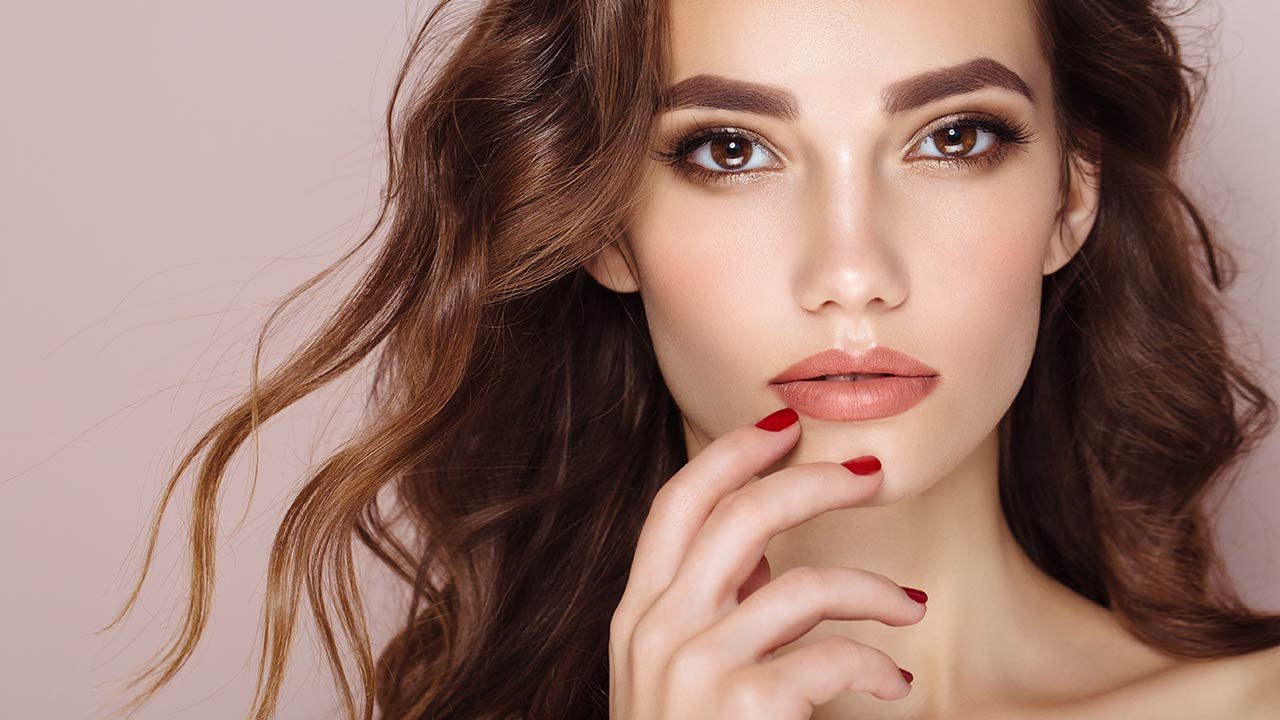 While brown hair is already undeniably stunning, chestnut hair adds a certain pizzazz to your brunette mane that we can't help but love. Chestnut brown hair can easily add warmth and dimension to your look and is the perfect way to spice up your natural brown locks without getting too dramatic with color. It's an ideal option for brunettes looking to switch things up in the hair color department, as well as blondes ready to explore the dark side. A chestnut brown hair dye will provide all that you need and then some. Keep reading to get the scoop on achieving your perfect chestnut brown hair color.
WHAT TO KNOW BEFORE GETTING CHESTNUT HAIR
Unlike many other hair colors, chestnut brown hair flaunts a more natural-looking brunette shade, so there is no need to worry about lightening unless you have very dark hair. If you are starting with a dark base color, bleach isn't necessary, but you'll want to lift the cuticle a bit to help create a warmer, lighter base for your new hue. Remember, the darker your starting shade, the more work that may be required to achieve your desired chestnut brown hue.
If you're familiar with dyeing your hair, you know it's smart to match your mane to your skin's undertones. While chestnut brown hair is a warm shade and consequently perfect for those with warm skin tones, it's important to note that you can customize this color based on your skin tone and personal preference. If you plan on visiting a colorist to achieve your chestnut brown hair color, it'd be smart to bring a few inspiration photos so you can score the right shade for you.
HOW TO GET CHESTNUT BROWN HAIR AT HOME
If you're a fan of coloring your hair at home and are looking to rock chestnut brown hair, try the L'Oréal Paris Excellence Creme Permanent Triple Protection Hair Color in Medium Chestnut Brown or the L'Oréal Paris Superior Preference Fade-Defying Shine Permanent Hair Color in Medium Chestnut Brown. The key to using either of these at-home hair color kits is making sure to follow the instructions included with the packaging. You may also want to consider stashing an extra box of chestnut brown hair dye in your bathroom for a quick touch-up as needed.
18 CHESTNUT HAIR COLORS TO TRY
If you're ready to hop on the chestnut hair dye trend, below, we're sharing 18 chestnut hair colors ranging from gorgeous highlights to rich, vibrant shades. Let's dive in!
1. CHESTNUT BROWN OMBRÈ
If you love low maintenance hair color options, chestnut brown ombré hair should definitely be on your radar. This look is the perfect way to flaunt two hair colors at once. It keeps your base intact, transitioning it into a chestnut brown shade for a gorgeous wash of color.
2. LIGHT CHESTNUT HAIR
If you want to rock a lighter hair color, feast your eyes on light chestnut hair. This hair color offers the best of both worlds by allowing you to play with lighter strands, while adding the perfect amount of dimension for a look that will sparkle in the sun.
3. BRONZED CHESTNUT BROWN
Bronzed chestnut brown hair is an ideal pick for those who love to add an extra dose of shimmer to their locks. This shade stays true to the rich brown hue chestnut hair is known for, while flirting with metallic tones, meaning you can count on having a mane with intense shine. All you need is a metallic makeup look to tie it all together.
4. CHESTNUT BROWN WITH AUBURN HIGHLIGHTS
If you want to up the ante with your chestnut hair color, we have a feeling that chestnut brown hair with auburn highlights will do the trick. This gorgeous hue is an excellent way to play with color and add dimension and movement into the mix.
5. CHESTNUT BROWN BALAYAGE
Speaking of highlight trends, you can't go wrong with chestnut brown balayage. Not only does this hue allow you to keep your base color, but you also don't have to worry too much about making time for regular touch-up sessions. Not to mention, this hair color looks amazing on almost everyone.
6. CHESTNUT BROWN WITH COPPER HIGHLIGHTS
Step outside-of-the-box when you're working with a standard chestnut brown hair dye by incorporating copper highlights into your look. This color features a reddish tone that pairs beautifully with brown hair and will spice up your 'do for a hair color that's anything but boring.
7. CHESTNUT ASH BROWN
If you can't decide between a rich brown hair color and a light hue, it may be time to get acquainted with chestnut ash brown hair. This ashy hair color will allow you to flirt with an almost-blonde hue without giving up on the brunette color you love. As a result, you'll sport a gorgeous gradient look with plenty of depth to give you head-turning hair color.
8. CHESTNUT BROWN MONEY PIECE
There's nothing wrong with sticking with your current hair color, but if you want to experiment with chestnut hair without embracing a full-color job, the money piece may be just what you need. This trend is all about coloring face-framing strands for a flattering look. Pair it with chestnut brown hair dye and your new hue will be the star of the show.
9. DARK CHESTNUT BROWN HAIR
If you prefer to keep your hair color on the dark side, prepare to fulfill your needs with dark chestnut brown hair. We especially love this shade for winter when you may want to darken up your mane.
10. CHESTNUT BROWN SOMBRÈ
Chestnut brown sombré features a highlighting technique that takes a softer approach on the ombré trend, making for a hair color that's equal parts subtle and stunning. Simply ask your colorist to super gradually transition your base color into chestnut brown ends for a winning look.
11. CARAMEL CHESTNUT BROWN
If you want to take your vibrant brown hair color up a few notches, caramel chestnut hair will rise to the occasion. This hair color option allows you to beautifully weave dimension into your brown base, helping brighten up your complexion and highlight your gorgeous features with ease. We also dig that this hair color is suitable for almost all skin tones.
12. GOLDEN CHESTNUT BROWN
Sometimes, you just want to flaunt a sun-kissed hair color. And while blonde hair usually is the way to go, you can also rock golden chestnut hair. This hair color weaves golden brown hues into your mane for a look that will rival any blonde baddie.
13. CHESTNUT BROWN WITH CHUNKY BLONDE HIGHLIGHTS
Consider trying out chunky blonde highlights for a bold look! When done right, this technique can provide your mane with the right amount of contrast to really emphasize your chestnut brown hair color and help you stand out from the pack.
14. CHERRY CHESTNUT BROWN
We've already shared the wonders of pairing your chestnut locks with reddish tones, but if you're game to take the look a step further, cherry chestnut brown hair will become your favorite in no time. This pick gives you the option of customizing this red-meets-brown shade to take on a warmer look or cool things down just a bit.
15. NUDE CHESTNUT BROWN
If you love to take hair color cues from your social media feed, then you may want to give nude chestnut brown hair a go. This hair color is the perfect option for adding a sandy hue to your rich mane and looks gorgeous on those with warm and cool skin tones.
16. WARM CHESTNUT
If you're looking to step away from traditional chestnut hair colors, warm chestnut hair may be your perfect match. This hue offers a beautiful earthy tone that works to add warmth to your face for a super-flattering finish.
17. PEEK-A-BOO CHESTNUT HAIR
Those that love to play with color but want to keep bold hues camouflaged will love the idea of peek-a-boo chestnut hair. The top layer of your mane will be a beautiful chestnut brown, while the underneath will feature a pop of color to your liking. When you put your hair up, you can show off the color. When you wear it down, it'll be our little secret.
18. CHUNKY CHESTNUT BROWN HIGHLIGHTS
If you want to spice up a brown base, consider giving chunky chestnut brown highlights a try. These thick, high-contrast highlights will add both dimension and warmth to your mane. Turn to the pros to bring this look to life.
HOW TO TAKE CARE OF CHESTNUT BROWN HAIR
Now that you've successfully transformed your hair into a pretty chestnut brown hue, it's time to show your strands some love. Color-treated hair requires special attention, so follow the tips below to help ensure your new hair color stays in tip-top shape.
1. SWITCH TO A COLOR-SAFE HAIR CARE SYSTEM
Make room in your shower for some new hair products. Your old essentials may not cut it once your hair is colored; instead, you should use a system of hair-care products meant for color-treated tresses. Try the L'Oréal Paris EverPure Moisture Shampoo, L'Oréal Paris EverPure Moisture Conditioner, and L'Oréal Paris EverPure Repair Remedy Balm, all of which are sulfate-free and will gently cleanse and replenish your strands for rich and vibrant color that goes the distance.
2. TURN DOWN THE DIAL IN THE SHOWER
Warm water, please! Super-hot water can strip your strands of essential oils (which can leave hair feeling drier and looking duller), so rinse off in lukewarm temps instead.
3. PROTECT YOUR HAIR BEFORE HEAT-STYLING
If you want to blow-dry your chestnut brown hair, make sure to use a heat protectant, like the L'Oréal Paris Advanced Hairstyle SLEEK IT Iron Straight Heatspray, first. Be sure to use the lowest heat setting on your styling tools that you can while still only making one pass over each section of hair.
4. EMBRACE YOUR HAIR'S NATURAL TEXTURE
Nothing beats chestnut brown hair on curly and wavy manes! So, put down the heat tools from time to time and rock your natural texture. Style curly hair with the L'Oréal Paris Advanced Hairstyle CURVE IT Elastic Curl Mousse. Simply apply an egg-sized amount evenly over your hair, scrunch, and air dry. Now you're all set!
If you want another way to highlight your natural texture, you can always kick things up a notch with the help of the L'Oréal Paris Studio Line Overworked Hair Putty. All you need is a dab of hair putty to add definition and a workable hold to any look.
Next up: If you still want to consider other hair color options, click over to our article on How To Find The Best Shade of Brown Hair For You.
Discover more tips & tricks
Keep your skin happy
See all articles
Shop Featured Hair Care products
Discover More