hair color ideas
51 Prettiest Chocolate Brown Hair Color Ideas for 2020
January 24, 2020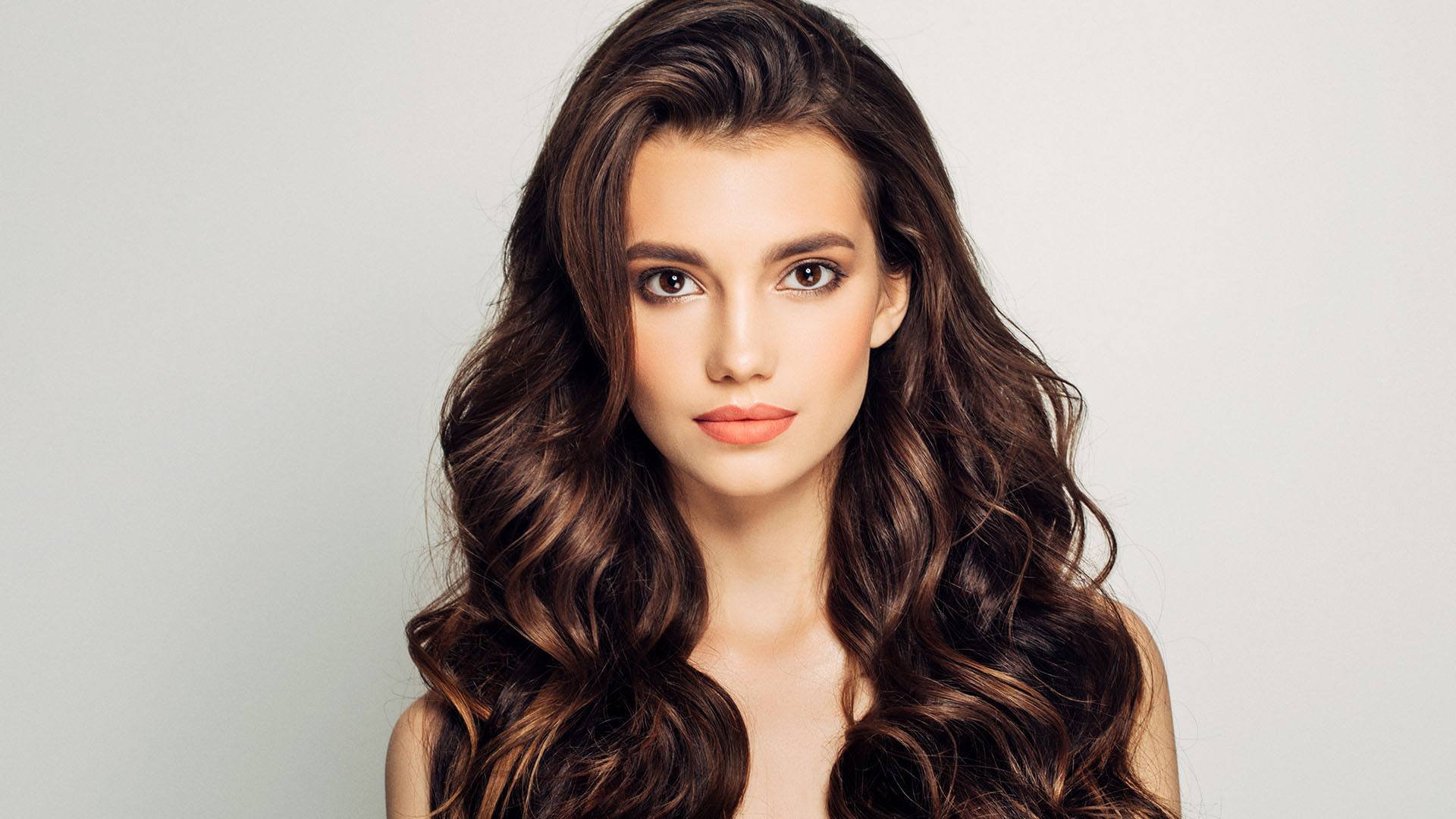 When it comes to sweet hair colors, you can't top chocolate brown hair. The best part is, with this warm, chocolatey hue, there are so many hair color options to choose from. Whether you've been flirting with the idea of blonde tones or interested in working some balayage action into your mane, chocolate brown hair can take you there. If you've been scouring Google for the best ways to sweeten up your strands, consider this your sign to stop. We've rounded up 51 chocolate brown hair color ideas you can try to transform your tresses.
1. LILAC CHOCOLATE BROWN
In the mood for a hair color that's girly and sweet? Look no further than lilac chocolate brown hair. If you want to experiment with color without going too bold, this shade is the perfect place to start. Transform your strands with the help of the L'Oréal Paris Colorista Hair Makeup Temporary 1-Day Hair Color in Lilac, applying the hair makeup over a chocolate brown base. If you're not feeling it, one simple shampoo can wash the purple out of your hair.
2. CHERRY CHOCOLATE BROWN
There is no better way to give your hair a vibrant lift than with a cherry red shade. This hair color gives your hair a gorgeous pop and adds warmth to your strands for a color that won't have you going unnoticed in 2020. Pop open a box of the L'Oréal Paris Féria in Deep Burgundy and get to work, following the included directions.
3. LIGHT CHOCOLATE BROWN
Light chocolate brown hair is another super-pretty option to consider. While most chocolate brown hues fall on the medium to dark side, this hair color keeps things light and bright. Best of all, this shade pairs well with almost all skin tones. Want in? Color your strands with the L'Oréal Paris Excellence Crème Permanent Triple Protection Hair Color in Light Golden Brown.
4. WARM CHOCOLATE BROWN HAIR
It doesn't get much more classic than a warm chocolate brown hair color. Flaunt the rich chocolate hue that you love with a subtle metallic twist with help from the L'Oréal Paris Féria in Bronzed Brown.
5. HONEY HIGHLIGHTS
If you're ready to test the theory that blondes have more fun without a full-color job, honey highlights over a chocolate brown mane are a safe pick. Honey highlights work to add warmth and richness to your mane for an unforgettable look.
6. BRONZE AUBURN HIGHLIGHTS
Think highlights are the move but want to try a shade that's not blonde? Enter bronze auburn highlights. With red and metallic tones, these shimmering highlights will add the perfect amount of edge to your 'do. If you're ready to step outside of the box, grab the L'Oréal Paris Colorista Hair Makeup Temporary 1-Day Color in BronzeAuburn and place temporary highlights throughout chocolate brown hair.
7. ROSE GOLD HIGHLIGHTS
Who says that rose gold is only reserved for your jewelry? Known as one of the hottest hair color trends, rose gold hair has been seen all over social media and on runways. Universally flattering, anyone can make this look their very own, and we think it's time you give this hue a go. Ask your colorist for a chocolate brown base and subtle rose gold streaks to get the perfect rose brown hair color.
8. RED HIGHLIGHTS
Playing with the idea of adding a red hue to your mane? Red highlights can instantly add dimension and movement to your strands. We also dig that it's a little different from traditional highlight shades and will surely turn heads with ease. Even so, red highlights on brown hair aren't super dramatic, so don't shy away from this option!
9. CHOCOLATE BROWN SABLE
In case you haven't realized, brown hair is where it's at. With effortless richness, warmth, and depth, not too many hair colors can live up to this kind of hype. If you're interested in sticking with a timeless brown hue, try a chocolate brown sable hair color, which blends discreet red tones with multiple shades of chocolate.
10. MIDNIGHT BLUE LOWLIGHTS
Feeling blue isn't so swell, but a blue-tinged mane is far better. Consider adding midnight blue lowlights to your hair for a boost of dimension. Use the L'Oréal Paris Colorista Semi-Permanent Hair Color in Midnight Blue to take a chocolate brown base to the next level.
11. GINGER RIBBONS
Ginger ribbon highlights might just be what your strands are missing. This unique technique allows color to be woven throughout your strands for a sweet touch of color that pairs perfectly with chocolate brown tresses. Just think about how good chocolate gingerbread cookies are, and you'll get the idea.
12. AUBURN BROWN RIBBONS
Dreaming of the beach? While vacation may not be in the cards right now, you can give your strands a touch of the sun with beautiful auburn ribbon highlights. This sun-kissed shade gives your chocolate brown hair a vibrant, multi-tonal look that's right on-trend.
13. MAROON SOMBRÉ
If you're torn between keeping your chocolate brown hair and trying out a new shade, a maroon sombré hair color will make the decision for you. This gorgeous hair color idea gives your strands a taste of the ombré trend, but with a softer approach. Blending chocolate brown roots into maroon ends, it's unexpected yet subtle—the perfect combination.
14. HONEY GLAZE SOMBRÉ
In case you've been MIA, shiny strands have been getting tons of attention lately. From holographic hair to mermaid manes, the possibilities are endless. However, if you prefer to embrace the trend without ditching your naturally chocolate brown hue, honey glaze sombré strands are the answer. This trend adds a natural shine to your hair for a look that will have all eyes on you. Get the look with the L'Oréal Paris Excellence Crème Permanent Triple Protection Hair Color in Dark Golden Brown.
15. NATURAL BLONDE SOMBRÉ
One of the most common ways to try the sombré trend on brown strands? With a natural-looking blonde hair color. Have your colorist blend the blonde shade into a light chocolate brown base for a perfectly subtle hair color gradient.
16. PINK SOMBRÉ
We can't get enough of pastel shades, and this chocolate brown and pink combination is no exception. This color is an excellent alternative for those who want to add a soft touch of color to their strands for a playful vibe. Instantly take your selfie game to the next level by bleaching your ends and then coloring them with the L'Oréal Paris Colorista Semi-Permanent Hair Color in Pink. So pretty!
17. CHESTNUT OMBRÉ
Now, if you're ready to go bold with your hair color, a chestnut ombré will certainly pick up the pace. This gorgeous hair color adds a certain level of spice and pizzazz to chocolate brown strands while still being a shade you can wear anywhere from the office to meeting the parents.
18. BLACK OMBRÉ
While a black hair color may seem like it lacks the appropriate oomph, pairing it with chocolate brown hair can instantly level up your look. This option covers all the bases for times when you're craving a darker tone for your hair. Undeniably beautiful and flattering, you can't go wrong with blending black roots into chocolate brown ends.
19. BRONDE OMBRÉ
Want a style that can go the distance no matter the season? Bronde ombré deserves your attention! This beautiful shade offers a mix of blonde and brown tones that will warm up your complexion. It's also a great in-between option if you're considering switching over to the blonde side; you can try introducing a blonde hue to your look while preserving your rich chocolate color—it's the best of both worlds.
20. CHOCOLATE BRONDE
To take bronde hair up a few notches, you can take the plunge with an all-over hair color. Try a shade that blends warm chocolate brown with caramel blonde. That's about as sweet as it gets!
21. CARAMEL BROWN BALAYAGE
Balayage is the gift that keeps on giving. A popular highlighting trend, this option creates highlights with a more natural appearance for a truly beautiful sun-kissed look. And of course, once you add a caramel hair color into the mix, things only get better and better.
22. VIOLET BALAYAGE
Want to play with color and rock a cool tone? Violet balayage will get the job done. This stunning shade offers a nice touch of color that looks especially gorgeous when light hits your strands. Mixing hints of violet with chocolate brown hair makes for a beautiful color that's easy to manage.
23. CINNAMON CHOCOLATE BROWN
Cinnamon hair has long been a thing, but pairing it with chocolate brown hair takes things to new heights. This trendy hair color adds milky brown, ginger, and red highlights to your mane for a dimensional, spicy hair color.
24. HAZELNUT ENDS
This popular coffee flavor is seriously tasty, and it also makes for a great addition to your strands. As a hair color, hazelnut blends a mix of medium blonde, dark brown, and light gold shades into your mane. Have your colorist paint the various hues onto the ends of chocolate brown locks for a hair color so good it's addicting.
25. MELTED CHOCOLATE CAPPUCCINO
While you have coffee on the brain, let's talk about another coffee-inspired color: melted chocolate cappuccino hair. This trendy color adds warmth and dimension to your strands for a look that can seamlessly transition from winter to summer. A gorgeous mix of golden blonde, medium blonde, and dark brown shades, it looks just as great as it sounds.
26. CHOCOLATE BROWN TOASTED CARAMEL
Another way to liven up a chocolate brown hair color? Opting for chocolate brown toasted caramel hair! Combining golden brown, medium brown, medium blonde, and black shades, this color is all about dimension, so much so that you won't be able to help but swoon.
27. ASH CHOCOLATE BROWN
While chocolate brown is a traditionally warm hair color, you can also choose a hue that will cool down your look. Sometimes, you want to flaunt a shade that boasts a cool tone, and ash chocolate brown hair fits the bill. This hair color allows you to take a step on the dark side—all without hitting the salon. See for yourself with the L'Oréal Paris Superior Preference Fade-Defying Shine Permanent Hair Color in Light Ash Brown.
28. CHOCOLATE FONDUE
If you don't want to go too light, why not try a chocolate fondue hair color? This trend darkens your look with a super deep, chocolatey base but warms things up with medium brown highlights that are great for creating movement.
29. CHOCOLATE MOUSSE LOWLIGHTS
While it may be hard to control your sweet tooth, you can help satiate your desires with your hair color. Chocolate mousse hair gives your mane the look of more texture for a winning look. Pick up the L'Oréal Paris Colour Experte in Chocolate Mousse to give your strands a stylish treat.
30. COPPER ENDS
Consider adding a reddish tone to your strands via copper ends. With a warm orange-toned hue, this color will add depth to chocolate brown strands. Depending on your base color, choose a copper shade that will create the perfect transition in color.
31. COPPER MONEY PIECE
If all-over color is not your style, but you still want to experiment, we have a great option for you. Give your mane a chic accent with the money piece trend. All you need to do is highlight face-framing strands instead of coloring large sections of hair. Opt for a copper money piece on chocolate brown hair, and you'll be left with a hair color that looks particularly amazing on those with warm and neutral undertones.
32. MAHOGANY MONEY PIECE
Red hair is chic, stylish, and statement-making. One of our favorite options? Mahogany hair. Take things a step further and incorporate the money piece trend here, too. Give the look a try and use the L'Oréal Paris Colorista Semi-Permanent Hair Color in Burgundy to add a highlight or two around your face.
33. CRANBERRY ACCENTS
Since we're on the topic of red hair, there's another trend you should know about. Cranberry accents add a chic contrast to a chocolate brown mane and can set your hair color apart from the rest. If Pinterest-inspired looks tickle your fancy, this one is for you.
34. CHOCOLATE BROWN AND TOFFEE
Looking for a low maintenance hair color? A chocolate brown and toffee hair color may just be what you're looking for. This option looks particularly beautiful on those with naturally dark hair. The toffee hue consists of dark blonde and rich brown tones that add warmth to your look and complement chocolate brown hair.
35. ROOTED DARK CHOCOLATE BROWN
When it comes to a color job with minimal maintenance, rooted dark chocolate brown hair truly takes the cake! This gorgeous color trend keeps your roots dark and transitions into a lighter chocolate brown hue for a look that will receive major style points.
36. DARK CHOCOLATE BROWN
Love the idea of a dark chocolate hair color? You can also get the look sans the roots.
37. SILVER STREAKS
Silver hair may be bold, but if you love to take risks with your hair color, streaks of silver may be the perfect fit for you. The key is to match this icy hue with a warm shade to give your hair color a bit of light and warmth. And of course, chocolate brown hair is the perfect option. Pick up the L'Oréal Paris Colorista Hair Makeup Temporary 1-Day Hair Color Spray in Silver to complete your look.
38. INDIGO DIPPED ENDS
Dare to be dramatic with your hair color choice? If so, indigo ends line up with your needs. Unlike other colorful options we've mentioned, this color is on the darker side, blending purple and grey hues for a seriously pretty outcome. Get the look with the L'Oréal Paris Colorista Semi-Permanent Hair Color in Indigo, applying the indigo shade on the ends of chocolate brown strands.
39. GLOSSY CHOCOLATE BROWN
High-gloss hair is the epitome of healthy-looking hair, and who doesn't want that? Up the gloss factor on your chocolate brown hair with a hair gloss or glaze.
40. HONEY TIPS
Brighten up your look without highlighting your entire mane by dipping your ends in honey. Not literally, of course, but have your colorist paint your ends with a honey brown hue that will complement your chocolate brown hair color.
41. AUBURN ENDS
While we already mentioned the wonders of auburn hair colors, this list wouldn't be complete without including auburn ends. This reddish shade can add a nice accent to your chocolate mane and won't require a lot of upkeep—a rarity with red hair colors.
42. WARM COFFEE
For a hair color option that pairs well with your morning routine, warm coffee hair is a no-brainer. Boasting gold tints, blonde hues, and light and dark brown shades, this gorgeous hair color takes cues from the perfect cup of coffee. Since this trend involves blending multiple hair colors, we recommend booking an appointment with your stylist to get the look.
43. GREEN ACCENTS
If you don't mind taking risks with your hair color, you might be surprised to see how beautiful green will look with your chocolate brown tresses. An excellent choice for a set of lowlights or dipped ends, green accents really bring chocolate hair to life in a whole new way.
44. PASTEL PURPLE ACCENTS
Don't shy away from giving pastel purple a go. While all-over color might be a bit much for most of us, we're confident you can pull off purple accents. This shade blends beautifully with chocolate brown hair for a mix of cool and warm tones that you'll love. With so many ways you can customize this look, you're sure to have a unique hair color.
45. MOLTEN CARAMEL CHOCOLATE BROWN
Can't resist a warm hair color? Let us introduce you to another favorite: chocolate brown hair with molten caramel highlights. This shade blends traditional highlights with balayage to give your mane a beautifully blended color. Take things a step further by combining this hair color with smudged roots to ensure a gorgeous transition in color.
46. CARAMEL TWISTS
Caramel twists are another warm hair color option you'll love. With bronzed brown and light blonde shades woven throughout your hair, you'll definitely stand out in a crowd. After all, who doesn't love warmth, dimension, and depth balled into one?
47. WARM ESPRESSO
Warm espresso hair features a mix of colors that sit on the cusp of black and brown, breathing new life into chocolate brown hair. Try it out with the L'Oréal Paris Superior Preference Fade-Defying Shine Permanent Hair Color Color in Cool Darkest Brown or L'Oréal Paris Excellence Crème Permanent Triple Protection Hair Color in Dark Ash Brown.
48. MILK CHOCOLATE SWIRL
If you're game for adding a lustrous look to your hair, this milk chocolate swirl hair color is a great way to do so. Starting with dark chocolate brown as the base, light brown highlights and gold highlights are blended in for a vibrant and warm look.
49. COCOA BROWN ACCENTS
If rich chocolate hair is calling your name, cocoa brown accents should be on your radar. This hair color trend mixes medium brown and light brown shades with hints of golden blonde to provide your hair with more dimensional color. Play it safe and visit your colorist to get your desired look.
50. SUN STREAKED
Sun-streaked hair adds strips of golden blonde to your locks, making them the center of your look. A top contender for those who love natural-looking, warm hair colors, use an at-home highlighting kit to get sunny chocolate brown strands.
51. MAPLE CHOCOLATE
Maple syrup is sweet to taste, and it makes for an equally sweet hair color. A great option for those who love to experiment with dark shades, it features light brown highlights added to a dark base for subtle warmth.
Discover more tips & tricks
Keep your skin happy
See all articles
Shop Featured products
Discover More