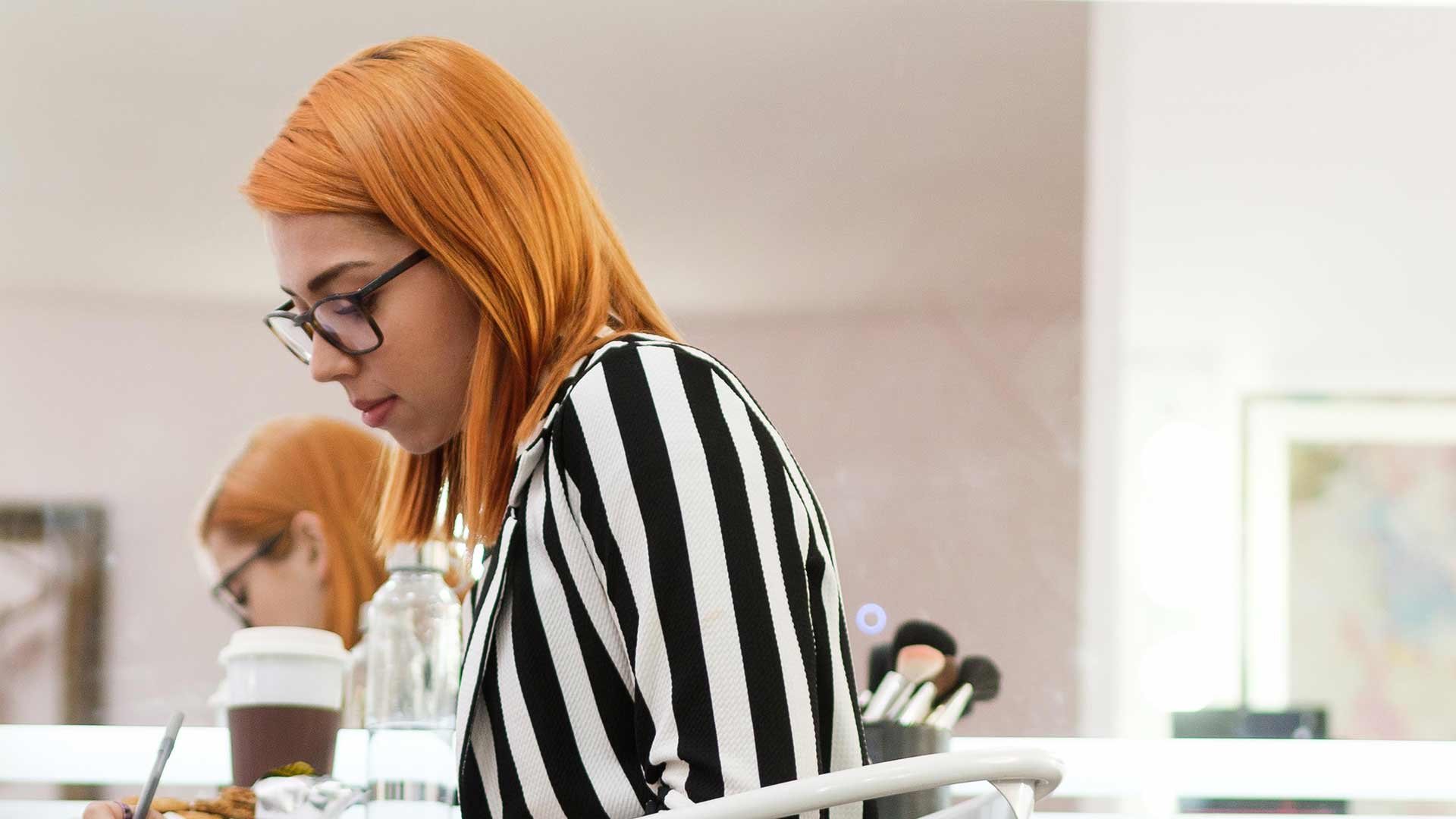 hair color application
What Color Covers Orange Hair?
You tried to DIY a hair color at home—only to end up with horribly brassy, orange hair. Yikes! Whether you used bleach in an attempt to lighten dark locks into a beautiful blonde shade or have fallen victim to faded red hair dye, knowing what color covers orange hair can certainly come in handy. Yes, just like when you learned about the color wheel in elementary school, certain hair colors and colored products can be used for toning orange hair. Below, we're detailing everything you need to know about how to fix orange hair so you can move past your mane mishap.
HOW TO FIX ORANGE HAIR
There are a few ways you can go about fixing orange hair. As we mentioned, it all comes down to color theory. You'll need to know what color cancels out orange in order to neutralize those brassy, warm tones. Confused? We promise it's not complicated! Here's the deal.
WHAT COLOR COVERS ORANGE HAIR?
Ended up with a horribly brassy blonde? No need to panic! If you find yourself wondering if you can put dark blonde over orange hair, you're in luck. As it turns out, you can use a blonde hair dye to neutralize your orange hair—the secret is to look for a shade that's ashy. Ashy, cool undertones are the key to canceling out the warm, unflattering orange tones that currently adorn your strands. Try the L'Oréal Paris Superior Preference Fade-Defying Shine Permanent Hair Color in Medium Ash Blonde. Just keep in mind your mileage may vary with this method, as the level of brassiness can impact whether or not you're able to cover it completely. If this option doesn't work for you, or you don't want to try it yourself, you can also have your colorist assess your strands and apply an ash blonde dye for you.
HOW TO USE TONER FOR ORANGE HAIR
Aside from actual hair dye, you can also use hair toner to neutralize brassy, orange tones. There are four popular options that can help with this.
OPTION #1: IN-SALON TONER
The most instantaneous, foolproof way to tone orange hair is by heading to the salon for a toning session. This is an especially good option if you're dealing with an unsightly, bright orange hair color. Your colorist can mix a special formula of bleach and toner to lighten and neutralize your specific shade of orange hair all at once.
OPTION #2: HAIR GLOSS
If your hair isn't horribly riddled with orange, a hair gloss can be used for toning your hair. While this won't work on a bright orange mane, it can be an effective solution for those looking to get rid of brassy, orange warmth. Reach for the L'Oréal Paris Le Color Gloss One-Step In Shower Toning Gloss for a quick at-home treatment. The paraben- and ammonia-free formula helps to enhance color and tone while boosting shine and conditioning the hair. You can choose from the options for blonde hair or red hair to ward off those orange-y hues.
OPTION #3: BLUE SHAMPOO
Are you a brunette who attempted to go blonde only to end up with undesirable brass? If you're looking to fix your orange hair at home, a blue shampoo for orange hair will be your best friend. As you can probably imagine, blue shampoo has blue pigments in it to help neutralize orange and red tones. Rather than using it regularly, use it a few times a week when you want to get rid of brassy, orange hair.
OPTION #4: PURPLE SHAMPOO
Chances are you're familiar with purple shampoo, or at least have heard of it. If your hair is on the yellowish, orange end of the spectrum, purple shampoo will fix it. Like blue shampoo, purple shampoo is another at-home option that's formulated to neutralize brassy yellow and orange tones in color-treated hair. It's primarily used to tone blonde, color-treated hair.
Try using the L'Oréal Paris Elvive Color Vibrancy Purple Shampoo for Color Treated Hair in conjunction with the L'Oréal Paris Elvive Color Vibrancy Purple Conditioner for Color Treated Hair. This duo uses purple pigments to neutralize undesirable yellow and orange tones. Once a week, apply the shampoo for one to three minutes. Rinse, then apply the conditioner for five minutes before rinsing.
Want a sulfate-free option? Pick up the L'Oréal Paris EverPure Brass Toning Purple Sulfate Free Shampoo and use it alongside the L'Oréal Paris EverPure Brass Toning Purple Sulfate Free Conditioner. This system works to hydrate and neutralize brassy yellow and orange tones in blonde, bleached, highlighted, and silver hair. Two to three times a week, when hair looks orange, apply the shampoo and follow with the conditioner.
Orange hair can be beautiful, if it's the look you're going for. But if your shade turns into an undesirable hue, remember that you have options to help fix it. And next time, be sure to consult with the L'Oréal Paris Haircolor Concierge to talk to live experts and access online resources and tools before you color your hair. You can even set up a one-on-one video consultation with a professional colorist so that you can color with confidence.
Photo: iStock
Discover more tips & tricks
Keep your skin happy
See all articles
Shop Featured Hair Care products
Discover More