skin care essentials
Our Best Moisturizers With Hyaluronic Acid
December 16, 2019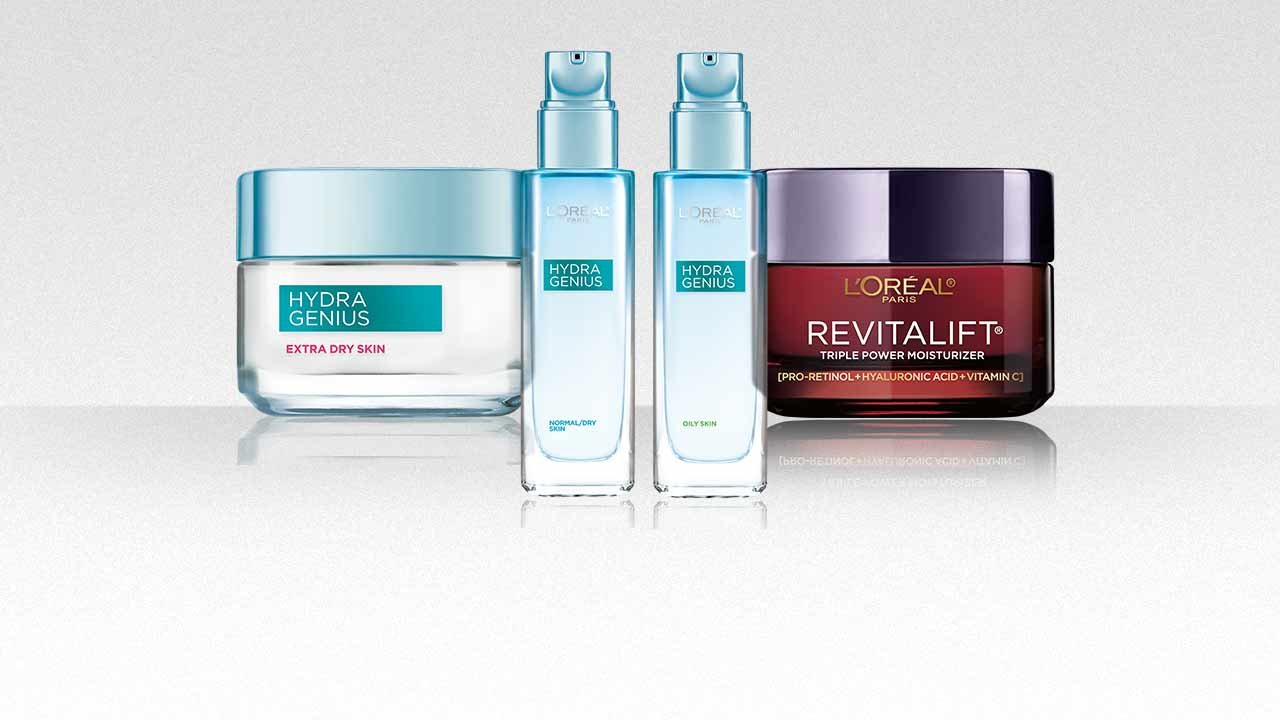 By now it's hard not to come across hyaluronic acid in any quick search on best skin care products and ingredients. It's become one of the most buzzed-about ingredients in skin care over the last few years—and you can find it in everything from moisturizers to serums to eye creams. With its game changing hydrating benefits, there's no wonder why products formulated with hyaluronic acid are highly sought after. And we especially love a good facial moisturizer with hyaluronic acid. Keep reading to learn about our best hyaluronic acid moisturizers to add to your skin care routine.
THE BENEFITS OF HYALURONIC ACID
Before we give you the scoop on our favorite moisturizers formulated with hyaluronic acid, let's do a quick refresher on why this anti-aging miracle worker is so beloved. You most likely know the stat that this popular (and dermatologist-recommended) ingredient is capable of holding up to 1,000 times its weight in water—and it's true. But it does so much more. According to the American Academy of Dermatology, hyaluronic acid can help soothe dry skin, while the National Center for Biotechnology Information (NCBI) states that hyaluronic acid can be used to treat wrinkles and skin elasticity. It's an anti-aging and moisturizing powerhouse all in one!
OUR BEST HYALURONIC ACID MOISTURIZERS
Moving on to what you really came for: Enter our best moisturizers with hyaluronic acid.
As skin ages, you may notice that wrinkles and rough texture are becoming more noticeable. This multitasking day cream is formulated with hyaluronic acid, Pro-Retinol and vitamin C to reduce wrinkles, firm and brighten the skin in just one week. It's paraben-free, allergy tested and even suitable for sensitive skin. It's the perfect pick when you want a moisturizer that also comes with built in sun protection, thanks to its SPF 30.
This line offers three lightweight moisturizers formulated with hyaluronic acid and aloe vera water, each of which is designed for a different skin type. To use any of the following moisturizers, start by cleansing your skin, then smooth your moisturizer of choice over your face and neck while your skin is still damp to help lock in hydration.
For oily skin beauties, don't skip moisturizer, opt for the L'Oréal Paris Hydra Genius Daily Liquid Care – Normal/Oily Skin instead. This water-based moisturizer helps reduce the appearance of excess shine and has a matte finish. If you have dry skin, grab the L'Oréal Paris Hydra Genius Daily Liquid Care – Normal/Dry Skin or L'Oréal Paris Hydra Genius Daily Liquid Care – Extra Dry Skin to envelop the skin with moisture and improve the look of radiance. If your skin is neither dry nor oily, take your pick to indulge in intense hydration and all day comfort.
This anti-aging moisturizer, formulated with hyaluronic acid provides long-lasting hydration and immediately makes skin look more radiant. This beloved moisturizer is trusted by women all across the United States—more than 10,000 women tried it, saw results in just one week, and when polled afterward, shared they trusted the product and would continue to use it. Bye bye wrinkles and dullness!
Prefer a fragrance-free moisturizer? We've got you covered! Grab the L'Oréal Paris Revitalift Triple Power Anti-Aging Moisturizer Fragrance Free.
Let this skin care dynamo work its magic while you snooze—it'll take your beauty sleep up a notch so you can wake up with skin that's softer, brighter and more refreshed. Overnight, skin is visibly more radiant and resilient. Over time, skin is firmer and wrinkles are less noticeable. Layer it on every night after your go-to serum.
OUR BEST HYALURONIC ACID SERUM
Hyaluronic acid face creams aren't the only way for you to work the popular ingredient into your skin care routine. Take your moisturizing and anti-aging routines to the next level with multiple products made with hyaluronic acid—including these must-have serums below.
The 1.5 percent concentration in this serum is key since, according to the NCBI, only a very low molecular weight of hyaluronic acid is able to penetrate the skin. The lightweight serum, which is free of fragrance, mineral oil, synthetic dye, and parabens, replenishes moisture for plumped, youthful skin with a bounce. After just two weeks, you can expect fine lines and wrinkles to be visibly reduced.
Each drop of this lightweight serum is like a hydration party for the skin. Formulated with an exclusive Antioxidant Recovery Complex (derived from bitter orange), vitamin E and hyaluronic acid, it works to help cell renewal at night when skin is at its peak recovery. It tackles wrinkles, dullness and helps firm the skin while it hydrates. Use it at night and follow up with a dose of the serum in the morning to protect against environmental aggressors that can affect skin in the daytime.
Photo Design: Sarah Duvivier
Discover more tips & tricks
Keep your skin happy
See all articles
Shop Featured Skin Care products
Discover More