skin care essentials
Our Best Moisturizers With Hyaluronic Acid
All skin types can benefit from hyaluronic acid.
July 27, 2022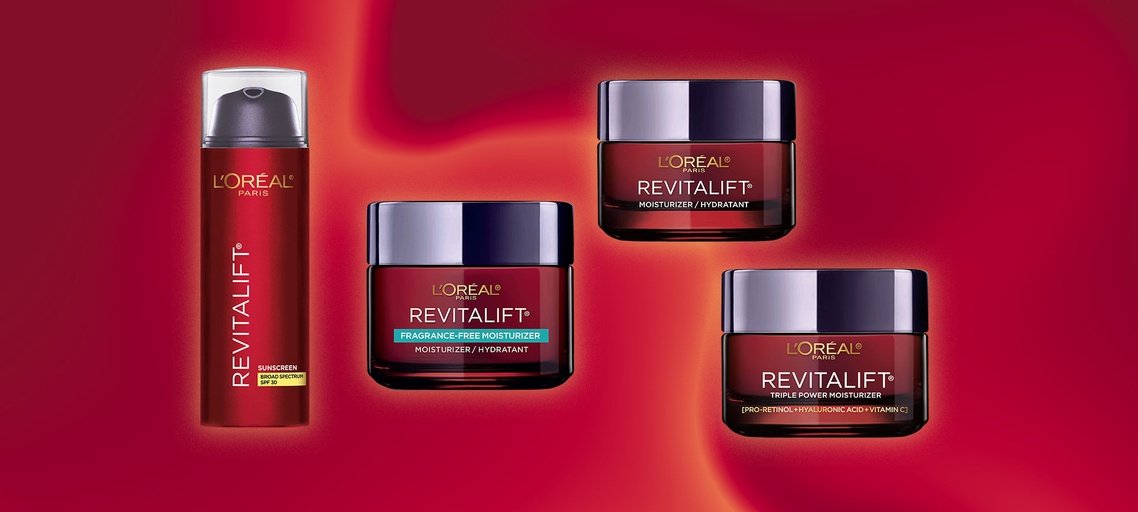 The holy grail hyaluronic acid is undoubtedly one of the most highly-regarded ingredients in skin care for the way it retains moisture and plumps the skin. You can find it in just about everything from moisturizers to eye creams and even hair care products, and with its stellar hydrating benefits, there's no wonder why products formulated with hyaluronic acid are so highly sought after. Hydration is essential for all skin types and since a good moisturizer is such a fundamental step in any routine, keep reading to learn all about the best L'Oréal Paris moisturizers formulated with hyaluronic acid.
The Benefits of Hyaluronic Acid
Hyaluronic acid does wonders for boosting hydration and keeping the skin moisturized. This star ingredient is capable of holding a large amount of weight in water which tremendously helps the skin to retain moisture.
You can also use hyaluronic acid every time you do your skin care routine, unlike other common anti-aging ingredients like retinol or acids. According to the American Academy of Dermatology, (AAD) hyaluronic acid can help soothe dry skin, while the National Center for Biotechnology Information (NCBI) states that hyaluronic acid can be used to treat wrinkles and improve skin elasticity.
4 Best Hyaluronic Acid Moisturizers
Hyaluronic acid helps the skin to retain moisture while moisturizer locks in hydration, so combining the two is a no-brainer. If we haven't convinced you enough, hyaluronic acid moisturizer is an anti-aging powerhouse that visibly improves the appearance of your skin. Truth be told, it's hard to name a reason why you shouldn't be using one, so read on to discover the best L'Oréal Paris moisturizers with hyaluronic acid.
This anti-aging moisturizer is formulated with star ingredients such as hyaluronic acid, Pro-retinol and vitamin C to offer long-lasting hydration, visibly reduced wrinkles and radiant-looking skin. The non-greasy formula makes it a great option for all skin types, especially oily skin, and it layers well with other products to create the perfect base for makeup without clogging pores.
Get everything you love about the RevitaLift Triple Power Anti-Aging moisturizer like long-lasting hydration, radiant skin and a non-greasy finish with a fragrance-free formula. This is a great option for those who prefer to avoid fragrances in skin care and is dermatologist-tested for sensitive skin.
All the impressive benefits of the Revitalift Triple Power Anti-Aging moisturizer with the addition of SPF 30. As skin ages, you may notice that wrinkles and rough texture become more noticeable so this multitasking day cream with active ingredients and SPF is just what you need to address signs of aging. After just one week of use, skin will feel softer, smoother and look visibly refreshed.
Editor's tip: Pair your hyaluronic acid moisturizer with a foundation that has hyaluronic acid like the L'Oréal Paris True Match Hyaluronic Tinted Serum to brighten your complexion and give the skin a hydrated feel.
Let this skin care powerhouse work its magic while you snooze and wake up with skin that's softer, radiant and visibly rejuvenated. This overnight mask contains the same trio of ingredients in the RevitaLift Triple Power Anti-Aging Moisturizer, hyaluronic acid, Pro-retinol and vitamin C, to refresh, firm and brighten skin overnight. Layer it on at night after your go-to serum to cash in on all the fabulous skin care benefits while you sleep.
Our Best Hyaluronic Acid Serums
Hyaluronic acid moisturizers aren't the only way to work this popular ingredient into your skin care routine. Take your moisturizing and anti-aging routines to the next level with multiple hyaluronic acid products by introducing these must-have serums below.
This non-comedogenic, hyaluronic acid serum offers visibly bouncy and moisturized skin without annoying greasy textures or leftover residue. Free of fragrance, mineral oil, synthetic dye and parabens, this dermatologist-tested serum is a great option for all skin types. After just two weeks, expect fine lines and wrinkles to be visibly reduced, and moisture replenished for plumped, youthful skin with a bounce.
Formulated with an exclusive antioxidant recovery complex (derived from bitter orange), vitamin E and hyaluronic acid, each drop of this lightweight serum is like a hydration party for your skin. Reach for this serum to visibly reduce fine lines, reinforce the skin's barrier and firm the skin as it hydrates. Use it at night for peak cell renewal and follow up with a dose in the morning, before applying SPF to protect against environmental aggressors.
Next: The Benefits Of A Face Moisturizer With SPF
Edited by: Reece Andavolgyi, Design by: Crystal Simone
Discover more tips & tricks
Keep your skin happy
See all articles
Shop Featured Skin Care products
Discover More