anti aging
This Is The Best Moisturizer For Targeting Wrinkles And Fine Lines
Kiss sagging skin goodbye.
June 03, 2022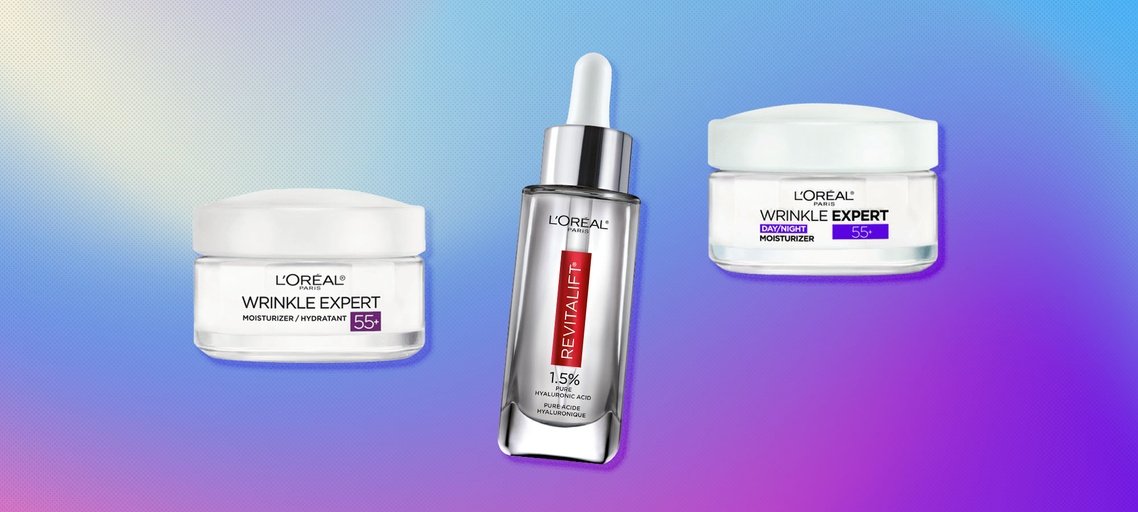 There's no denying that aging skin comes with its own set of skin care concerns. Once you hit your 60s, you may likely be dealing with wrinkles and sagging skin. Beyond that, skin can become increasingly dry and sensitive with age.
The good news is, you can take back control of your skin with the right moisturizer — but not just any cream will do. Read on to learn all about some of the best moisturizers for aging skin, as well as some of our other favorite products for anti-aging.
The Best Moisturizer For Aging Skin 60 and Older
Moisturizer is an absolute essential when it comes to a mature skin skin care routine — it gives aging skin the pick-me-up it needs to look and feel its very best. According to the American Academy of Dermatology, skin does, in fact, become drier as you age, which is why moisturizer is so necessary for mature skin types.
There are plenty of options on the market, but the L'Oréal Paris Wrinkle Expert 55+ Moisturizer is our top pick for aging skin. Formulated with calcium, this day and night moisturizer not only provides lasting, all-day moisture but also reduces the appearance of wrinkles and improves sagging contours over time. Basically, it's a must for your anti-aging routine.
Our Favorite Anti-Aging Skin Care Products
If you're trying to create an entire anti-aging skin care routine, here are some other products that we love — some are specially formulated for mature skin but can be used at any age.
Serums work wonders to address various skin care concerns depending on the formula you use. Formulated with pure hyaluronic acid, this serum absorbs quickly to replenish hydration and reduce the appearance of wrinkles in two weeks for visibly plumped, youthful-looking skin. Smooth two to three drops of serum over your face and neck day and night.
The skin around your eyes is thinner and more delicate compared to other areas on your face. Because of this, it's usually prone to showing signs of aging first, so you'll want to amp up the moisture with an eye cream. This eye treatment visibly reduces signs of aging like crow's feet, dryness, and rough skin texture. Apply every morning and night around the eye area.
If you're looking for an anti-aging night cream, this moisturizer is the perfect choice. It contains powerful antioxidants and vitamin E to help recover the skin's antioxidant reserves while you sleep. This aids in the skin renewal process so that you wake up with vibrant, younger-looking skin.
Gentle exfoliation is necessary for aging skin, as skin texture can become drier and rougher as we age. This lightweight, hydrating moisturizer contains LHA (lipo hydroxy acid) and imperial peony extracts to lightly exfoliate, renewing the skin for a rosy complexion.
Next: 7 Best Night Creams to Add to Your Anti-Aging Routine
Edited by: Shannon Stubbs, Photo Design: Crystal Simone
Discover more tips & tricks
Keep your skin happy
See all articles
Shop Featured Skin Care products
Discover More