skin care essentials
13 Moisturizer Hacks to Add to Your Skin Care Routine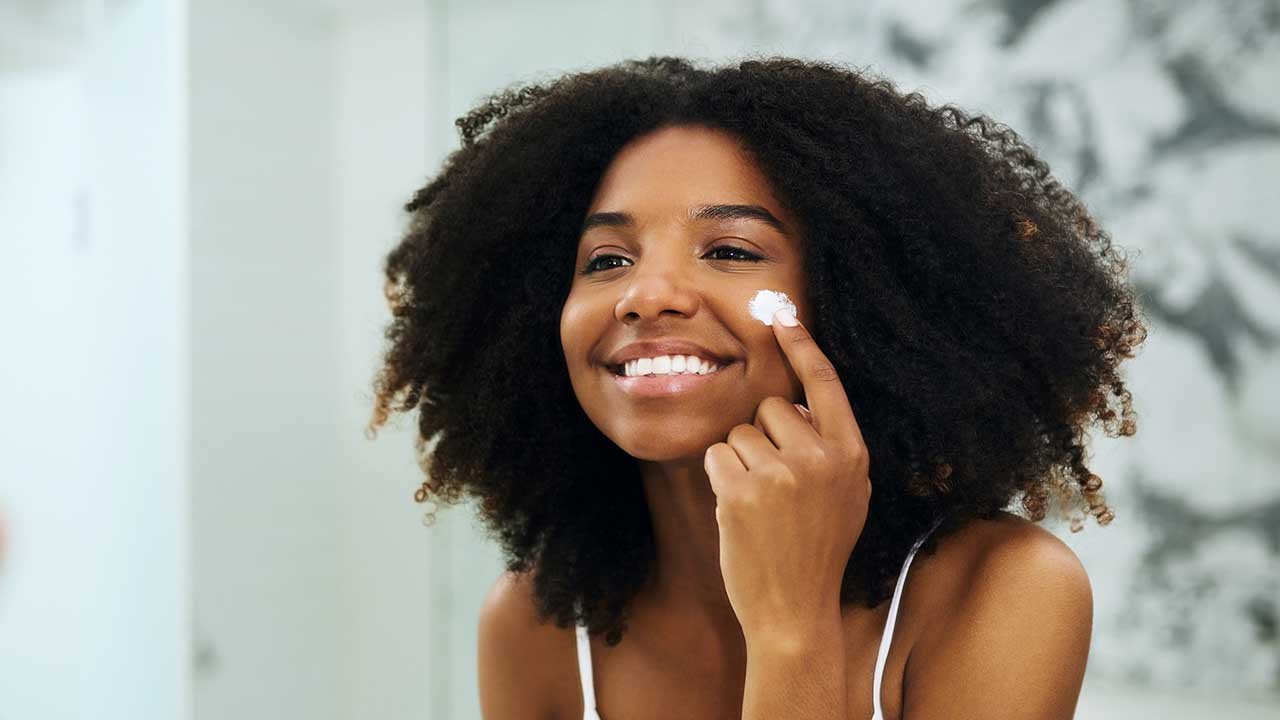 We've extolled the virtues of moisturizing daily plenty of times. So, by now, it's probably pretty safe to say that you're a pro when it comes to using moisturizer in your skin care routine. But even though you've got the basics down pat, are you really using moisturizer to its full potential? While you know that applying it morning and night should be an essential step in your beauty regimen, there are quite a few easy tips you should keep in mind to help maximize your moisturizer's benefits. From how you apply it to where you apply it to other products you can mix it with, we have a feeling the following 12 moisturizer hacks are about to find a regular place in your skin care regimen. Happy hydrating, folks!
MOISTURIZER HACK #1: APPLY IT TO DAMP SKIN
Nope, it's not good enough to put your moisturizer on post-cleansing—it's about how you do it too. After washing your face, don't towel-dry. Instead, apply your moisturizer to damp skin, which can help lock in hydration. Use the same technique when it comes to your body as well. Once you hop out of the shower, resist the urge to wrap yourself in a towel for a minute or two longer and apply body lotion while you're still damp. Pay particular attention to areas like your knees, elbows, and feet, which tend to get drier and rougher than the skin on the rest of your bod.
MOISTURIZER HACK #2: TRY A WATER-BASED FORMULA
When it comes to using moisturizer, finding the right formula for your skin type is key. After all, those with oily skin have different needs than those with dry skin, and so on and so forth. If you're in the market for a new skin hydrator, why not take a water-based moisturizer for a test drive? They're super-popular right now—and for good reason. The following options are all formulated with hyaluronic acid and aloe vera water to help provide long-lasting hydration, all you have to do is pick whichever one best suits your skin type.
If you have oily skin…try the L'Oréal Paris Hydra Genius Daily Liquid Care for Normal/Oily Skin.
If you have dry skin…try the L'Oréal Paris Hydra Genius Daily Liquid Care for Normal/Dry Skin.
If you have extra dry skin…try the L'Oréal Paris Hydra Genius Daily Liquid Care for Extra Dry Skin.
MOISTURIZER HACK #3: ADD IN A LITTLE HIGHLIGHTER
In terms of skin, getting a pretty-looking glow is always the goal, right? One way to help achieve that is by mixing a few drops (a little goes a long way!) of highlighter with your face lotion. Try the L'Oréal Paris True Match™ Lumi Glow Amour Glow Boosting Drops—the dropper will make DIY-ing your own illuminating moisturizer that much easier.
MOISTURIZER HACK #4: OR A LITTLE SELF-TANNER
You can do the same for your body by mixing your body lotion with self-tanner. Just remember to let the self-tanner mixture dry completely before getting dressed—and opt for dark, loose clothes to avoid any staining when you do put on your fabulous ensemble!
Editor's tip: Prefer a bronzed glow that will wash off? Use a little bit of bronzer in place of self-tanner.
MOISTURIZER HACK #5: MIX IT WITH YOUR LIQUID FOUNDATION
If you want to help sheer your liquid foundation out a bit, mix a small amount with your moisturizer before applying it to your face. That way you'll still get coverage without looking like your makeup is overdone. You'll basically have created your own tinted moisturizer!
Our fave way to apply this moisturizer-foundation combo? With a makeup blender, like the L'Oréal Paris Infallible Blend Artist Foundation Blender. Use quick dabbing and rolling motions to blend it onto your skin.
MOISTURIZER HACK #6: USE A FACIAL OIL BEFOREHAND
Is your skin on the dry, dull side? Consider using a facial oil before applying moisturizer. After cleansing, place four to five drops of the facial oil in the palm of your hand and dab it onto your face in small dots. Smooth it from your nose to your ears, your eyebrows to your hairline, and your neck to your jawline. Then, follow up with your moisturizer for even more hydration.
MOISTURIZER HACK #7: TRY ONE FORMULATED WITH BROAD-SPECTRUM SPF
Always in a rush in the morning? Well, you shouldn't skip out on sunscreen—even if you're running late. That's because when you spend prolonged periods of time in the sun without protection, it can lead to damage—and down the road, that can show up as visible signs of aging like dark spots and wrinkles. Yikes. The FDA recommends wearing a broad-spectrum (meaning it protects against UVA and UVB rays) SPF of 15 or higher every day.
Of course, we get that sometimes it's a struggle to fit extra steps into your morning skin care routine. The good news is, you don't have to apply a separate moisturizer and sunscreen. Just reach for a moisturizer formulated with broad-spectrum SPF! Try the L'Oréal Paris RevitaLift Bright Reveal Brightening Day Lotion SPF 30, which is formulated with glycolic acid, Pro-Retinol, vitamin C, and broad-spectrum SPF 30. Apply it 15 minutes before stepping outside—and toss it in your purse so that you have it on hand for reapplication, which the FDA advises doing at least every two hours.
Editor's tip: Don't forget to take other protective measures! If you've started wearing sunscreen, you've made a major step in the right direction but it's not enough. You'll also want to limit time in the sun (especially during the sun's peak hours from 10 AM to 2 PM), seek out shade, and wear protective accessories like a broad-brimmed hat and UV-blocking sunglasses.
MOISTURIZER HACK #8: EXTEND IT PAST YOUR JAWLINE
Think about it: When you're moisturizing your face, do you tend to just stop when you reach your jawline? It's time to pay attention to your neck and chest too! Typically, you can use your regular moisturizer to help hydrate your neck and décolletage—or you can use a moisturizer that's specifically formulated for the face, neck, and chest. The L'Oréal Paris Age Perfect Hydra Nutrition Manuka Honey All Over Balm - Face/Neck/Chest/Hands is formulated for mature, very dry skin with manuka honey and can be used on all of the above, plus your hands.
MOISTURIZER HACK #9: EXFOLIATE REGULARLY
ICYMI, exfoliation is the process of sloughing away dead skin cells from the surface of your skin. When you exfoliate, you can help your other skin care products—like your moisturizer—work better since they won't be sitting on top of all that buildup. As far as how often you should exfoliate, there's no right or wrong answer—everyone's skin is different, so pay attention to how yours responds in order to determine what's best for you.
Of course, at this point you probably know what we're going to say next: Don't just think about your face! You can exfoliate your body too! Try using a dry brush before bathing or break out a scrub in the shower. Whether you're exfoliating your face or your body, remember to be gentle!
MOISTURIZER HACK #10: USE A SEPARATE EYE CREAM
The skin around your eyes is thinner than the rest of the skin on your face—and that means it deserves some specific attention. Hence the existence of eye cream. Don't use your regular moisturizer to hydrate the skin around your eyes—use an eye cream instead. Since they're specifically formulated for use around the eyes, you reduce your chances of experiencing irritation—a big win in our books.
Need a rec? The L'Oréal Paris Eye Defense is a light, non-greasy gel-cream specially formulated to defend against the signs of premature aging around the eyes, including puffiness, fine lines, wrinkles, and dark circles. Morning and night, apply it in small dots around your eye until it's absorbed.
MOISTURIZER HACK #11: SWITCH IT UP BASED ON THE SEASON
As the weather changes every few months, it may be a good idea to change up your skin care routine as well—just as you do with your wardrobe. In the winter, you might find that your skin is drier than usual (thanks to the low moisture in the air)—which means that a rich, thick cream could help provide more hydration. But when it's warm outside during the spring and summer, a lightweight face lotion could be all you need to help keep your complexion hydrated. Make it a priority to pay attention to how the weather affects your skin to see if your regimen needs any tweaking.
MOISTURIZER HACK #12: STASH A LIP BALM IN YOUR TOTE BAG
You know how uncomfortable dry lips can be—not to mention, applying lipstick over dry lips is probably not going to give you that gorgeous pout you crave. Plenty of people tend to overlook their lips but it's so easy to take care of them. Just store a hydrating lip balm (bonus points if it has broad-spectrum SPF) in your bag so that you can swipe it on throughout the day to help keep your lips hydrated.
MOISTURIZER HACK #13: SHOW YOUR FEET SOME TLC WHILE YOU SLEEP
Your feet go through a lot—you're on them all day, and sometimes they're cooped up in tight heels or heavy boots. Needless to say, sometimes they deserve a little extra caring. If your feet are dry, slather on a foot cream and put a pair of socks on top before you go to bed. Bonus points if they're fuzzy socks—it's the perfect way to fit in a bit of self-care. Now, sweet dreams!
Want more moisturizing tips? Read our article, How to Use Moisturizer from Head to Toe.
Discover more tips & tricks
Keep your skin happy
See all articles
Shop Featured Skin Care products
Discover More