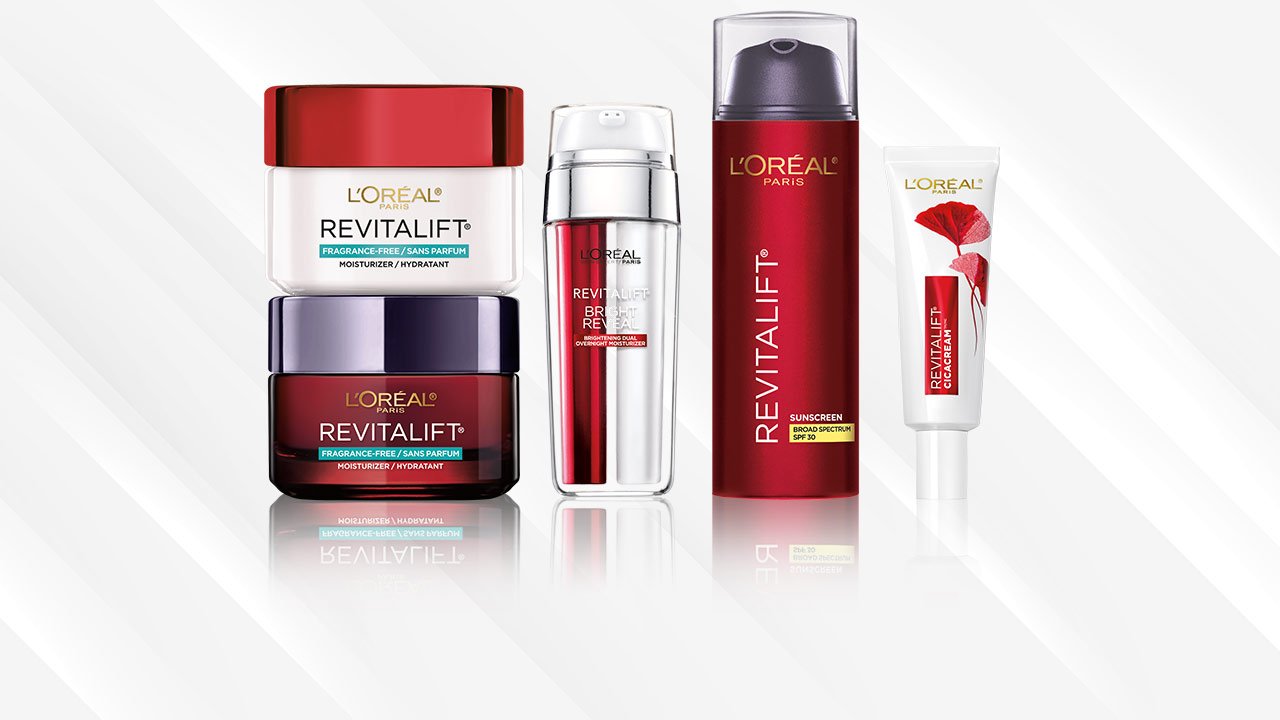 skin care essentials
5 Over-the-Counter Retinol Creams to Try from L'Oréal Paris
As you get older, visible signs of aging can start to become a factor. And if you're hip to the skin care game, you may have considered adding a retinol cream to your skin care routine. Known as the buzzy skin care essential that caters to various anti-aging skin care concerns, retinol creams can offer a slew of benefits. Basically, it's a skin care must-have. Best of all, instead of relying on your derm to get your retinol fix, you can bring the magic to your home with an over-the-counter option.
Of course, not all skin care products are created equal and retinol face creams are no exception. If you're ready to revamp your skin care routine, look no further. Below, we're sharing our best retinol creams to give your skin the upgrade it deserves.
WHAT DOES RETINOL DO FOR YOUR SKIN?
First things first, let's talk about retinol a little more. A derivative of vitamin A, according to the Mayo Clinic, this potent product works to repair sun-damaged skin and reduce the appearance of fine lines and wrinkles. Further, the Cleveland Clinic shares that retinol is proven to improve dark spots caused by hyperpigmentation, skin texture, and overall skin tone and hydration levels.
Now, what is retinol cream? That's simple. It's a face cream formulated with retinol. This allows you to tackle anti-aging skin concerns while providing skin with moisture, making it a no-brainer why retinol moisturizers are so popular.
CAN RETINOL DAMAGE YOUR SKIN?
Since retinol has been known to cause skin irritation, it's easy to think that it can damage your skin. And the truth is, it really depends on the individual. The key to using a vitamin A cream without it causing any damage to your skin is to use the product as directed.
Using retinol safely also includes using a broad-spectrum sunscreen with an SPF of 15 or higher after using your retinol cream. Retinol use can increase your skin's sun sensitivity, so it's crucial to take proper sun protection measures. You should also reapply sunscreen every two hours, cover up exposed areas in long sleeves, pants, a broad-brimmed hat, and blocking sunglasses, seeking shade, and limiting the amount of time you spend in the sun, especially during the sun's peak hours from 10 a.m. to 2 p.m.
If you're new to using retinol and have concerns, besides consulting your dermatologist, you may want to start slow. Begin by applying your retinol face cream every other day or every two days and build up to a higher frequency if your skin can handle it.
IS VITAMIN A CREAM THE SAME AS RETINOL?
It's not uncommon to hear vitamin A and retinol used interchangeably in the skin care world—we've already done it here. This is because, as we mentioned above, retinol is a derivative of vitamin A. When someone raves about a vitamin A cream, it's the same thing as a retinol cream.
OUR BEST RETINOL CREAMS
Are you game for adding vitamin A to your skin care routine? If so, it's time to explore our best retinol creams. Check out the five options below.
L'Oréal Paris Revitalift Anti-Wrinkle + Firming Moisturizer Fragrance Free: Since your skin weakens as it ages, aging signs like fine lines and wrinkles can become a concern. This retinol moisturizer is formulated with Pro-Retinol and centella asiatica, a traditional Chinese herb, and helps to strengthen and repair the skin barrier for youthful-looking skin.
L'Oréal Paris Revitalift Triple Power Anti-Aging Moisturizer Fragrance-Free: Formulated with Pro-Retinol, vitamin C, and hyaluronic acid, three top anti-aging ingredients, this retinol face cream works to visibly reduce the appearance of wrinkles and firm and brighten the skin in just one week. It also works to plump the skin with hydration for smooth and supple skin with continued use.
L'Oréal Paris Revitalift Bright Reveal Brightening Dual Overnight Moisturizer: This dual-action retinol night cream combines the power of Pro-Retinol, glycolic acid, and vitamin C and helps reduce the appearance of wrinkles and even your skin tone for healthy-looking, glowing skin.
L'Oréal Paris Revitalift Triple Power Day Lotion SPF 30: This retinol cream provides the best of both worlds: moisture and SPF. Formulated with Pro-Retinol, vitamin C and hyaluronic acid, this cream reduces wrinkles and firms and brightens skin in just one week.
L'Oréal Paris Revitalift Cicacream Face Moisturizer Pro Retinol & Centella Asiatica: This anti-wrinkle cream is formulated with Pro-Retinol and centella asiatica and helps to strengthen and repair the skin barrier to help resist visible lines, loss of firmness, and other signs of aging.
HOW TO USE A RETINOL CREAM IN YOUR SKIN CARE ROUTINE
Now that you've decided to add vitamin A cream to your skin care routine, you probably want to know when the best time to apply it is? Keep reading as we break down how to add a retinol moisturizer to your regular routine.
STEP #1: CLEANSE YOUR SKIN
To kick things off, you always want to start your skin care routine by removing dirt, oil, and impurities from the skin. And when it comes to facial cleansers, we recommend using an anti-aging cleanser like the L'Oréal Paris Age Perfect Nourishing Cream Cleanser to gently clean without over-drying your skin.
STEP #2: EXFOLIATE
As you get older, your skin can house a buildup of dead skin cells, which can cause your skin to look dry and dull. Reach for the L'Oréal Paris Revitalift Bright Reveal Brightening Daily Scrub Cleanser, which is formulated with glycolic acid and gentle micro-pearls and helps reveal brighter, more radiant skin.
STEP #3: TONE YOUR SKIN
While most people consider toner to be an optional step, it actually comes in handy to provide your skin with lasting hydration, especially if you have aging skin. We recommend the L'Oréal Paris HydraFresh Toner, to help soften, hydrate, and prep your skin for the moisturizing products that are to come.
STEP #4: REACH FOR YOUR RETINOL CREAM
Now it's time for the star of the show, your retinol face cream. Apply your cream over your face, neck, and jawline for instant hydration. Some vitamin A creams are meant to be used only in the morning or at night, while others can be applied twice a day, in the a.m. and p.m. Do as directed and remember that you can always start with a lower frequency. In the morning, be sure to follow up with a broad-spectrum sunscreen as directed and take other sun protection measures to keep your skin in tip-top shape.
STEP #5: EYE CREAM
The skin around your eyes is the most thin and fragile and is actually more prone to showing early signs of aging. If dark circles, under-eye bags, and puffy eyes are the bane of your existence, it may behoove you to add an eye cream that's formulated with Pro-Retinol into the mix. Here are two options to consider:
L'Oréal Paris Revitalift Triple Power Eye Treatment: Formulated with Pro-Retinol, hyaluronic acid, and vitamin C, this cream helps to reduce wrinkles, de-puff, and brighten the under-eye area all in one week. Every morning and evening, massage the metal applicator tip gently around the eye until the product is fully absorbed.
L'Oréal Paris Revitalift Anti-Wrinkle + Firming Eye Cream: Specially formulated with Stimuplex and Pro-Retinol, this eye cream works to reduce wrinkles, firm skin, and reduce puffiness all in four weeks.
HOW LONG DOES IT TAKE TO SEE RESULTS FROM RETINOL?
While it would be nice to see your desired results overnight, it's simply not possible. Just like any other skin care product or routine, when using vitamin A cream, you need to give your skin time to see improvements. So, stay consistent, and you'll reap the benefits. As for exactly when you can expect results, that will vary from product to product.
Now that you have all the deets on our best retinol creams, let's talk more about anti-aging in general. Next, read our article, 7 Aging Skin Concerns and How to Address Them.
Discover more tips & tricks
Keep your skin happy
See all articles