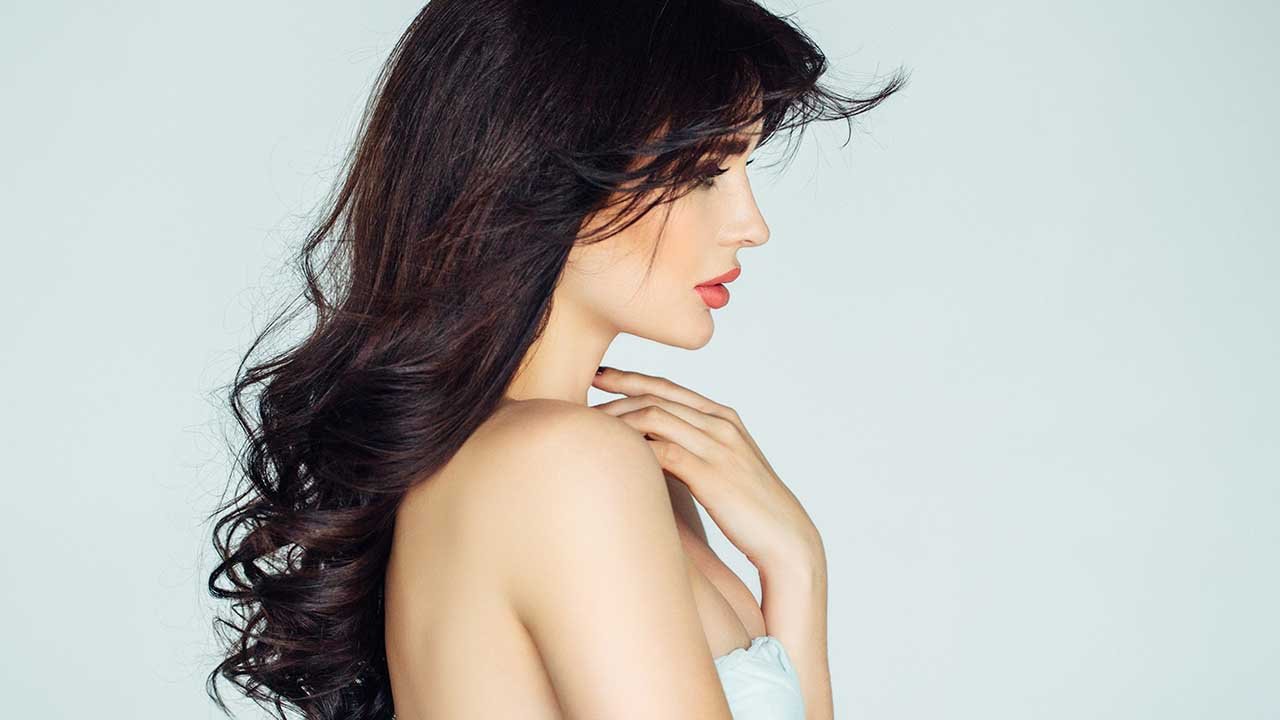 hair color ideas
31 Ideas for Black Hair with Highlights
Jet black hair is stunning all on its own, but have you ever wondered what your onyx hue would look like with highlights? With hair this dark, it's easy to believe highlights are off the table, but believe it or not, this hair brightening technique isn't solely reserved for sun-kissed brunettes and natural-looking blondes. That's right—if you've convinced yourself that lightening black hair with highlights isn't a possibility, it's time to revisit the idea.
Whether you want to add depth or simply perk up your hair color without diving into a full-on dye job, black hair highlights are the perfect solution when you want to switch up your look. Ready to get in on the multi-tonal fun? Here are 31 gorgeous hair highlights for black hair—from black hair with blonde highlights to blue highlights on a black base—to consider.
THE BEST IDEAS FOR BLACK HAIR WITH HIGHLIGHTS
Looking for natural-looking highlighted strands? Or are bright pops of color more your bag? There is a myriad of highlight options for you to choose from if you have black or dark brown hair. Keep in mind that black hair highlights can make for quite a dramatic hair color change, so your best bet may be to visit a professional colorist as the process often requires bleaching and multiple sessions to achieve your desired look. With that said, there are DIY options, some of which we're breaking down how to do below.
1. BLACK HAIR WITH SILVER HIGHLIGHTS
Want to make a statement with your highlights? Consider giving black hair with silver highlights a try. Long gone are the days where silver and gray strands were something to stress over. Besides being a trendsetting look, silver highlights are also super easy to achieve at home—with the help of an at-home hair color spray, that is.
Pick up the L'Oréal Paris Colorista Hair Makeup Temporary 1-Day Hair Color Spray in Silver and use it to give your black hair some DIY silver definition. The best part is, there's no long-term commitment. This hair color spray washes out in just one shampoo so you can try another highlighting trend the next day!
Editor's note: Want a step-by-step tutorial on how to use a hair color spray for DIY highlights? Check out our article, How to Get Easy Highlights At Home with a Hair Color Spray.
2. BLACK HAIR WITH RED HIGHLIGHTS
Although it's one of the rarest natural hair colors in the world, red is easily one of the most commonly requested shades in salons. When it comes to trying black hair with red highlights, look for a colorist who specializes in the balayage technique to subtly brush on vibrant hints of color. This technique not only looks less chunky than traditional highlights, but it's also super-low maintenance.
Your colorist can also help you find the right red hue. The trick to rocking red is finding the right shade to match your skin tone. Typically, if you have fair skin, a bright orange-red or deep auburn will look the most stunning against your skin—without washing you out. Medium skin tones tend to look best with warm-toned copper and golden reds, and dark skin tones pair beautifully with blue-red shades like burgundy highlights on black hair. Before heading into the salon, feel free to browse the L'Oréal Paris Feria Hair Color Chart for inspiration on highlight colors for black hair.
3. BLACK HAIR WITH PLATINUM BLONDE HIGHLIGHTS
Looking to embrace the grunge look? Platinum blonde highlights will do the trick. Pairing your jet-back tresses with platinum highlights will create a stark contrast, giving off a street-chic style that's sure to turn heads wherever you go. Since this hair color requires hair bleach, it may be best to leave the hair coloring to the experts.
On the other hand, if you're confident in your hair dyeing skills and want to DIY your highlighted head of hair, reach for a hair color bleach, like the L'Oréal Paris Colorista Bleach in All Over, to start the process.
4. BLACK HAIR WITH CHOCOLATE BROWN HIGHLIGHTS
Ever wished you could rock sun-kissed hair like your brunette BFF? Good news: You can! The trick to achieving beautiful black hair with brown highlights is to opt for chocolate tones that will most closely resemble the way the sun would naturally lighten dark hair. Of course, you can go lighter on the brown spectrum, just keep in mind that the more contrasting the color combo is, the less natural it will look.
5. BLACK HAIR WITH BURGUNDY HIGHLIGHTS
It's clear that burgundy is having a serious moment. As one of the year's hottest colors, you better believe it looks amazing when incorporated into black hair. Best of all, you can totally test drive this look without a full commitment. Grab the L'Oréal Paris Colorista Semi-Permanent Hair Color in Burgundy, which works on dark hair, to get started.
6. BLACK HAIR WITH NAVY BLUE HIGHLIGHTS
Another trend that has been making major waves in the beauty world? Black hair with navy blue highlights! A great way to jazz up your mane with head-turning strips of color, you'll be sure to make a lasting impression.
7. BLACK HAIR WITH CARAMEL HIGHLIGHTS
Sure, they say blondes have more fun, but what about those who have black hair with blonde highlights? We'd dare to bet they have just as great of a time! To lighten and sweeten up your mane, give caramel highlights on black hair a try. We particularly love this pairing when done with the balayage highlighting technique, as it places caramel highlights throughout for beautiful dimension without an overly stark contrast.
8. BLACK HAIR WITH A COOL-TONED BALAYAGE
Another hair color trend practically made for gals with dark brown or black hair is cool-toned balayage. Rather than placing blonde streaks throughout, as you would with a traditional balayage, this technique involves lightening strategically-placed strands for subtle, natural-looking highlights. Once hair is highlighted, it's toned one more time to produce an even subtler effect.
9. OIL-SLICK HAIR
This edgy new hair trend was thought up with dark-haired gals in mind. Inspired by the mix of magenta, purple, cobalt, and green colors reflected in puddles of gasoline and oil on the pavement, oil slick hair is the perfect option for those with black hair who want to get in on the rainbow hair color trend. Not only do you get to be on-trend, but this look has another upside—it doesn't require excessive bleaching or damage!
10. BLACK HAIR WITH SOMBRÉ HIGHLIGHTS
A softer ombré, called sombré, is an excellent choice if you want lightened ends but are hoping to avoid the stark contrast that ombré often produces. Bonus: It's also easy to do. The key is to pick a shade that's just a few shades lighter than your current color—it's all about creating a gradual, subtle transition.
11. BLACK HAIR WITH ASH BLONDE HIGHLIGHTS
If you're interested in blonde highlights but platinum blonde feels a little too bold for you, ash blonde highlights may be more your speed. Ash blonde is a smoky, cool-toned hue that's flattering on almost everyone. Keep in mind, this is another trend you probably want to consult a professional about rather than trying it at home as it will require some bleaching.
12. BLACK HAIR WITH DARK BROWN HIGHLIGHTS
Want to sport a black mane with a tinge of dimension? Feast your eyes on black hair with dark brown highlights. An excellent way to spice up your super-dark strands, dark brown highlights allow you to play with color without the dramatics.
To get the look, you can start by reaching for a highlighting kit, like the L'Oréal Paris Colorista Bleach in Highlights, to lighten your strands. Once you've bleached your highlights, go over those sections with the L'Oréal Paris Superior Preference Fade-Defying Shine Permanent Hair Color in Dark Brown to get the job done.
13. BLACK HAIR WITH MIDNIGHT BLUE HIGHLIGHTS
If you want to flaunt sultry hair highlights on black hair, it may be time to put midnight blue highlights on your radar. This hair color is a great way to add a splash of deep blue to your mane and help bring a level of mystique and intensity to your strands.
Like the hair color idea above, you'll need to add some hair bleach into the mix to bring this look to life. Once your bleaching session is out of the way, a box of the L'Oréal Paris Féria in Downtown Denim will do the trick.
14. BLACK HAIR WITH BLUE MONEY PIECE
Bold hair colors are seriously on-trend, and one of the best ways to jump on the bandwagon is to embrace blue hair highlights for black hair. Instead of placing the blue shade throughout your mane, switching things up with a blue money piece is a surefire way to elevate your look. Not to mention, these face-framing strands work wonders to call attention to your features. Now that's what we call a chic way to try black hair with highlights!
15. BLACK HAIR WITH PASTEL BLUE HIGHLIGHTS
Who says that highlight colors for black hair have to be bright and bold? Consider putting a soft and playful spin on the trend with pastel blue highlights. Try the trend on for size with the L'Oréal Paris Colorista Hair Makeup Temporary 1-Day Hair Color Spray in Pastel Blue.
16. BLACK HAIR WITH PURPLE HIGHLIGHTS
Speaking of head-turning hair color options, black hair with purple highlights is all the rage! This trendy color is all about keeping your roots nice and dark and transitioning them into a super pretty purple hue. Not one for the faint-hearted, you can expect this hair color to make a big impact. See what all the hype is about—for a day—with the L'Oréal Paris Colorista Hair Makeup Temporary 1-Day Hair Color Spray in Purple.
17. BLACK HAIR WITH ROSE GOLD RIBBON HIGHLIGHTS
There is no better way to flaunt your love of jewelry than with a hair color that matches your favorite pieces. That's right, prepare to make the ultimate statement with rose gold ribbon highlights. An excellent pick for individuals ready to make a change, this color adds a bright and metallic touch to your mane for a look that will complement your accessories perfectly.
18. BLACK HAIR WITH BLUSH HIGHLIGHTS
If rose gold hair is a little too bright for your taste, you may find blush highlights for black hair to be more of a safe choice. This color combo adds a mature, yet sophisticated vibe to your hair color, and the dusty pink hue is sure to garner attention.
19. BLACK HAIR WITH GOLD HIGHLIGHTS
Have a desire to keep things classic while adding a modern touch? Black hair with gold highlights may be your perfect match. This hair color allows you to stay true to your dark-colored mane while adding in some color for a shiny yet vibrant look. In other words, it's just what you need to take your black hair highlights up a few notches. Try the trend with the L'Oréal Paris Colorista Hair Makeup Temporary 1-Day Hair Color Spray in Gold.
20. BLACK HAIR WITH STRAWBERRY BLONDE HIGHLIGHTS
Thanks to black hair with strawberry blonde highlights, you can show off warmth, dimension, and depth all in one. Best of all, we dig that this color looks amazing on almost any skin tone, making it one of our favorite highlight colors for black hair.
21. BLACK HAIR WITH AUBURN HIGHLIGHTS
It's time to explore the wonders of black hair with auburn highlights. This stunning shade serves up a sun-kissed hue that blends blonde, brown, and red tones into your mane for a vibrant finish.
22. BLACK HAIR WITH RASPBERRY HIGHLIGHTS
While brown, gold, or red highlights may be your go-to for a black mane, you'd be surprised to see how raspberry highlights can complement your dark mane perfectly. See, this color is basically where vibrant and bold hues meet. Known for its pink base with notes of red and purple throughout, this hair color redefines the meaning of a trendsetting shade. Give it a (temporary) go with the L'Oréal Paris Colorista Hair Makeup Temporary 1-Day Color in Raspberry.
23. BLACK HAIR WITH TEAL HIGHLIGHTS
You may be missing the beach and kicking your feet in the sand, but you can bring that vibe to life with an ocean-inspired hair color. Wondering what we have in mind? Black hair with teal highlights, of course! This hair color blends notes of green and blue together for a shade that reminds us of seawater. Since you're working with a dark base, you'll need to bleach your hair first, so it's best to enlist the help of a professional colorist to score this gorgeous color.
24. BLACK HAIR WITH HOT PINK HIGHLIGHTS
Ready to go against the grain with your highlights for black hair? Then it's time to get the 4-1-1 on hot pink highlights for black hair. A great way to add some pizazz to your dark mane, this bright and vivid color is fun, fresh, and an exciting way to leave onlookers mesmerized by your locks.
Because this color does land on the daring side, we can totally understand wanting to test it out before making a full commitment. Grab the L'Oréal Paris Colorista Hair Makeup Temporary 1-Day Hair Color Spray in Hot Pink to see if these highlights are right for you.
25. BLACK HAIR WITH PASTEL MINT HIGHLIGHTS
Green hair used to be one of those bold colors to steer clear of, but times have definitely changed. If you're ready to amp up your black hair with highlights, pastel mint highlights are just the ticket. Simply spray your strands with the L'Oréal Paris Colorista Hair Makeup Temporary 1-Day Hair Color Spray in Pastel Mint to transform your hair.
26. BLACK HAIR WITH SILVER BLUE HIGHLIGHTS
Hybrid hair has become one of the must-have hair color ideas to try. A no-brainer for those who want to play with multiple hair colors at a time, this trend is where it's at. If black hair highlights with metallic tones are your calling, silver blue highlights are just what you need. Featuring a striking burst of color, this look flaunts dimension and depth for a gorgeous balance. Pick up a tube of the L'Oréal Paris Colorista Hair Makeup Temporary 1-Day Hair Color in Silver Blue, and get to work!
27. BLACK HAIR WITH EMERALD OMBRÈ
Can't get enough of gorgeous gemstone hues? Black hair with an emerald ombré is a super cool way to get in on the green hair trend. Flirting with an edgy, cool-girl aesthetic, this shade provides your mane with a gradual transition in color with dark roots and lighter ends. To test out the hue, reach for the L'Oréal Paris Colorista Hair Makeup Temporary 1-Day Hair Color in Green.
28. BLACK HAIR WITH COPPER HIGHLIGHTS
If you're down to embrace your inner rock star, you may want to give black hair with copper highlights a try. Flaunting a bold shade of red, this hair color offers hints of brown to add warmth to your mane. The result is an edgy yet sophisticated hair color that will make your hair look anything but basic.
29. BLACK HAIR WITH BRONDE HIGHLIGHTS
Make your mark with bronde highlights! Known as a low-maintenance color, this sun-kissed hue can be customized to suit your complexion to a tee. Whether warmer or cooler tones are more your style, your colorist will be able to bring your black hair with bronde highlight dreams to life.
30. BLACK HAIR WITH MAGENTA CHUNKY HIGHLIGHTS
Berries are a delicious treat to snack on, and you can share the love with your mane via chunky magenta highlights. Another gemstone color that we can't stop swooning over, this rich berry shade adds a vibrant and warm touch to your locks. A chic option for those who prefer to go bold, this hair color won't steer you wrong.
31. BLACK HAIR WITH COOL LIGHT BROWN HIGHLIGHTS
Ashy hair colors have become standard in the hair color world, and cool light brown highlights are no exception. This hair color brings on the dimension you love while balancing out your complexion for a natural-looking mane.
HOW TO MAINTAIN YOUR BLACK HAIR WITH HIGHLIGHTS
Whether you've opted to highlight your hair at home or visit a professional for your new hair color, one thing's for sure: It's important to take care of your color-treated hair to help preserve the life of your color and keep your hair looking and feeling its best. So, keep the following in mind when it comes to your hair care routine.
TIP #1: SWITCH YOUR HAIR CARE SYSTEM
This may seem like a no-brainer, but it's worth re-stating: Use a hair care system that's sulfate-free and safe for color-treated hair. We love the L'Oréal Paris EverPure Moisture Shampoo and L'Oréal Paris EverPure Moisture Conditioner, which gently cleanses and replenishes moisture without stripping hair. Once or twice a week, switch things up by using the L'Oréal Paris EverPure Repair Remedy Balm hair mask in place of your conditioner to boost strength and shine.
TIP #2: SHOWER IN LUKEWARM WATER
It's time to kiss long, hot showers goodbye! Piping hot water can strip your hair of moisture and color, leaving your locks dry and dull. Turn the temps down to keep your hair's moisture levels happy. Lukewarm water is what's best for your hair and surprise, surprise, it's best for your skin too!
TIP #3: PREP YOUR STRANDS BEFORE YOU USE ANY HOT TOOLS
Oftentimes, colored hair can feel dry, and using a heat tool like a blow-dryer, curling wand, or flat iron can add to that. If you're going to heat style your strands, it's crucial to use a heat protectant first to protect your strands and your color. Try the L'Oréal Paris Advanced Hairstyle SLEEK IT Iron Straight Heatspray for the ultimate level of protection.
TIP #4: AIR DRY YOUR HAIR
An alternative to heat styling is air drying. After all, there's no need to use your hot tools every day. Embrace your natural texture and show off soft, bouncy curls sans the fuss. Simply add an egg-sized amount of the L'Oréal Paris Advanced Hairstyle CURVE IT Elastic Curl Mousse to damp hair, scrunch, and let air dry. Easy, peasy!
TIP #5: REFRESH WITH DRY SHAMPOO
Over-washing can cause your color to fade prematurely, so keep your locks looking their best and most-refreshed with a few spritzes of dry shampoo. Reach for a dry shampoo that won't leave behind any residue that could spoil your beautifully highlighted hair.
TIP #6: GET YOUR BEAUTY SLEEP… ON A SILK PILLOWCASE
Beyond feeling extra-luxurious, sleeping on a silk pillowcase or with a silk scarf is good for your tresses (and can make your blowout last longer). That's because silk is super soft and won't cause hair breakage when you toss and turn in the night.
TIP #7: USE A HAIRSPRAY WITH A GLOSSY FINISH
Can't make it into the salon for regular hair gloss treatments? No problem—set your style with hairspray that will leave a shiny, glass-like finish, such as the L'Oréal Elnett Precious Oil Satin Hairspray. This formula will lock your look into place and help keep damaged hair smooth and hydrated, thanks to a formula that includes silky argan oil.
Next up: Looking for step-by-step highlighting instructions? Here's How to Highlight Your Hair at Home.
Discover more tips & tricks
Keep your skin happy
See all articles