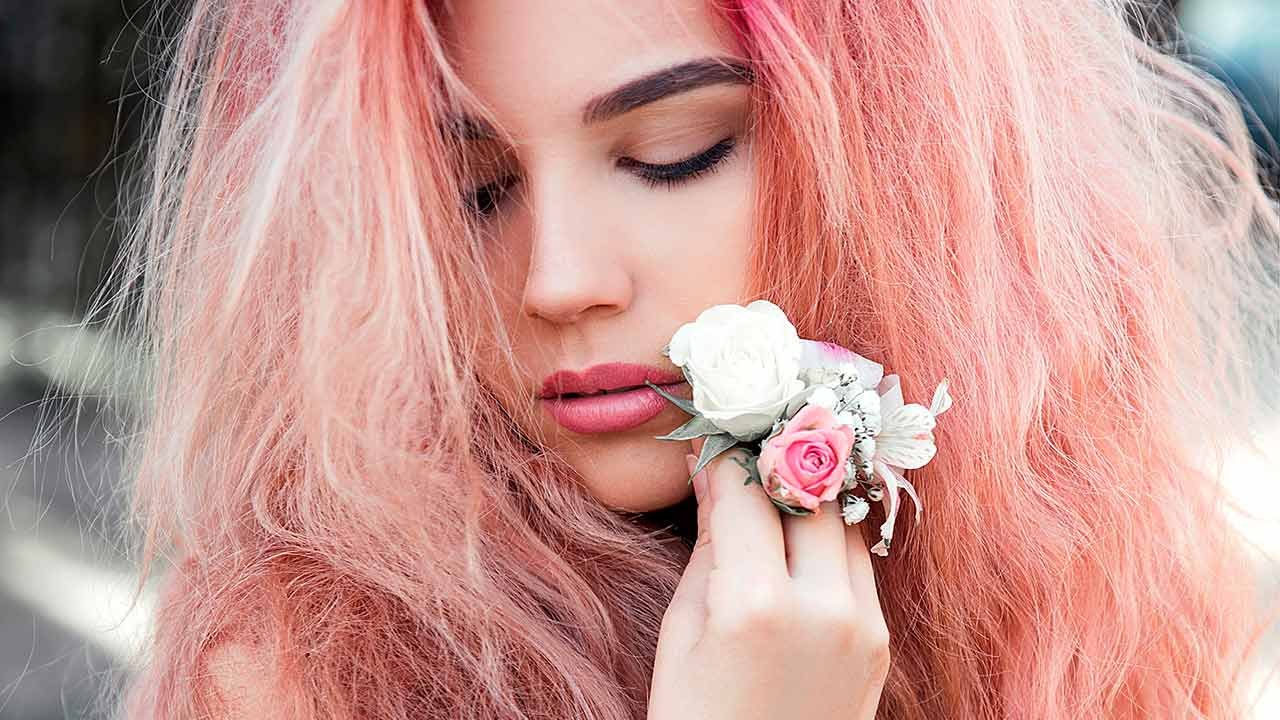 hair color tutorials
How to Get Rose Gold Hair in 3 Easy Steps
If you've looked at the hair color trends on your social media feed lately, then you're probably already well aware that rose gold hair is one of the hottest hair colors at the moment. And, if you're like us, you're swooning with jewelry-toned hair envy. With beauty bloggers, social media cool girls, and Hollywood's hottest celebs illustrating just how versatile this pretty pinkish hair color is for all skin tones, it's not surprising that you may want to rock your very own rose gold hue. And you can! In an effort to bring rose gold hair color into your life, we've outlined the basics of how to get and maintain this can't-look-away shade. Grab a box of rose gold hair dye and let's get to it!
HOW TO ACHIEVE A ROSE GOLD HAIR COLOR AT HOME
Good news: You don't have to hit up a salon to be in possession of rose gold strands! Follow these three steps to get in on the trend—at home:
STEP #1: KNOW WHAT YOU'RE WORKING WITH
Just like any big hair color change, it's important to know what you're getting into first. If you have naturally blonde hair or your hair has already been lightened, you're probably fine to move onto the next step. For all other hair colors, even darker blondes, you may need to bleach your hair first—and the darker your starting shade, the more sessions it may take to reach the right base color before you can move on to adding rose gold color.
If you're going to DIY, don't forget to brush up on everything you need to know about how to bleach your hair at home before you put your gloves on and dive in. After bleaching, you're ready to color, just be sure to follow the instructions included in the box with your dye.
STEP #2: CHOOSE WHAT TYPE OF COLOR YOU WANT
The second step is to understand the different types of hair color available (permanent, semi-permanent, and temporary), then choose the type of formula that best suits your needs. Permanent hair color will last the longest, so it's your best option if you're ready to commit to a rose gold mane. Semi-permanent hair color will stick around for a number of weeks, fading a little each time you shampoo. Temporary hair color, on the other hand, will only last until you wash your hair.
For a permanent, true rose gold hair color, use the L'Oréal Paris Féria in Rose Gold, which comes with a deep conditioning colour gel, conditioning developer creme, aromatic shimmer hair serum, and power shimmer conditioner. This rose gold hair color is perfect for the more daring individual who wants an intense hair color that really stands out.
If you're looking to temporarily test-drive a super-metallic rose gold hair hue, pick up the L'Oréal Paris Colorista Hair Makeup Temporary 1-Day Hair Color Spray in Rose Gold, which will rinse out after just one shampoo. To use, shake the can well, then hold it four to six inches away from dry hair and spray (style your hair before using). Hold the can as upright as possible and use a piece of paper to guard your face or direct where you want to spray rose gold color. Wait a few minutes for your rose gold hair color to dry completely—and don't spray too much. The rose gold hue will become more visible as it dries. Keep in mind that temporary color can transfer, like makeup, so be careful with what your hair touches while it dries.
Whatever hair color formula you choose, be sure to brush up on your at-home coloring knowledge by reading our article, How to Prep for an At-Home Hair Color Session, and don't forget to follow the directions included in your at-home hair color kit.
STEP #3: TAKE CARE OF YOUR ROSE GOLD HAIR
As with all color-treated hair, rose gold hair should be given the care it deserves! To keep dyed hair looking its absolute best, it's crucial to follow the right hair care routine. Follow these tips to help make your new hair color shine and prevent fading:
Tip #1. Turn Down the Temp in the Shower
Super-hot water can strip your hair of its natural oils, which can make it so your strands feel drier and look duller. Nobody wants that! Help prevent this unfortunate side effect by turning down the dial and rinsing off your rose gold hair in lukewarm water instead.
Editor's note: Turns out, lukewarm water is also the best temperature for your skin care routine. Read our article, Cold vs. Hot Water: What's the Best for Your Skin?, for all the details.
Tip #2. Choose the Right Shampoo and Conditioner
This may seem obvious, but its importance cannot be overstated: When you have color-treated hair, no matter what color it is, you should take care of your hue with products that are safe for colored hair. Use a shampoo and conditioner that will work to keep your strands in the best shape possible. Try the L'Oréal Paris EverPure Moisture Shampoo and L'Oréal Paris EverPure Moisture Conditioner if your hair is especially dry. To use, massage the shampoo onto wet hair, lather, then rinse before applying the conditioner. Let it sit for one to three minutes, then wash out.
Tip #3. Use the Right Leave-In Products
Whether you have colored hair or not, it's always a good idea to protect your strands with a moisturizing leave-in product, like a hair serum, oil, or cream. If your locks are particularly frizz-prone, reach for a leave-in serum that protects against humidity, like the L'Oréal Paris EverSleek Frizz Finish Oil-In-Serum. For overall dry hair that lacks luster, use a lightweight oil, like the L'Oréal Paris Elvive Extraordinary Oil Treatment, on the lengths and ends of your strands. Just a few pumps can go a long way in protecting your hair and your new rose gold hue.
Tip #4. Style Safely
This goes for all hair types and colors: Try to keep heat styling to a minimum, if possible, and when you do use hot tools, be sure to protect your hair beforehand. Use a heat protectant like the L'Oréal Paris Advanced Hairstyle SLEEK IT Iron Straight Heatspray before you reach for your hair straightener, blow dryer, or curling iron. It's also a good idea to limit heat styling—meaning it shouldn't be an everyday activity—and use your heat tools at the lowest temperatures you can.
Tip #5. Air Dry Your Hair Whenever Possible
Pair your rose gold hair with easy-going, heat-free waves or curls. You can air dry your hair with styling products that are meant for achieving stunning styles sans heat, and you won't even miss your heat tools. Try using a wave spray to give your locks definition and create a beachy look.
Tip #6. Refresh with Dry Shampoo
In between washes, refresh your rose gold locks with a few spritzes of a dry shampoo that won't leave behind any residue. Since you won't be left with a white, powdery finish, your color will continue to look vivid and shiny.
Tip #7. Pair Your Rose Gold Locks with Complimentary Makeup
While not a color maintenance tip, it's a tip worth noting. Now that you've got your gorgeous rose gold hair color set, styled, and protected, why not bring your new hue to life even more with complementary makeup? There are plenty of makeup looks that go well with your new color, but of course, rose gold accents will make your hair hue really pop!
Swipe on a bit of rose gold eye shadow to make your eyes stand out against your new color. Try the L'Oréal Paris Infallible Paints Metallics Eye Shadow in Rose Chrome or any warm, pink shade from the L'Oréal Paris Paradise Enchanted Scented Eyeshadow Palette. Take things one step further with a dusting of rose gold highlighter, like the L'Oréal Paris Infallible Crushed Foils Metallic Highlighter in Rose Quartz. For more corresponding makeup ideas, check out our article, How to Do Rose Gold Makeup.
BONUS TIP: TRY DIFFERENT ROSE GOLD HAIR COLOR OPTIONS
That's right: our collective love of rose gold hair has spawned different variations of this hair color trend. Once you've rocked regular ol' rose gold, why not mix it up and try one of the related hair colors?
Idea #1: Rose Gold Ombré Hair. Don't think you're quite ready for an all-over rose gold hair color? No problem! Give rose gold ombré hair, which involves your natural hair color gradually transitioning into a beautiful rose gold hue from roots to ends, a try. Sounds pretty, right?
Idea #2: Dark Rose Gold Hair. For a subtler take on the rose gold hair color trend, consider coloring your mane in a dark rose gold hue. This is also an ideal option for those with a darker starting color, as it'll take fewer bleaching sessions to achieve.
Idea #3: Rose Gold Blonde Hair. For a more classic blonde with a touch of rose gold, try switching up your mane with a rose gold blonde hair color. Read our article, Rose Gold Hair Gets an Update: How to Get Rose Blonde Hair, for more on rose blonde hair, one of our favorite hair color ideas for 2019 into 2020.
Idea #4: Rose Gold Brown Hair. A rose gold hair color for brunettes? Yes, please! As you can imagine, this warm hue involves a brown base with rose gold tones throughout. To learn more about the hair color, here's How to Get a Rose Brown Hair Color.
Idea #5: Rooted Rose Gold. Are you a fan of low maintenance hair colors? Consider rocking a rooted rose gold hair color, which uses the root smudging technique to keep your roots your natural hair color while the rest of your mane is a beautiful rose gold hue. This hair color option will prevent any harsh lines of demarcation as your roots grow out, allowing you to go longer between touch ups!
Idea #6: Amethyst Rose Gold. Can't decide between a purple or rose gold hair color? Don't! Amethyst rose gold hair takes inspiration from your favorite crystal and blends purple, lavender, and rose gold shades for an on-trend look.
Idea #7: Caramel Rosé. We couldn't help but notice that caramel hair colors are trending right now, and caramel rosé hair is the perfect way to work a little sugar into your rose gold look. The trend involves caramel brown roots that fade into pretty rose gold ends.
Next up: Thinking about embracing an even bolder hair color? Here are 7 Rainbow Hair Color Ideas for Your Most Magnificent Mane.
Discover more tips & tricks
Keep your skin happy
See all articles