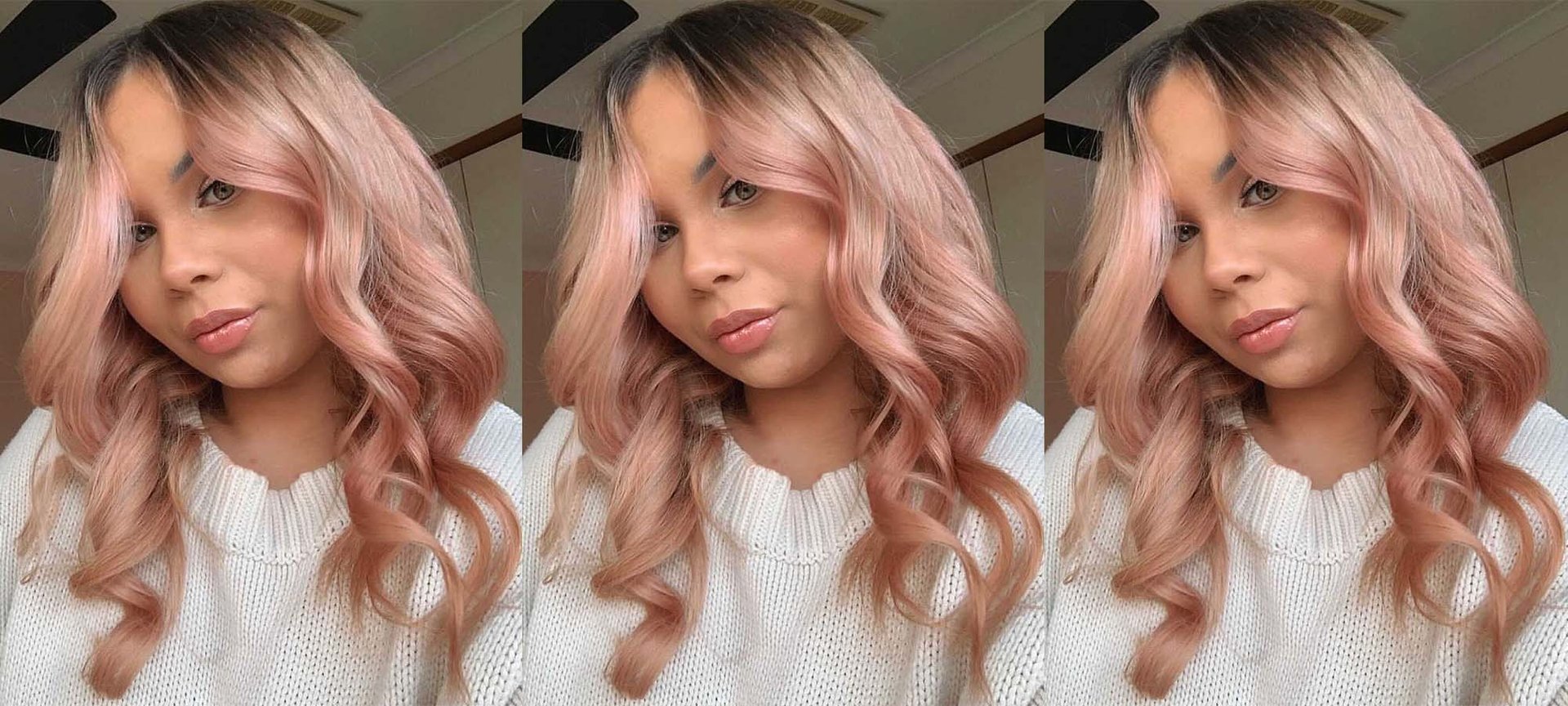 hair color tutorials
How to Get Rose Gold Hair in 3 Easy Steps
The key to your most luxurious colored locks.
While other hair color trends tend to fade, rose gold hair color has never lost its shine. Season after season, this pretty metallic pink hair color continues to show up on the hottest runways, celebrity manes, and social media timelines. If you've been waiting to embrace this jewelry-toned hair color, now is a perfect time. To help guide your rose gold hair color quest, we've outlined the basics of how to get and maintain this shimmery shade.

What Is Rose Gold Hair?
Inspired by rose gold-toned jewelry, rose gold hair color is a stunning blend of red, pink, and blonde shades. This popular pastel hair color complements any skin tone and is super versatile — you can use it to make a bold hair color transformation or shift into something more demure.

How To Achieve A Rose Gold Hair Color At Home
Whether you've dyed your hair a bright color before or you're new to the process, there are a few things to keep in mind when opting for a rose gold color change. Follow these three steps to get in on this hair color trend at home.

Step 1: Prepare Your Hair
To achieve a vibrant rose gold hair color that stands out, you'll need to start with a light base. If you have light blonde hair, then you should be able to simply add rose gold tones to your hair to get the look.


For all other hair colors, even darker blondes, you may need to bleach your hair first—and the darker your starting shade, the more sessions it may take to reach the right base color before you can move on to adding the rose gold hue.

If you're going to DIY, don't forget to brush up on everything you need to know about how to bleach your hair at home before you put your gloves on and dive in. After bleaching, you're ready to color, just be sure to follow the instructions included in the box with your dye.

Step 2: Pick Your Rose Gold Shade
Our collective love of rose gold hair has spawned different variations of this hair color trend. While there are no rules when it comes to experimenting with hair color, taking your starting hair color and undertones into consideration can help you select a shade that will be the most flattering on you.


Rose gold brown or caramel rosé hue are ideal options for those with a darker starting hair color or warmer undertones. These brunette-based shades are the perfect way to achieve rose gold tresses without the stress of multiple bleaching sessions in between.
For a lighter look with a touch of rosy tint, consider going for a rose gold blonde hair color. This shade makes for an easy upgrade for natural or out-of-the-box blondes and the rosy tint brings a bit of warmth to those with pale complexions and cooler undertones.

If you aren't quite ready for an all-over hair color change, you can test out the trend with rose gold ombré hair. By starting with a rich rose shade at your roots and fading to a pale rose gold shade at the ends, you get the best of both ends of the color spectrum. This is the perfect opportunity to play with more vibrant variations like amethyst rose gold which blends purple, lavender, and rose gold shades for gemstone-inspired hair.

Step 3: Choose The Right Rose Gold Hair Dye
For dramatic hair color changes (such as going from black hair to rose gold) visiting a professional colorist is often the best idea, as they can guide you through the process from start to finish. If you're ready to go for the rose gold from the comfort of your own home, then choose the type of hair dye formula that best suits your rose gold goals and follow the directions included in your at-home hair color kit.
For a permanent, true rose gold hair color, use the L'Oréal Paris Féria in Rose Gold, which comes with a deep conditioning color gel, conditioning developer creme, aromatic shimmer hair serum, and power shimmer conditioner. This rose gold hair color is perfect for the more daring individual who wants an intense hair color that really stands out.
If you're looking to temporarily test-drive a super-metallic rose gold hair hue, pick up the L'Oréal Paris Colorista Hair Makeup Temporary 1-Day Hair Color Spray in Rose Gold, which will rinse out after just one shampoo.

How To Care For Rose Gold Hair
To keep your rose gold hair looking its absolute best, it's crucial to follow the right hair care routine. Follow these tips to help your new hair color keep its royal shine.

1. Choose the Right Shampoo and Conditioner
When it comes to washing your rose gold locks, it's important to use a system of hair care products formulated for color-treated hair. Try the L'Oréal Paris EverPure Sulfate-Free Bond Strengthening Color Care Shampoo, L'Oréal Paris EverPure Sulfate-Free Bond Strengthening Conditioner, and the L'Oréal Paris Elvive Total Repair 5 Power Restore Multi use treatment. For an extra boost of care for your hair, swap out the conditioner for the hair mask once or twice a week.

2. Style Safely
There's no denying that hot tools are great for creating gorgeous hairstyles, but try to skip heat styling when possible. Not only can excess heat styling damage your hair, but it can also lead to your color fading prematurely. Instead, give a heat-free hairstyle a try. When you do use hot tools, be sure to protect your hair beforehand. Use a heat protectant like the L'Oréal Paris Advanced Hairstyle SLEEK IT Iron Straight Heatspray before you reach for your hair straightener, blow dryer, or curling iron.

3. Refresh With Dry Shampoo
In between washes, refresh your rose gold locks with a few spritzes of the L'Oréal Paris Elvive Dream Lengths Air Volume Dry Shampoo. Your color will continue to look vivid and shiny with a long-lasting clean feel and no white residue.
Next: How To Get Copper, Bronze and Rose Gold Hair Color For Your Skin Tone
Written by: Lauren Paige Richeson, Photo Credit: Kasey Lee, IG/ @kaseylee_blondespecialist
{ "@context": "https://schema.org/", "@type": "WebPage", "speakable": { "@type": "SpeakableSpecification", "cssSelector": ["speakable-content"] }, "url": "https://www.lorealparisusa.com/beauty-magazine/hair-color/hair-color-tutorials/easy-rose-gold-hair-how-to" }
Discover more tips & tricks
Keep your skin happy
See all articles
Shop Featured Hair Care products
Discover More
{ "@context": "http://schema.org", "@type": "BreadcrumbList", "itemListElement": [ { "@type":"ListItem", "position": 1, "item": { "@id": "/", "name": "Home" } } , { "@type":"ListItem", "position": 2, "item": { "@id": "https://www.lorealparisusa.com/beauty-magazine", "name": "Beauty Magazine" } } , { "@type":"ListItem", "position": 3, "item": { "@id": "https://www.lorealparisusa.com/beauty-magazine/hair-color", "name": "Bold Ideas From Hair Color Pros" } } , { "@type":"ListItem", "position": 4, "item": { "@id": "https://www.lorealparisusa.com/beauty-magazine/hair-color/hair-color-tutorials", "name": "Hair Color Tutorials" } } , { "@type":"ListItem", "position": 5, "item": { "@id": "https://www.lorealparisusa.com/beauty-magazine/hair-color/hair-color-tutorials/easy-rose-gold-hair-how-to", "name": "easy-rose-gold-hair-how-to" } } ] }