hair color tutorials
The Best Way To Highlight Your Hair At Home
A hint of can easily upgrade your style.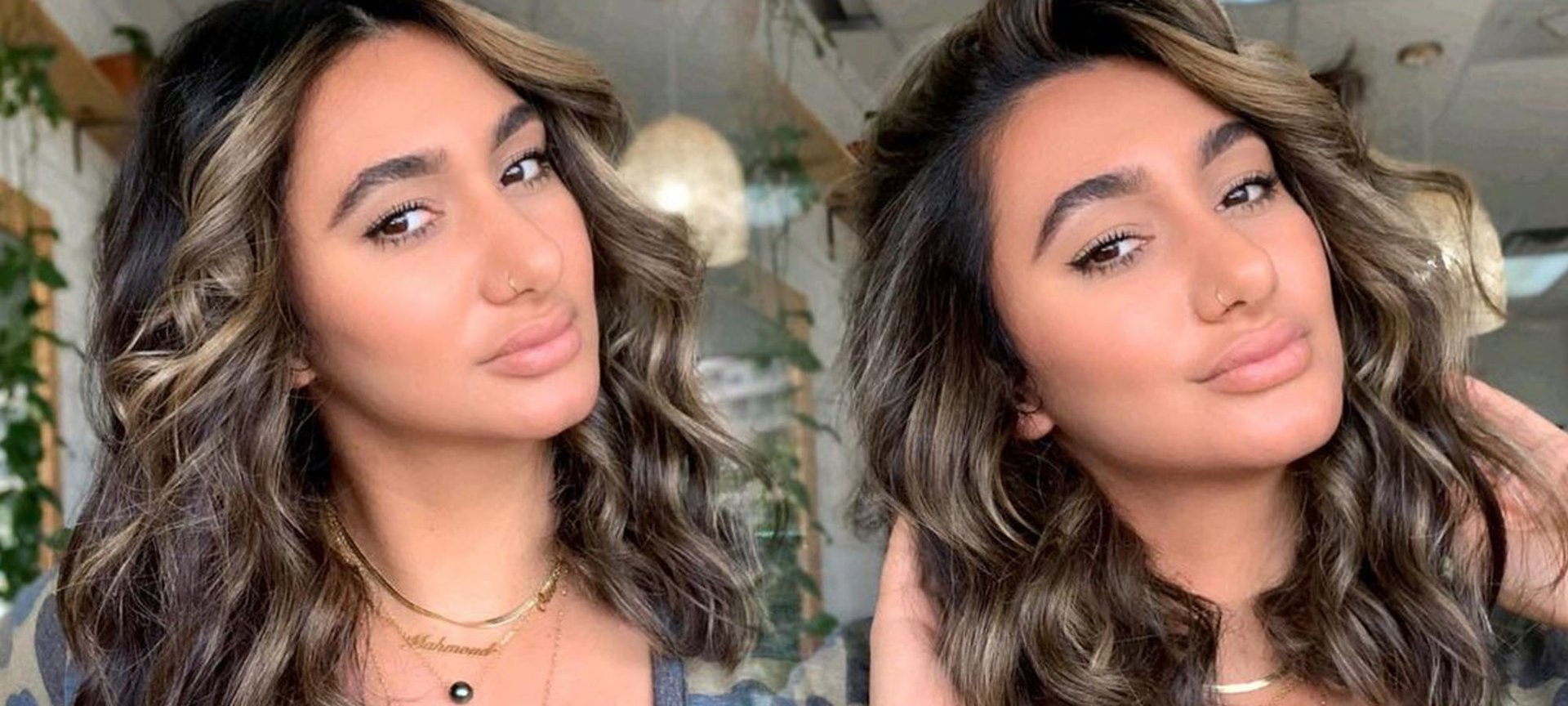 If you've ever contemplated a quick color change for your hair, chances are that highlights have crossed your mind. Whether you're looking for a low-maintenance option or want to test the waters and try lighter strands, highlights are the perfect way to add a level of shine and movement to an otherwise flat, uniform mane.
From balayage and ombré to the money piece, there's no shortage of hair highlighting techniques for switching up your strands. Although highlighting can be a bit tricky, with the right know-how you can totally transform your strands at home. Keep reading to learn how to highlight your own hair at home and tips for taking care of your new dimensional 'do.
How To Highlight Your Hair At Home
If you're confident with your hair color abilities, then it's time to put your skills to the test. Before breaking into the box dye, brush up on your at-home hair color basics and make sure to spotlight these three important steps to achieving your best DIY highlights.

Step 1: Decide On Your Highlight Style
No matter what route you take to achieve your highlighted hair — solo or salon — the first step is settling on a highlight style. Should you get partial or full highlights? Would you like your highlights to be thicker or thinner? Depending on your preference there are a plethora of different types of highlights to consider. Certain highlighting techniques — like balayage and ribbon highlights require a special level of skill to achieve, so you'll want to book an appointment with a professional colorist to get the look.


Step 2: Pick Your Highlight Hue
When most people think of highlights, the first thing that comes to mind is some version of a brilliant blonde shade. However, highlights don't have to be any one specific color — they're just dimensional strands that are lighter than your base color. Try enhancing your 'do with highlighted tints of brown, red, or even a gray hue. If you want to be more creative with your color, go for a pastel lavender or a pretty rose gold shade.

Editor's Tip: Even though highlights don't involve dyeing your entire head of hair, they do require bleaching sections of your hair to lighten them. So if you're starting with a dark base shade, keep in mind that it could take multiple dye sessions to reach your desired color.


Step 3: Choose The Right At Home Highlighting Kit
If you're ready to DIY your highlights, there are plenty of options as far as at-home highlighting goes. Select the highlighting kit that suits your hair color needs the best and carefully follow the included instructions to achieve your new look.

For an at-home highlighting bleach that's inspired by the pros, reach for the L'Oréal Paris Colorista Bleach. Pair this easy-to-use bleach with a Colorista Semi-Permanent Hair Color shade to customize your color to the exact highlights you're envisioning.
The L'Oréal Paris Couleur Experte line is the only at-home dual-system coloring kit that combines a permanent base color with harmonizing highlights in just one box. Thanks to perfectly coordinated shades, you can achieve a rich, elegant, salon-like look in just two easy steps.

If you prefer to try a few different highlight hues, then a temporary hair color like the L'Oréal Paris Colorista Hair Makeup Temporary 1-Day Hair Color Spray is the one to choose. After lightening your strands, spray on this wash out hair color to add a fun twist to your highlighted mane. This temporary hair color washes out in just one shampoo, so you can go from blue to red to pink in an instant — and then back to your blonde highlights with no stress on your tresses.
The L'Oréal Paris Frost & Design lets you easily create perfectly placed, precise, even highlights in as little as 20 minutes. This highlighting kit includes a pull-through cap that allows you to easily select the strands you want to lighten without accidentally coloring any unwanted pieces of hair. Two different styling hooks will allow you to create subtle or bold highlights.
How To Take Care Of Highlighted Hair
Once you're happy with your highlighted hair, it's important to switch up your hair care routine with products and practices that will enhance and protect your color-treated hair.
1. Use A System Of Products Formulated For Color-Treated Hair
When hair is colored, bleached, or damaged it can become weak and fragile. The L'Oréal Paris EverPure Sulfate-Free Bond Strengthening Color Care Shampoo and L'Oréal Paris EverPure Sulfate-Free Bond Strengthening Conditioner are formulated to gently cleanse and help strengthen hair inside and out, leaving hair soft and smooth, while protecting it from future damage.


You also want to incorporate a purple shampoo into your hair care routine at least once a week to cleanse, condition, and balance blonde hair, while neutralizing unwanted yellow and orange brassy tones. Reach for the L'Oréal Paris EverPure Sulfate-Free Brass Toning Purple Shampoo and L'Oréal Paris EverPure Sulfate-Free Brass Toning Purple Conditioner for this.
2. Deep Condition Your Strands
Whenever you color your hair — whether you're dyeing your entire mane or giving yourself a few high or low lights — it's always a good idea to give your newly colored locks some extra moisture. Once or twice a week, swap out your color-treated conditioner for a deep conditioning treatment like the L'Oréal Paris Elvive Color Vibrancy Rapid Reviver Deep Conditioner. Head over to our article, How To Use Deep Conditioner Treatments, for a step-by-step tutorial.
3. Skip The Heat
While we're suckers for voluminous curls and super sleek, straight locks, sometimes it's well-advised to give your hair a break from heat styling. Rather than reaching for your hot tools every day, grab a heat-free hair styling product from time to time. If you have to use a hot tool on your highlighted hair, make sure to apply a heat protectant, like the L'Oréal Paris Elvive Dream Lengths Heat Slayer Pre-Iron Spray Leave-In, before styling.


Next: How To Fix Bad Highlights


Written by: Lauren Paige Richeson, Photo Credit: Ashley, IG/@ wildismyfavoritecolor
Discover more tips & tricks
Keep your skin happy
See all articles
Shop Featured Hair Color products
Discover More