hair color tutorials
How To Get The Coolest Silver Hair Color For Winter
Sterling strands are in style.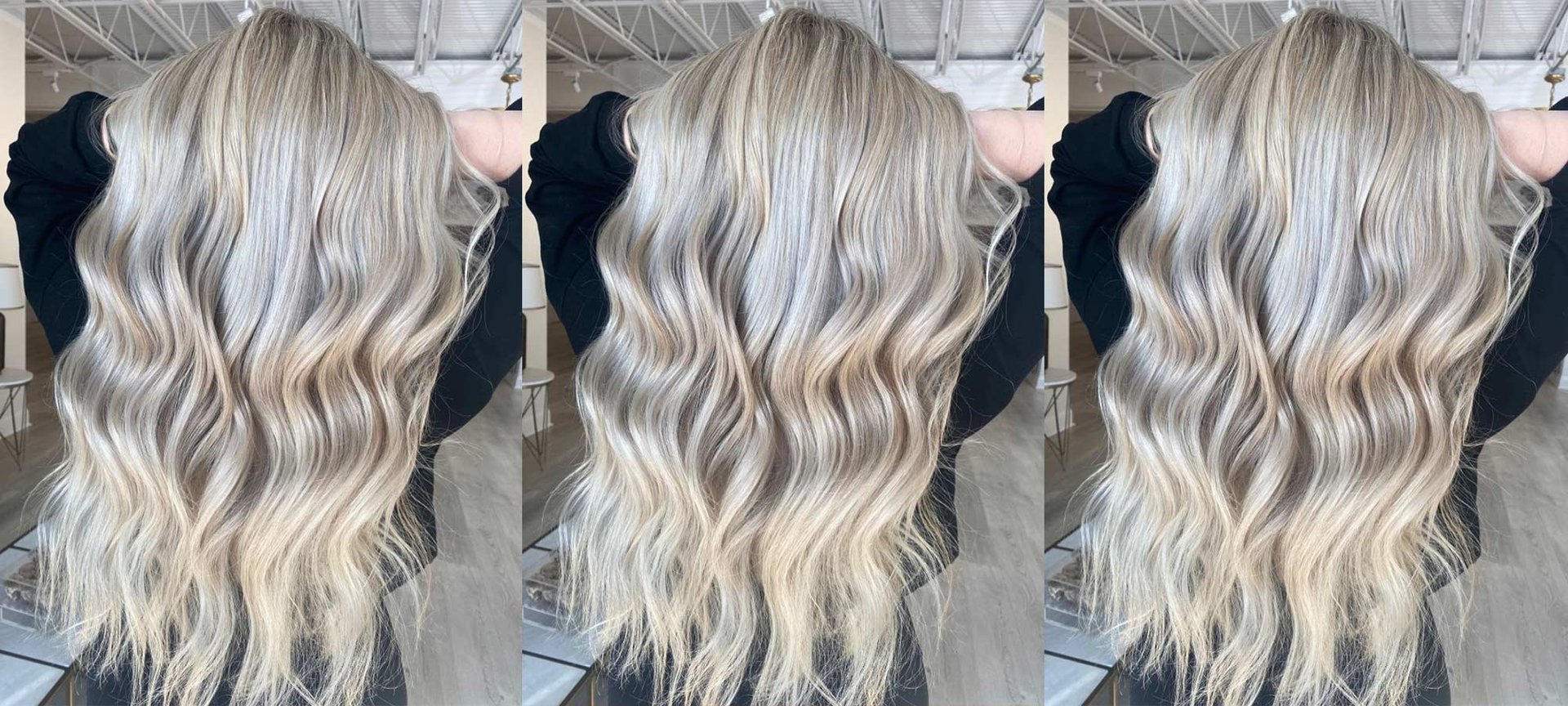 Silver hair is seriously popular these days. This cool hue is so on-trend you're likely to see it everywhere, from the local salon to the fashion week runways. Whether you're contemplating trying this trendy shade or ready to embrace going gray naturally, this hair color is achievable at any age. With a little know-how, you can get the perfect smokey silver strands with or without the hands of a professional. Keep reading as we share the secrets to achieving this white hot silver hair color and how to care for your new hue once you do.

How To Get A Fresh Silver Hair Color
Changing your hair color is never a simple decision but once you've settled on a new shade, there are a few hair dye logistics you'll want to consider. Some hair colors require more work to achieve and more upkeep than others — silver being one of them.


Anytime you decide to opt for a lighter hair color, you'll need to bleach your hair first. And if you're starting with a dark base, it could take multiple sessions to achieve your desired level of silver. So before you go all the way gray, it might be best to consult with a professional colorist who can guide you through the process and skillfully manage your transition to silver hair. If you plan to DIY, the L'Oréal Paris Haircolor Concierge is available with live experts who can help you color with confidence and ensure beautiful results.


Our Best At Home Silver Hair Colors
If you're seasoned at using at-home hair dye and want to embrace the silver hair trend on your own, choose from one of the three options below:
This at-home hair coloring kit is special because it delivers a super shiny, luminous hair color. The fade-defying formula won't look dull or brassy.
This hair coloring kit will give your mane intense, brilliant results. The multi-faceted shimmering color gives your mane highlights for a bold color that's never flat.
This temporary hair color is perfect for those who want to try out the silver hair color trend without committing to the change. It washes out in just one shampoo and you'll be right back to your natural hair color when you want.
How To Take Care Of Silver Hair
Once your strands are a shade of silver, it's important to care for them properly. Follow these three tips to ensure you're treating your silver hair the right way.

1: Use A System Of Hair Care Products Formulated For Color-Treated Hair
In order to keep your silver strands looking their very best, it's important to use a hair care system that's made to boost and protect color-treated hair. Try the L'Oréal Paris EverPure Sulfate-Free Bond Strengthening Color Care Shampoo, along with the L'Oréal Paris EverPure Sulfate-Free Bond Strengthening Color Care Conditioner. This hair care duo is formulated to strengthen color-treated hair from the inside out by reinforcing weak hair bonds, and conditions and fortifies hair while remaining gentle on color.
Whenever your hair needs a little extra hydration, add the L'Oréal Paris Elvive Total Repair 5 Power Restore Multi use treatment to the mix. This deep conditioning treatment can be used for co-washing, a hair mask, or as a leave-in treatment to help strengthen your hair, repair current issues, and protect against future damage.
Editor's Tip: You'll also want to keep a purple shampoo and conditioner handy to protect your color and prevent brassiness which can turn your silver strands to an unwanted shade of yellow or orange. We love the L'Oréal Paris Ever Pure Purple Shampoo & Conditioner Kit.
2: Shampoo In Lukewarm Water
While washing your hair with hot water might feel soothing, the hot water can actually strip your hair of essential oils which can lead to dryness and frizz. So, the next time you get ready for a shampoo session, turn down the dial and rinse your hair in lukewarm temps instead.

3: Boost Color With A Hair Gloss
If your silver strands are starting to look a little less than sterling, try using an at-home hair gloss to revive your color and refresh your hair in between touch-ups. The L'Oréal Paris Le Color Gloss One Step In-Shower Toning Gloss is formulated with a coconut oil-infused deep-conditioning base that works to enhance your hair color and tone, while also deeply conditioning your strands. Simply add it to your wash day routine for a boost of silver shine without a trip to the salon.
Next: How To Get A Pumpkin Spice Hair Color For Fall
Written by: Lauren Paige Richeson, Photo Credit: Courtesy of L'Oréal Paris
Discover more tips & tricks
Keep your skin happy
See all articles
Shop Featured Hair Style products
Discover More