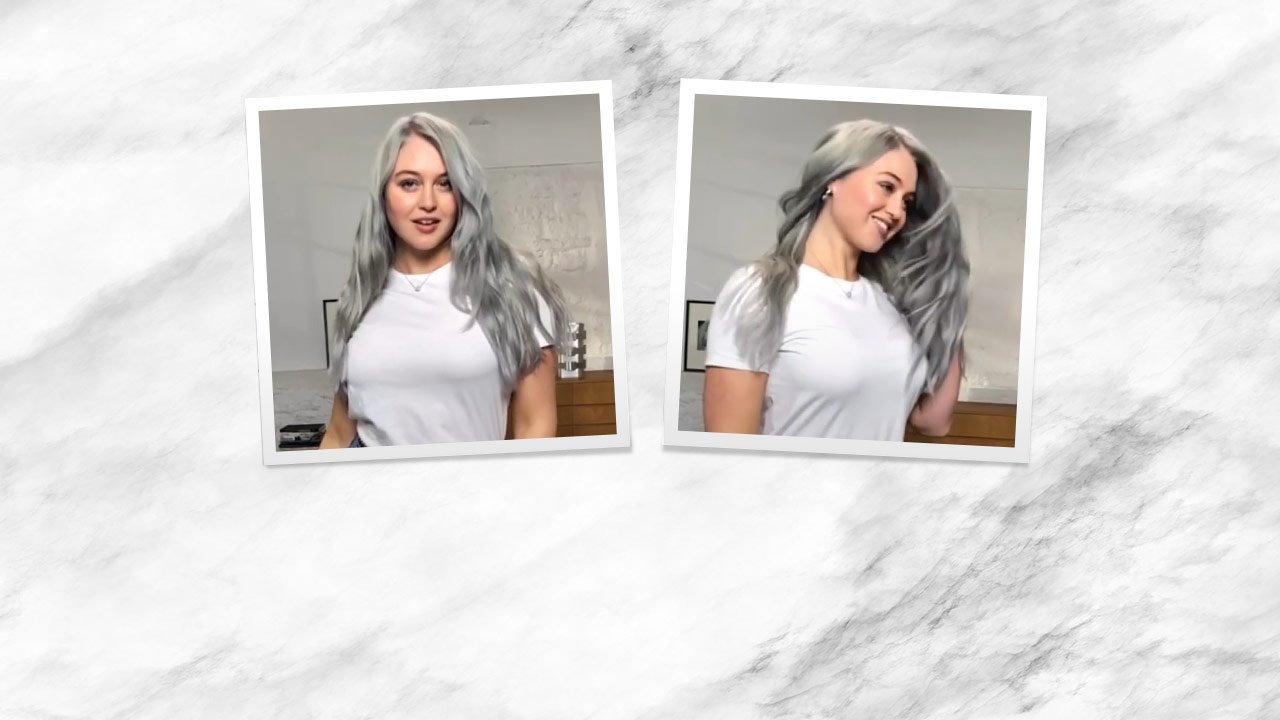 hair color tutorials
How to Get a Fresh Silver Hair Color
Once upon a time, going gray was something many women feared, and it certainly wasn't something people asked for at the salon. However, times have changed. Nowadays, silver hair is seriously popular due to its cool, modern look. Just take a peek at the latest fashion week runways and you'll see models strutting their stuff with silver locks. The good news is, this trendy hair color is achievable at any age—all you need is a little know-how. Ready to hop aboard the silver hair color trend? Keep reading to learn what it'll take to get silver hair and how you should care for your new color once you have it.
WHAT YOU NEED TO KNOW ABOUT SILVER HAIR
Anytime you decide to opt for a lighter hair color, you'll need to bleach your hair first. And if you're starting with a dark base, it could take multiple sessions to achieve your desired level of silver. Since silver hair is a trendy shade, it can be a good idea to visit a professional colorist who can guide you through the process and manage your expectations. A colorist will also be able to tailor silver hair to you so that you're left with a shade that flatters your skin tone.
If you're a seasoned at-home dyer and want to use boxed hair color to embrace the silver hair trend, you totally can. Choose from one of the three options below:
L'Oréal Paris Superior Preference in Soft Silver Blonde: This at-home hair coloring kit is special because it delivers a super shiny, luminous hair color. The fade-defying formula won't look dull or brassy—what more could you want?
L'Oréal Paris Féria Multi-Faceted Shimmering Permanent Hair Color in Silver: This hair coloring kit will give your mane intensified, brilliant results. The multi-faceted shimmering color gives your mane highlights for a bold color that's never flat.
L'Oréal Paris Colorista Hair Makeup 1-Day Color in Silver Blue: This temporary hair color is perfect for those who want to try out the silver hair color trend without committing to changing their hair color permanently. The color washes out in just one shampoo and you'll be right back to your natural hair color!
Keep in mind that if you'd like to keep your silver mane looking fresh, you'll need to schedule regular touch-ups—or re-up with boxed dye—to hide root regrowth. If all of the above sounds good to you, then it just might be the right time to try rocking a silver hue!
HOW TO TAKE CARE OF SILVER HAIR
Once your strands are a shade of silver, it's important to care for them properly. If you've ever dyed your hair before, then you know that color-treated hair deserves special TLC—and silver hair is no exception. Follow these tips to ensure you're treating your silver hair the right way.
Tip #1: Use a system of hair care products formulated for color-treated hair
Bye, bye old hair care products! Try the L'Oréal Paris Elvive Color Vibrancy Intensive Protecting Shampoo, L'Oréal Paris Elvive Color Vibrancy Intensive Protecting Conditioner, and L'Oréal Paris Elvive Color Vibrancy Repair and Protect Balm if you have color-treated hair. Once or twice a week, swap out the conditioner for the hair mask and leave it on for three to five minutes before rinsing out.
Tip #2: Shower in lukewarm water
Super-hot showers might feel really relaxing and spa-like, but the hot water can strip your hair of essential oils, leading to dryness. So, the next time you hop in the shower, turn down the dial and rinse off in lukewarm temps instead. Your hair will thank you!
Tip #3: Embrace your natural hair texture
Pair your silver hair with waves or curls for a carefree, effortless look. Apply the L'Oréal Paris Advanced Hairstyle AIR DRY IT Wave Swept Spray to damp hair, braid, then let your hair air dry. Remove your braid for effortless waves. It's that easy! For an easy style, throw your silver hair into a side fishtail braid—it looks fancy but it's actually really simple to create.
Tip #4: Use a heat protectant
Want to show off sleek silver strands? Spritz on a heat protectant, like the L'Oréal Paris Advanced Hairstyle SLEEK IT Iron Straight Heatspray before picking up your heat tools and straightening your hair.
Tip #5: Schedule regular touch-ups
Like we told you earlier, maintaining a silver hair color will require a certain amount of upkeep. Schedule regular touch-ups or stock up on your go-to at-home hair color kit so that you can keep your hue looking as fresh as possible.
Want more hair color inspiration? Check out our article, The Best Purple Hair Color for Your Skin Tone, to find another gorgeous shade to try.
Discover more tips & tricks
Keep your skin happy
See all articles