gray hair coverage
How To Blend Gray Hair With Highlights And Lowlights
August 16, 2019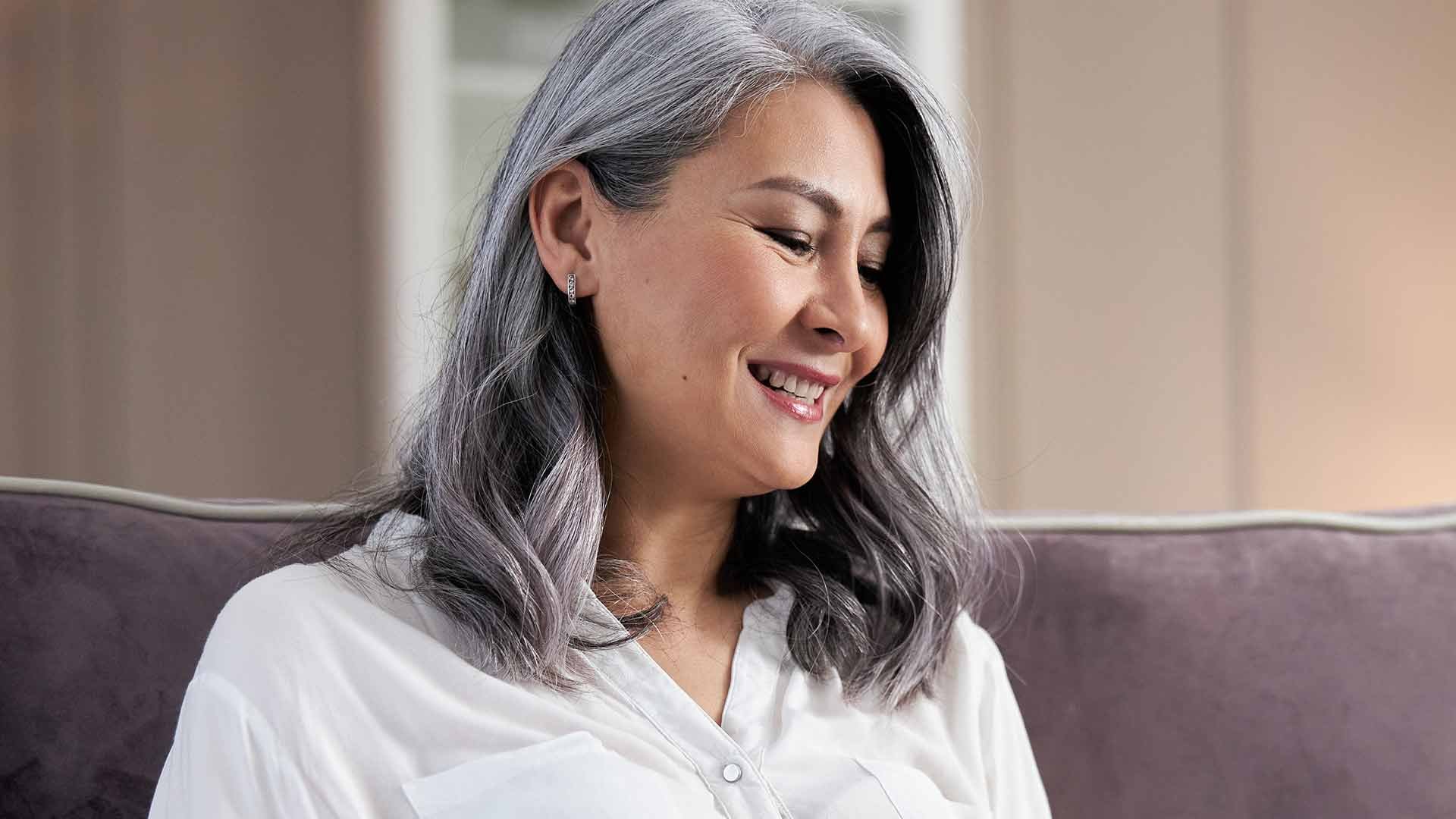 Once upon a time, spotting your first gray hair meant immediately plucking it or scheduling a dye job to conceal your changing hair hue. But nowadays, it's become more and more commonplace for those who are actually going gray—and not purposefully using gray hair dye—to embrace it with highlights and lowlights that help create depth and contrast. And we have to say, we're quite the fan of this hair color trend! Donning gray hair has become synonymous with embracing your natural beauty. Like the sound of that? Keep reading to find out what you need to know about blending gray hair with highlights and lowlights to get the look yourself.
HOW TO GET HIGHLIGHTS AND LOWLIGHTS FOR GRAY HAIR
When it comes to gray hair, integrating a series of highlights and lowlights can help create a mixture of natural-looking colors for a multi-dimensional 'do that's full of movement. This modern technique allows you to embrace your grays in a stylish way. Blending your gray hair with highlights and lowlights doesn't have to be a daunting task. With the right colorist or highlighting kit and the proper post-color know-how, your gray strands are sure to look gorgeous!
One thing to keep in mind when you request highlights from your colorist: Lightening even the skinniest of strands will require bleaching. Also, as with most highlight and lowlight techniques, you'll want to consider your starting base color before diving into adding highlights and lowlights.
If you're a natural blonde spruce up your gray-strewn blonde with a mix of hues. Ask your colorist to add in highlights and lowlights for gray hair ranging from pearl to medium blonde. These natural-looking, cool ash tones will blend beautifully with cool, silvery shades of gray.
Editor's Note: You can also consider opting for babylights. Babylights involve brushing on super-fine blonde highlights throughout your hair for a sun-kissed look. These blonde strands will brighten your light gray mane and give you an overall more youthful appearance.
If you're a natural brunette you'll want to play around with darker lowlights when blending gray hair with highlights. When you add brightening highlights for graying brown hair, it will only accentuate any grays that you have. You can try the balayage or foilyage techniques that start higher at the roots to achieve natural looking highlights.
If you're a natural redhead it may be time to implement a series of lowlights and highlights for gray hair in the brown and blonde range. Not ready to kiss your red locks goodbye? If you only have a few grays, you can get a glaze so they don't stand out from your base color quite so much.
HOW TO HIGHLIGHT GRAY HAIR AT HOME
If you're tempted to DIY your blended color, look for an at-home highlighting kit that comes with everything you need to create perfectly placed, even highlights. We love the L'Oréal Paris Frost & Design. With its high-precision pull-through highlighting cap, this highlighting kit lets you select the exact strands you want to be lightened so that you can avoid messy mistakes and unwanted results. The time-saving formula leaves you with a delectable swirl of creamy highlights for a sun-kissed glow and lets you choose to create subtle or bold highlights.
HOW TO TAKE CARE OF GRAY HAIR WITH HIGHLIGHTS OR LOWLIGHTS
It doesn't matter which base color you started with, or whether you opted for lowlights or highlights, the maintenance tips for gray hair remain the same. To help keep your newly colored hair looking and feeling its best, commit the below rules to memory.
1. Switch out the products in your shower. It's time to make room in your shower for a shampoo and conditioner that are safe for colored-treated hair. Try the L'Oréal Paris EverPure Moisture Shampoo and L'Oréal Paris EverPure Moisture Conditioner. And use warm to cool water, not hot water, when washing your hair. This will prevent any further dryness that can be caused by high temperatures, allowing your gray mane to retain its moisture.
2. Up your hair's hydration by adding a deep conditioner to your weekly beauty routine. Once a week, swap out your daily conditioner for the L'Oréal Paris Elvive Total Repair 5 Power Restore Multi-Use Treatment to show your strands some extra love.
3. Keep heat styling to a minimum since it can damage your hair. Since you're already embracing your naturally graying hair, why not do the same thing for your texture? Rock your natural hair by air drying your strands. And if you absolutely must pick up your blow dryer or flatiron, be sure to spritz your strands with the L'Oréal Paris Elvive Dream Lengths Heat Slayer Pre-Iron Spray Leave-In for up to 450 degrees of heat damage protection.
Photo: iStock
Discover more tips & tricks
Keep your skin happy
See all articles
Shop Featured Hair Color products
Discover More