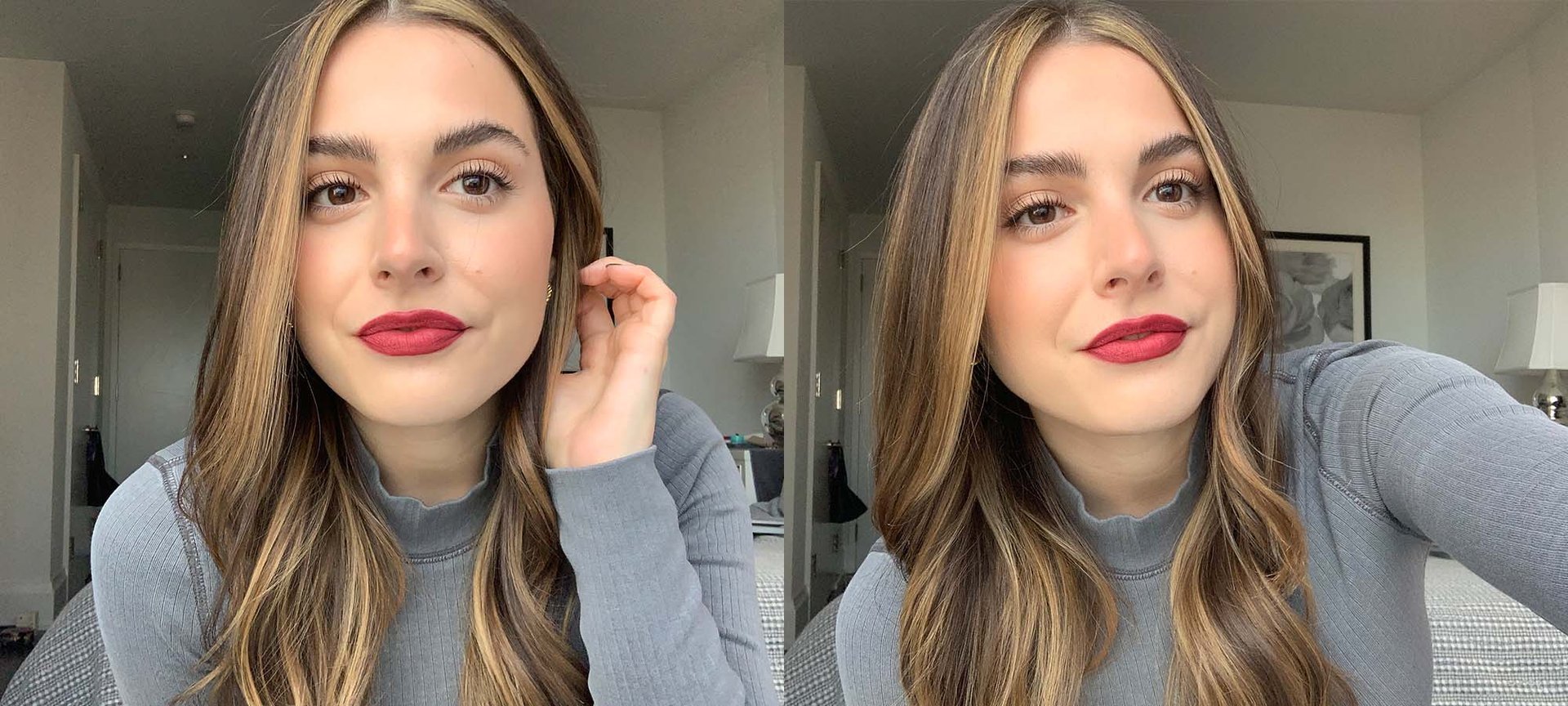 hair color trends
How To Do Balayage With A Subtle Money Piece
Plus, how to keep it looking fresh.
If you're anything like me, you might feel hesitant about making drastic hair color changes. While I love the idea of transforming my medium brown hair into a rich copper hue, and I've always wondered what I'd look like as a platinum blonde, I've never been able to make the jump. But I recently got tired of my monotone hair and decided that I could live slightly on the edge by opting for a trendy money piece.
'It's just a small section,' I thought. So I headed to the salon only to realize once I was in the chair that a stark blonde color framing my face might be a bit much for me. So, my hairstylist suggested we use the power of balayage highlights to give me an understated, well -blended money piece. Keep reading as I share what that process was like for my innocent virgin tresses, what steps were taken to get my stunning results, what I learned about myself in the process and what I'm doing to maintain my new hair color.

How To Get A Natural-Looking Money Piece
While I was looking for a change, I had no interest in going bold with my new hair color. But the truth is, money pieces are typically bold because they're achieved through traditional highlights that use a weave and foil to place and develop the color. Here's what my stylist did to give me a more understated look.

Step 1. Foil The Front Sections
In order for the money piece to look controlled (even and not smeared which can happen when pieces of hair being colored overlap), I got traditional foils on the front section of my hair to remove the color.

Step 2. Create Balayage Highlights
Next, my stylist painted on balayage highlights in small sections throughout my hair. This was done in order to distribute the lighter hue to match the money piece 一 breaking up what would otherwise be a stark contrast between the front section of hair and the rest of my medium brown strands.
Step 3. Choose Your Color
While I let the bleach lift my color for about 20 minutes, I began to look at color options for my highlights. In case you don't know (no judgement, I didn't either), the color of the highlights comes from the toner used 一 balayage is just the technique used to lift color. If you're hoping to achieve a subtle look, you'll want to opt for a highlight color that isn't a major contrast from your base color. Because I have medium brown hair, I went for light caramel highlights.
Editor's Tip: Be sure to select your color wisely. I ended up heading back to the salon a few weeks later to deepen the color and get a root smudge to even further soften the look. I immediately learned that I am not as daring as others when it comes to big hair color changes.

Step 4. Apply The Toner
After my natural color was lifted, it was time to apply the toner. My stylist applied a generous amount of the caramel color toner and I sat with it in my hair for about five minutes before it was rinsed out.

Step 5. Style The Hair
After removing the toner, my hair was dried and styled, and I couldn't believe how natural and dimensional it looked. One inch sections in the front on each side were lightened into a gorgeous caramel money piece, and the rest of my hair maintained it's medium brown hue with hints of golden caramel highlights throughout. It was the perfect departure from my original look — subtle but sun-kissed enough to catch someone's eye.

How To Maintain Your Money Piece And Balayage
Though at the time of my slight transformation I had virgin tresses, I'm no newbie to hair coloring. I knew that after my balayage and money piece were done, I would need to alter my hair care routine to care for my newly colored hair. Here are three trips I'm sticking with (and you should too) to keep a new hair color looking fresh.

Tip 1. Use Color-Safe Products
First on my list was to replace my former shampoo and conditioner for shampoo and conditioner formulated for color-safe. I've been loving the L'Oréal Paris EverPure Sulfate-Free Bond Strengthening Color Care Shampoo and L'Oréal Paris EverPure Sulfate-Free Bond Strengthening Color Care Conditioner. In addition to working to strengthen the hair from the inside out by reinforcing weak hair bonds, the shampoo gives me a great lather and a super clean feeling, and the conditioner is rich in texture that makes my hair feel soft.

Tip 2. Get Acquainted With Purple Shampoo
In addition to using color safe products, I've started incorporating purple shampoo and conditioner into my routine to rid my hair of brass. About every other week, I'm noticing that my highlights start to look yellow in tone, but the L'Oréal Paris EverPure Sulfate-Free Brass Toning Purple Shampoo helps me manage it. I work it through my hair, let it sit for about five minutes, and follow up with the L'Oréal Paris EverPure Sulfate-Free Brass Toning Purple Conditioner.
Editor's tip: For some extra hair TLC, incorporate the L'Oréal Paris EverPure Sulfate-Free Signature Masque, Color Care Hair Mask into your routine. It revives color-treated hair while deeply conditioning and enhancing shine.

Tip 3. Use Heat Protectant
Lastly, I've remained diligent about using heat protectant. I have fine, damage-prone hair, so this is a must for me. I love the L'Oréal Paris Elvive Dream Lengths Heat Slayer Pre-Iron Spray Leave-In. It protects my hair from damage up to 450 degrees and it doesn't contribute to any greasiness.
Next: 30 Pretty Hair Color Ideas To Try For Winter 2022
Written and photographed by: Alyssa Kaplan
Discover more tips & tricks
Keep your skin happy
See all articles
Improve your routine
Show your new look more love:
makeup