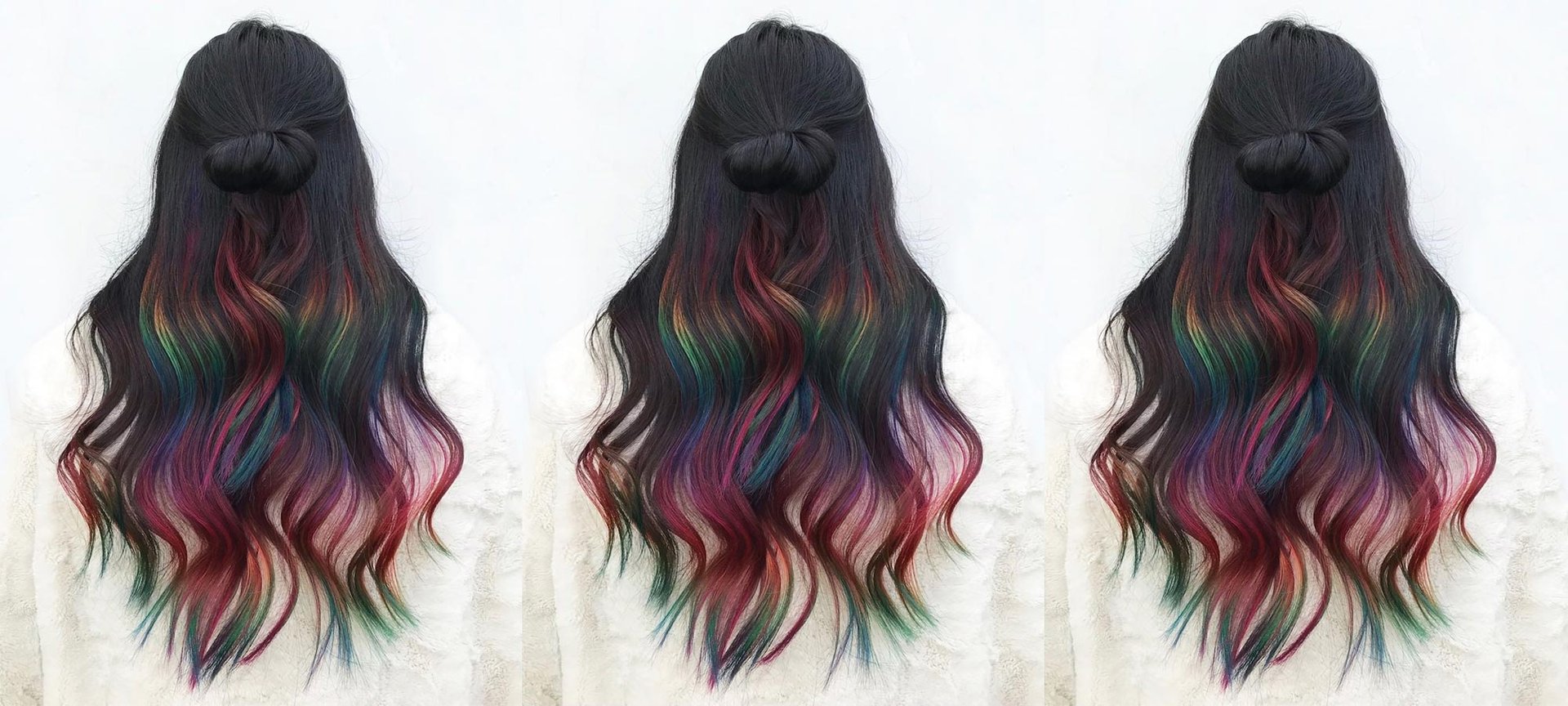 hair color trends
7 Oil Slick Hair Color Ideas
You won't be able to take your eyes off these looks.
When it comes to hair color trends, oil slick hair just might be the most mesmerizing. Inspired by the rainbow hues that emerge in puddles of gasoline or oil, this dyeing technique creates stunning multi-color effects on the hair that can range from fairly subtle to incredibly vivid. And if you have dark brunette or black strands, you're in luck because oil slick colors really pop on a deep base. What's more, oil slick hair is customizable, so we're sharing seven gorgeous ways to get in on the trend.

1. All-Over Oil Slick
If you're looking to jump right into the oil slick hair color trend, this all-over oil slick style is for you. The rainbow hues are painted into the hair from root-to-tip for a stunning, beautifully blended look. To customize it, you can ask your colorist to include whatever colors of the rainbow you desire.


2. Ombré Oil Slick
Why not combine two trends in one by opting for an ombré oil slick style? You'll maintain your base color at your roots, and your stylist will blend the colorful hues at your mid lengths and ends.


3. Oil Slick Bangs
If you want to add some fun color to your hair without undergoing a drastic transformation on your entire head, play up your bangs by adding oil slick color to them. It's the ultimate style for a party in the front, business in the back look (that is, if a mullet just isn't for you).


4. Muted Oil Slick
If you want to play with hair color without opting for something overly bold, ask your stylist to give you subtle oil slick highlights. Not only do the faint highlights add dimension to your hair, but opting for this style is a great way to dip your toes into the world of colorful hair. If you want to try adding color to your hair on your own, spray a few shades of the L'Oréal Paris Colorista Hair Makeup Temporary 1-Day Hair Color Spray onto small sections of hair to mimic what permanent oil slick hair might look like.


5. Pastel Oil Slick
Pastel hair is trending along with rainbow oil slick looks. There's no need to pick one when you can have all them wrapped up into one beautiful oil slick look. The seamless blend of hues makes it truly an oil slick masterpiece as opposed to just any regular rainbow style. It's on-trend and hard to take your eyes off of.


6. Hidden Oil Slick
A unique take on oil slick hair color is to color the bottom half of your hair while leaving the top half untouched. This creates a cool, multidimensional effect when your hair is down, as well as a beautiful two-toned look when you're wearing an updo.


7. Rooted Oil Slick
Contrary to the ombré highlighting technique where highlights are placed at the bottom half of your strands, this style has the rainbow colors placed at the roots which creates a unique, playful look.


Editor's note: Because partaking in the oil slick trend requires using hair color, make sure to use hair care products that are formulated for color-treated strands like the L'Oréal Paris Color Vibrancy Protecting Shampoo and the L'Oréal Paris Color Vibrancy Protecting Conditioner which cleanse and nourish the hair while protecting your color from fading.

Next: How Long Are You Supposed to Leave Bleach On Your Hair?
Photo Credit: @therainbowhairartist
{ "@context": "https://schema.org/", "@type": "WebPage", "speakable": { "@type": "SpeakableSpecification", "cssSelector": ["speakable-content"] }, "url": "https://www.lorealparisusa.com/beauty-magazine/hair-color/hair-color-trends/oil-slick-hairstyles" }
Discover more tips & tricks
Keep your skin happy
See all articles
Improve your routine
Show your new look more love:
makeup
{ "@context": "http://schema.org", "@type": "BreadcrumbList", "itemListElement": [ { "@type":"ListItem", "position": 1, "item": { "@id": "/", "name": "Home" } } , { "@type":"ListItem", "position": 2, "item": { "@id": "https://www.lorealparisusa.com/beauty-magazine", "name": "Beauty Magazine" } } , { "@type":"ListItem", "position": 3, "item": { "@id": "https://www.lorealparisusa.com/beauty-magazine/hair-color", "name": "Bold Ideas From Hair Color Pros" } } , { "@type":"ListItem", "position": 4, "item": { "@id": "https://www.lorealparisusa.com/beauty-magazine/hair-color/hair-color-trends", "name": "Hair Color Trends" } } , { "@type":"ListItem", "position": 5, "item": { "@id": "https://www.lorealparisusa.com/beauty-magazine/hair-color/hair-color-trends/oil-slick-hairstyles", "name": "oil-slick-hairstyles" } } ] }