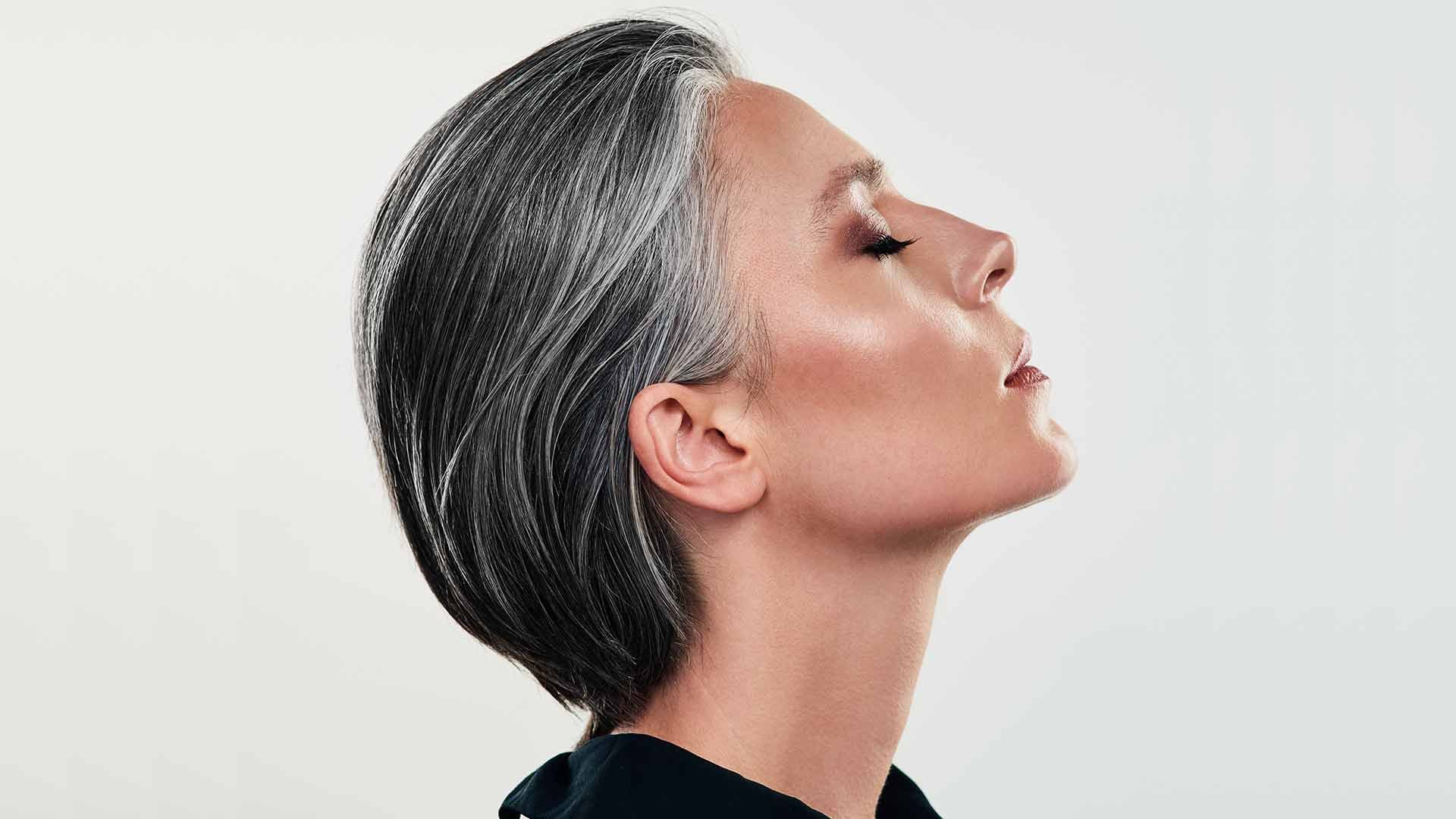 By now, you likely know that silver hair is a serious trend. But if you aren't quite ready to commit to an all-over silver mane, you may find the latest hair color trend is right up your alley: silver highlights. Yup, silver and gray highlights are all we see across our social media feeds, and we'd be lying if we said we aren't obsessed. This dimensional take on the statement hair color trend is all we could ever hope for and more. Whether you're starting with black, brown, blonde, or even gray hair, find 10 of our favorite ideas for gray and silver hair highlights, below.
#1. ASH BROWN HAIR WITH SILVER FOIL HIGHLIGHTS
It's no secret that silver and gray pair beautifully with cool, ashy hair colors, which is why it should come as no surprise that ash brown hair with silver highlights—getting more specific, foil highlights—is the first highlight option on our list. This involves your colorist painting uniform silver strands throughout your hair, giving your entire mane a smoky upgrade.
#2. BLACK HAIR WITH GRAY FOIL HIGHLIGHTS
Starting with a darker base than ash brown? Black hair with gray highlights is equally as stunning. We love this color combo when done with the foil highlighting technique to get a cohesive look that's full of dimension.
#3. BLACK HAIR WITH A SILVER MONEY PIECE
If you aren't sure about embracing a full head of highlights, the money piece highlighting technique may be the perfect way for you to try silver or gray highlights. This method involves highlighting only your face-framing strands for a statement look. When done on a black base, a silver money piece creates a striking yet minor contrast. If you want to try this look on for size before committing to a permanent mane makeover, use the L'Oréal Paris Colorista Hair Makeup Temporary 1-Day Hair Color Spray in Silver for a DIY silver money piece. This temporary hair color washes out in just one shampoo, so you're safe to experiment.
#3. PLATINUM HAIR WITH SILVER BLONDE FOIL HIGHLIGHTS
On the lighter end of the spectrum, we have platinum blonde hair. This nearly white hue was practically made for being blended with silver blonde highlights. Have your colorist paint foil highlights throughout your strands to make your mane icier than the Arctic.
#4. ASH BLONDE HAIR WITH SILVER BABYLIGHTS
Speaking of silver highlights on blonde hair, you can also add dimension to an ash blonde base with the help of silver strands. If you want an all-over lighter, cooler head of hair, ask your colorist for silver babylights. This highlighting technique involves creating ultra-fine highlights for a mane that looks kissed by the sun.
#5. ASH BROWN HAIR WITH GRAY BALAYAGE
Can't get enough of ash brown hair with gray highlights? If foil highlights aren't your thing, gray balayage may be the perfect option. This highlighting technique is ideal for those who want a low-maintenance hair color option. Since the gray highlights will be focused at the ends and subtly painted throughout your mane, you won't have to worry about a harsh line of demarcation as your roots start to grow out. This means you can extend the time between your salon visits!
#6. BLACK HAIR WITH SILVER BALAYAGE
On the topic of balayage, the same technique works perfectly for black hair with silver highlights. The gradual transition between colors will bring the ideal amount of contrast and dimension to your midnight strands—without the need for constant root touch-ups.
#7. BLACK HAIR WITH SILVER AND GRAY FOIL HIGHLIGHTS
It's safe to say we have a special place in our hearts for black hair with silver and gray highlights, which is why our next option combines the two shades. This multi-dimensional foil highlight look will give your mane serious movement with a slight metallic shimmer, thanks to those silver strands, that's balanced out by tones of gray.
#8. DARK BROWN HAIR WITH SILVER AND PLATINUM BALAYAGE
Dark brown hair with silver highlights sounds gorgeous as it is, but when you add notes of platinum blonde and the balayage highlighting technique into the mix, it's a whole other level of trendsetting. This option for dark hair with silver highlights is straight out of our Pinterest hair dreams.
#9. GRAY HAIR WITH SILVER HIGHLIGHTS
Who says you can't upgrade a gray base with silver highlights? Remember: Blending gray hair with highlights is one of the best ways to keep your color from falling flat. Whether you're embracing gray hair as you age or opted to DIY an all-over gray hue (which you can do with the L'Oréal Paris Féria Multi-Faceted Shimmering Permanent Hair Color in Silver), you can create gorgeous dimension by placing shimmering silver hair highlights throughout your mane. There are plenty of highlighting methods that work well with this color combo, although this is another case where we're partial to traditional foil highlights.
#10. BLACK TO GRAY OMBRÉ
Are you a fan of gray highlights on dark hair and low-maintenance hair colors? If so, look no further than black to gray ombré hair. This highlighted look involves your black base gradually changing to a gray color at the ends, creating a gradient effect. Since your roots will be your natural black hue, you won't have to rush to the salon as soon as your roots start to grow—no one will be able to tell!
Speaking of black hair and ombré highlights, here's How to Do Ombré Hair When You Have Black Hair.
{ "@context": "https://schema.org/", "@type": "WebPage", "speakable": { "@type": "SpeakableSpecification", "cssSelector": ["speakable-content"] }, "url": "https://www.lorealparisusa.com/beauty-magazine/hair-color/hair-color-ideas/silver-highlights-and-gray-highlights" }
Discover more tips & tricks
Keep your skin happy
See all articles
Shop Featured products
Discover More
{ "@context": "http://schema.org", "@type": "BreadcrumbList", "itemListElement": [ { "@type":"ListItem", "position": 1, "item": { "@id": "/", "name": "Home" } } , { "@type":"ListItem", "position": 2, "item": { "@id": "https://www.lorealparisusa.com/beauty-magazine", "name": "Beauty Magazine" } } , { "@type":"ListItem", "position": 3, "item": { "@id": "https://www.lorealparisusa.com/beauty-magazine/hair-color", "name": "Bold Ideas From Hair Color Pros" } } , { "@type":"ListItem", "position": 4, "item": { "@id": "https://www.lorealparisusa.com/beauty-magazine/hair-color/hair-color-ideas", "name": "Hair Color Ideas" } } , { "@type":"ListItem", "position": 5, "item": { "@id": "https://www.lorealparisusa.com/beauty-magazine/hair-color/hair-color-ideas/silver-highlights-and-gray-highlights", "name": "silver-highlights-and-gray-highlights" } } ] }