hair color application
Hair Highlights: Foils vs. Balayage vs. Foilayage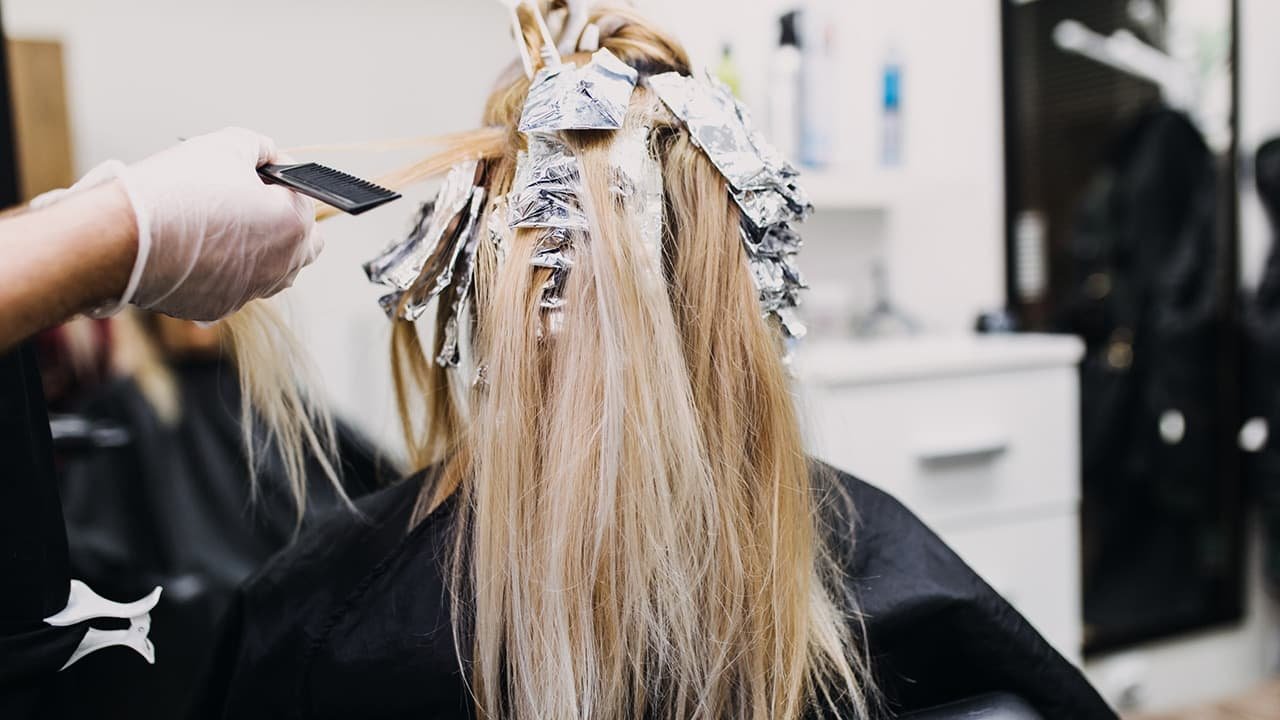 One of the easiest ways to switch up your hair color is to weave hair highlights throughout your mane. Think about it: you don't have to deal with the commitment that comes with a full head of new color and the maintenance can be a bit easier, too. No harsh lines from grown-out roots? Count us in!
Of course, highlights aren't a one-size-fits-all deal, and if you've been doing your research and scouring your social media platforms looking for inspiration pictures, you've likely stumbled upon the phrases "foil highlights," "balayage," and "foilayage." Wondering what the difference is? Below, we're breaking down everything you need to know about foils, balayage, and foilyage so you can choose your highlighting technique with confidence.
FOIL HIGHLIGHTS VS. BALAYAGE VS. FOILAYAGE: WHAT'S THE DIFFERENCE?
Seriously—what is the difference? Here's the breakdown on these three hair highlighting techniques.
1. Foil highlights. Foils are used to create traditional highlights throughout your mane. After each strand is coated in bleach, it's then wrapped in a sheet of foil. This process helps to separate each highlight for a more uniform look and speeds up the lightening process by trapping heat. Foil highlights typically go from the root down to the end of each strand.
2. Balayage. Balayage, as you likely already know, has become one of the hottest hair highlighting techniques over the years. That's because this technique creates a more natural look. The process involves your colorist hand painting strands of your hair for a seamless, sun-kissed head of highlights. Balayage highlights typically feature a lived-in root, making the look low-maintenance.
3. Foilayage. Foilayage, as you may have been able to guess by now, is a combination of foils and balayage. The process, which is also sometimes spelled as foilyage, involves your colorist hand painting highlights throughout your mane before wrapping each in a sheet of foil. This combines the natural look of balayage with the sped-up process of foils.
WHAT HIGHLIGHTING TECHNIQUE IS RIGHT FOR YOU?
So, now that you know the difference between foil highlights, balayage, and foilayage, you may be wondering which hair highlighting technique is right for you. Ultimately, it all depends on your hair goals!
If you want a full head of highlights…foils are the highlighting technique for you. As we mentioned above, this technique will create a uniform, consistent look throughout your mane from roots to ends.
If you want natural dimension…balayage is your highlighting technique match. This process will add some subtle dimension to your mane without changing your root color or lightening your strands too much.
If you want bright, dimensional highlights…foilayage is your perfect highlighting technique. Since this process is similar to balayage, it'll create natural, dimensional highlights throughout your mane. With the addition of foils, your highlights will appear brighter and lighter.
HOW TO TAKE CARE OF HIGHLIGHTED HAIR
Ready to try out one of the above highlighting techniques? Be sure to adjust your hair care routine for your color-treated hair.
HAIR CARE TIP #1: USE A SHAMPOO AND CONDITIONER FOR COLOR-TREATED HAIR
First, you'll want to swap out your usual shampoo and conditioner for a system that's suited for your highlighted locks, like the L'Oréal Paris Elvive Color Vibrancy Intensive Protecting Shampoo and the L'Oréal Paris Elvive Color Vibrancy Intensive Protecting Conditioner. This duo for color-treated hair shields color from fading and instantly repairs dry, damaged, color-treated strands for nourished, protected hair and vibrant, lasting color.
HAIR CARE TIP #2: DEEP CONDITION YOUR STRANDS
Of course, it's no secret that there will be times your highlighted hair is in need of a little TLC. When that's the case, use the L'Oréal Paris Elvive Color Vibrancy Rapid Reviver Deep Conditioner in place of regular conditioner. This deep conditioner revives color and enhances shine. To use, apply it after shampooing from lengths to tips, leave on for only one minute, then rinse.
HAIR CARE TIP #3: APPLY A HAIR MASK
A few times a week, treat your hair to something special, like a hair mask. Apply the L'Oréal Paris Elvive Color Vibrancy Repair and Protect Balm onto your strands after shampooing, leave it on for one to two minutes, then rinse. This intensive post-color hair treatment smooths and protects hair color and is specifically formulated for dry, damaged hair to repair visible damage from processing in one use.
After choosing your highlighting technique and getting your routine in order, there's one more thing to do—pick the right highlight color. Here are The Best Highlights and Lowlights for 2019.
Discover more tips & tricks
Keep your skin happy
See all articles
Shop Featured Hair Care products
Discover More