color treated hair
How To Use a Purple Hair Mask To Tone Brassiness
December 11, 2020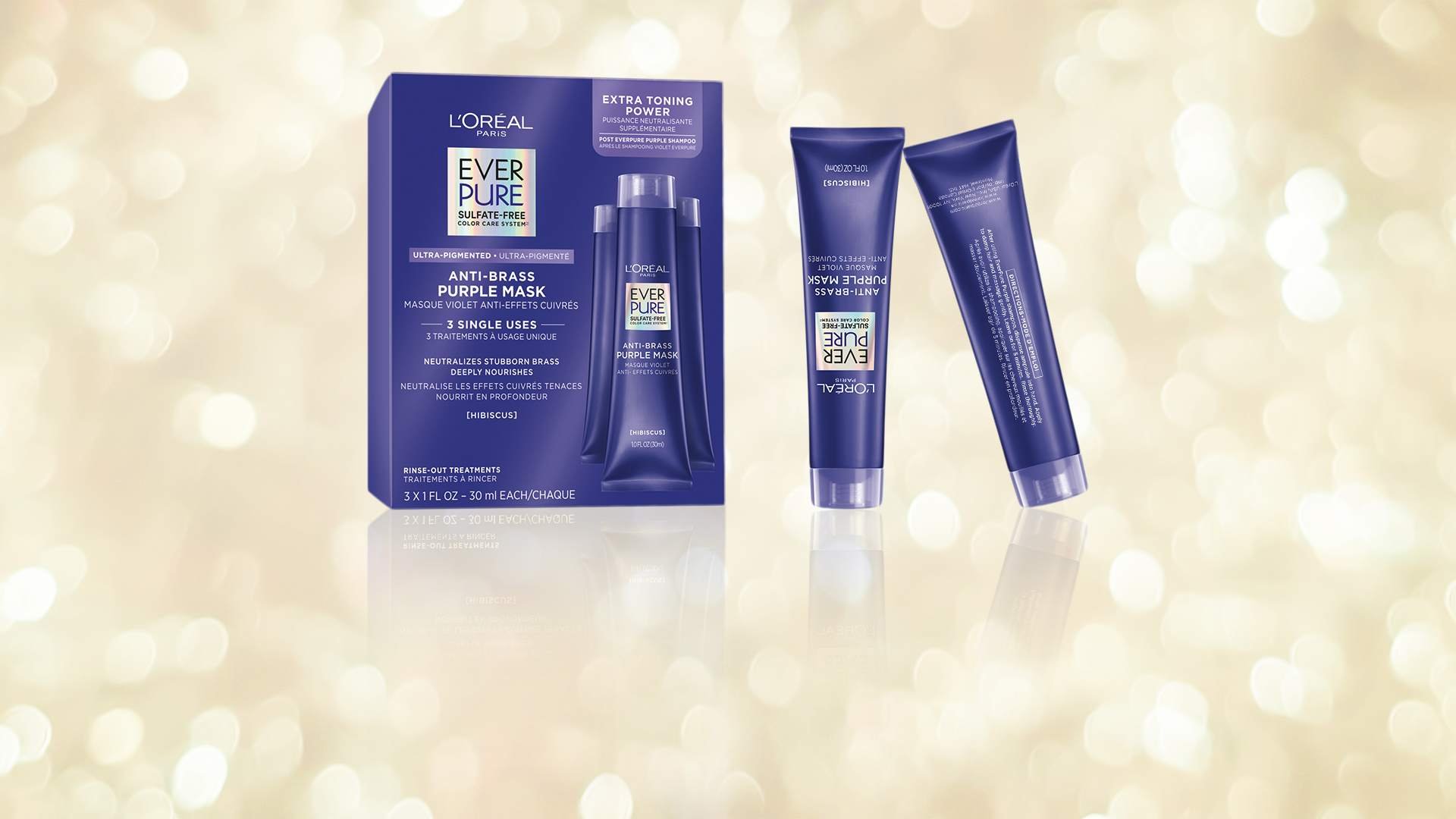 Blonde hair and brassiness don't exactly go together like peanut butter and jelly, but the two are a common pair. An unfortunate one but a pair nonetheless. When you bleach and color your hair blonde, over time, brassy tones make an appearance. It's just a fact of hair coloring. Thankfully, there are toning products that can balance your blonde hue. Everyone who has gone blonde is familiar with purple shampoo, but there are other noteworthy products to help. Purple hair masks are the latest to catch our attention. If they're new to you as well, read on for a complete guide to using a purple toning mask.
What Does a Purple Hair Mask Do?
Purple hair masks apply the principles of color theory to hair care. Think back to learning about the color wheel in art class. Colors that sit opposite of one another on the wheel (red and green, blue and orange, and purple and yellow) are complementary. And this means the colors can neutralize one another. This idea can be applied to various things. For example, the same information is what color-correcting makeup is based around. A green correcting concealer can hide redness, an orange one can hide blue veins, and so on.
With hair care, colored toning products can counteract hues that are opposite of their own. A purple toning mask is used on a brassy hair color to remove the unwelcome orange tones.
The L'Oréal Paris EverPure Sulfate-Free Anti Brass Purple Mask Treatment is the latest formula to join our line-up of EverPure purple products. It's a purple hair mask that's formulated with hibiscus and toning pigments and can be used to neutralize stubborn brass for a bright blonde color. Try it on blonde colored, bleached, or highlighted hair. The intense mask not only helps correct your color but also deeply nourishes and cares for your hair. You can expect powerful results in just five minutes, all courtesy of a rich formula that's free of sulfates, parabens, and harsh salts and surfactants.
How To Use a Purple Toning Mask
To really reap the benefits of a purple hair mask, pair it with purple shampoo. Wash your hair with the L'Oréal Paris EverPure Brass Toning Purple Sulfate Free Shampoo, then wring out excess water to ready your strands for the treatment. Instead of reaching for the coordinating conditioner (L'Oréal Paris EverPure Brass Toning Purple Sulfate Free Conditioner) as your next step, you'll use the mask.
One thing that sets our purple toning mask apart from other L'Oréal Paris hair masks is that it's a single-use product. Dispense the entire tube into your hands and apply it to damp, towel-dried hair. Massage the formula gently through your mane, then let it sit. Leave the purple mask on for up to five minutes. While you wait, you can shave, exfoliate your body, or wash your face.
Once the mask has done its thing, rinse thoroughly. Thankfully, purple products are easy to get completely out of your hair because it will be obvious if you haven't rinsed sufficiently. When the water runs clear, you're, well, in the clear.
How Often Should You Use a Purple Hair Mask?
A purple hair mask shouldn't be part of your daily blonde hair-care routine. The majority of the time, regular color-treated hair-care products will do the trick. For blondes, we recommend the L'Oréal Paris EverPure Blonde Shampoo and L'Oréal Paris EverPure Blonde Conditioner paired with the L'Oréal Paris EverPure Blonde Shade Reviving Treatment. This system helps to gently cleanse, condition, and balance blonde hair, neutralize brassiness, and deeply hydrate over-processed hair.
When brass tones do start to appear, that's your cue to use a purple shampoo and conditioner. Then, you can boost your blonde hair color further with a purple toning mask. Exactly how often to use a mask may vary from product to product. Our purple hair mask is meant to be used no more than once per week in order to avoid over-toning. Outside of that, you should access your hair's hue and whether it requires toning, then use the mask as needed.
Discover more tips & tricks
Keep your skin happy
See all articles
Shop Featured Hair Care products
Discover More