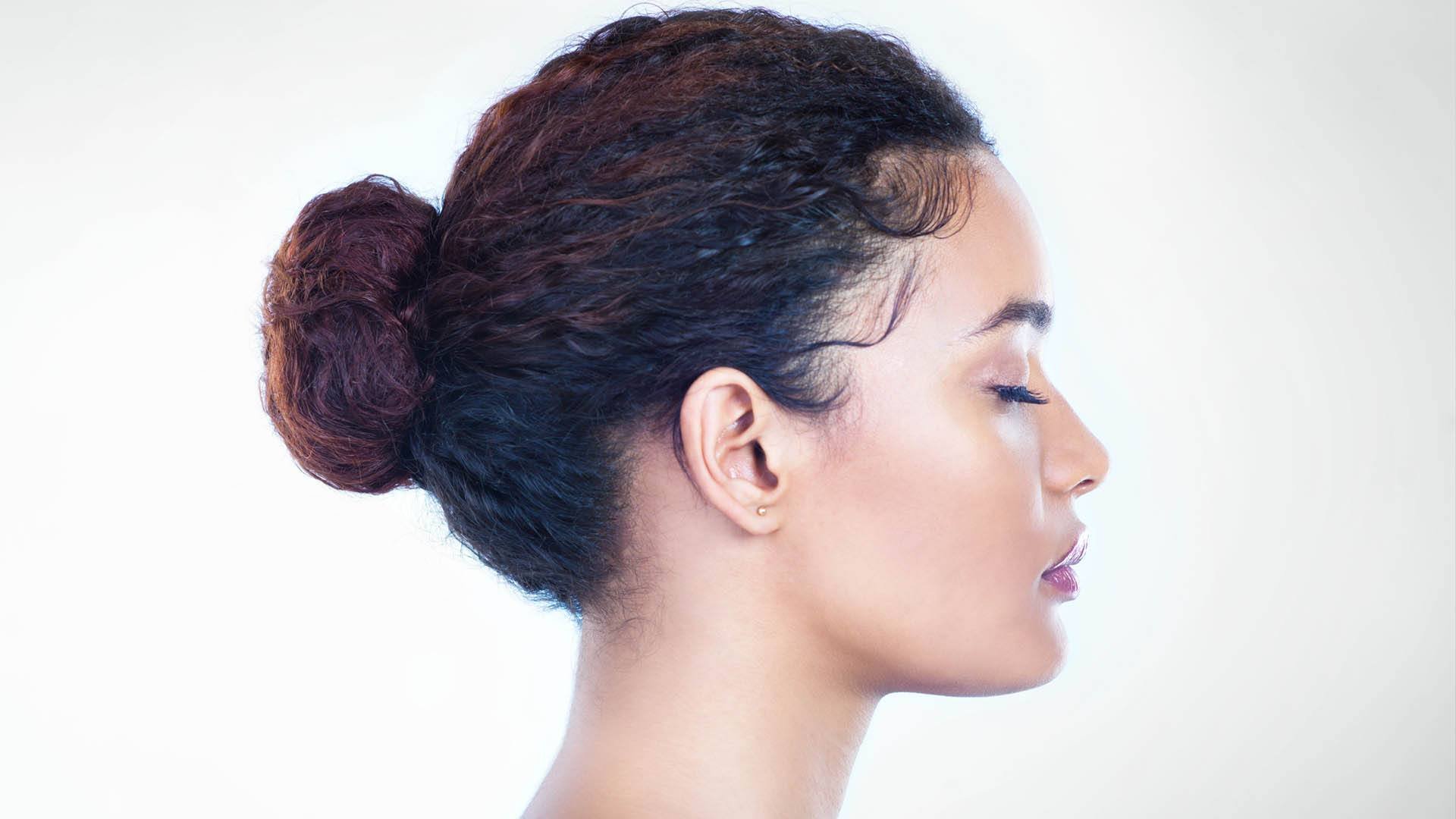 hairstyle trends
11 Easy Low Bun Hairstyles That Will Save Time Getting Ready
When you're rushing to get ready in the morning so that you're not late to class or work, you may not want to do anything with your hair. But what if we told you that there was a hairstyle that was both super-cute and could be created with minimal effort? We're talking about the low bun. A low maintenance take on an updo, low bun hairstyles are super stylish and oh-so-easy to create. The best part? There's more than one low bun hairstyle out there, which is why we've rounded up our favorites below. Keep reading to learn how to do a low bun and create 11 different low bun hairstyles.
1. ROMANTIC LOW BUN
Nothing screams romantic hairstyle like a low updo that has some wave to it. Start this hairstyle the night before you want to wear it. After washing your hair, apply a generous amount of the L'Oréal Paris Advanced Hairstyle CURVE IT Elastic Curl Mousse onto damp hair, scrunch, and let your hair air dry. In the morning, it's time to create your romantic low bun hairstyle. Separate your hair into three sections, creating a ponytail with the middle one. Roll the ponytail into a bun and secure it with a bobby pin.
Then, separate the left section into two parts, twisting the inner section up and over your bun and the outer section underneath your bun, pinning both in place. Repeat the same process with the remaining section of hair.
2. SLEEK LOW BUN
For a day at the office, you can't beat a smooth and sleek low bun. First, brush your hair and create a tight, low ponytail. Then, apply a hair serum, like the L'Oréal Paris EverSleek Frizz Finish Oil-In-Serum, to help smooth your ends. Break the ponytail into two sections and secure the ends of each section with a clear mini elastic. Place a bobby pin vertically into the elastic and roll one section of your hair up, away from your face. Pin in place with another bobby pin and repeat on the other side of your hair. If your bun feels loose, add a couple more bobby pins. If you notice any flyaways, apply a small amount of hair cream as a finishing touch.
3. CLASSIC LOW BUN
Classic hairstyles are timeless for a reason—they're always in style and flatter just about everyone. The classic low bun is a perfect example of this. Pull your hair into a low ponytail, leaving a section at the front of your hair loose. Secure the ponytail with a hair tie. Divide your ponytail into two sections, wrapping one around the base of the ponytail to disguise the hair tie.
Tease the other section and tuck it under your ponytail, securing it with a bobby pin. With another bobby pin, secure the front section of your hair beneath your bun. Gently tug at the sides of your low bun updo and apply a quick spritz of a hairspray, like the L'Oréal Paris Elnett Precious Oil Satin Hairspray.
4. MESSY LOW BUN
If you have natural hair, this messy low bun updo will look absolutely stunning on you, whether you're out doing chores or have a party to attend. Take your hair and pull it over to one side, securing it into a loose ponytail with a hair tie. Leave the front section of your hair out, then pin it back with a bobby pin. Roll the ponytail up into a bun and secure it with a few bobby pins. Don't worry if you have any flyaways—this is a messy low bun, after all! Use a teasing comb to add some volume on top, then finish by adding a headband for a glitzy touch.
5. PRETZEL BUN
In the mood to up the ante with your low bun hairstyles? It's time to get acquainted with the stylish pretzel bun. This low updo is all about twisting your locks to emulate the look of the salty snack. All you need to do is gather your strands at the nape of your neck and create a low ponytail. Next, start twisting the length and wrap it around the base of your ponytail. Continue twisting and wrapping your hair until your bun has formed. Secure it with bobby pins, and you're all set.
6. BRUN
If you love the idea of flaunting a beautifully woven pattern and a chic low updo, you may want to give the trendy brun hairstyle a go. The perfect combination of a bun and a braid, this hairstyle allows you to jazz up your strands with little to no effort. As long as you can create a classic three-strand braid (which is totally easy), the perfect brun hairstyle awaits. Click through to our article, Braid Meets Bun: How to Get a Brun Hairstyle, for a step-by-step tutorial.
7.SIDE BRAID WITH LOW BUN
Let's stick with braids for a moment. While the trendy brun will always have a special place in our hearts, there is a way to take your style to the next level. We're talking about a side braid with a low bun! Perfect for those looking to shake things up, this braided number flirts with texture while adding an edgy twist to your look. What's not to love?
Start by creating an inch-wide part from your hairline to the center of your head. Clip the rest of your hair out of the way. Split your hair into three equally-sized strands and create a Dutch braid. Once you reach the end of your braid, secure it with a small hair tie. Next, release the rest of your hair and form a low ponytail. Wrap your locks into a bun, secure it with bobby pins, and you'll be as good as gold!
8. SIDE BUN
When it comes to low bun updos, the side bun continues to reign supreme. This low bun, which is where attitude and sass meet, does a fantastic job of putting your features on full display. We also dig that it's incredibly chic, and it looks amazing on everyone. To get the look, simply add a small amount of hair gel, like the L'Oréal Paris Studio Line Clean Gel to your roots and brush your hair toward either side of your head. Pull your locks into a ponytail and secure with a hair elastic. Wrap your hair as you normally would around the base of your ponytail to create your bun. Seal the deal with a few bobby pins, and your look is complete.
Editor's tip: Looking for a way to liven up your side bun? Consider adding a sparkly accent to your 'do with 5 Ways to Use Jeweled Hair Accessories.
9. FAUX HAWK BUN
Dare to explore your edgy side? The faux hawk bun hairstyle will totally make it happen. This rocker-inspired 'do offers a bold change of pace that will have all eyes on you. Start by parting your hair from ear to ear and dividing it into three even sections. Working with one section at a time, apply a small amount of hair gel to the sides of your mane and brush your hair toward the center of your head. Create a ponytail and secure with a hair tie. Roll your locks into a mini bun and secure it with bobby pins. Repeat until you have three mini buns.
10. LOW SPACE BUNS
For those who love playful and carefree styles, low space buns should definitely be on your radar. Providing you with two stylish buns, this low updo is perfect for individuals looking to show off their personality. Not to mention, you can totally pull this look together in a matter of minutes. Head on over to our article, How to Do Space Buns, to master the trend.
11. ROPE BUN
Last but certainly not least, we have the rope bun. Another chic style that keeps your hair off of your neck, this creative updo makes for a seriously stunning pick. To start, create a low ponytail and spritz some shine hair spray over your tresses. Split your ponytail into two sections and spin each side down to the ends. Then, twist the two sides together in the opposite direction to create the rope look. Tie it off with a clear elastic. Finally, twist your hair into a bun and pin your strands in place. Voila!
Just like that, you're in the know about the perfect low bun hairstyles to help you save time and look stylish! For more hairstyle tutorials, check out 10 Step-by-Step Hairstyle Tutorials for Cute, Easy Hairdos.
Discover more tips & tricks
Keep your skin happy
See all articles
Shop Featured Hair Style products
Discover More