hair color ideas
18 Low Maintenance Hair Color Ideas for 2020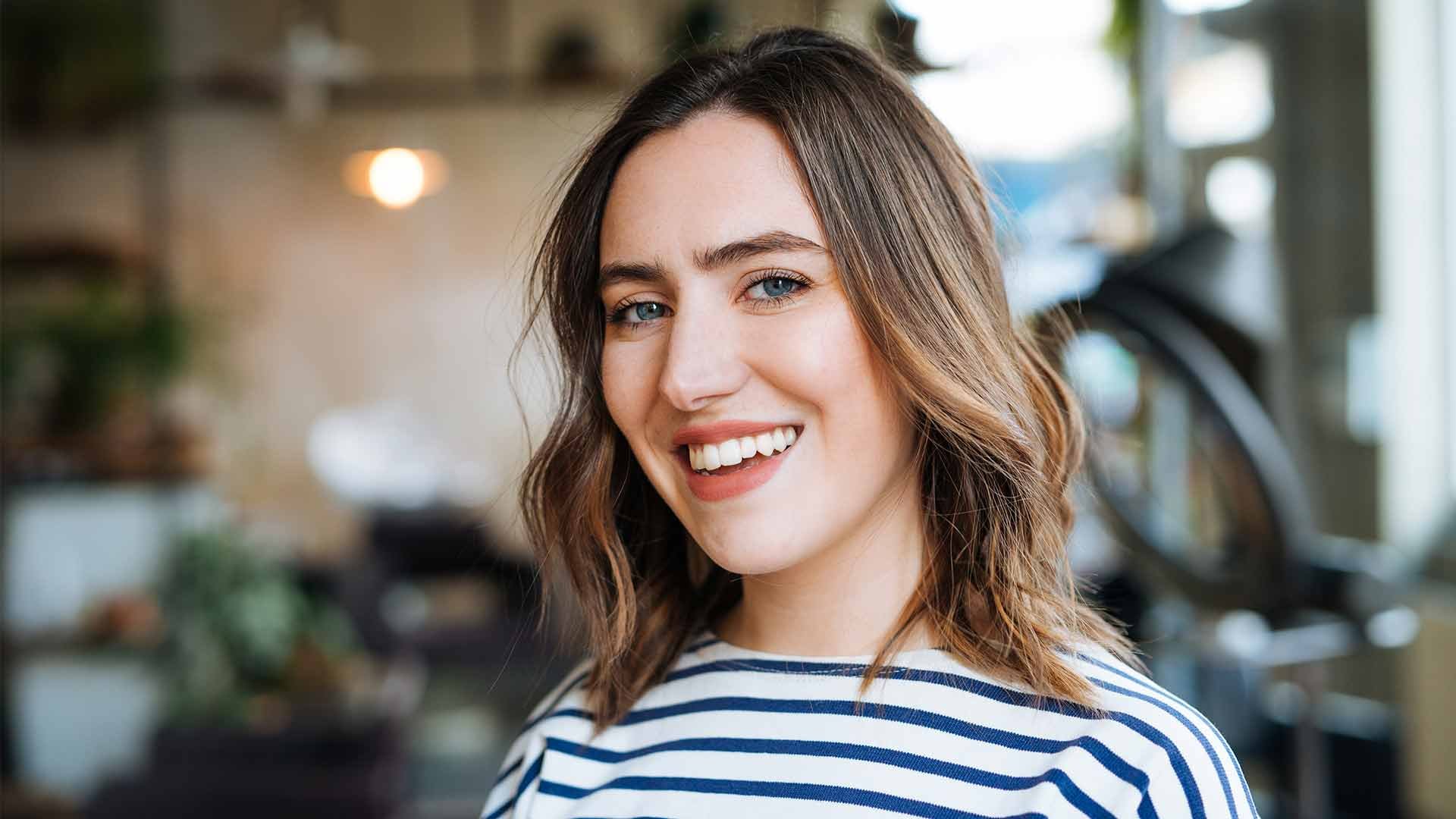 Tired of making multiple trips to the salon to preserve your hair color? It sounds like you need a low maintenance hair color makeover! While you may be game for trying out a hot new hue, some of the more popular hair color trends as of late are anything but easy to maintain. And if you're a gal that lives by minimalism, this just won't do. Lucky for you, there are numerous low maintenance hair color ideas that you can try to keep yourself out of the salon chair for longer. From gorgeous pastel hair to the trendy holographic hair look, a low maintenance hair color is definitely within reach!
HAIR COLOR IDEA #1: SUN-KISSED BALAYAGE
Balayage has become quite popular in the last few years—and there's no sign of it slowing down anytime soon. That's because it's one of the most low-maintenance hair coloring techniques out there. Balayage entails a colorist hand-painting highlights onto your strands where the sun would naturally hit them. Since the color is concentrated mostly from your mid-lengths to your ends, no one will be able to tell when your roots start growing in—meaning frequent touch-ups are not necessary.
HAIR COLOR IDEA #2: ROOTED DARK BLONDE
If you have dark brown hair and want to add a summer glow to your strands without completely kissing your natural color goodbye, this could be the low maintenance look for you. With blonde balayage highlights blended into darker roots, this is the perfect hybrid of blonde and brunette. Unlike traditional balayage or bronde, this laidback hair color is all about embracing darker roots with touches of dark blonde added in to help create dimension.
HAIR COLOR IDEA #3: ASHY BRONDE
Think of your classic blonde-meets-brunette shade with hints of ashy tones added to it—that's ashy bronde. We have a feeling that this slightly washed-out, almost driftwood-like color would look stunning on you.
HAIR COLOR IDEA #4: GOLDEN BEIGE NUDE
If you're planning on getting your faux glow on with self-tanner this summer, then golden beige nude is a gorgeous hair color to consider. This look, which involves adding a mixture of gold, beige, and blonde highlights and lowlights to naturally blonde hair, can add depth and dimension to your strands.
HAIR COLOR IDEA #5: LILAC HAIR
If you love a hair color that's sweet, playful, and will fit into your Pinterest-feed perfectly, lilac hair may be the shade for you! This seriously stunning purple hue allows you to play with color without the constant upkeep since it looks equally as good with a little root action. A great way to step outside of the box with hair color, lilac works to soften up your look while making a gorgeous statement. Check out our article, How to Do Dusty Lilac Hair, to get started.
HAIR COLOR IDEA #6: DIP-DYED PINK ENDS
Want to try out a hot new hair color without committing to a full-color job? Look no further than dip-dyed pink ends. The perfect color option for those who love a bold mane, the dip-dye trend is an excellent way to get creative with hair color and show off your personality.
If you want to take this look for a test drive, all you need is the L'Oréal Paris Colorista Hair Makeup Temporary 1-Day Hair Color Spray in Hot Pink. Simply spray your ends and your look is complete. We really dig that this color washes out with one shampoo, so you can spray, wash, and experiment with different hues.
HAIR COLOR IDEA #7: TORTOISESHELL
If you have dark brown hair but still want to get in on the gorgeous balayage trend, consider getting tortoiseshell hair. Subtle streaks of caramel and honey highlights will be woven throughout your mane, with the most color concentrated at your ends. This hair color looks especially gorgeous when paired with curls. Style it by adding an egg-sized amount of the L'Oréal Paris Advanced Hairstyle CURVE IT Elastic Curl Mousse to towel-dried hair, scrunch, and let air dry.
HAIR COLOR IDEA #8: SILVER BLONDE HAIR
Want to combine two of your favorite hair colors? Look no further than silver blonde hair. This gorgeous hue blends silver and blonde shades to create a show-stopping platinum-like hue. Sound like a hair color you can get behind? Head on over to our article, How to Get a Silver Blonde Hair Color, for all the deets.
HAIR COLOR IDEA #9: BLONDE ROAST HAIR COLOR
When you're in the mood to spice up blonde strands, a blonde roast hair color will serve you well. Inspired by a cup of joe, this hair color mixes blonde and brunette shades for beautiful dimension. A great way to switch up your look without committing to an all-over color change, blonde roast hair will become your favorite low-maintenance hair color in no time.
HAIR COLOR IDEA #10: HOLOGRAPHIC HAIR
Holographic hair has become a must-have hair color in the beauty community, and it's easy to see why. This vibrant hair color gives your mane a super-shimmery finish for a look that won't go unnoticed. We also dig that you can score this gorgeous hue right in the comfort of your own home! That's right, while most people think this trend is high maintenance and requires a colorist to achieve, you can actually get the look with temporary hair dye. Simply use the L'Oréal Paris Colorista Hair Makeup Temporary 1-Day Hair Color in Moonstone to see what you'd look like with a holo hair makeover.
HAIR COLOR IDEA #11: FIRE RED OMBRE
Ready to transform into a red-haired bombshell? It's time to put fire red ombré hair on your radar. Equal parts bold and chic, this hair color is not for the faint-hearted. While red hair usually doesn't top the low maintenance hair color list, combining this hue with the ombré technique cuts down on upkeep. Head on over to our article, How to Get Red Ombré Hair, to learn how to transform your locks.
HAIR COLOR IDEA #12: MAROON OMBRÉ HAIR
Another low maintenance hair color idea that will have you swooning is none other than maroon ombré hair. This head-turning hue flaunts notes of dark red and purple for a color that's definitely worth the hype. A fabulous pick for those who love to experiment with color without going too bright, combine this hue with the ombré highlighting technique, and you won't have to worry about constant touch-ups.
HAIR COLOR IDEA #13: PEEK-A-BOO HAIR
When you start thinking you may want to give a bold hair color a spin, peek-a-boo hair is just what you (and your strands) need. This trend has been a hot pick over the years, and it's showing no signs of slowing down. Flaunting your natural mane color for all to see, you'll have more colorful hues hidden underneath for a stylish surprise. Totally customizable, you can rock rainbow colors, pastel hues, and more, and since it's all hidden, you can get away with missing a touch-up or two. Head on over to our article, How to Get a Peek-a-Boo Hair Color, for a step-by-step tutorial.
HAIR COLOR IDEA #14: TWO-TONE HAIR COLOR
Want to rock two hair colors at the same time? Let us introduce you to two-toned hair. Just as the name suggests, this hair color trend allows you to sport two shades in one style. You can opt for a hidden layer of color or a chic contrast for a winning look. If you're ready to try the trend, check our article, How to Get a Two-Toned Hair Color.
Editor's note: Think this is the color for you? Just be sure to use a temporary hair color or a semi-permanent shade that will fade out with time, so you don't have to stress about upkeep.
HAIR COLOR IDEA #15: MIDNIGHT BLUE HAIR
Midnight blue hair is a trendy way to take a walk on the dark side. To make this deep blue shade low-maintenance, opt for midnight blue lowlights, or highlights. Talk about head-turning dimension!
HAIR COLOR IDEA #16: ROSEGOLD HAIR
Match your hair to your gorgeous jewelry with a rose gold hair color. This jewelry-toned hue shines far and wide, making it a must-try hair color. You can totally DIY this look, making it easy to touch-up on your own, too. Check out our article, How to Get Rose Gold Hair in 3 Easy Steps, for everything you need to know.
HAIR COLOR IDEA #17: NEON GREEN HAIR
If you're ready for a wild hair color, neon green hair won't steer your wrong. This bold hair color works to brighten up your mane and make a lasting impression. And if you get the hue with a temporary hair color, you won't need to be tied down by touch-ups. What's not to love? All you need to leave everyone green with envy is the L'Oréal Paris Colorista Hair Makeup Temporary 1-Day Hair Color in Neon Green.
HAIR COLOR IDEA #18: LIVED-IN COLOR
Last but certainly not least, we have lived-in hair colors. The whole idea of this trend is to embrace your root growth so that you can stretch the time between touch-ups. For this look, your colorist will dye your entire mane your color of choice, then create a shadow root that matches your natural hair color. That way, as your roots grow out, it really won't be noticeable.
Editor's tip: If you want to give your lived-in hair color a little lived-in texture to match, try spritzing hair with the L'Oréal Paris Advanced Hairstyle BOOST IT High Lift Creation Spray for a teased, mattified look or the L'Oréal Paris Elnett Precious Oil Satin Hairspray for a shinier finish.
HOW TO CARE FOR YOUR LOW MAINTENANCE HAIR COLOR
Although the hair color options above don't require a ton of upkeep, it's still a good idea to tailor your hair care routine to suit color-treated hair. Follow our tips below to allow your new hair color to go the distance.
TIP#1: USE A NOURISHING HAIR CARE SYSTEM
Now that you've switched things up with your hair color, it's time to follow suit with your hair care routine. Use a system with a shampoo, conditioner, and hair mask formulated for color-treated hair. Try the L'Oréal Paris EverPure Repair & Defend Shampoo, L'Oréal Paris EverPure Repair & Defend Conditioner, and L'Oréal Paris EverPure Repair Remedy Balm. To show your locks a little extra love, swap the hair mask for your conditioner one to two times a week.
TIP #2: RINSE HAIR WITH LUKEWARM WATER
There is no denying that hot water feels amazing on skin, but when it comes to your mane, you need a gentler option. Super-hot H2O can strip hair of its natural oil and leave you with drier strands. Play it safe and always turn down the dial.
TIP #3: USE HEAT PROTECTANT
Can't resist flaunting sleek styles? We totally get it! However, you should always reach for a heat protectant to keep your strands in tip-top shape. Use the L'Oréal Paris Advanced Hairstyle SLEEK IT Iron Straight Heatspray, which works to calm frizz, seal in shine, and protect hair from heat damage.
TIP #4: OPT FOR HEAT-FREE STYLES
As much as you love your heat-styling tools, there is nothing wrong with giving them a break from time to time. The truth is, heat-free styling products are a great way to keep your fresh new color looking as vibrant as can be, without having to skimp on style. Simply add a touch of curl mousse to damp strands, scrunch, and let air dry. As a result, you'll have soft and bouncy curls to style as you see fit.
TIP #5: GET FAMILIAR WITH TOUCH-UPS
Hair color doesn't last forever, but that doesn't mean you have to say goodbye to your new color. Instead of making frequent trips to the salon, keep a box or two of hair dye in your arsenal so you can do touch-ups as you please.
Next up: Ready to try out other hair color trends? Check out our article, 50 Popular Hair Color Trends for 2020, for some inspo!
Discover more tips & tricks
Keep your skin happy
See all articles
Shop Featured Hair Style products
Discover More