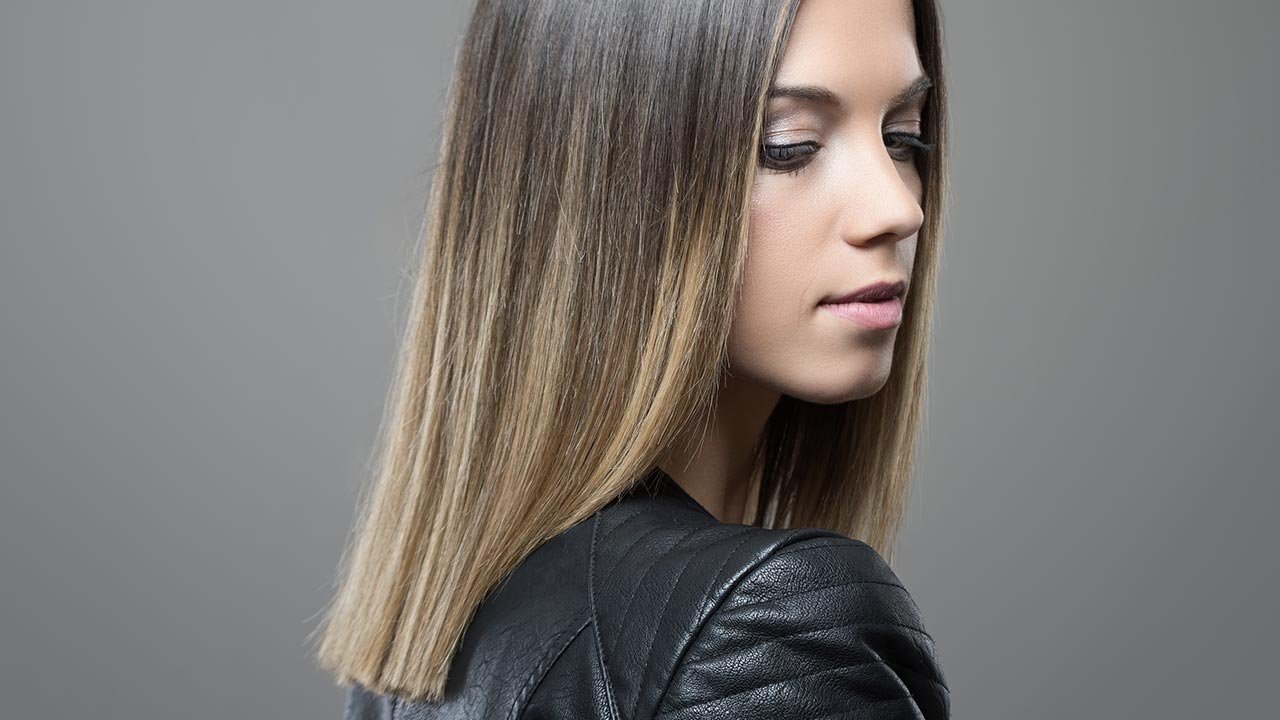 hair color ideas
How to Get Dark Brown Hair With Highlights
Love your dark brown hair but want to add some shine and dimension to your locks? Consider adding highlights to your mane. Dark brown hair with highlights can look as if it's been naturally lightened by the sun. Yep, it turns out these lightened strands aren't reserved for those with blonde hair or lighter shades of brown. Dark-haired brunettes can get in on the fun, too! Dark brown hair with highlights and lowlights happens to be trending, and we're totally here for it.
If you're ready to make this change to your hair color, we've got you covered. Below, we're sharing our favorite highlighting techniques and colors for dark brown hair, including everything from blonde highlights to an ashy balayage. Plus, read until the end for a simple hair care routine for maintaining your newly highlighted hair.
WHAT TO KNOW BEFORE GETTING DARK BROWN HAIR WITH HIGHLIGHTS
Chances are, there are more highlighting techniques than you've ever even realized! If you want to lighten up your dark brown hair, there are a few different routes you can take to help gain some dimension. Keep in mind that highlighting dark brown hair requires bleaching—and the darker your starting shade, the more work it will require to achieve your desired level of highlight. Even for experienced at-home colorists, it would be wise to visit a professional if you're trying out a new highlighting technique for the first time. With that in mind, here are our favorite techniques and colors for dark brown hair with highlights.
#1. OMBRÉ
If you want to incorporate a tinge of gold or blonde into your hair, think about opting for ombré highlights. Ombré means 'to shadow,' and when it comes to hair, it's meant to be a gradual gradation from dark at the roots to lighter ends. Also, it looks amazing on brunettes! Why? Well, ombré highlights can give your hair a ton of contrast from root to tip. What's more, you can choose from and showcase a variety of different colors and shades. If you want to experiment with a color other than blonde, you can get ombré highlights in pink, blue, teal, or virtually any color of the rainbow. The opportunities are endless!
Ombré highlights are also popular because they are super-low maintenance and easy to take care of since you're not dyeing your roots. That means when your highlights start to grow out, you don't have to touch things up right away. If you're starting with a dark base color (like dark brown), ombré is a technique you'll likely want to visit a professional for. Not only will they be able to help minimize damage from bleaching, but you can seek out someone who is especially skilled at creating a gradual, well-blended ombré.
#2. BLONDE HIGHLIGHTS
As far as colors go, dark brown hair with blonde highlights is one of the most sought-after looks. There's something to be said about a high-contrast highlight, and that something is that it's seriously striking. Whether you opt for a touch of warm honey or go bold with an ashy light blonde is up to you!
Despite popular belief, you also can DIY blonde highlights at home—with the right highlighting kit. The L'Oréal Paris Super Blonde kit works even on dark hair, making it perfect for your mane.
#3. SOMBRÉ
Is ombré a little too bold for your tastes? Then opt for a softer option. You can still get that gradation effect, but with a softer overall tone. We're talking about sombré highlights (aka soft ombré). Sombré is an all-over lightening technique that is great for those who aren't looking for their highlights to produce the stark contrast that ombré provides.
To get these highlights, start by choosing a shade that is a few shades lighter than your current hair color. You can choose how light you want to go, but remember: The transition should be gradual. Since the goal of any good sombré is to achieve a soft gradation of hues, you'd be wise to visit a professional colorist for this highlighting technique too. This is especially true for dark brunettes, because, as we mentioned earlier, it will require some bleaching of the hair.
#4. CARAMEL HIGHLIGHTS
For warm-toned highlights, look no further than dark brown hair with caramel highlights. This dark blonde shade looks particularly stunning against darker skin tones with coordinating warm undertones. A colorist can help perfectly blend your highlights, but you can also get the look at home. Our favorite method is with easy cap highlights using the L'Oréal Paris La Petite Frost in Creme Caramel.
#5. BRONDE
As the name suggests, bronde highlights are a combination of blonde and brown. Technically, the bronde look is equal parts blonde and brown, which results in an overall extra dirty, blonde look that we love for any time of the year. While bronde hair is typically achieved on those with a base hair color that's a lighter brunette shade, it still works for those who have darker brown locks—the process will just take a bit longer.
Another plus to the bronde look is that it's also totally customizable to your natural hair and skin undertones: if you have a warm skin tone, opt for golden, amber, and honey-toned bronde highlights. Contrastingly, if your skin tone is cooler, pick an icier hue for your highlights. For bronde highlights, stick to just one or two shades lighter than your regular hair color. Your highlights should be expertly placed around your face and other areas that would be naturally lightened by the sun to give you a natural look.
Keep in mind that this hair color trend is not one for the DIY colorist, so if you're looking to test out the bronde highlight look, you'd better book an appointment at your favorite salon.
Just like the two aforementioned highlighting techniques, bronde requires very little maintenance (lazy girls, rejoice!). And as if you needed another reason to try bronde highlights, they can also add visual texture to your natural brown hue thanks to being woven throughout your hair.
#6. LIGHT BROWN HIGHLIGHTS
You don't have to go blonde with your highlights! Dark brown hair with light brown highlights will still add plenty of dimension to your dark mane without so much contrast. This is ideal for those who want a color that's a bit more natural and subtle-looking.
#7. BALAYAGE
Developed by French hair colorists in the '70s, balayage has slowly gained popularity over the decades. In French, the word balayage means to sweep. As such, balayage highlights are created with a freehand streaking technique for a natural-looking effect that suits hair of all lengths, whether you have short hair, medium hair, or long hair. Most often, the balayage technique is applied to a darker base with lighter highlights. The result is typically a little lighter than bronde hair, and it focuses on a more natural progression compared to other highlighting techniques. Again, these highlights are supposed to make your hair look like it's been basking in the sunlight for hours. Balayage highlights are also chunkier than bronde highlights and grow out more naturally.
As for the amount of color variation you'll want, the highlights should differ up to two or three shades from your root to tips. Although this highlighting technique isn't as dramatic as an ombré or changing your hair color altogether, it's also best left to a professional colorist who is experienced with freehand coloring.
#8. RED HIGHLIGHTS
Want a striking color change? Dark brown hair with red highlights is calling your name. There are plenty of ways to try this trend, whether you ask your colorist for deep burgundy highlights or brighter auburn pops of color.
#9. FLAMBOYAGE
Want to take balayage highlights up a notch? It sounds like flamboyage highlights are for you! Flamboyage literally means flamboyant balayage, and with these highlights, your hair is gradually lightened from about halfway through your length to the tips of your hair. This option for dark brown hair with highlights differs from balayage highlights we spoke about earlier, because the ends are lighter than your roots by about four shades. Again, the progression of these highlights is very natural-looking, and again, you'll want to book an appointment in the salon if this is your highlight technique of choice.
#10. HIGHLIGHTS AND LOWLIGHTS
If you can't get enough of a dimensional mane, dark brown hair with highlights and lowlights is your hair color match. The highlights will help add lightness to your dark brown hair while the lowlights will create shadows and even more movement.
#11. COOL-TONED BALAYAGE
If you keep up with the world of ever-changing hair color trends, you may have heard of cool-toned balayage recently (or seen it on your social media feeds). The cool-toned balayage technique is exactly what it sounds like: a version of balayage that uses cool tones to provide an ever-so-subtle dimension to the hair. After the highlights are placed, hair is toned once again to create an even more natural look. This is an especially good choice for brunettes who aren't looking for a drastic change in their color but still want to get highlights. Even though its super subtle, cool-toned, ashy balayage highlights are best created by a professional because the technique involves the strategic placement of lighter strands.
HOW TO TAKE CARE OF DARK BROWN HAIR WITH HIGHLIGHTS
Colored your hair? It's time to switch up your hair care routine to help keep your color looking gorgeous! Consult the following tips for taking care of color-treated hair:
1. USE A SYSTEM OF SHAMPOO AND CONDITIONER FOR COLORED HAIR
Swap out your regular shampoo and conditioner for ones that are formulated for color-treated hair. Reach for the L'Oréal Paris EverPure Repair & Defend Shampoo and the L'Oréal Paris EverPure Repair & Defend Conditioner the next time you go to wash your strands.
2. MASK, MASK, MASK
Once or twice a week, use a hair mask for color-treated hair in place of the above conditioner. Try the L'Oréal Paris EverPure Repair Remedy Balm. After washing with your shampoo, slather on the hair mask and leave it on for three to five minutes, then rinse.
3. SHOW OFF YOUR NATURAL TEXTURE
Highlighted, dark brown hair looks amazing with a little wave or curl to it, but laying off of hot tools can help preserve your color. That means you may not want to pick up your curling wand quite so much. Instead of giving your hair texture via heat styling, try air-drying your strands every once and a while and using air-dry products to achieve a beautiful hairstyle. If wavy, curly tresses are your desired end result, post-shampoo and conditioner, when your hair is still damp, apply a bit of the L'Oréal Paris Advanced Hairstyle CURVE IT Elastic Curl Mousse and scrunch before letting your hair air dry!
4. PROTECT YOUR STRANDS FROM HEAT
We get it; sometimes, you just have to use a blow-dryer or flat iron. Not to worry, just be sure to protect your colored strands with a heat protectant, like the L'Oréal Paris Advanced Hairstyle SLEEK IT Iron Straight Heatspray. To use, spray onto clean, damp hair section by section then style as usual.
Just in case you're hooked on lighter hair after getting highlights, let us point you in the direction of our article on How to Go From Brown Hair to Blonde Hair the Right Way.
Discover more tips & tricks
Keep your skin happy
See all articles