color treated hair
3 Purple Shampoos That Actually Work
Leave that brass in the past.
February 11, 2022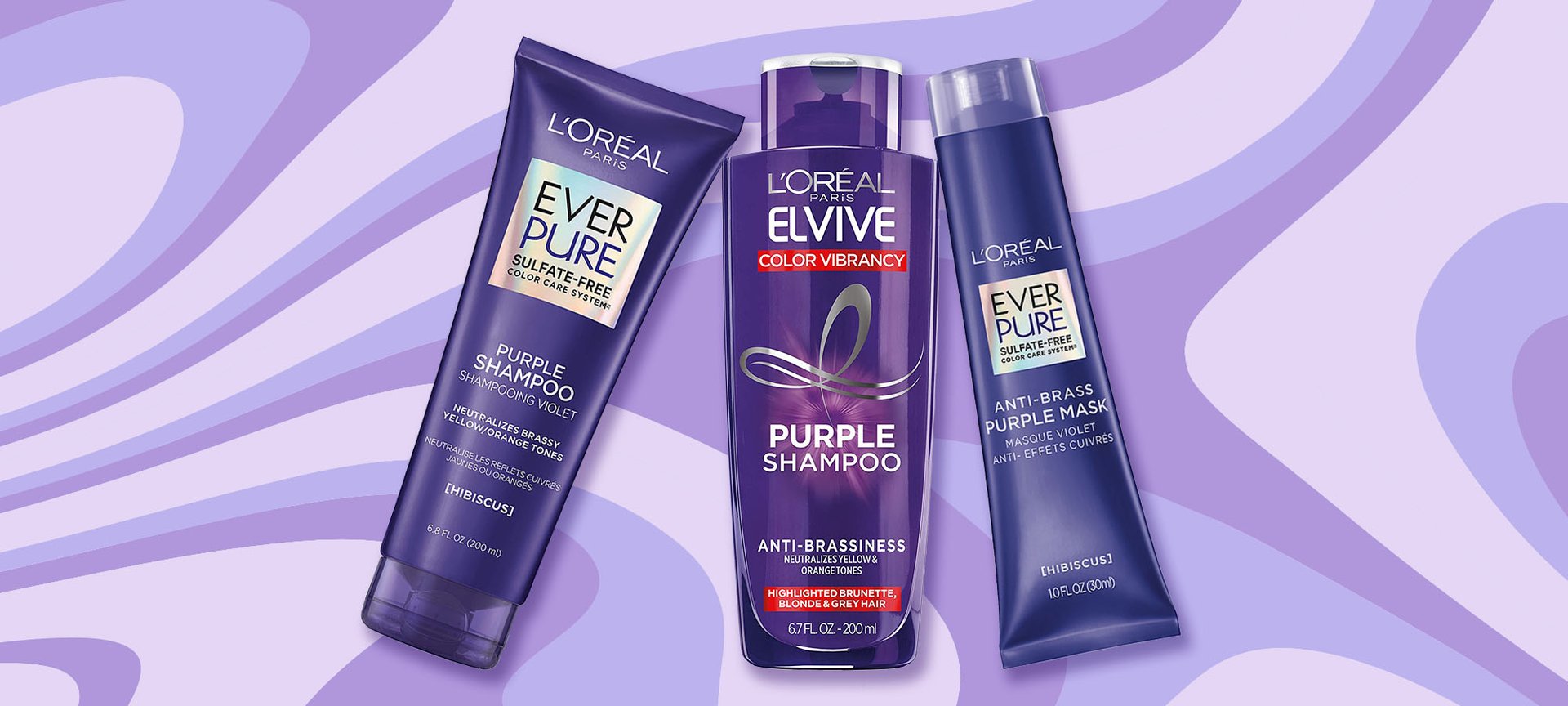 There is no greater feeling than stepping out of a hair salon with freshly dyed blonde hair. After a day or two, though, you might begin to wonder how you're supposed to care for your color-treated hair at home, especially if it's your first time going blonde.
Meet purple shampoo, your new best friend. If you're not yet acquainted, purple shampoo helps to tone blonde hair and keep it from turning brassy. Ahead, we've rounded up the best purple shampoos and treatments from L'Oréal Paris, plus how to use them.
What Is Purple Shampoo?
First of all, purple shampoo is a must-have for blondes or anyone with gray, highlighted or lightened hair prone to brass. This special kind of shampoo was created to be used as an at-home toning system to keep blonde hair neutralized and fresh-looking between appointments.
Since lightened hair can turn brassy (or displaying an orange or yellow hue), especially when exposed to product buildup, sun and repeated use of hot tools, it's important to keep this in your hair care arsenal. When you use purple shampoo in your hair care routine, you can keep your tone looking as if you just left the salon.
The Best Purple Shampoos And Treatments
Prevent your blonde hair from developing a brassy tone by reaching for this sulfate free shampoo formulated with hibiscus and purple dye. When used in place of your regular shampoo and paired with the L'Oréal Paris EverPure Sulfate-Free Brass Toning Purple Conditioner, you'll find that your hair feels more hydrated and the color looks fresher.
Protect your colored strands from fading with this color-correcting shampoo enriched with purple pigments. It helps to keep your color looking vibrant and prevents brassy hair in between hair salon visits. To get the most out of the shampoo, follow it up with the L'Oréal Paris Elvive Color Vibrancy Purple Conditioner for Color Treated Hair.
If you think your blonde hair needs an extra boost, try this sulfate-free mask. The ultra-pigmented treatment packs a punch in the toning power department and neutralizes stubborn brass. Plus, it deeply conditions and repairs damaged, color-treated hair.
How To Use Purple Shampoo
When it comes to your daily routine, use a color-safe shampoo and conditioner, like the L'Oréal Paris EverPure Sulfate-Free Bond Strengthening Color Care Shampoo and the L'Oréal Paris EverPure Sulfate-Free Bond Strengthening Conditioner. Once every two weeks, you should tone your hair with purple shampoo. Like normal shampoo, purple shampoo can be used to wash your hair in the shower on wet hair.
Simply lather the purple shampoo throughout your hair and, depending on brassiness, let it sit for up to fifteen minutes. Once the time is up, rinse thoroughly. Since purple shampoo has toning properties, it will continue toning your hair if you leave it in, making it extra important to sufficiently rinse all of the purple product out of your hair.
Next: Our Best Hair Treatments for 7 Common Hair Concerns
Written by: Caitlyn Martyn, Photo Credit: Sarah Duvivier
Discover more tips & tricks
Keep your skin happy
See all articles
Improve your routine
Show your new look more love:
makeup