hairstyle trends
6 Easy Ways To Curl Your Hair Without Heat Tools
March 26, 2021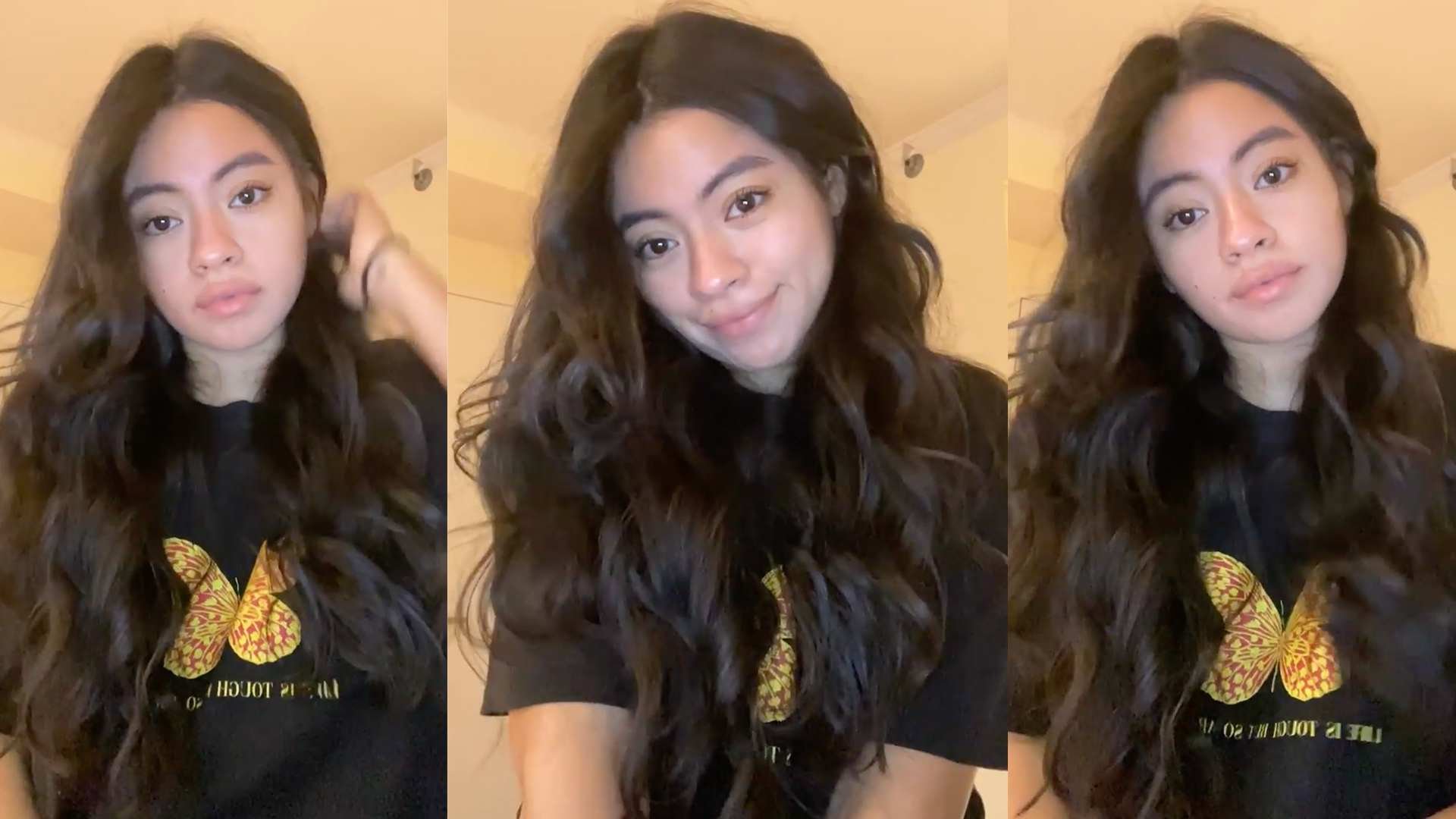 We have a love-hate relationship with hot tools—they can help create gorgeous hairstyles, but at the same time, they can damage your tresses and end up doing more harm than good in the long run. Luckily, hot tools are not the only option when it comes to hairstyling, especially if you're looking to revive your curls and get more definition. The best part? You can get creative with heat-free alternatives and use things around the house like towels and socks to help create magazine-worthy curls. So put down your hot tools, prep your hair, and read on to learn more about several easy methods for curling your hair without using heat.
1. Bathrobe Curls
This no-heat hairstyle has become a super popular hairstyling trend on Tik Tok and it's a style we love. The only tools you need is a bathrobe (as the name suggests) and some patience. Start by applying a curl cream to your hair, like the L'Oréal Paris Elvive Dream Lengths Curls Cream Leave-In, which works to lock in moisture and repair broken ends. Place the tie of the bathrobe over your head so that it comes down on both sides by your ears. Then, divide your hair in the middle, and twist each side around the tie. Secure both sides with an elastic and keep it on overnight. When you wake up and remove the tie in the morning, you'll get gorgeous loose curls.
2. Flexi Rods
Natural hair gals and guys swear by this method, and we can see why. Using flexi rods will help you get a flawless set of voluminous curls that can also last you a few days when wrapped up properly at night. There are also various lengths and sizes, so we recommend experimenting with a few to find the perfect curl shape for you. For this style, apply a generous amount of styling product like the L'Oréal Paris Studio Line Extreme Hold Invisi Gel, and section off pieces of hair to wrap around each flexi rod. To make sure your curls hold, do not remove the flexi rods until your hair is completely dry.
3. Hair Rollers
Hair rollers have been used to create stunning curls for decades, and it's a tried-and-true method we couldn't leave off the list. Simply grab a set of rollers, the L'Oréal Paris Advanced Hairstyle BOOST IT Volume Inject Mousse, and bobby pins. Take a section of hair and clip the rest out of your way. Apply a small amount of mousse to your hair, comb through, place the roller at the end of the section, and start rolling it toward your roots. Secure the roller in place, using a hair pin, and repeat until you have a mane full of rollers. Let your rollers sit for a few hours before undoing them.
4. Sock Bun Curls
The sock bun method is another excellent option for creating heatless curls. Start by applying a curl cream throughout your hair to give your curls some hold and definition. Section your hair and use an alligator clip to hold it in place, then grab a sock and place it place near the root of your hair. Wrap all of your hair around the sock and twist it up into a doughnut-shaped bun. Now, you can remove the clip and open up the sock to wrap it around the bun. Leave it on for a few hours or overnight and unravel it in the morning to reveal your new curly hairdo.
5. Pin Curls
While the classic pin curl hairstyle screams old-Hollywood glam, you can also use it to create beautiful heatless curls. Starting on damp hair, create sections that are about an inch in size. Take the end of one of the sections, tuck your hair around two of your fingers, and roll up until you reach the roots. Secure that section with a hair pin, and then repeat the process until your entire head is covered.
Editor's Tip: Wrap your hair with a silk scarf to help bring your heatless overnight curls to life sans frizz. Once dry, remove the scarf, pull out all of your pins, fluff up your strands, and spray your hair with the L'Oréal Paris Elnett Satin Hairspray Strong Hold, to keep your curls intact.
6. Bantu Knots
Not only are Bantu knots a popular protective style, but they can also be used to create heatless, frizz-free curls. To try the look, make one to two-inch sections in your hair and start twisting from the root to ends. Twist the section tightly around itself to form a tiny bun and secure it with a hair elastic. Repeat until you have a mane full of Bantu knots, then cover your hair with a silk scarf to protect them while you sleep. In the morning, undo each knot and gently finger-comb your hair to reveal perfect ringlets. Top it off with hairspray, and you're all set!
Photo Credit: Genesis Rivas
{ "@context": "https://schema.org/", "@type": "WebPage", "speakable": { "@type": "SpeakableSpecification", "cssSelector": ["speakable-content"] }, "url": "https://www.lorealparisusa.com/beauty-magazine/hair-style/hairstyle-trends/no-heat-curls-how-to" }
Discover more tips & tricks
Keep your skin happy
See all articles
Shop Featured products
Discover More
{ "@context": "http://schema.org", "@type": "BreadcrumbList", "itemListElement": [ { "@type":"ListItem", "position": 1, "item": { "@id": "/", "name": "Home" } } , { "@type":"ListItem", "position": 2, "item": { "@id": "https://www.lorealparisusa.com/beauty-magazine", "name": "Beauty Magazine" } } , { "@type":"ListItem", "position": 3, "item": { "@id": "https://www.lorealparisusa.com/beauty-magazine/hair-style", "name": "Find Your Next Hot Look" } } , { "@type":"ListItem", "position": 4, "item": { "@id": "https://www.lorealparisusa.com/beauty-magazine/hair-style/hairstyle-trends", "name": "Hairstyle Trends" } } , { "@type":"ListItem", "position": 5, "item": { "@id": "https://www.lorealparisusa.com/beauty-magazine/hair-style/hairstyle-trends/no-heat-curls-how-to", "name": "no-heat-curls-how-to" } } ] }