gray hair coverage
This Is the Best Way to Cover Grays on Dark Hair
December 16, 2019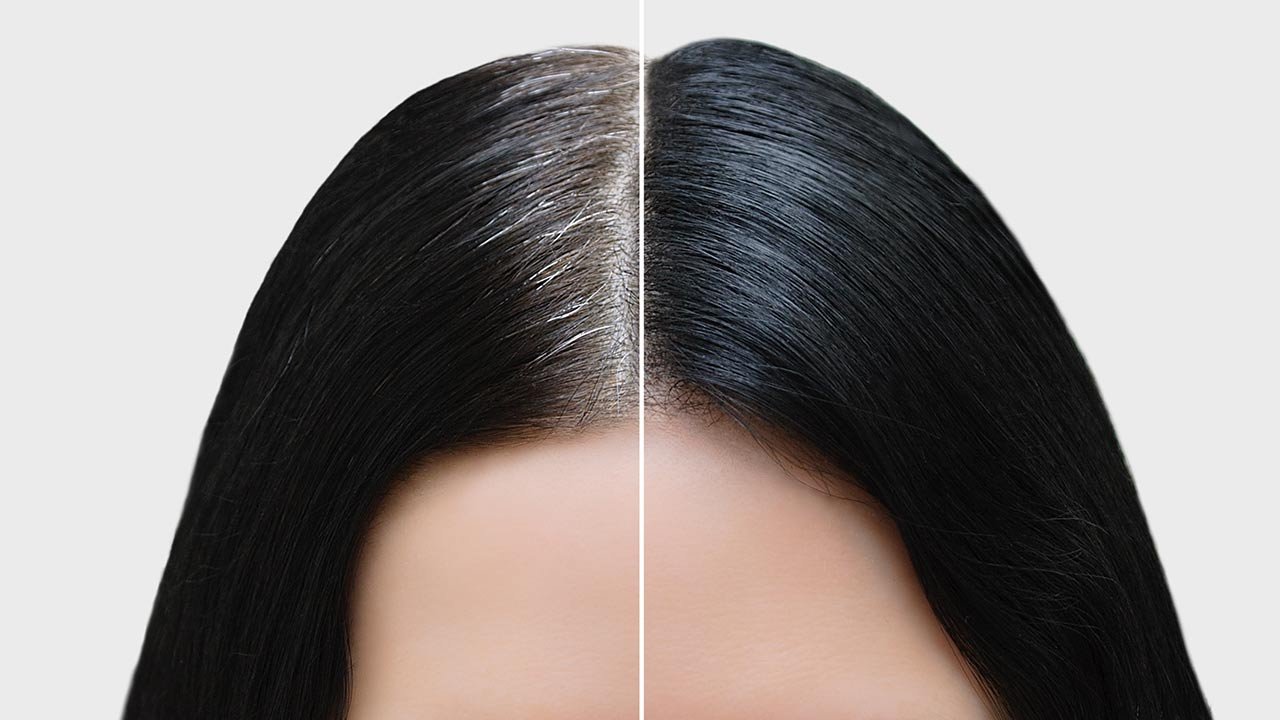 It's no secret that as we get older, different beauty concerns start to arise. While you may be ready for change, with a skin care and makeup routine for mature skin already implemented, it's also important to consider your hair. Yes, pesky grays are a fact of life, and they're particularly frustrating for those with dark hair. Those unwanted grays seem to stand out all the more when you have a brunette or black mane. The solution? Let's talk about exactly that. Read on to learn the best way to cover grays on dark hair. Gray hair, who?
WHAT YOU NEED TO KNOW ABOUT MANAGING GRAYS ON DARK HAIR
Before we discuss the best ways to cover grays on dark hair, allow us to dive a little deeper into why grays on dark hair can be such a drag. Light, silver-gray strands create a stark contrast against dark hair. So while those with blonde and other light hair colors can get away with leaving their grays be for a bit without having them be super noticeable, anyone with dark hair will have to find a fix ASAP if they want to disguise the problem in question. (Of course, if you prefer to embrace your grays, more power to you!)
THE BEST WAY TO TEMPORARILY COVER GRAYS ON DARK HAIR
Let's talk quick and easy. If you want a temporary answer to your gray hair situation, you're in luck that root cover-up products exist. There are two easy options worth considering, which we'll detail below.
L'Oréal Paris Magic Root Cover Up: This root concealer spray hides grays in seconds for flawless roots with no grays in sight. The lightweight formula provides seamless coverage that leaves no smudging or sticky residue when dry—not to mention it's ammonia and peroxide free. It's a perfect option for in-between hair coloring sessions. There are multiple color options available for those with dark hair, each of which will last until your next shampoo.
How to use it: Shake well. Hold the can four to six inches from hair. Spray color onto new growth and partly through the length of the hair to blend in the color.
L'Oréal Paris Magic Root Precision Pen: Another option that lasts one shampoo, this root cover-up pen is ideal for those who want precise, quick coverage for a few standout grays. The pen targets scattered grays to touch up roots and cover gray hair in a flash. With the help of the unique Magic Precision Brush, you can get easy, smooth application to hide even the peskiest gray on any hair type or texture.
How to use it: Rotate the bottom of the concealer counterclockwise three to five times to dispense a small amount of color onto the brush. Lightly dab the brush onto dry hair using gentle, swift strokes to build and blend in color. To avoid transfer to the scalp, gently pull hair away from the head as you brush. Let dry for one minute.
THE BEST WAY TO PERMANENTLY COVER GRAYS ON DARK HAIR
Want a more permanent option? Look no further than the L'Oréal Paris Excellence Créme Permanent Triple Protection Hair Color. This permanent hair color line is available in an array of dark shades to provide 100 percent gray coverage, even on stubborn grays—no permanent hair color protects better or covers grays better!
How to use it: Follow the directions included for your DIY at-home hair color session.
THE BEST LOW-MAINTENANCE WAY TO COVER GRAYS ON DARK HAIR
Who said gray coverage had to be difficult? If you prefer a low-maintenance option that doesn't require consistent follow-ups, highlights may be the answer. Yes, highlights! Adding highlights to your dark hair is one of the easiest ways to disguise any unsightly grays, as the lightened strands flawlessly camouflage any gray hairs that would otherwise create a harsh contrast against your dark base. Check out our article, How to Blend Gray Hair with Highlights and Lowlights, for everything you need to know.
Next: What Causes Gray Hair?
Discover more tips & tricks
Keep your skin happy
See all articles
Shop Featured Hair Color products
Discover More