damaged hair
How To Fix Damaged Hair
You can do more than just opt for a trim.
September 01, 2021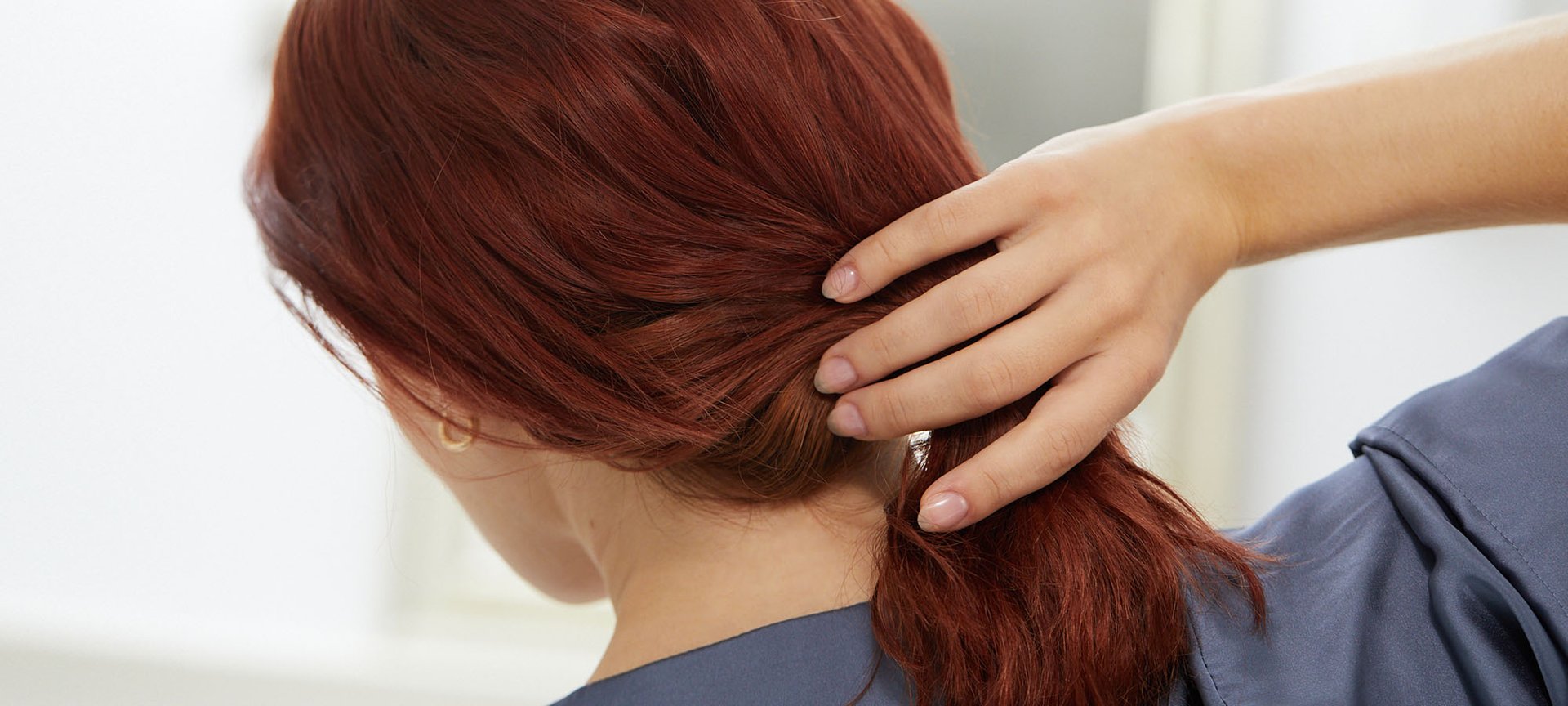 Nothing ruins your chances at a great hair day more than a head full of damaged hair. The truth is, damaged hair requires special care to make it look and feel healthy and smooth. So, if you find yourself battling dry strands, brittle hair, and split ends due to heat damage or bleaching, it's important that you learn how to fix damaged hair using a proper hair care routine. Below, we're sharing damaged hair repair tips and product recommendations including our best shampoo for damaged hair and more.

How To Treat Damaged Hair
Once hair is broken or split, you can't reverse it 一 but there are a few ways you can care for your strands to help repair the current damage and prevent future damage. So ahead, we're diving into our tips for fixing damaged strands.

1. Use Shampoo And Conditioner For Damaged Hair
The first step is to opt for a hair care system that was specially formulated for damaged hair. We love the L'Oréal Paris EverPure Sulfate-Free Bond Strengthening Color Care Shampoo and L'Oréal Paris EverPure Sulfate-Free Bond Strengthening Color Care Conditioner because they work to strengthen the hair from the inside out by reinforcing weak hair bonds. The duo repairs those weak hair bonds in just six uses and helps to shield hair from future styling and coloring damage.

2. Wash Your Hair In Lukewarm Water
Steamy showers feel great on your skin, but all that heat can do a number on your hair, especially if you have damaged strands. Super-hot water can strip your hair of essential oils, which can make it feel even drier. So, turn down the dial and rinse your hair in lukewarm water the next time you wash it.
This sentiment also holds true for heat styling 一 be sure to set heat tools on the lowest possible temperature that works for your hair.

3. Use A Deep Conditioning Treatment
If you're not already using a deep conditioner in your regular weekly hair care routine, it's time to start. That's because deep conditioning treatments work to repair strands from the inside out, making them stronger in the long run and less damaged. The L'Oréal Paris Elvive Total Repair 5 Damage Erasing Balm Rinse-Out Mask is formulated with caring ingredients like almond oil and protein to condition and repair the hair in just three to five minutes.

4. Comb Your Hair Before Shampooing
Tangles can cause serious breakage. If they're getting the best of you, you may want to comb your hair before washing it. According to the American Academy of Dermatology (AAD), wet hair is the most fragile and therefore the most prone to damage. So in order to avoid tangles as best as possible, comb your hair before shampooing.
If you have to brush your hair when it's wet, towel-dry your strands (or reach for an old tee) before brushing and be sure to use a wet brush or wide-tooth comb, as they will be gentler on your strands.

5. Dry Your Hair With A T-Shirt
Don't throw out that old, faded T-shirt just yet. When you hop out of the shower, instead of aggressively rubbing your hair dry with a towel, grab a cotton T-shirt. Cotton tees can be gentler on your strands — and remember, gentle is the name of the game when it comes to caring for damaged hair. A t-shirt is a great alternative to a microfiber towel — which is what you should be using whenever you opt for a towel dry.

6. Apply Leave-In Conditioner
Applying a hydrating leave-in conditioner after washing your hair can help to seal split ends and damage as well as make the hair look and feel softer. The L'Oréal Paris Elvive Total Repair 5 Protein Recharge Leave-In Conditioner Treatment is great because it's a lightweight cream that smooths the appearance of damage and doubles as a heat protectant.
If you have curls, consider reaching for the L'Oréal Paris Elvive Dream Lengths Curls Non-Stop Dreamy Curls Leave-in Conditioner which hydrates the hair and reduces frizz without weighing down your curls.

7. Apply Heat Protectant
Before you begin creating voluminous curls or a sleek blowout, you should always apply a heat protectant to your hair. This should be the first step in the heat styling process if you have heat damaged hair (or any hair type). Try the L'Oréal Paris Elvive Dream Lengths Heat Slayer Pre-Iron Spray Leave-In. It protects your strands from heat for up to 450 degrees and all you have to do is spray it onto clean, damp hair holding it about six inches away from your head.

8. Give Heatless Hairstyles A Go
Embracing your natural hair texture or opting for heatless hairstyles is a great way to give your strands a break from heat tools that are a major cause of damage. If you have curly hair, you can try scrunching your strands with mousse to really enhance your curl pattern and provide volume. Also try experimenting with other heatless styles like braids, ponytails and buns.

9. Consider How Much You're Brushing Your Hair
That old saying about brushing your hair for 100 strokes before bed to keep it smooth? It's not true at all, and according to the AAD, it will actually cause more damage to your hair in the long run. While your hair definitely does need to be brushed to remove tangles, it doesn't need that much brushing 一 just a few very gentle strokes will do.

10. When All Else Fails 一 Get A Trim
If you've tried everything else to get your hair damage under control, heading to the salon to trim your dead ends and damaged strands can be a great reset. Plus, you can also use it for an opportunity to experiment with a totally new hairstyle. Long hair is gorgeous, but bobs, short mohawks and pixie cuts are also totally chic and super on-trend right now.
Next: 9 Hair Care Mistakes To Stop Making Today
Edited by: Alyssa Kaplan, Photography: Chaunte Vaughn, Associate Creative Director: Melissa San Vicente-Landestoy, Art Director: Hannah Packer, Associate Creative Producer: Becca Solovay, Associate Content Director: Shalwah Evans, Makeup Artist: Jonet Williamson, Hair Stylist: Akihisa Yamaguchi, Wardrobe Stylist: Alexis Badiyi, Digital Tech: Erik Dalzen, Photo Assistant: Sam Kang, Model: Alexandra Van Zant
Discover more tips & tricks
Keep your skin happy
See all articles
Shop Featured Hair Care products
Discover More