all hair types
Hair Textures: Understanding Different Natural and Curly Textures
May 08, 2020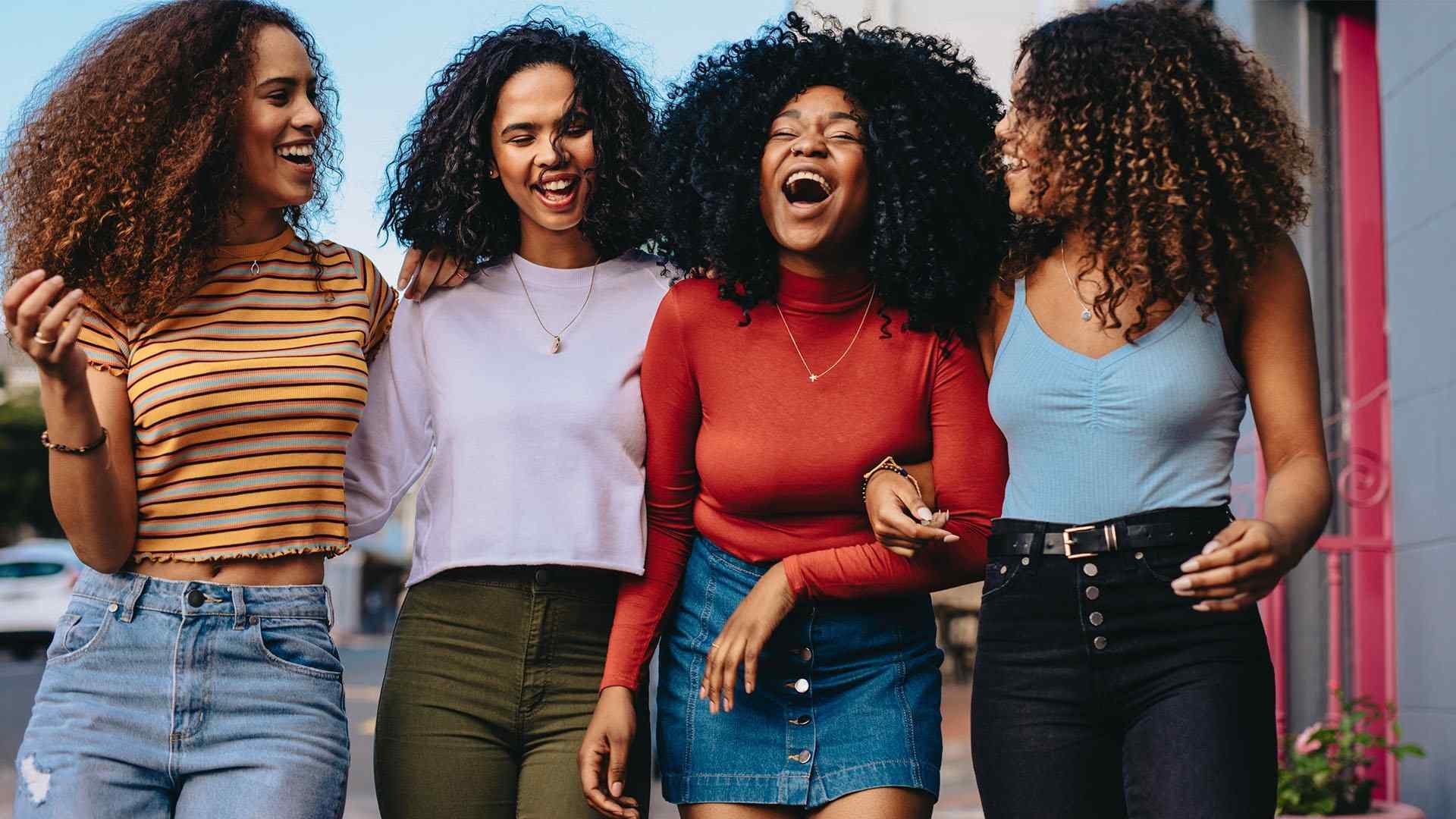 There's no denying that curly strands need all the love that they can get. From wavy hair to curly and coily hair, being able to give your mane the right amount of hydration can make or break your look. And to lock down the best hair care products for your strands, learning about your unique hair texture is the key to success. Not too sure how to identify your naturally curly texture? Lucky for you, we're here to assist! Follow along as we share everything you need to know about different hair textures, so you can find yours and learn how to create the perfect hair care routine.
WHAT DOES IT MEAN TO HAVE TEXTURED HAIR?
First things first, maybe you aren't sure if you have textured hair. While everyone has a hair texture of some sort, textured hair refers to strands that have shape, especially tight or kinky curls. Textured hair is also often used synonymously with natural Black hair, although the two aren't always the same. You can identify as having textured strands if your natural hair texture involves a curl pattern. Speaking of which…
WHAT IS A CURL PATTERN?
Think that a curl pattern refers to curls you create with heat styling tools or heatless curl techniques? Think again! Your curl pattern is all about the natural state of your hair after the wash process. Since your hair is free of dirt, oil, and product buildup, your true natural curl pattern can shine through.
There are three main natural textures: wavy, curly, and coily hair. If you're well versed in the natural hair world, you know to refer to these textures as Type 2 (wavy), Type 3 (curly), and Type 4 (coily). Additionally, there are also sub-types lettered A through C, which determines the difference between a loose or tight curl pattern.
UNDERSTANDING DIFFERENT CURLY HAIR TEXTURES
Below, find a breakdown of each curl family.
TYPE 2A: Do you notice that your hair flaunts a fine texture with a bit of a slight curl? If so, you're working with Type 2A hair. This curl type is much closer to a straight texture, making it easy to flaunt sleek strands or a slight tousled curl without the extra handiwork.
TYPE 2B: Notice that your strands are pretty straight at the roots and form into waves toward the middle of your length? This is a clear indicator that you have Type 2B hair! From luscious waves to sleek hair, the possibilities are endless.
TYPE 2C: Find yourself admiring your defined waves and ringlets? Chances are, you're working with Type 2C hair. This texture is much more coarse than other textures in the Type 2 family. Keep in mind, this means you'll have to put in more work with the help of hair styling products and heat tools if you want to achieve pin-straight strands.
TYPE 3A: Do you often get compliments on your large, bouncy curls? Welcome to the world of Type 3A hair! This texture sports well-defined curls with a spiral or ringlet shape.
TYPE 3B: If you have a mane full of Type 3B curls, your hair sports a springy and voluminous texture. A step up from Type 3A curls, your strands have a smaller width, which in turn give your mane a fuller appearance.
TYPE 3C: Think your curls resemble tight corkscrews? Then, you're more than likely dealing with Type 3C hair. Featuring thicker strands with a tighter curl pattern, this hair type also amps up the volume to give you tons of body and movement.
TYPE 4A: Known as the Type 4 texture that flaunts a more visible curl pattern, Type 4A hair features small and tight coils that resemble a zig-zag pattern. While other curl patterns may start mid-length, this coily texture begins at the scalp and continues through the ends.
TYPE 4B: Unlike other curly textures that have a defined shape, Type 4B hair is in a class of its own. These strands have a 'Z' shaped pattern that tends to bend in sharp angles instead of curling.
TYPE 4C: Last but certainly not least, we have Type 4C hair! Similar to Type 4B hair, this curl type offers a range of thin to coarse textures. Sporting a super-tight zig-zag pattern, these densely packed strands are often prone to major shrinkage with less definition.
HOW DO YOU IDENTIFY YOUR HAIR TEXTURE?
Wondering what type of naturally curly hair you have? It's actually super easy to figure out. Like we noted above, the key to identifying your curl type is to pay attention to your strands. Of course, you'll want to make sure that your hair is chock full of moisture and nourishment, so give your strands a cleansing session with the help of the L'Oréal Paris EverPure Moisture Shampoo and L'Oréal Paris EverPure Moisture Conditioner.
Once your mane is nice and clean, simply look at the shape of your strands in the mirror. If they have a wavy texture, you know that you're in Type 2 territory. Dealing with springy corkscrew curls? Then, you're part of the Type 3 family. Have a mane full of small tight zig-zag curls? You have Type 4 hair!
IS IT POSSIBLE TO HAVE MORE THAN ONE CURL TYPE?
Now that you're educated on different hair textures, you're probably wondering if it's possible to have more than one curl type. And the answer is a resounding yes! It's actually quite common for those with textured hair to have various textures at one time. While it can be a bit of a struggle to manage your mane, as long as you care for each texture the right way, your strands will be in good shape.
HOW DO I CARE FOR MY HAIR TEXTURE?
Just as oily hair and damaged hair have their own products that work best for them, curly textures are no exception. Different products will suit different hair textures. Keep reading to learn about the best products for each curly texture to maximize your hair care routine.
TYPE 2: Since this texture flaunts a gorgeous set of waves, the key is to use hair care products that won't weigh your curls down. Pick your potion below.
L'Oréal Paris Advanced Hairstyle CURVE IT Elastic Curl Mousse: Want to spice up your waves without the bulky feel? This hair mousse will make it happen! Formulated to give your waves definition and lasting hold, all you need to do is scrunch your strands and call it a day.
L'Oréal Paris EverSleek Frizz-in-Oil Serum: To rock gorgeous waves, it's key to keep your strands frizz-free. And thanks to this hair serum, you can totally make it happen. This offering works to tame frizz and flyways and provides your strands with a silky finish. What's not to love?
TYPE 3: One of the biggest worries for curly-haired gals is the lack of definition! So, your best bet is to use products that work to define your texture and provide endless hydration. Try our products below to bring your hair dreams to life.
L'Oréal Paris Elvive Extraordinary Oil Curls Re-Nourish Mask: Looking to tie definition and hydration into one? Consider this hair mask your saving grace! This pick works to nourish and redefine curls while eliminating dryness in just one use! To use, apply to wet hair and massage through to the ends. Leave on for three to five minutes, then rinse and style as desired.
L'Oréal Paris EverStrong Break Proof Lotion: This leave-in works wonders to give your strands an extra dose of hydration. Formulated with goji, this lotion helps to strengthen and protect hair from damage, while adding the perfect touch of softness. Apply a dime-sized amount to damp hair and evenly distribute from root to tip. Comb through and style as you usually would.
TYPE 4: As beautiful as type 4 textures are, tangles and breakage can easily become a factor. To stay ahead of the game, you'll want to incorporate deeply moisturizing products into your routine. Help keep your strands in tip-top shape with our picks below.
L'Oréal Paris EverCurl Sculpt & Hold Cream-Gel: Love the idea of cocktailing your hair care products? Consider it handled with this hybrid find! Offering the best of both worlds, this cream-gel hydrates, shapes, and conditions your hair to provide moisture that lasts. Basically, it's everything you need in one multitasker!
L'Oréal Paris Elvive Extraordinary Oil Deep Nourishing Treatment Serum: Nothing brings hydration and nourishment to the table like a hair serum, and this option lives up to the hype. Infused with lightweight flower oils, this serum instantly restores life to dry strands for a luminous and silky finish.
Discover more tips & tricks
Keep your skin happy
See all articles
Shop Featured Hair Care products
Discover More