hair color ideas
The Different Types of Hair Dye, Explained
From permanent, to semi-permanent and many more.
March 18, 2022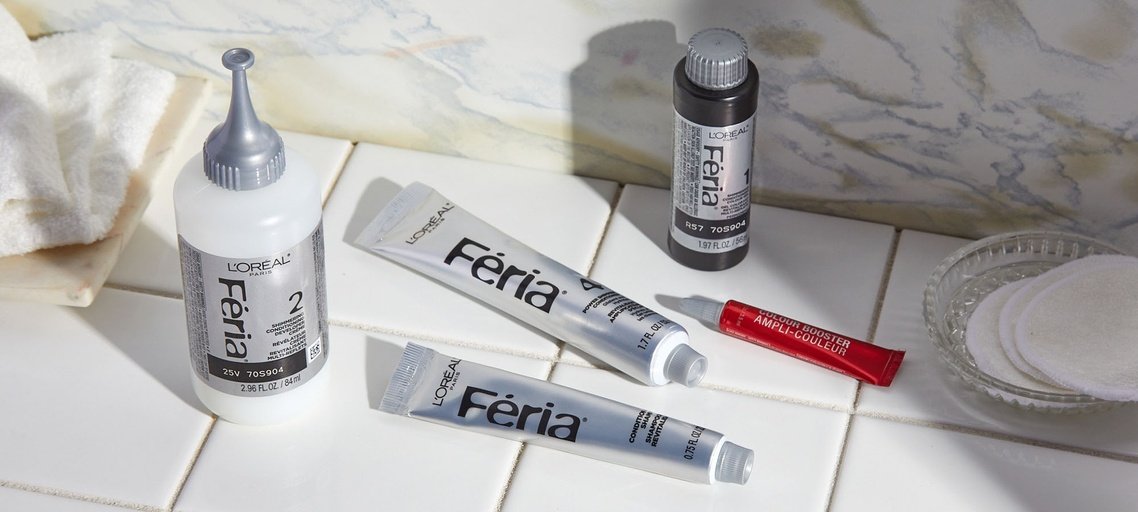 Whether you're hoping to try out the latest hair color trend or dyeing your hair is already a permanent fixture in your beauty routine, it's important to know about the different types of hair color and how they each interact with your strands.
Not all hair color is created equal — and each type serves a different purpose. Understanding what differentiates various types of dye will help you ensure that you achieve your desired results. Below, we're sharing what you need to know about common types of hair dye to determine which one is best for you.
1. Temporary Hair Color
Temporary hair dye, otherwise known as wash out hair color, coats only the outside of the hair shaft, so the results don't last. This means that when you shampoo your hair, the new color will wash out and your hair will return to its natural shade.
This type of hair color leaves you room to experience a new hue without a major commitment. If you want to take a fun hair color for a spin, try the L'Oréal Paris Colorista Hair Makeup Temporary 1-Day Hair Color Spray. It comes in a variety of shades and will rinse out with your next shampoo.
Editor's tip: You should know that damaged hair that's dyed with temporary hair color can appear stained after continued use over time. To help mend damage and deeply condition your hair, use the L'Oréal Paris Elvive Total Repair 5 Damage Erasing Balm once a week as a rinse-out hair mask.
2. Semi-Permanent Hair Dye
If you want to stretch that temporary look a little bit longer, semi-permanent hair color will do just the trick. These dyes are generally not formulated with ammonia and don't require developing. What's better, semi-permanent color generally lasts for around eight washes.
For these reasons, an at-home semi-permanent dye can be a great option for gray hair coverage when you can't get to the salon right away. There are countless benefits to using semi-permanent hair color: It can help add gloss and shine to dull-looking hair, it's great to use when growing out permanent color, and it can be used to help provide temporary root touch-ups. To reap those benefits, try the L'Oréal Paris Colorista Semi-Permanent Hair Color.
3. Demi-Permanent Hair Dye
If you want something in-between semi-permanent and permanent hair dye, demi-permanent is your answer. This type of hair dye — like semi-permanent hair dye — isn't permanent and it's ammonia-free, though there are some key differences between the two.
Unlike semi-permanent color, demi-permanent hair dye is mixed with a developer, which allows it to penetrate the hair shaft rather than simply coat it. This means demi-permanent color generally lasts longer, even up to 24 shampoos.
4. Permanent Hair Color
If you're looking to stick to one hair color for a while, permanent hair dye is the right option for you. This dye requires more complex chemical processing and will penetrate your hair more deeply. This means that your color can last for weeks or months without visible signs of fading.
Despite its long lasting benefits, permanent hair color will eventually have to be reapplied due to new hair growth. Also, depending on your base color and what you'd like to achieve, you may have to gradually color your hair to achieve your desired look.
If you want to DIY your hair color at home, check out our best formulas below.

This permanent hair dye will give you fade-defying color for up to eight weeks. It comes in more than 50 shades, giving you endless opportunities to change up your look.
This fashion-inspired hair dye will transform your mane for a gorgeous, dimensional look without wreaking havoc on your strands. Trade in dull, flat color for a multi-faceted shimmering color.
If you have stubborn grays to cover, this hair dye is for you. With more than 30 shades to choose from, it will leave you with rich, radiant color and 100 percent gray coverage.
5. Root Concealer
If simply covering your gray roots is what you're after, you may not need or want a full dye job — so a root touch up could be the best way to help maintain your natural color. Root concealer products can range from temporary to permanent, and there are plenty of options to cover gray hair quickly and easily.
Temporary root cover up spray is a great way to help conceal the appearance of gray roots if you need a quick solution. These sprays distribute a fine-mist of color that washes out with your next shampoo.
Temporary root concealers are not a great permanent solution — hence the name — but they are amazing for last-minute events and touch-ups. If this is what you need, try the L'Oréal Paris Magic Root Cover Up. It's a spray formula that works its magic in just seconds.
For those times when you're in a pinch and need an on-the-go option, keep the L'Oréal Paris Magic Root Precision Pen on hand. It allows for easy, smooth, and precise application to hide even the most pesky grays on any hair type or texture. Even better — the pen is small enough to stash in just about any bag or pocket.
6. Hair Bleach
If you have naturally dark strands, there is a good chance you'll need a hair color bleach to lighten your hair before dyeing it to a lighter shade or going blonde altogether. The L'Oréal Paris Feria Hyper Platinum Advanced Lightening System Bleach is a great at-home option. This advanced system is ideal for brown hair (even dark brown hair) as it's strong enough to lighten hair up to eight levels for a clear, vibrant platinum color.
Editor's tip: Bleaching can lead to damage. If you're going to bleach your hair, we recommend consistently using a hydrating leave-in conditioner, like the L'Oréal Paris Elvive Total Repair 5 Protein Recharge Treatment, which nourishes the hair and protects against damage.
7. Henna
Henna isn't only used to adorn the skin with swirling designs — it's also used to color hair. Derived from the henna plant, henna hair dye typically gives hair a reddish hue and provides shine and vibrancy in the process.
Henna may be a fitting option if you've previously experienced an allergic reaction when dyeing your hair (don't forget to spot test), as natural henna is usually hypoallergenic. Henna also may be beneficial for those with dandruff, so it could be worth a try if you're fed up with your itchy, flaky scalp.
8. Hair Gloss
If maintaining your shade or adding just a tint of color to your hair is what you're looking for, hair gloss is for you. While you can head to the salon for a glossing treatment, you can also DIY at home with the L'Oréal Paris Le Color Gloss One Step In-Shower Toning Gloss.
To enhance your hair color, choose a shade that's close to your current color, distribute it through clean, damp hair, and leave it on for 15 minutes before rinsing it out. You'll be left with smooth, shiny hair and vibrant looking color. Plus, it helps to deeply condition and nourish your strands.
Next: Does Hair Dye Expire?
Edited by: Alyssa Kaplan, Photo Credit: Chaunte Vaughn
{ "@context": "https://schema.org/", "@type": "WebPage", "speakable": { "@type": "SpeakableSpecification", "cssSelector": ["speakable-content"] }, "url": "https://www.lorealparisusa.com/beauty-magazine/hair-color/hair-color-ideas/what-type-of-hair-color-is-best-for-me" }
Discover more tips & tricks
Keep your skin happy
See all articles
Shop Featured Hair Color products
Discover More
{ "@context": "http://schema.org", "@type": "BreadcrumbList", "itemListElement": [ { "@type":"ListItem", "position": 1, "item": { "@id": "/", "name": "Home" } } , { "@type":"ListItem", "position": 2, "item": { "@id": "https://www.lorealparisusa.com/beauty-magazine", "name": "Beauty Magazine" } } , { "@type":"ListItem", "position": 3, "item": { "@id": "https://www.lorealparisusa.com/beauty-magazine/hair-color", "name": "Bold Ideas From Hair Color Pros" } } , { "@type":"ListItem", "position": 4, "item": { "@id": "https://www.lorealparisusa.com/beauty-magazine/hair-color/hair-color-ideas", "name": "Hair Color Ideas" } } , { "@type":"ListItem", "position": 5, "item": { "@id": "https://www.lorealparisusa.com/beauty-magazine/hair-color/hair-color-ideas/what-type-of-hair-color-is-best-for-me", "name": "what-type-of-hair-color-is-best-for-me" } } ] }