skin care essentials
How To Properly Exfoliate Your Face And Body
There are different methods for different areas.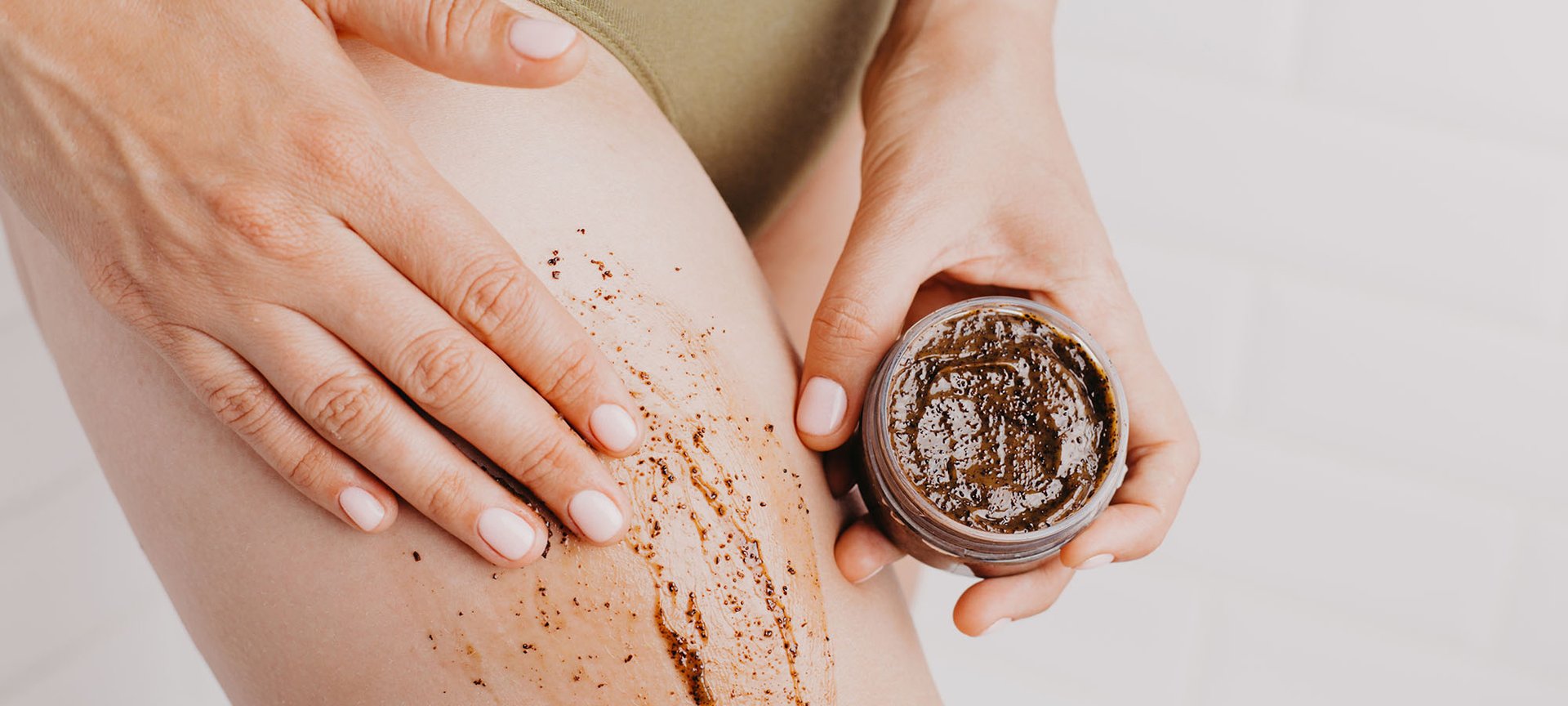 Having smooth, radiant skin is a skin care goal most of us share. But understanding how to achieve it comes down to several factors 一 one of the most important factors being proper exfoliation. For too long, people made the mistake of applying harsh scrubs to their faces and bodies to remove dead skin cells and reveal a new layer of skin. While the right intentions might be there, the execution is often wrong, leading to skin irritation and potential damage. Here, we're sharing what you need to know about exfoliation, and how to properly exfoliate your face and body to yield the best results.

What Is Exfoliation?
Let's start with the basics. Exfoliation is the process of removing dead skin cells from the surface of your skin. There are two kinds of exfoliation: mechanical and chemical. Mechanical exfoliation involves physically scrubbing your skin's surface with a scrub, dry brush, or another exfoliating skin care tool. Chemical exfoliation involves the use of resurfacing skin care ingredients like salicylic acid, alpha hydroxy acids (like glycolic acid), retinol, or enzymes to chemically break down surface buildup. Products formulated with these exfoliating ingredients are often liquid exfoliators, but they can be included in the formulas of face creams, cleansers, and serums.

The Benefit Of Exfoliation
Whether you implement mechanical or chemical exfoliation into your skin care routine, the main purpose of exfoliating is to get rid of the buildup of dead skin cells from the skin's surface. And that's important since your skin's natural ability to shed dead skin cells slows down as you age, which can lead to duller-looking skin. What's more, regularly exfoliating can also help your other products like serums and creams penetrate the skin better since they won't be sitting on top of dead skin cells.

How Often Should You Exfoliate?
While exfoliation is an essential skin care step, how often you should engage in it varies from person to person. Some people's skin can only handle exfoliating once a week, while others can exfoliate a few times per week. For sensitive skin, it's best to exfoliate once per week. For other skin types, pay attention to how your skin responds after exfoliating and build up to no more than every other day 一 trial and error will help you assess the frequency that's right for you.

How To Exfoliate Your Face
How to properly exfoliate your face comes down to your specific skin, skin concerns and skin care routine. To select the proper exfoliating product for you, assess your skin. If you have sensitive skin, a physical scrub or chemical exfoliation product with a high concentration of active ingredients might be too harsh for you. In this case, perhaps you'll want to opt for a cleanser with exfoliating ingredients or a gentle exfoliating serum. If you have oily or tolerant skin, you can likely get away with chemical or mechanical exfoliation. When in doubt, consult a dermatologist who can give you personalized recommendations for the type of exfoliation that will be best for you.

How To Use A Physical Exfoliant
If you're opting to use a scrub, be sure to select a gentle scrub like the L'Oréal Paris Pure Sugar Resurface & Energize Kona Coffee Scrub. It scrubs the skin to rid it of dead skin cells, oil, dirt and impurities without being harsh. While you can apply scrub to clean, dry skin and then work it in with damp fingers, this can cause a bit of uncomfortable friction on the skin. Remember that your skin is softest when damp, so applying a scrub on damp skin will allow it to remove the dead skin cells easier. Work in the scrub for about a minute and then rinse and follow up with serum and moisturizer.

How To Use A Chemical Exfoliant
Because chemical exfoliants come in many forms, how to use them varies depending on your preferences and your skin care routine. For example, if you're opting for an exfoliating toner like the L'Oréal Paris Revitalift Derm Intensives 5 Percent Glycolic Acid Peeling Toner that's gentle enough to use daily, you'll simply use it after cleansing and before moisturizer in your usual routine.
If you're looking for something a bit stronger that also has other benefits like addressing fine lines and wrinkles, try incorporating a retinol serum like the L'Oréal Paris Revitalift Derm Intensives Night Serum, 0.3% Pure Retinol into your routine. Start by applying it at night twice a week and work up to nightly use if your skin tolerates it.

How To Exfoliate Your Lips
If you struggle with dry or flakey lips, exfoliating your lips to remove the dead skin will help reveal a smoother texture. To do this, use a sugar scrub like the L'Oréal Paris Pure Sugar Resurface & Energize Kona Coffee Scrub and apply it to damp lips. Massage in using circular motions and then wipe it away with a damp washcloth.

How To Exfoliate Your Body
Like the face, achieving smooth skin on the body varies in each area. To exfoliate sensitive areas like your neck and chest, it's best to use an extremely gentle scrub or simply apply the chemical exfoliating product that you use on your face to these areas as well.

Try Dry Brushing
To remove dead skin cells as well as increase blood flow throughout your body, give dry brushing a go. To do it, use a dry body brush or loofah if you have sensitive skin on your body and gently run the brush over your dry skin towards your heart. Go over each area a few times in order to effectively shed dead skin cells. It's a good idea to do this before showering so that you can remove all excess dead skin cells in the shower.

Use A Scrub
If you have rough skin in areas like your feet, elbows or legs, massaging a scrub in those areas while in the shower is a great option for you. Be sure your skin is damp and not soaking wet, and apply a generous amount of the scrub to your body. To maintain smooth skin, you can do this as part of your shower routine a few times per week. Remember to follow up with lotion after the shower to lock in moisture.

Use An Exfoliating Body Wash
If you have sensitive skin, using an exfoliating body wash or shower gel is your best bet because it tends to be a gentle method. Look out for one with AHA's and apply it to your skin in the shower like you would with a regular body wash.
Next: What Are Those Little White Bumps On Your Skin?

Written by: Alyssa Kaplan, Photo: iStock
Discover more tips & tricks
Keep your skin happy
See all articles
Shop Featured Skin Care products
Discover More