makeup looks
How to Get a Glam Makeup Look
April 12, 2019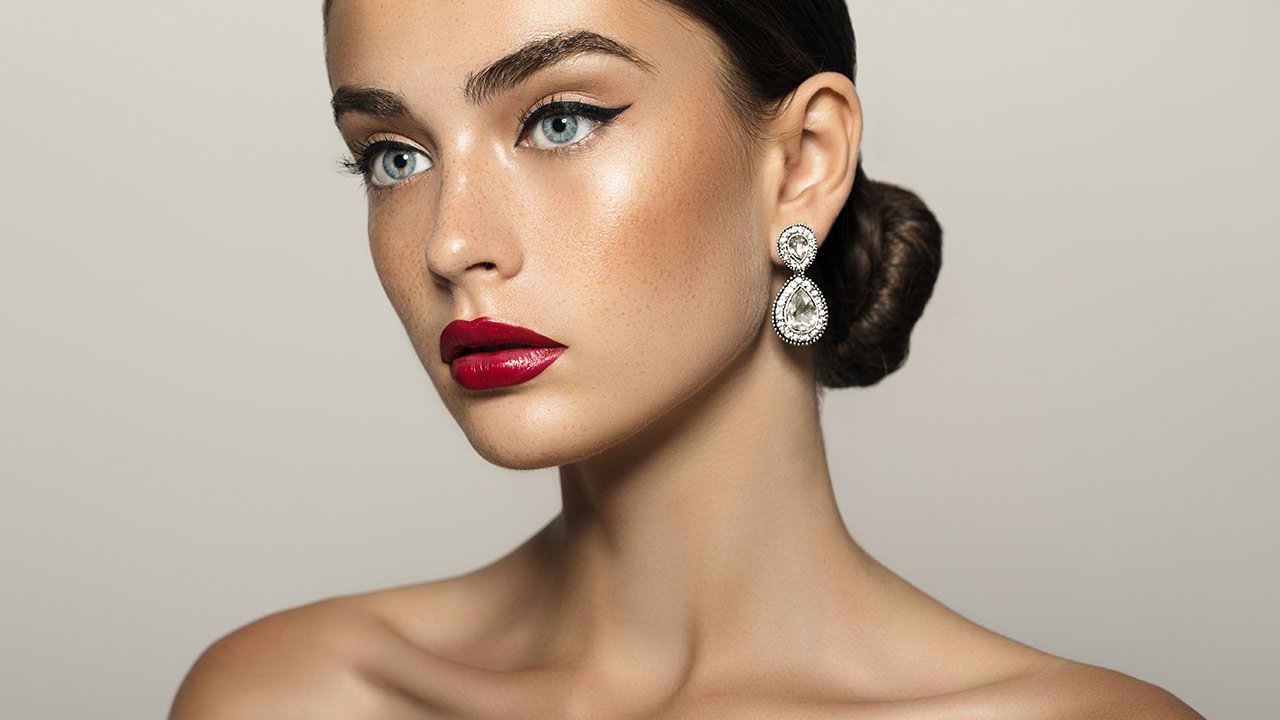 Everyone loves a nice, natural makeup look, but from time to time, it's nice to get glam by pairing Hollywood curls and sparkly jewels with a glam makeup look. Trust us, it never hurts to be a little more glamorous—even if you don't have somewhere super fancy to go. Whether you're getting ready for a girls' night out, a hot date, or simply want to practice your makeup and have fun with it, a glam makeup look will serve you well. From sharp winged eyeliner to kissable red lips, follow our step-by-step tutorial below to create a timeless glam makeup look.
STEP #1: PREP YOUR FACE
Before we get down to business, you'll want to prep your face for your makeup look. This means grabbing a makeup primer to smooth and blur any imperfections, as well as increase the lifespan of your makeup. Apply the L'Oréal Paris Infallible Pro-Glow Makeup Lock Primer all over your face to do just that.
STEP #2: PERFECT YOUR COMPLEXION
Once you've prepped your skin, it's time to reach for foundation and concealer to start creating a flawless complexion. The L'Oréal Paris Infallible Up to 24HR Fresh Wear Foundation, Lightweight makes the perfect base for this look thanks to its lightweight formula, buildable coverage, and natural finish. Smooth it on using the L'Oréal Paris Infallible Blend Artist Foundation Blender for a seamless look.
If you notice there are still a few imperfections and blemishes you'd like to cover, grab your concealer—we recommend the L'Oréal Paris Infallible Full Wear Concealer Waterproof, Full Coverage to cover them up in one stroke. Take your complexion perfecting a step further by using a concealer that's one to two shades lighter than your skin tone under your eyes. Apply the concealer in an upside-down triangle under each eye and this little trick will leave you with eyes that look brighter and more awake. See you never, under-eye bags!
STEP #3: CONTOUR AWAY
A flawless complexion can only get you so far. For the ultimate glam makeup look, you'll want to sculpt your face to define your features. Apply the L'Oréal Paris True Match™ Lumi Bronze It Bronzer to the hollows of your cheeks, sides of your nose, jawline, and temples, being sure to blend out any harsh lines.
STEP #4: ADD SOME GLOW
Of course, you'll need really radiant skin for a truly glamorous look. Pop the L'Oréal Paris True Match™ Lumi Shimmerista Highlighting Powder onto your cheekbones, the tip of your nose, and your cupid's bow for a glowing visage.
STEP #5: SCULPT YOUR BROWS
A glam makeup look requires bold, defined eyebrows—that's non-negotiable. Reach for an eyebrow gel, like the L'Oréal Paris Unbelieva-Brow Longwear Waterproof Brow Gel, to perfect your brow shape.
STEP #6: GRAB YOUR EYE SHADOW
Let's move onto the eyes. Glam eye makeup requires expert application, so be sure to take your time with this step. First, apply a shimmery nude, like the L'Oréal Paris Infallible 24 HR Eye Shadow in Iced Latte, all over your lid. Then, brush the L'Oréal Paris Colour Riche Monos Eyeshadow in Mix and Matte into your crease as a transition shade. Next, layer the L'Oréal Paris Colour Riche Monos Eyeshadow in Matte It Up on top to define your crease. Round out your eye shadow look by applying the same shimmery nude shade on your brow bone.
STEP #7: WING IT OUT
Grab a liquid eyeliner, like the L'Oréal Paris Voluminous Lash Paradise Liquid Eyeliner in Black, and create a super sharp wing.
Editor's note: Are you still trying to master liquid eyeliner? Here's How to Apply Liquid Eyeliner.
STEP #8: BRIGHTEN UP
Brighten your eyes even more by applying the L'Oréal Paris Infallible Pro-Last Waterproof, Up to 24HR Pencil Eyeliner in Nude on your waterline. This eyeliner hack will also make your eyes appear bigger!
STEP #9: TURN UP THE VOLUME
No makeup look is complete without a few coats of mascara—especially a glam makeup look! Amp up the drama and give your fringe a lash lift effect with the L'Oréal Paris Unlimited Lash Lifting and Lengthening Washable Mascara in Blackest Black. For an extra dose of glam, you can also add a pair of false lashes to your look.
STEP #10: PAINT YOUR POUT
Paint your pout in a deep, envy-worthy crimson hue using the L'Oréal Paris Rouge Signature, Lasting Matte Liquid Lipstick in I Am Worth It. Then, it's up to you whether you leave your lips with a matte finish or add an extra glamorous touch by topping things off with the L'Oréal Paris Infallible 8 HR Le Gloss in Rebel Red.
STEP #11: SEAL THE DEAL
You wouldn't want to spend all that time on a glam makeup look only to have it fade throughout the day (or night), right? Set your look and add a boost of radiance with a few spritzes of the L'Oréal Paris True Match™ Lumi Shake & Glow Dew Mist.
Now, you (and your glam makeup look) are good to go! The only thing left to do is practice a hairstyle that's equally as glamorous. If you need us to point you in the right direction, here's How to Create Voluminous Curls on Any Hair Type.
Discover more tips & tricks
Keep your skin happy
See all articles
Shop Featured Makeup products
Discover More