makeup looks
How To Add Rhinestones To Your Makeup Look — And Make Them Stay
January 29, 2021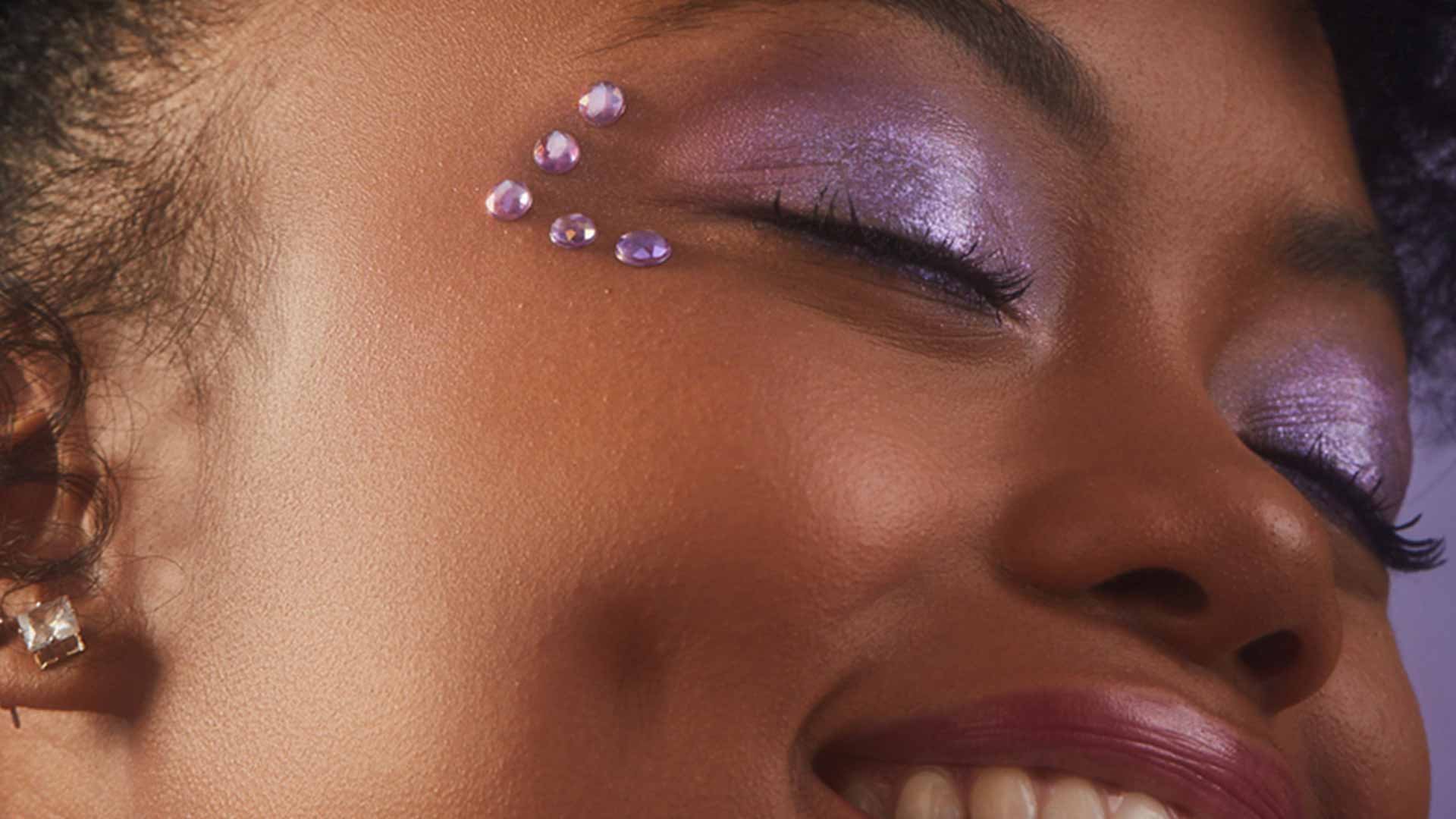 From hair glitter to shimmer eyeshadow, it's safe to say we love to add a bit of sparkle to our beauty looks. So it should come as no surprise that we're still obsessed with adding rhinestones to our makeup looks. Whether you want to emphasize your eyes with bling while wearing a protective face mask or add some gems to your eyebrows for a cool Instagram photo, a little extra glitz seems fit for just about any occasion. But keeping rhinestones in place can be tricky. So we're here to help. We're breaking down exactly how to apply rhinestones to your face and including some different ways to incorporate the gems in your look.
How To Apply Rhinestones To Your Makeup
Step #1: Gather Your Tools
Before we talk about how to actually adhere rhinestones to your look, it's important to gather all the products you'll need. We're all about convenience. Set up your vanity or bathroom counter with a piece of paper, cosmetic adhesive, tweezers and the rhinestones or gems of your choice.
Step #2: Lay Out The Adhesive
Squeeze a bit of your adhesive glue onto a piece of paper. Look for a product that's specifically formulated for cosmetic use, as this is less likely to irritate your skin. The stronger the adhesive, the longer your rhinestones will stay put.
Step #3: Place Your Rhinestones
Using your tweezers, carefully pick up the gem of your choice. It's a good idea to have a picture or general idea of the look you want to recreate before you start applying rhinestones to your makeup. We recommend resting your phone or an inspiration photo against the mirror so you have a steady frame of reference as you work.
Now, dip the rhinestone into the adhesive glue on the paper and place it wherever you'd like. You may want to push the rhinestone down or hold it in place with the tip of the tweezer to make sure it's secure and won't budge. Repeat with more gems until your look is complete! Just make sure the area you're applying rhinestones to is clean and dry before application.
How to Rock Rhinestones on Your Makeup
On Your Lids
Want a statement eye makeup look to pair with your protective face mask? Adding some rhinestones is a quick and easy way to spice up your look. To take your glitter-encrusted look up a notch, paint your lids with a shimmering eyeshadow, like the L'Oréal Paris Brilliant Eyes Shimmer Liquid Eye Shadow Makeup, prior to applying your rhinestones. Let this drool-worthy look be the inspo you need.
On Your Brow Bone
For a subtle pop, line some gems along your brow bone. You can keep this look to a single row of rhinestones, or place them from your crease to your arch for something more eye-catching. Either way, make sure to brush up your brows for a more defined arch using the L'Oréal Paris Boost and Set Brow Mascara. We love the clear shade for strong hold that still looks natural, but you can also opt for a tinted version to make your eyebrows appear fuller.
On Your Crease
Another look for those who love rhinestone makeup accents is a gem-lined crease. As you can probably guess, this placement involves using rhinestones to sculpt a cut crease. We love pairing a rhinestone crease with a matte lid for the perfect contrast. Just take a look at this must-have glam!
On Your Under Eyes
If you want to keep your rhinestones below the eye, try placing them along your lower lash line. As with your brow bone, you can position them in a single line or create a more elaborate design that dances onto your cheeks. You may want to opt for really small gems for this look. Talk about a way to mask under-eye bags!
On Your Eyebrows
If you're a fan of glitter brows, you'll love this rhinestone adaptation. To recreate this vibe, you'll first need to fill in your brows with the L'Oréal Paris Brow Stylist Definer Waterproof Eyebrow Mechanic Pencil. Because a strong brow is key here, this small tip is perfect for shaping your arch and creating definition. Once you blend the pencil in with the spoolie, add a handful of rhinestones throughout your brows. It's an easy way to up the ante on your normal, everyday makeup.
On Your Temples
Want to draw attention to your face structure? Take inspo from this look that lets your temples be the star. To DIY, we recommend using the L'Oréal Paris True Match Lumi Glotion Natural Glow Enhancer to create a dewy, glowy base on the high points of your face. Then use your tweezer to place larger stones in a "V" shape around your eye. Definitely pair this kind of glam with a high pony or sleek bun, too, for extra emphasis on your cheekbones.
On Your Eyeliner
Level up your typical cat eye by bedazzling your winged liner. First, create the eyeliner shape of your choice using a smudge-resistant formula. Our go-to is the L'Oréal Pairs Le Liner Signature Easy-Glide Mechanical Eyeliner because it doesn't drag, has amazing pigment payoff and never needs sharpening. Feel free to embellish your liner with just a few rhinestone accents or cover the entire wing in gems.
Photo Credit: Chaunte Vaughn
Discover more tips & tricks
Keep your skin happy
See all articles
Shop Featured Makeup products
Discover More