eye makeup
How to Apply False Eyelashes Like A Pro
July 16, 2020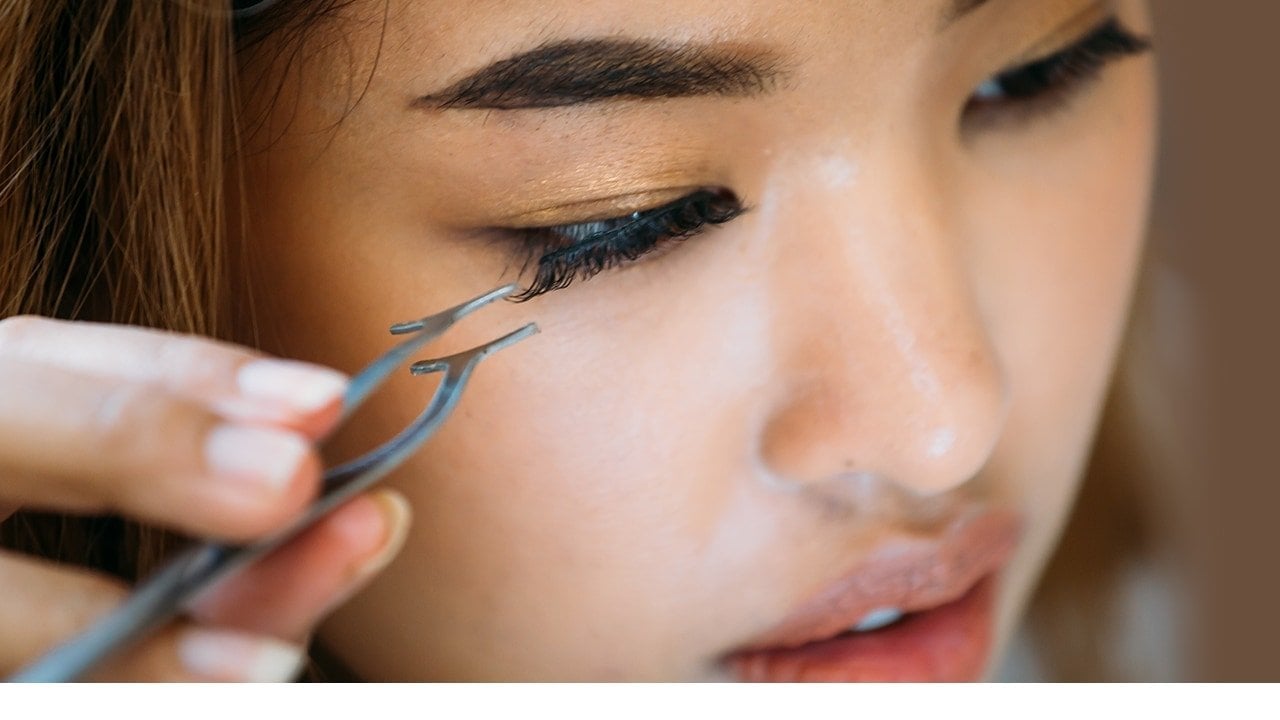 Mascara can work wonders on your lashes, but when you want to take your eye makeup to the next level, applying false eyelashes is a great option. But if you're not used to wearing falsies, putting them on can be tricky at first. You can end up spending extensive time placing and removing them, and you can go through a lot of lashes trying to get it just right. No one wants to waste their time and money trying to make their eyes pop.
While there's no such thing as a foolproof application, there are some tips that can help save you from struggling with your lash strip the next time you decide to try it. Keep reading to find out what you need to know when it comes to applying false eyelashes and tips that will help your falsies blend right in with your natural lashes.
First things first, you'll need to gather all the materials you need. Having access to everything you need in one place, instead of scrambling looking for tools while the glue on your eyelash strip is drying out will save you a lot of hassle. You'll need to have your strip lashes, eyelash glue, a pair of tweezers, scissors, eyelash curlers, and mascara.
Step #1: Curl Your Lashes + Apply Mascara
Using an eyelash curler is one of the best ways to blend your actual lashes with false lashes. Make sure your eyelashes are clean (no mascara or glue residue) before curling your lashes. After that, you'll want to add some mascara, which will help blend your natural lashes with your falsies for a seamless look. Amp up your lashes with a few coats of the L'Oréal Paris Air Volume Mega Mascara, Lightweight Mega Volume Washable for a curled and lifted look that will match your false eyelashes.
Step #2: Size Your Strip or Opt For Wispies
False eyelashes are not always designed to fit your unique eye shape so check to see if they're the right size for your eyes before you start applying. If they're not, give them a quick trim to fit your eye shape. If strips just never fit your needs, snip the strip in half or opt for lash wispies. These individual lashes can give you more control and let you take it one lash at a time to customize your look. Once you've brushed on the eyelash glue, let it dry for a few seconds, allowing it to get tacky. If you apply it while the glue is still wet, your falsies won't stay in place.
Editors Tip: Choose a lash glue that has a matte finish, as one that dries with a shiny finish will be a dead giveaway against your lash line. You can also go with a black lash glue formula that will help your lashes look even fuller.
Step #3: Perfect Your Mirror Angles
When applying fake eyelashes, you may be inclined to look straight ahead into a mirror—especially if you're in your bathroom or sitting at a vanity. Instead, grab a hand mirror and look down into it to help give you a better view of your natural lash line. You need to get as close to your lash line as possible to glue on eyelashes correctly.
Step #4: Use Tweezers To Apply
Using tweezers to hold the lashes in place, place them as close to your natural lash line as possible (tweezers will be especially useful for anyone who's partial to individual lashes). Start in the middle of your eyelid, then stick the sides down to ensure that your falsies are correctly placed. For extra drama, you can layer two of the same false lash sets or try pairing a full set of lashes with one that's wispier for extra drama.
Step #5: Top It Off With Eyeliner
By applying a thin line over the band of your false eyelashes, you'll be able to hide the strip and make your fringe look even fuller. Try using the L'Oréal Paris Matte Signature Liquid Dip Eyeliner, Waterproof, to get the job done. Make small strokes along the lash line until they're all connected instead of trying to do one big swipe. If you're not a professional, drawing one long perfect line will be difficult.
When it comes to eyelash removal, you should never tug on your falsies as this can pull out and cause damage to your natural lashes. We recommend dipping a cotton swab into makeup remover like the L'Oréal Paris Micellar Cleansing Water Complete Cleanser Waterproof - All Skin Types, and carefully massaging the area until the strip begins to come away softly. After all, if you take care of your false lashes you can get a few wears out of them.
Discover more tips & tricks
Keep your skin happy
See all articles
Shop Featured Makeup products
Discover More