face makeup
How to Apply Blush for Your Face Shape
Whether your face is round, square, oval or more!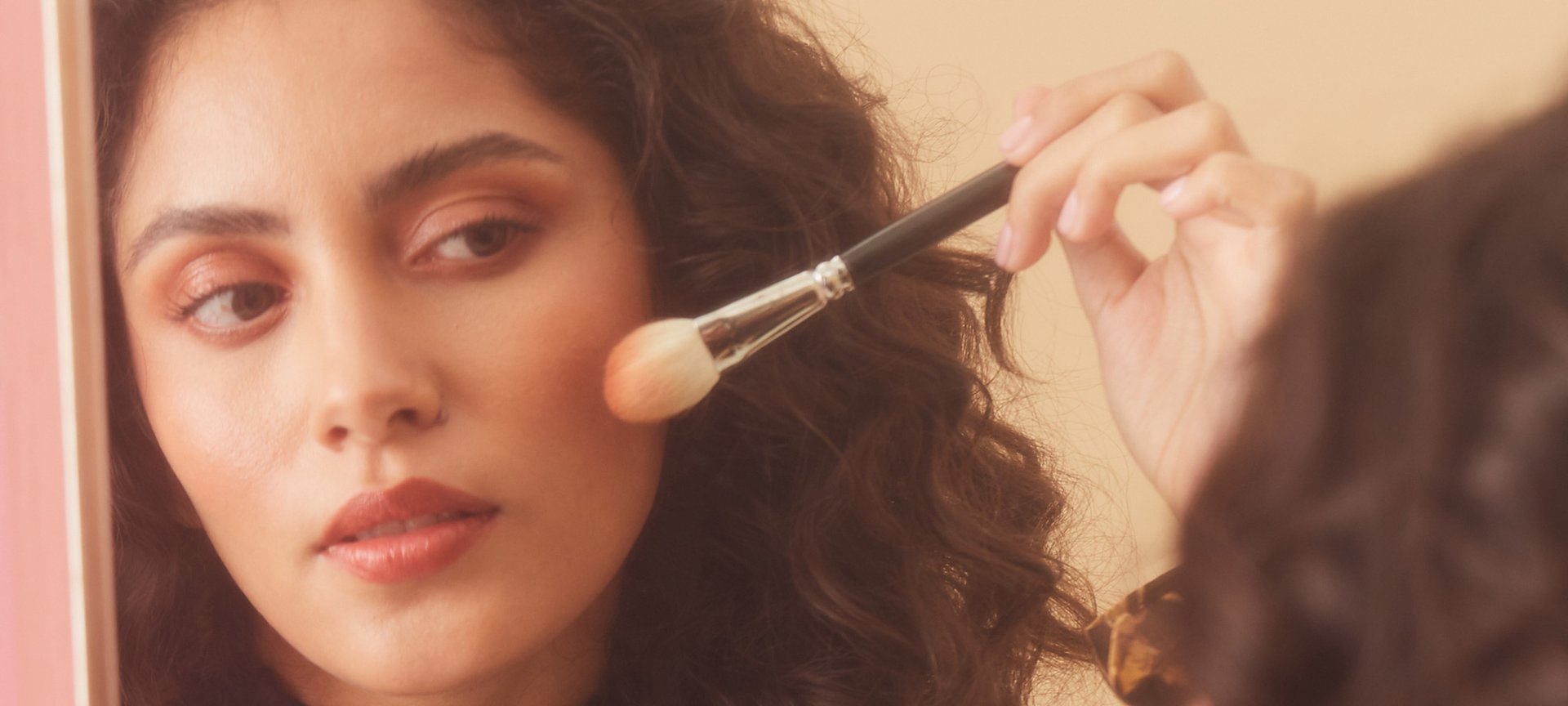 While applying blush seems like it should be pretty simple—and it is with practice—finding the right way to apply it to complement your face shape takes time. Whether your face is round, square, oval, or heart-shaped, it can be hard to lock down the best method for how to put on blush with all the techniques, tips and tricks out there. Well, we're removing all the noise and making it easy. Here, we're breaking down where to apply blush for every face shape.

How to Apply Blush If You Have a Square Face
Working with a square face? It's best to keep things basic by applying blush on the apples of your cheeks. This can also help to soften angular face shapes. Focus on the apples of your cheeks and then blend outward for a soft look. Make sure not to blend the product too far out horizontally to avoid the illusion of a wider-looking face.
How to Apply Blush If You Have a Round Face
Your goal, when you have a round face, should be to make your cheekbones pop. Applying blush to the apples of your cheeks can give your face a rounder appearance and soften your cheekbones. Give your face an angular look by applying blush slightly lower down and toward the outside of your cheeks. Avoid blending toward your nose since that can make your face look rounder, too.
Editor's tip:Swap out shimmer-packed blush formulas for matte options to help prevent your cheeks from looking overly cherubic.
How to Apply Blush If You Have an Oval Face
If you have an oval face, you're in luck. When it comes to where to put blush, you can pretty much get away with anything. Just make sure to avoid applying blush under your cheekbones—that's actually where you should contour. When you apply blush under your cheekbones, you can end up looking like you have windburn instead of a rosy glow.
How to Apply Blush If You Have a Long Face
Having a long face means you have more room for blush. Start under the pupils and blend to the middle of your cheeks. Apply it in a slight semicircle or a straight line to make your face appear shorter (if that's the goal).
How to Apply Blush If You Have a Heart-Shaped Face
Since heart-shaped faces can appear pointy, you'll want to soften your features. To do so, apply blush in 'C' shapes from the top of your cheeks to above the end of your eyebrows. You can also add a bit of blush to the center of your forehead to create balance between your forehead and chin.
How to Apply Blush If You Have a Diamond Face
Knowing where to put blush in order to flatter a diamond-shaped face can help draw attention upward and soften your features. Simply apply blush to the tops of your cheekbones and blend outward toward your ears.
Remember to Consider Your Skin Tone and Type
For your best blush application ever, you'll need to determine your skin type and tone in addition to your face shape. In terms of tone, look for blushes that mimic your skin's undertones. If you have a warm tone, pick warm-toned blushes. If you have a cool tone, reach for cool-toned blushes. Additionally, if you have skin redness, you'll always want to opt for a cool-toned blush to avoid drawing attention to your already-rosy hue.
As for skin type, whether your skin is dry or oily will impact the type of blush you want to apply. A powder blush may call attention to dry spots, whereas a cream formula will blend better over your skin. As for those with oily complexions, cream blushes will need to be extra long-wearing to avoid makeup meltdown, which is why many people with oily skin opt for powder blush.
Our Best Blush Products
Now that you know how to apply blush based on your face shape, you'll no doubt want to actually, you know, use it. Here are our best blushes to have in your makeup bag.
L'Oréal Paris True Match Blush: This blush comes in 12 skin-flattering shades with options that have cool, neutral, and warm tones. So, you can prepare to flaunt a natural flush of color with every use.
Editor's Tip:While certain makeup products can be applied with your fingers, unless you're using a cream formula, blush isn't one we recommend smudging on with your hands. For powder blushes, use a fluffy brush to sweep the product onto your face.
L'Oréal Paris Infallible Longwear Blush Shaping Sticks: These long-lasting cream blushes are buildable to help you achieve your perfect level of intensity. Complete with a stick shape, this staple makes the ideal travel companion for on-the-go application.while your fingers will do, we recommend using a makeup sponge to apply the product and blend out any harsh lines.
L'Oréal Paris Age Perfect Makeup Radiant Satin Blush with Camellia Oil: Made with mature skin types in mind, this blush offers a creamy, satin formula that gives cheeks a natural-looking wash of color. Best of all, there's no need to worry about any caking or drying out. Available in six gorgeous shades, you'll be sure to find the right color for you.
L'Oréal Paris Summer Belle Makeup Blush Please!: Formulated to give your cheeks a delicate shimmer, you can achieve a sun-kissed glow every time you reach for this powder blush. And it's not just for the summer—use it year-round for a flush that warms up the face just right.
Speaking of lasting power, you'll want to lock your blush in place. After all, you don't want it to fade away for a less than lively complexion. To set your blush—and the rest of your makeup, while you're at it—mist your face with the L'Oréal Paris Infallible Pro-Spray and Set Make-Up Oil-Free Setting Spray.
Next: 4 Drugstore Blushes to Add to Your Makeup Bag
Photo Credit: Chaunte Vaughn
Discover more tips & tricks
Keep your skin happy
See all articles
Shop Featured Makeup products
Discover More