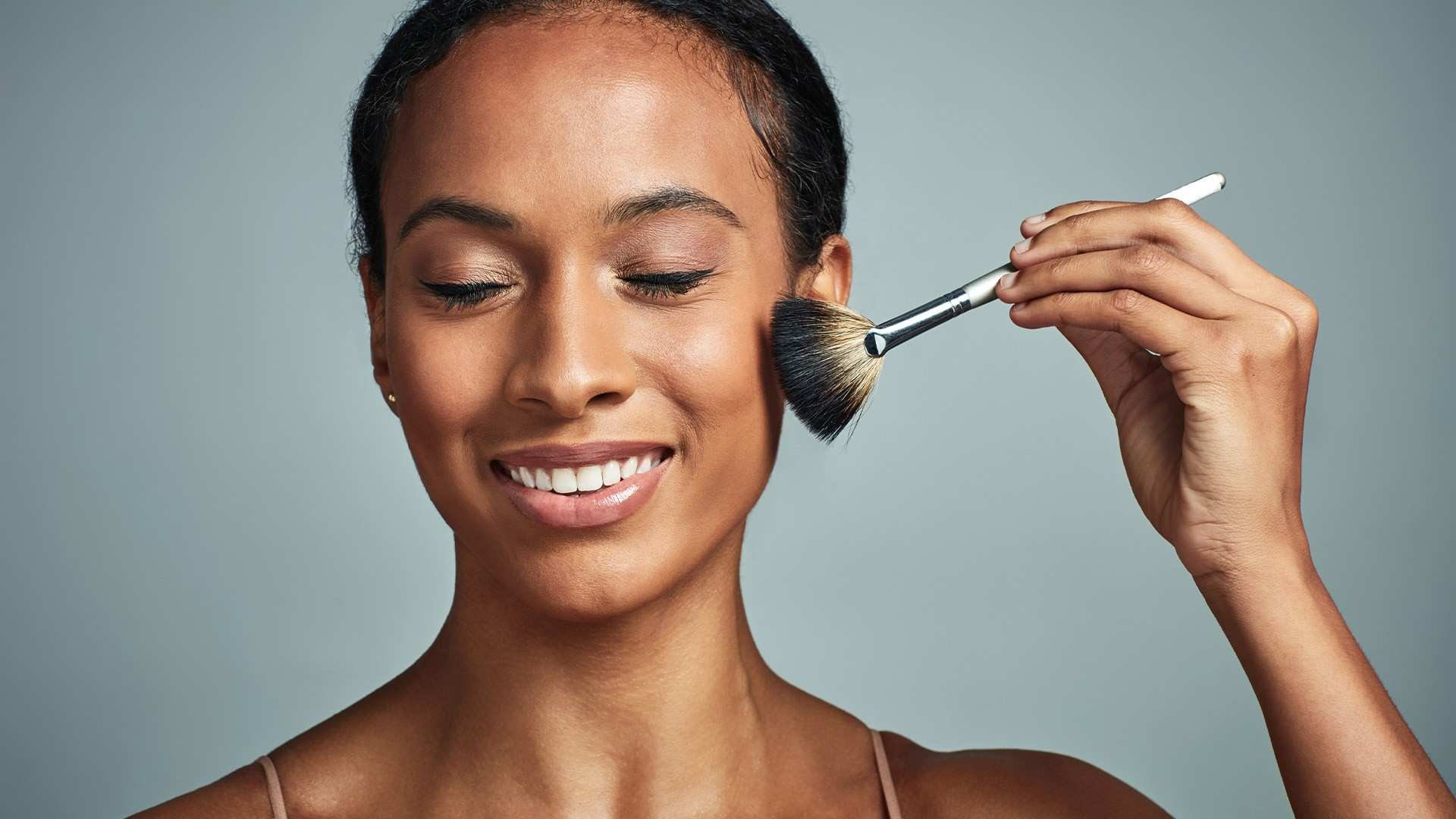 face makeup
7 Highlighter Mistakes You Could Be Making
Aside from relying on your skin care routine to achieve luminous skin, adding a highlighter to your beauty look can truly make all the difference. When applied correctly, highlighter can help lift and brighten the overall appearance of your face, and it can help give your complexion that dewy, luminous look that everyone's seeking. But when it comes to using highlighter, it can be pretty easy to go overboard—and if you put too much of the stuff on, you can end up with an unflatteringly shiny visage. To avoid common highlighter mistakes, like applying too much or choosing the wrong highlighter, read our rulebook on all things illuminator.
1. YOU'RE USING THE WRONG HIGHLIGHTER
Nope, highlighters aren't one-size-fits-all. There are a variety of types of highlighters, from powders to creams, as well as different shades. Find yourself suddenly wondering, "How do I choose a highlighter?" The key is to find the right formula, as well as a shade that's flattering to your skin tone since using the wrong shade can actually wash you out and make you look like something of a ghost.
Generally, you'll want to pick up a highlighter shade that's about two shades lighter than your skin tone for a natural-looking finish. You can also find the perfect highlighter for your complexion by relying on your undertones. Just as your undertones come into play when choosing your foundation or concealer match, they can be helpful when picking out a highlighter. Typically, warm undertones play well with gold and bronze shades, while silver and pearly white hues tend to look more flattering on cool undertones. Need a recommendation? If you have cool undertones, try the L'Oréal Paris True Match™ Liquid Glow Illuminator in Ice. If you have warm undertones, give the Golden shade a try instead.
2. YOU'RE APPLYING IT IN THE WRONG PLACES
Placement is everything when it comes to using a highlighter. After all, the whole point of using a highlighter is to flaunt a lifted face with a youthful-looking glow. Here's a simple guide on where to apply highlighter.
On your cheeks: Always apply highlighter above your cheekbones—never below.
On your nose: You can help make your nose look slimmer by applying a highlighter straight down the bridge of your nose.
On your eyes: Help yourself look more awake by putting some highlighter around the inner corner of your eyes.
On your lips: You can get the illusion of fuller lips by applying a touch of highlighter on your cupid's bow.
3. YOU'RE USING TOO MUCH
Contrary to popular belief, there is a thing as too much highlighter. Unless you want to look super-shiny, you should know when to hit the pause button. Remember, less is always more when it comes to makeup, highlighter included.
4. YOU'RE APPLYING IT WITH THE WRONG TOOLS
While there is no denying that you can achieve a luminous glow with the right highlighter, not using the right makeup brushes and tools could be hampering your ability to do so. When it comes to applying highlighter, a fan makeup brush is your one-way ticket to perfection. This uniquely-shaped brush works to lightly dust product onto your face for a natural-looking glow.
If you're applying a liquid or cream highlighter, like one of the L'Oréal Paris Infallible Longwear Highlighter Shaping Sticks, try blending out the product with a makeup sponge instead of a brush. Our favorite is the L'Oréal Paris Infallible Blend Artist Foundation Blender.
5. YOU'RE NOT TAKING LIGHTING INTO CONSIDERATION
When you're planning on wearing a highlighter, lighting should always be a factor. Simply put, if you're going to be spending the day in soft, dim lighting, then you can up the ante and go for a really sparkly highlighter, which can help make your features pop against a candle-lit background. On the other hand, if you're going to be outdoors during the day, consider choosing a subtler highlighter that won't look as harsh under the sunlight. Know that you're going to be snapping a ton of pics? Take a photo of yourself before you go out to see what your highlighter looks like on camera.
6. YOU'RE USING IT WITH THE WRONG FOUNDATION
Done everything in your power and still can't seem to figure out why your highlighter doesn't look as great as it should? The issue could be that you're using it with the wrong foundation. In general, you should pair like formulas with each other. If you're using a powder foundation, then use a powder highlighter, like the L'Oréal Paris True Match™ Lumi Shimmerista Highlighting Powder. If you're using a liquid foundation, then use a liquid highlighter. Makes sense, right?
Editor's tip: In a rush? Mix a little bit of a light-infusing primer, like the L'Oréal Paris Magic Lumi Primer, in with your foundation to help create a soft light illusion. You can also use this primer on targeted areas of your face for a sculpted effect.
7. YOU'RE NOT COORDINATING THE REST OF YOUR FACE MAKEUP
For cheekbones that really pop, you already know you'll want to pair your highlighter with blush and bronzer. What you might not have considered is the fact that you need to coordinate the shades of the rest of your face makeup with the highlighter you chose. If you're wearing a cool-toned highlighter, warm bronzer and blush won't look quite right. To play it safe, use a highlighter palette, like the L'Oréal Paris True Match™ Lumi Glow Nude Highlighter Palette, which includes all the shades you need of highlighter, bronzer, and blush—all already perfectly coordinated.
Now that you know what not to do with highlighter, let's cover another area in your beauty routine where you could be making mistakes: your self-care routine. If you use face masks to pamper your skin, make sure to read up on 10 Face Mask Mistakes You Could Be Making.
Discover more tips & tricks
Keep your skin happy
See all articles