face makeup
How to Use a Fan Makeup Brush
December 14, 2018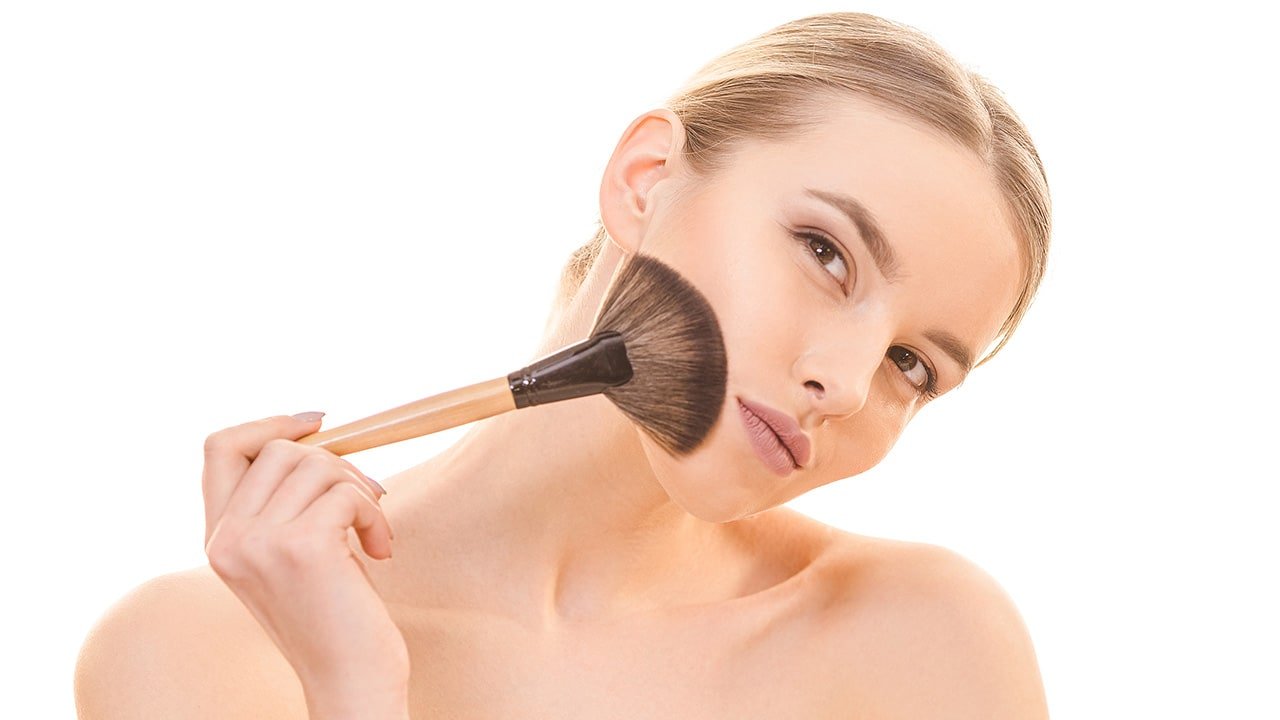 So, you know a thing or two about makeup brushes. You've moved on from applying all of your makeup with the powder puffs and applicator sponges that come with your products; now you've mastered using a powder brush, a foundation brush, and even an eye shadow blending brush. But do you have the first idea of what to do with those cool fan-shaped makeup brushes? Despite what you might assume using a fan makeup brush isn't something reserved for the pros. These uniquely-shaped brushes are amazing for applying all sorts of products—from highlighter to nail polish—and they're also easy to use. So, what are you waiting for? Here's how to use a fan makeup brush.
How to Use a Fan Makeup Brush to Apply Highlighter
If we had to name the way fan brushes are most often used, it would be to apply highlighter. Fan brushes are ideal for applying just a light dusting of any powder product, and this is exactly what you need when it comes to highlighter. You want your skin to lightly glisten, not look like you've loaded your cheeks with glitter—unless you're headed to a festival, that is. Reach for a highlighter, like the L'Oréal Paris True Match Lumi Shimmerista Highlighting Powder, and dip your fan makeup brush into the powder. Tap the brushes handle on a hard surface (like the edge of your vanity) to get rid of any excess product, then lightly brush the highlighter onto the tops of your cheeks, down the bridge of your nose, and on your cupid's bow. You'll look lit from within—so pretty!
How to Use a Fan Makeup Brush to Apply Blush
Do you live in perpetual fear of applying blush in the morning, only to realize later on that you've overdone it and your makeup resembles a clown? Don't worry, we can relate. Blush can be tricky to get a handle on, but a fan makeup brush makes it all easier. As we said, fan brushes apply light dustings of powder products, which is less product than your average blush brush applies. Pick up just a little bit of the L'Oréal Paris Paradise Enchanted Fruit-Scented Blush Makeup in Bashful with your face makeup brush and brush it onto your cheeks, starting slightly past the apples of your cheeks. Using a fan brush for this step in your routine will result in a much more natural blush application and you'll be able to rest easy knowing you don't look overly flushed.
How to Use a Fan Makeup Brush to Apply Contour Powder
Contouring is officially a major beauty trend, so much so that everyone and their mother is doing it. Unfortunately, not everyone has this makeup technique down pat. The issue is, if you go overboard with contour powder, your face will start to look muddy. In actuality, the goal of contouring is to create the appearance of subtle shadows that accentuate your features. You can probably see where we're going with this, but using a brush that applies product lightly can be a better way to create shadows. To give it a try, suck in your cheeks then use your fan makeup brush to apply contour powder to the hollows of your cheeks. You'll still be able to sculpt your cheekbones to perfection but it won't be quite so obvious that that's what you've done.
How to Use a Fan Makeup Brush to Remove Fallout
Don't you hate when you've flawlessly applied your face makeup, only to move onto eye shadow and have fallout ruin your concealer and foundation? Good news, when this happens, all hope isn't lost. You can rescue your makeup with a little help from a fan makeup brush—that's right, they're good for more than just applying makeup! Carefully dust the fallout off of your face, then touch up if necessary.
How to Use a Fan Makeup Brush to Apply Nail Polish
Fan brushes are extremely versatile, as evidenced by the fact that they can have a spot in your nail painting kit, too. If you have an extra fan makeup brush (you won't want to use the same one for your makeup and your nails), try this trick: Place three dots of nail polish on a paint palette before swiping a small fan brush through all of the colors. The colors should form a gradient on the brush, which you'll then transfer to your nails. A swipe across each nail should result in a beautiful blend of colors. Trust us, everyone will be asking where you had your nails done.
{ "@context": "https://schema.org/", "@type": "WebPage", "speakable": { "@type": "SpeakableSpecification", "cssSelector": ["speakable-content"] }, "url": "https://www.lorealparisusa.com/beauty-magazine/makeup/face-makeup/fan-makeup-brush" }
Discover more tips & tricks
Keep your skin happy
See all articles
Shop Featured Makeup products
Discover More
{ "@context": "http://schema.org", "@type": "BreadcrumbList", "itemListElement": [ { "@type":"ListItem", "position": 1, "item": { "@id": "/", "name": "Home" } } , { "@type":"ListItem", "position": 2, "item": { "@id": "https://www.lorealparisusa.com/beauty-magazine", "name": "Beauty Magazine" } } , { "@type":"ListItem", "position": 3, "item": { "@id": "https://www.lorealparisusa.com/beauty-magazine/makeup", "name": "Makeup Tips For Every Look" } } , { "@type":"ListItem", "position": 4, "item": { "@id": "https://www.lorealparisusa.com/beauty-magazine/makeup/face-makeup", "name": "Face Makeup" } } , { "@type":"ListItem", "position": 5, "item": { "@id": "https://www.lorealparisusa.com/beauty-magazine/makeup/face-makeup/fan-makeup-brush", "name": "fan-makeup-brush" } } ] }