face makeup
How to Fake High Cheekbones with Makeup
February 27, 2020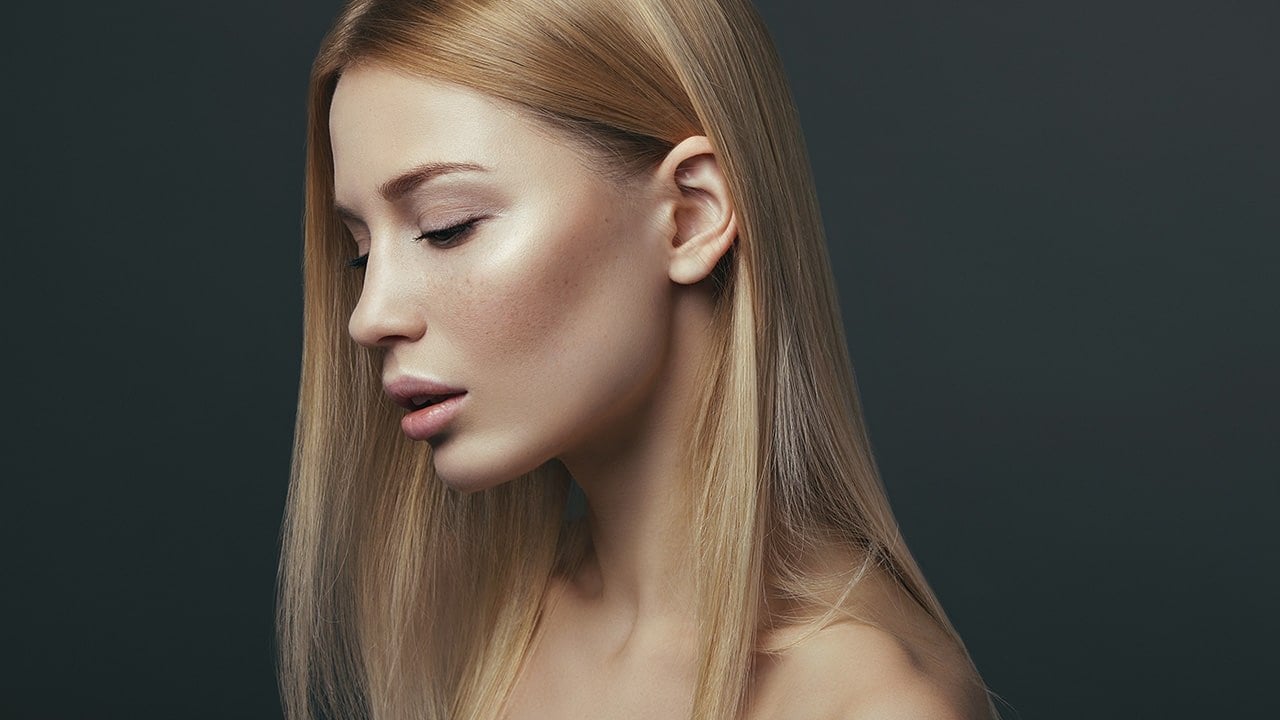 Let's face it: Not everyone is born with impeccable bone structure and high cheekbones. We can't all be models blessed with a face that appears as if it was chiseled out of stone, and searching how to get cheekbones won't magically will them into existence—much to our chagrin. The truth is, we all have cheekbones; it just comes down to whether or not your cheekbones sit high or low on your face. And if you've been waiting for high cheekbones to go out of style, unfortunately, this is one beauty trend that's here to stay. But don't fret—you know what they say: fake it till you make it! That's where cheek-sculpting makeup products come into play.
In fact, there's a little secret you might not know: When you're admiring someone's lovely, high cheekbones, there's a solid chance they have face makeup to thank for their look. From concealer to contour products, there is a slew of products that can help you achieve the appearance of high cheekbones—if you know the right techniques, of course. Below, we're sharing a step-by-step tutorial on how to get high cheekbones with makeup.
HOW TO TELL IF YOU HAVE HIGH OR LOW CHEEKBONES
Wait a second, are you not sure whether you already have high cheekbones? First things first, let's determine if your cheekbones qualify as high or low. It may seem tricky, but it's actually pretty simple to tell.
Simply pick up a mirror and look at your face while it's makeup-free. Place your thumb at the top of your ear, then place your index finger below your nose. Next, move your index finger and thumb toward each other. The line that you see is your cheekbone. Now pay attention to the position of the line. If you have high cheekbones, the line of your cheekbone will fall right below the eye or at the upper part of your nose. On the flip side, if you have low cheekbones, the line falls at the bottom of your nose or below it.
HOW TO GET HIGH CHEEKBONES WITH MAKEUP
All those contouring maps you've seen on your social media feeds may have you believing that this makeup technique is super-complicated. But it turns out that it's actually quite simple when you really break it down.
STEP #1: PERFECT YOUR BASE
Before you start contouring, kick things off by applying foundation. Since contouring tends to be associated with a more done-up look, we recommend using a buildable foundation with a natural finish that will easily allow you to reach your desired level of coverage. Give the L'Oréal Paris Infallible 24 Hour Fresh Wear Foundation, Lightweight a try.
STEP #2: CONTOUR
There are several different makeup products you can use to contour and sculpt your cheekbones. For this step, take your pick from the options below.
Contour Option #1: Foundation shaping sticks. A few quick swipes of the L'Oréal Paris Infallible Longwear Foundation Shaping Sticks and you'll have perfectly carved out cheekbones. Contouring is often made to seem overly complicated, so we can't help but love when a product keeps it simple for us. These shaping sticks do just that, making faking the appearance of high cheekbones a cinch. Use a shade that's slightly lighter than your skin tone to highlight your cheekbones while swiping a shade that's slightly darker than your skin tone onto the hollows of your cheeks. Blend and buff for a professionally-defined look. This will create perfectly chiseled cheekbones in hardly any time at all.
Contour Option #2: Concealer. Who said concealer was just for hiding blemishes and imperfections? Use the L'Oréal Paris Infallible Full Wear Concealer Waterproof, Full Coverage for high cheekbones that last. This concealer will be your new go-to makeup product. The full-coverage concealer has a flawless formula that's waterproof and non-greasy. Similar to the shaping sticks, you'll want to use this concealer in a color that's one to two shades lighter than your skin tone and another that's one to two shades darker. Apply the lighter shade to your cheekbones, then use the darker shade to define underneath your cheekbones. Use a makeup blender to blend out and create a seamless look.
Contour Option #3: Bronzer. The OG of sculpting products, a bronzer like the L'Oréal Paris True Match™ Lumi Bronze It Bronzer is always a great option in our book. Bronzer works to warm up your skin tone for the ultimate sun-kissed look. But with the proper placement, it can help define your cheekbones, too! Sweep the bronzer softly over skin, focusing on cheekbones for a healthy, golden glow. Apply underneath cheekbones for a more sculpted, radiant, and illuminated look.
Contour Option #4: Glotion.For a liquid contour, use the L'Oréal Paris True Match™ Lumi Glotion Natural Glow Enhancer. An illuminating skin tint may seem like a highlighter through and through, but pick the right shade, and you can contour with one, too! When you use this highlighter in a shade that matches your skin tone, skin is left looking hydrated and luminous with an all-over glow, but apply it below your cheekbones in a deeper shade, and you'll have yourself another way to contour your cheeks.
Editor's tip: To create a natural-looking contour, it's important that your contour product isn't too dark. Look for a cool-toned product that's only two to three shades darker than your skin tone. That will be best for creating realistic "shadows" that mimic the look of prominent cheekbones.
STEP #3: HIGHLIGHT
It's no secret that cheeks look especially glamorous with a little bit of shimmer. And with just a few quick swipes of highlighter, you'll be able to add a major glow factor to the highest points of your face. For even more glow, highlight down the bridge of your nose and around the inner corners of your eyes. There are a few makeup products that can be used to do this.
Highlight Option #1: Highlight shaping sticks. For a quick and easy option, pop off the cap on one of the L'Oréal Paris Infallible Longwear Highlighter Shaping Sticks. Apply your highlighting stick to the tops of your cheekbones. Once your skin is shining bright, you can blend out with your finger or a makeup blender.
Highlight Option #2: Glow drops. Prefer a liquid formula? The L'Oréal Paris True Match Lumi Glow Amour Glow Boosting Drops is super easy to blend onto your skin for a sparkling highlight. Dot the product along your cheekbones, then use your finger to blend it out with a patting motion.
Highlight Option #3: Powder. More of a powder gal? Reach for the L'Oréal Paris True Match Lumi Shimmerista Highlighting Powder. Dip a tapered highlighting brush into the powder, then sweep it over your cheekbones for a defined appearance.
STEP #4: ADD COLOR TO YOUR CHEEKS
Adding just a smidge of blush to the apples of your cheeks can help elevate your contouring technique. Dab a cream blush—like the L'Oréal Paris Infallible Longwear Blush Shaping Sticks—onto your cheeks and be sure to blend out. Et voila! The cheekbones of your dreams. And, it really wasn't all that hard, now was it?
HOW TO GET HIGH CHEEKBONES IN ONE STEP
No time in the morning to work your way through a full contouring routine? No problem. Scrap the aforementioned steps and products, and you can still create the appearance of supermodel-worthy, chiseled cheekbones. For multiple options in one product, turn to the L'Oréal Paris True Match™ Lumi Glow Nude Highlighter Palette. Despite what the name might have you believe, this palette doesn't come packed with only highlighters—each palette contains a bronzer, blush, and two highlighters. Isn't that convenient? Instead of picking out a myriad of products to take your cheekbones to new heights, you can stick with this palette—wearing all the shades together—to create a lifted effect.
Apply the bronzer to your forehead and contours of cheeks, apply the blush to the apples of cheeks, apply the deeper highlighter to your cheekbones, and dust the lighter highlighter above your cheekbones.
HOW TO COMPLETE YOUR SCULPTED MAKEUP LOOK
Now that you know how to get high cheekbones with makeup, it's time to put together a full look! Follow the steps below to finish your high cheekbone makeup look.
STEP #1: GRAB YOUR EYE SHADOW
When it comes to your eye makeup, you'll want to focus on drawing the eye upward to emphasize your cheekbones even more. To do this, we recommend creating a smoky eye. You can use the L'Oréal Paris Colour Riche Pocket Palette Eye Shadow in Boudoir Charme for this step. Apply the medium brown shade from the palette on your lid, dark brown in your crease, and the light beige to your inner corner. Make sure to blend your colors well, and you should be all set as far as eye shadow goes.
STEP #2: WING IT OUT
As we said before, you'll want to use your eye makeup as a way to boost the high cheekbone illusion. This means it's time to create your sharpest winged eyeliner look using the L'Oréal Paris Infallible Flash Cat Eye Waterproof Brush Tip Liquid Eyeliner in Black.
STEP #3: BOOST YOUR LASHES
Complete your eye makeup with a few coats of the L'Oréal Paris Unlimited Lash Lifting and Lengthening Washable Mascara for an instant lash-lift effect.
STEP #4: PAINT YOUR POUT
Since this look involves more dramatic eye makeup, keep your lips simple—this will also help keep the attention on your cheekbones. Apply the L'Oréal Paris Colour Riche Lipstick Shine Lipstick in Sparkling Rose for a sheer coat of pink.
STEP #5: SEAL YOUR LOOK
Now that you've created perfectly chiseled-looking cheekbones and a makeup look to go with them, you want to make sure it stays put all day long, don't you? Spritz on a makeup setting spray to help set your look. We love the radiant finish of the L'Oréal Paris True Match Lumi Shake & Glow Dew Mist.
Next up: What's that? Your cheekbones aren't the only thing you want to contour? In that case, make How to Contour Your Body your next read.
{ "@context": "https://schema.org/", "@type": "WebPage", "speakable": { "@type": "SpeakableSpecification", "cssSelector": ["speakable-content"] }, "url": "https://www.lorealparisusa.com/beauty-magazine/makeup/face-makeup/how-to-get-high-cheekbones" }
Discover more tips & tricks
Keep your skin happy
See all articles
Shop Featured Makeup products
Discover More
{ "@context": "http://schema.org", "@type": "BreadcrumbList", "itemListElement": [ { "@type":"ListItem", "position": 1, "item": { "@id": "/", "name": "Home" } } , { "@type":"ListItem", "position": 2, "item": { "@id": "https://www.lorealparisusa.com/beauty-magazine", "name": "Beauty Magazine" } } , { "@type":"ListItem", "position": 3, "item": { "@id": "https://www.lorealparisusa.com/beauty-magazine/makeup", "name": "Makeup Tips For Every Look" } } , { "@type":"ListItem", "position": 4, "item": { "@id": "https://www.lorealparisusa.com/beauty-magazine/makeup/face-makeup", "name": "Face Makeup" } } , { "@type":"ListItem", "position": 5, "item": { "@id": "https://www.lorealparisusa.com/beauty-magazine/makeup/face-makeup/how-to-get-high-cheekbones", "name": "how-to-get-high-cheekbones" } } ] }