face makeup
8 Places to Apply Highlighter
Get the game on how to get a flawless glow.
October 12, 2022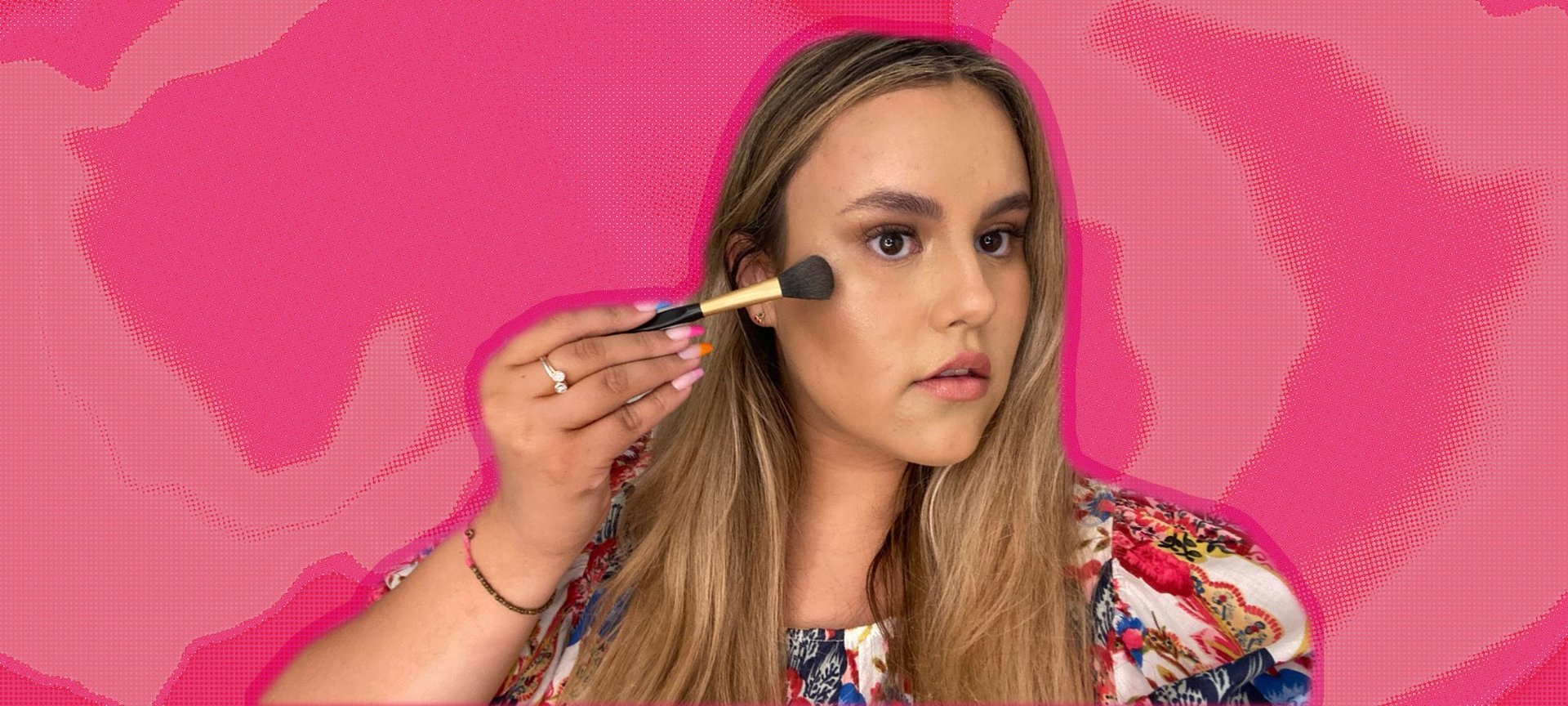 The overdone highlighting trend may be so 2017, but skin that glows and looks radiant will always be in. The key to achieving natural-looking radiance through highlighter is choosing the right formula and understanding the best placement.
It may come as a surprise to many, but that means going beyond the typical cheek and nose placements. Don't worry — that doesn't mean you have to get that glazed donut highlighter look all over your face if you're not into it. Ahead, we're sharing some of our favorite highlighter formulas as well as the best places to apply highlighter on your face for the ultimate glow.
What Is Highlighter Makeup?
Highlighter is a product that is often used to make different features on your face stand out. It can have several different jobs in your makeup look — it all comes down to where you place it. One of its main uses is to help you add some glow and warmth to your face and décolletage, but it's also used to contour different facial features. You can also use highlighter to brighten parts of the face by attracting light to them.
Featured Products

Highlighter is like the cherry on top of any gorgeous makeup look. Whether you go the more natural route or for a full glam look, highlighter is always a necessary step to add dimension. At one point, bathing in highlighter was even a viral social media trend that has (thankfully) shifted to a less-is-more approach. Highlighter doesn't belong everywhere and looks much better when applied strategically and with a lighter hand.
Read on as we share the best highlighters to add to your makeup bag, plus, tips on where to apply highlighter like a pro and where to avoid placing it.
Which Highlighter to Choose for a Gorgeous Glow
There isn't a right way and a wrong way to glow. But there may be a better option for your skin type or the look you're going for. Ultimately, it's up to you which highlighter you choose and what you like, so check out the best highlighters for the job, below.
If you're looking for an incredibly lightweight, buildable powder highlighter that you can use for your face and body, this is for you. It has a fine shimmer that creates a gorgeous luminosity on the skin.
Mixing and matching highlighter shades can be helpful when trying to find the most flattering one for your skin tone. With this palette, you get four powder shades that provide a soft, lit-from-within glow that you can easily build up when you want more intensity.
If a subtle glow that melts into the skin is what you're after, you've met your match with this liquid highlighter. Liquid highlight can be used all over the skin as a luminous base before foundation, or you can apply it to more specific areas for a targeted glow.
How to Apply Highlighter Makeup
Achieving the glow you want comes down to the formula you select and where you apply it. If you prefer cream or liquid based highlighters, using your fingers is key for
those types of products. The warmth from your hands helps bake the product into the skin. Cream and liquid highlighters do a great job at melting into the skin, but always start with clean hands and use your fingertips to lightly press the liquid formula into the high points of your face for a seamless, natural glow.
If cream products intimate you, powder highlighters are also great, especially when you have oily skin. When working with a powder formula, use light application with a medium-sized fluffy brush, which will help to disperse and blend the highlighter onto the high points, creating a diffused glow versus a harsh line of shimmer.
Do You Put Highlighter on Before or After Blush?
If you're working with all powder products or all liquid products, apply highlighter to your cheekbones before you apply your blush. When you apply the blush over your highlighter, it will help to seamlessly blend the two together, creating a smooth, luminous application. It can also work with cream, liquid and powder formulas, just make sure the products you use layer well together. If not it can lead to lifting and patchiness.
Do You Apply Highlighter Before or After Foundation?
Liquid highlighter can go on before foundation to create a luminous base or after foundation to highlight specific areas. You can even mix it into your foundation to sheer out coverage and rock a glowy base. The reason is that liquid highlighters and liquid foundations have a similar consistency which lets them blend and layer well together.
As for powder highlighter and cream formulas, these are best applied after foundation to ensure your makeup looks even. (Don't forget to apply cream formulas before you set your foundation.) If you're wearing powder foundation such as the L'Oréal Paris Infallible Up to 24H Fresh Wear Foundation in a Powder, apply any highlighter after you've completed your base.
8 Places to Apply Highlighter Makeup on Your Face
Once you've chosen your highlighter, knowing where to apply it (and where not to apply it) is the next step. Below, check out the eight areas of the face to apply highlighter for a natural and seamless glow.
1. Cheekbones
We're starting with the most common place to highlight your skin — the cheekbones. To enhance your bone structure and give your face a lifted appearance, apply a light layer of highlighter to your cheekbones. Drag it up slightly under your temples to avoid a stark line where your highlighter begins and ends.
2. Jawline
Many contour their jawline so highlighting it only makes sense. Focus on your face shape and where the sun hits you naturally. The results literally and figuratively highlight your jawline and enhance your face shape to create a gorgeous, light-catching glow.
3. Cupid's Bow
Your Cupid's bow is the curved section at the center of your top lip. Highlighting this area helps to lift the lips and give them a fuller appearance and more defined shape.
Editor's tip: Overline your lips and highlight your cupid's bow to instantly fake a plumper pout.
4. Brow Bone
The brow bone is an area of the face that catches light and plays an integral part in your bone structure. Give your brows a lifted appearance by adding some brightness to the area (under the arch of your brows) with highlighter.
5. Inner Corners Of Your Eyes
The inner corners of your eyes tend to be more prone to darkness than other areas of the face. Add some highlighter to brighten this area and give your eyes a more wide-awake appearance.
6. Under-Eye Area
Yup, this is a weird one but it truly works wonders. Just like the inner corner of the eyes, the under-eye area can be dark and highlighter is a great way to help bring some brightness to it. Layer it on lightly after you've applied your under-eye concealer or mix some liquid highlighter like the aforementioned True Match Lumi Glotion Natural Glow Enhancer with your concealer before applying it to your dark circles.
7. Center Of Your Eyelids
Another great way to brighten your eyes and your overall look is by adding a subtle highlight to the center of your eyelids. While this might not be fitting if you're going for a nude smokey eye, on natural makeup days, it's a great way to look more awake while adding some glow.
8. Center Of Your Chin
If you have a longer or more oval-shaped face that you wish to round out a bit, highlighting the center of your chin is a great makeup technique to try. Be sure to really blend out the highlighter in this area to ensure it appears natural.
Where Should You Avoid Applying Highlighter?
Always avoid the nose, the experts at L'Oréal Paris advise. It's not flattering on most people and should be avoided, especially if you're just learning how to apply highlighter.
Highlighting the nose is another technique that started off as a viral social media trend and persisted but experts say skip the nose highlighter in favor of highlighting your cheekbones, the inner corners of your eyes and your jawline. As for your nose, opt for some subtle sculpting in place of highlighter.
Next: Powder vs. Liquid Foundation — Which One Is Better?
Edited by: Reece Andavolgyi, Photo Credit: Reece Andavolgyi, Design by: Crystal Simone
Discover more tips & tricks
Keep your skin happy
See all articles
Shop Featured Makeup products
Discover More