face makeup
Your Glowy Makeup Look: Makeup Tips for Glowing Skin
May 22, 2019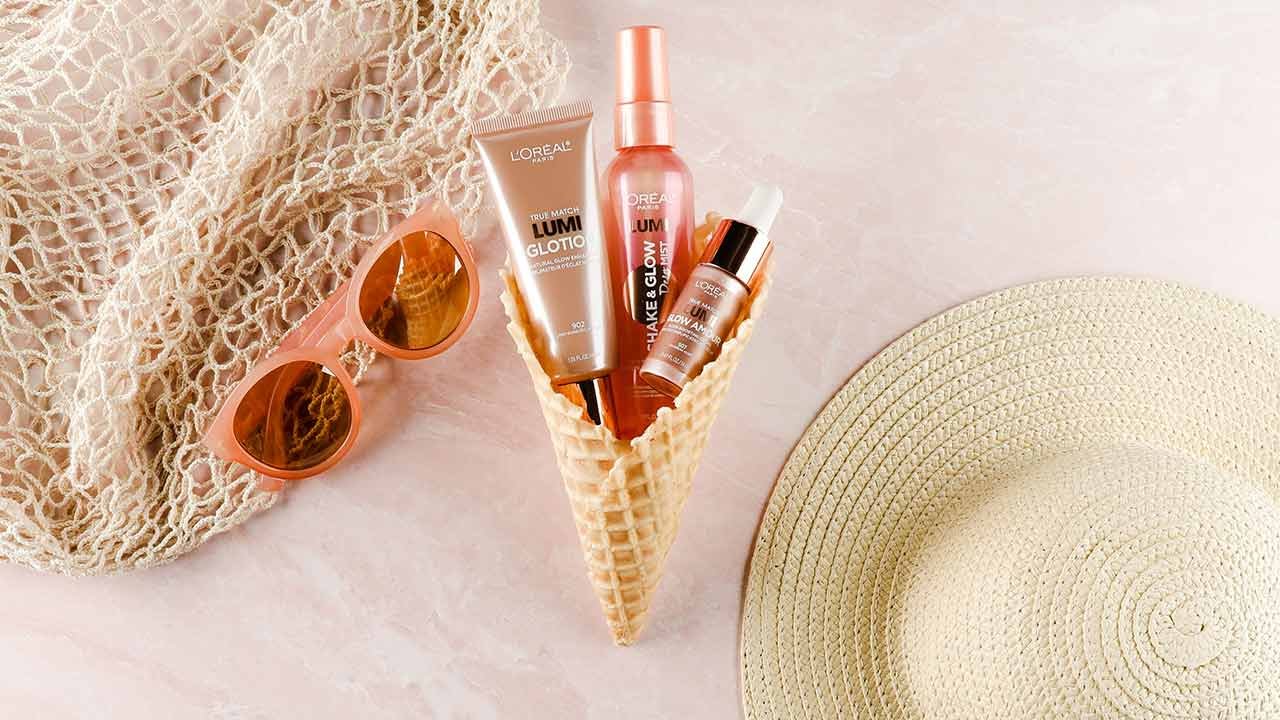 Most of us need a little help when it comes to achieving the appearance of glowing skin. While there are skin care products you can add to your skin care routine to help brighten the look of your skin, such as face moisturizer formulated with glycolic acid and a charcoal mask, you can also use makeup to add a touch of radiance to your complexion. Not sure how, exactly? Don't worry, we've got you covered. Keep reading for our best makeup tips (and product recommendations) to help create the appearance of glowing skin. Plus, read till the end to find out how to put together a complete glowy makeup look with a few of our tips!
5 MAKEUP TIPS TO HELP CREATE THE APPEARANCE OF GLOWING SKIN
Add the following tips into your daily routine to boost your glow.
MAKEUP TIP #1: USE A GLOW-ENHANCING LOTION
One of the easiest ways to create the appearance of glowing skin? Reach for a lotion that illuminates, like the L'Oréal Paris True Match™ Lumi Glotion Natural Glow Enhancer, which is available in four shades (fair, light, medium, and deep). This lotion instantly hydrates and luminizes for an all-over fresh glow. Apply it alone or under makeup. Use one of the lighter shades to highlight and use a darker shade as an all-over bronze or to contour. (Speaking of contouring, here's How to Contour Like a Pro Makeup Artist in 8 Easy Steps.)
MAKEUP TIP #2: ADD GLOW-BOOSTING DROPS TO YOUR MOISTURIZER OR FOUNDATION
Getting your glow on is more attainable than you might think. Enter our glow-boosting drops, the L'Oréal Paris True Match™ Lumi Glow Amour Glow Boosting Drops, which are available in two universal shades (Golden Hour for a warm, sun-kissed glow and Daybreak for a cool glow). Shake well, then apply alone or mix a drop or two into your foundation or face moisturizer for an all-over glow.
MAKEUP TIP #3: APPLY MULTIPLE HIGHLIGHTERS
If you're wondering what could be even better than one highlighter, the answer is multiple highlighters. There's no reason why you have to stick to using a single highlighter per makeup look. Try applying different highlighters on different spots on your face or mixing a few together for a glow that's all its own. The L'Oréal Paris True Match™ Lumi Glow Nude Highlighter Palette comes in two different color schemes, one with warm-toned highlighters (Sunkissed) and one with cool-toned highlighters (Moonkissed). Each palette features four blendable shades to help highlight every part of your face. Using a fan brush, sweep your favorite shade(s) onto the high points of your face, including your cheekbones, brow bones, the bridge of your nose, cupid's bow, and the inner corners of your eyes. (For more tips on using highlighter, read How to Strobe for Every Skin Tone.)
MAKEUP TIP #4: WET YOUR MAKEUP BRUSH
We understand, sometimes you really want to take your radiant makeup look to the next level. When even the glitziest makeup isn't cutting it, all you'll need to satisfy your shimmer needs is a bit of water. Spritz the makeup brush you use to highlight with water, until it's damp but not dripping, before dipping it into a powder highlighter. This can help make your highlighter look like a more dramatic, chrome-like version of itself. Apply, then glow to your heart's content.
MAKEUP TIP #5: ILLUMINATE YOUR BODY, TOO
Your face isn't the only place that deserves some shine and shimmer. We have a hunch that your body also wants to glow. Dip a fluffy makeup brush into a loose highlighting powder—the L'Oréal Paris True Match™ Lumi Shimmerista Highlighting Powder is perfect for this—and lightly brush it onto your neck and collarbones. Pair with a scoop neck top and you'll have a look that's bound to stand out.
HOW TO GET A GLOWY MAKEUP LOOK
Want to put some of the above tips to use? Follow the steps below for a complete glowy makeup look that's fit for summer!
STEP #1: PRIME YOUR FACE
First thing's first, you'll want to prep your skin for your makeup look! Reach for a glowing makeup primer, like the L'Oréal Paris Infallible Pro-Glow Lock Makeup Primer, to do just that. The formula perfects and illuminates, leaving your skin with a healthy, radiant glow that lasts all day.
STEP #2: BOOST YOUR GLOW
A glowy makeup look calls for more glow, don't you think? Next, reach for a liquid highlighter lotion that will give your complexion an all-over glow and act as the base for the rest of your look.
STEP #3: PERFECT YOUR COMPLEXION
Next, you'll want to give yourself flawless-looking skin. Apply the L'Oréal Paris Infallible Up to 24HR Fresh Wear Foundation, Lightweight using the L'Oréal Paris Infallible Blend Artist Foundation Blender to give your skin full, lightweight coverage with a natural finish.
STEP #4: AMP UP THE BRONZE
What's a glowy look without a bronzed complexion to match? Apply a shimmering bronzer, like the L'Oréal Paris True Match™ Lumi Bronze It Bronzer, to the hollows of your cheeks, temples, sides of your nose, and jawline.
STEP #5: ADD SOME SHIMMER
More glow, please! It's time to reach for a highlighter to take your glow up a notch. Pop an ultra-illuminating highlighter onto your cheekbones, cupid's bow, and the tip of your nose to do just that.
STEP #6: DEFINE YOUR BROWS
Of course, your brows need a little love too! Create a naturally thick brow by using a brow mascara. Apply the L'Oréal Paris Brow Stylist Boost & Set Brow Mascara to boost volume and set your brows.
STEP #7: REACH FOR YOUR EYE SHADOW
Next up: eye shadow! This step is more of the same, in a good way—meaning your lids are about to be shimmery and bronzed. First, apply a medium brown shimmer shadow, like the L'Oréal Paris Infallible 24 HR Eye Shadow in Amber Rush, onto your lid. Then, define your crease with a darker brown that has some shimmer, like the L'Oréal Paris Infallible 24 HR Eye Shadow in Bronzed Taupe.
STEP #8: LINE YOUR EYES
All bronzed out? Add a pop of color to your look by lining your lower lash line with a fun, bright hue! Trust us, this eyeliner style is perfect for summer. Use the L'Oréal Paris Infallible Pro-Last Waterproof, Up to 24HR Pencil Eyeliner, which comes in an array of fun colors like teal and purple, to get the look.
STEP #9: COAT YOUR LASHES
Finish your eye makeup with a few coats of a mascara that will add some drama to your look. Give the L'Oréal Paris Unlimited Lash Lifting and Lengthening Washable Mascara a try! The stretchable formula makes it easy to build up your lash look without clumps or flakes.
STEP #10: PAINT YOUR POUT
Of course, your lips need some attention, too! There's no lip product more fitting for a glowy makeup look than a lip gloss—duh! Your hue of choice is totally up to you, though we recommend a neutral shade that will let your eyeliner truly pop! Need a rec? Swipe on the L'Oréal Paris Infallible 8 HR Le Gloss in Barely Nude.
STEP #11: SEAL THE DEAL
For the last step of your glowy makeup look, give yourself one final glow boost with a spritz of the L'Oréal Paris True Match™ Lumi Shake & Glow Dew Mist. This mist will not only give your complexion a natural, dewy glow but will also set your makeup for extended wear. Even better, you can toss it in your bag for a quick midday spritz that will refresh your makeup!
Next up: Makeup may be one of the best ways to fake a glowing complexion, but it isn't your only option. Self-tanner is a must if you're interested in that sun-kissed look—which, who isn't? To learn all about another way to glow, head on over to our article, How to Get Glowing Skin with Self-Tanner.
{ "@context": "https://schema.org/", "@type": "WebPage", "speakable": { "@type": "SpeakableSpecification", "cssSelector": ["speakable-content"] }, "url": "https://www.lorealparisusa.com/beauty-magazine/makeup/face-makeup/how-to-get-glowing-skin-with-makeup" }
Discover more tips & tricks
Keep your skin happy
See all articles
Shop Featured Makeup products
Discover More
{ "@context": "http://schema.org", "@type": "BreadcrumbList", "itemListElement": [ { "@type":"ListItem", "position": 1, "item": { "@id": "/", "name": "Home" } } , { "@type":"ListItem", "position": 2, "item": { "@id": "https://www.lorealparisusa.com/beauty-magazine", "name": "Beauty Magazine" } } , { "@type":"ListItem", "position": 3, "item": { "@id": "https://www.lorealparisusa.com/beauty-magazine/makeup", "name": "Makeup Tips For Every Look" } } , { "@type":"ListItem", "position": 4, "item": { "@id": "https://www.lorealparisusa.com/beauty-magazine/makeup/face-makeup", "name": "Face Makeup" } } , { "@type":"ListItem", "position": 5, "item": { "@id": "https://www.lorealparisusa.com/beauty-magazine/makeup/face-makeup/how-to-get-glowing-skin-with-makeup", "name": "how-to-get-glowing-skin-with-makeup" } } ] }