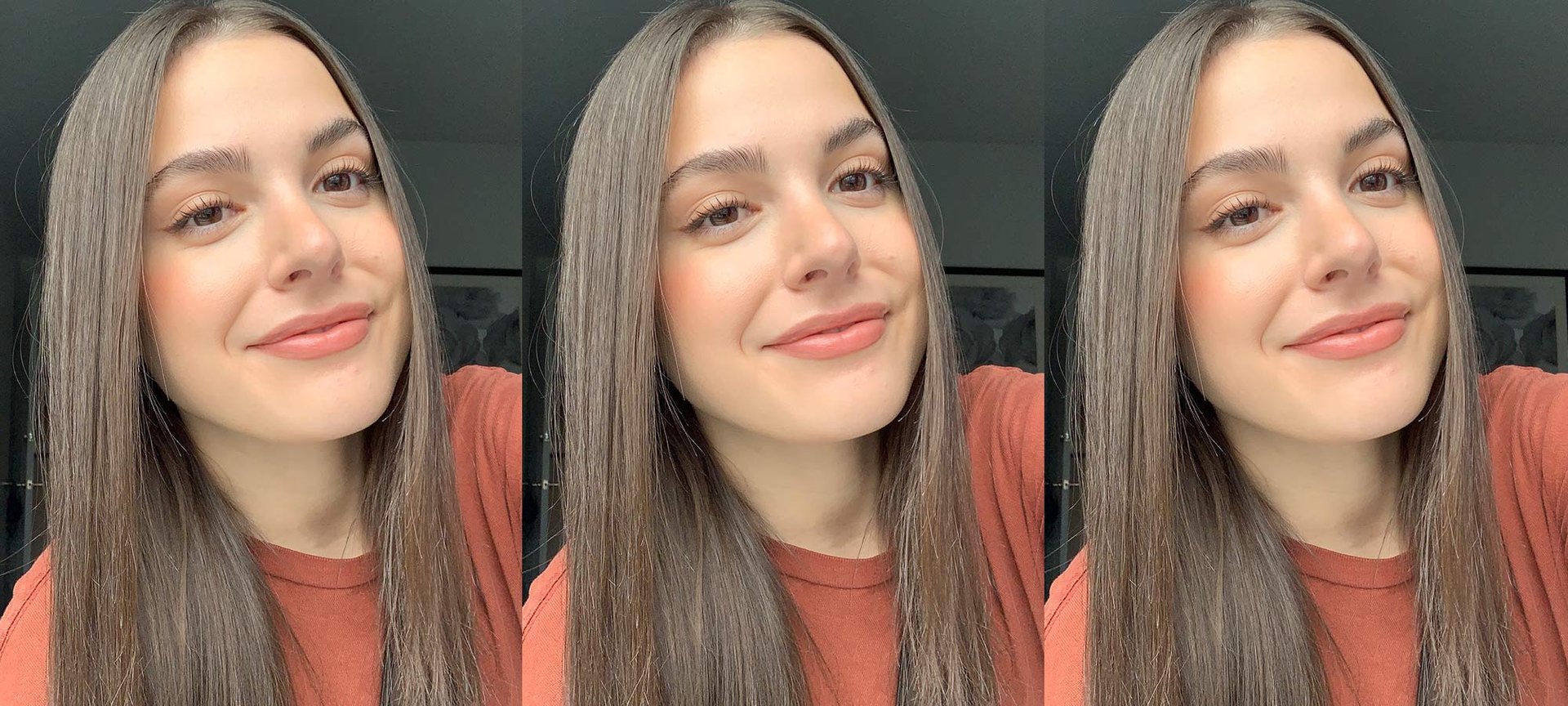 eye makeup
How To Create Winged Eyeliner With Eyeshadow
No messy liquid eyeliner necessary.
When it comes to creating gorgeous eye makeup looks, like winged eyeliner, your go-to medium is likely a liquid eyeliner. And while liquid liner is great for creating bold, sharp definition, it's not the most forgiving. One slip of the hand and your eyeliner is bound to smudge or come out crooked. That's why creating eyeliner using eyeshadow is not only great for blended, natural looks, but it can also be an easier tool to use to achieve winged eyeliner. Here, we're sharing exactly how to master winged eyeliner using eyeshadow.

How To Master Winged Eyeliner Using Eyeshadow
Keep reading for a breakdown of steps to follow when creating winged eyeliner with eyeshadow.

Step 1. Prime Your Eyelids
It's best to prep your eyelids with concealer or eyeshadow primer before applying eyeshadow. Priming your eyelids helps to create an even canvas for the shadows and ensure they're pigmented and long lasting.

Step 2. Apply Tape As A Guide
To ensure your shadow liner is straight and sharp, place tape at the outer corners of your eyes to act as a guide. When you remove the tape, you'll be left with clean lines.

Step 3. Apply A Blending Shade
While this step isn't always necessary when creating shadow liner, applying a blending or transition shade that's lighter than your eyeliner color will give the look a softer, more blended appearance. For example, if you're using black eyeshadow like the L'Oréal Paris Colour Riche Monos Eyeshadow in Noir Cest Noir for the liner, you can soften it a bit by applying a mid-tone brown shade like the L'Oréal Paris Colour Riche Monos Eyeshadow in Acro Matte underneath. Take a soft pencil eyeshadow brush and apply the blending shade at your lash line working it up the outer corner of your eyes to begin creating the wing. You can also blend it a bit onto your eyelid as you don't want the main liner color to fully cover this shade. Don't worry about being too precise with this step as this part should look diffused and natural.

Step 4. Apply The Liner Color
Dip an angled eyeliner brush into your main eyeshadow and lightly press it onto your lash line. Using pressing motions at first to create your shape is much easier than trying to create winged eyeliner using long brush strokes. Once you have your lash line filled in, then you can use brush strokes to blend the shadow, address any imperfections and add more length or depth to the wing at the tape border if necessary. Finally, lift off your tape and reveal your winged eyeliner.

Step 5. Top It Off With Mascara
No great eye look is complete without mascara. To give your lashes volume and definition without weighing them down, apply one to two coats of the L'Oréal Paris Air Volume Mega Mascara, Lightweight Mega Volume Washable.
Next: Our Best Curling Mascara
Photo Credit: Alyssa Kaplan
{ "@context": "https://schema.org/", "@type": "WebPage", "speakable": { "@type": "SpeakableSpecification", "cssSelector": ["speakable-content"] }, "url": "https://www.lorealparisusa.com/beauty-magazine/makeup/eye-makeup/how-to-create-winged-eyeliner-with-eyeshadow" }
Discover more tips & tricks
Keep your skin happy
See all articles
Improve your routine
Show your new look more love:
makeup
{ "@context": "http://schema.org", "@type": "BreadcrumbList", "itemListElement": [ { "@type":"ListItem", "position": 1, "item": { "@id": "/", "name": "Home" } } , { "@type":"ListItem", "position": 2, "item": { "@id": "https://www.lorealparisusa.com/beauty-magazine", "name": "Beauty Magazine" } } , { "@type":"ListItem", "position": 3, "item": { "@id": "https://www.lorealparisusa.com/beauty-magazine/makeup", "name": "Makeup Tips For Every Look" } } , { "@type":"ListItem", "position": 4, "item": { "@id": "https://www.lorealparisusa.com/beauty-magazine/makeup/eye-makeup", "name": "Eye Makeup" } } , { "@type":"ListItem", "position": 5, "item": { "@id": "https://www.lorealparisusa.com/beauty-magazine/makeup/eye-makeup/how-to-create-winged-eyeliner-with-eyeshadow", "name": "how-to-create-winged-eyeliner-with-eyeshadow" } } ] }