face makeup
Our Best Highlighter to Create a Sun-Kissed Glow
August 21, 2017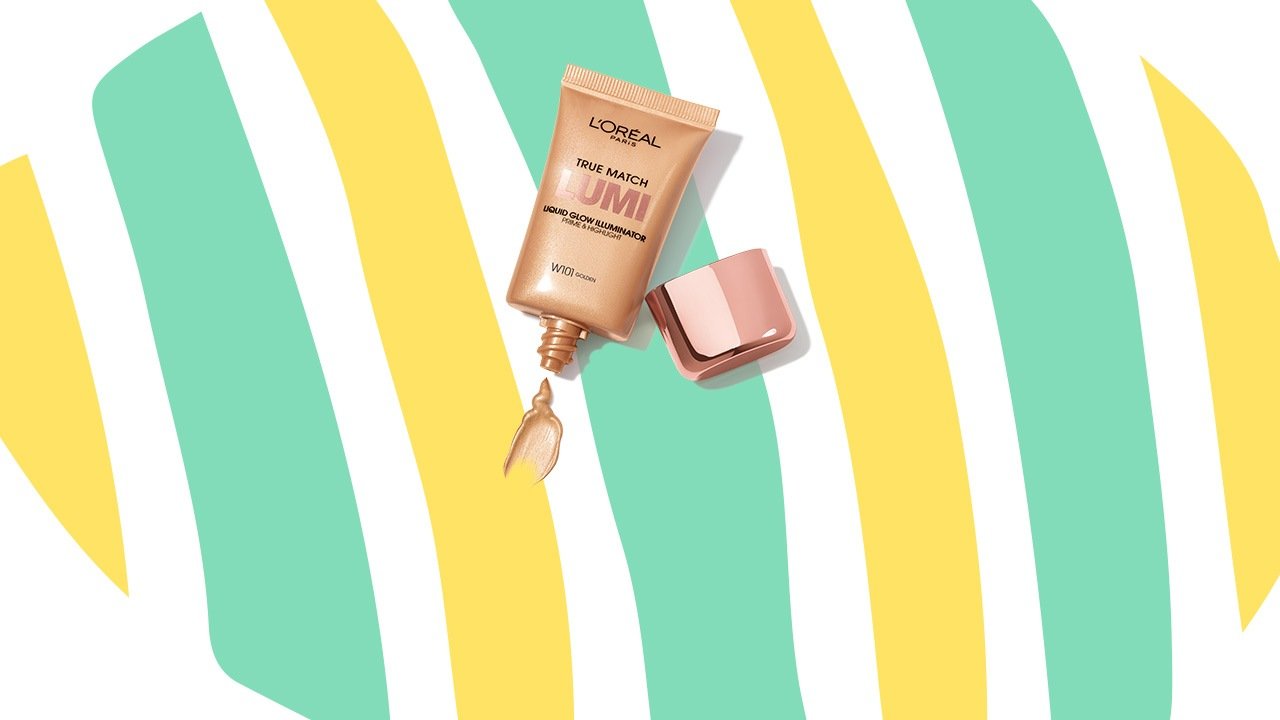 Let's take a moment to appreciate the magic of makeup. That's something we can all agree on, right? You can completely change the appearance of your face with contouring, create a new lip shape with lipliner, and cover imperfections with concealer. There's another makeup-made transformation we have to suggest, though. If a radiant, sun-kissed glow is what you're after, it's time to pick up a highlighter. With the right highlighter pick, you'll be well on your way to temporarily creating the appearance of glowing skin. Here's the scoop on the best highlighter from L'Oréal Paris. Go on and create a sun-kissed glow—any time of the year!
Product Pick: L'Oréal Paris True Match™ Lumi Liquid Glow Illuminator
Get your glow on with the L'Oréal Paris True Match™ Lumi Liquid Glow Illuminator. The multi-use liquid highlighter can be used to open up the look of your the eyes, create the appearance of symmetry, define your face, and prime all over. It's available in three shades—something for every skin tone and undertone—golden, ice, and rose. Pick the shade that best suits you and your complexion, then get started on your sun-kissed skin.
How to use it: Apply all over your face or use as a highlighter. The illuminator can be worn under, over, or mixed with foundation for a variety of looks. Apply with your fingertips or a makeup blending sponge, then blend into your skin.
How to Create a Completely Sun-Kissed Style
Your look may focus on highlighting, but that's not all there is to it. Follow these simple steps to round out your radiant routine.
Step 1: Prime to shine. For makeup that looks better and stays in place, it's a good idea to use a primer first. The L'Oréal Paris Magic Lumi Light Infusing Primer is a prime (pun intended) pick, allowing you to enlighten the look of your complexion while ensuring your makeup goes on smoothly. Worn under foundation, the primer gives a soft light illusion that's fiercely flattering. For another glow-y option, try the L'Oréal Paris Visible Lift Radiance Booster Makeup Primer, which smooths and evens skin while brightening its appearance.
Step 2: Use bronzing makeup. A sun-kissed glow isn't complete without a hint of bronze. Try a wash-off option that allows you to achieve your sun-kissed look without making a major commitment. You can also use self-tanner if you want color that lasts longer.
Step 3: Wear foundation with a glow. Stick with a foundation that leaves skin looking luminous, as a matte finish can detract from your sun-kissed look. Smooth the L'Oréal Paris Infallible Pro Glow Foundation onto your face, being sure to continue the product down to your neck to avoid creating a harsh line.
Step 4: Apply radiant blush. We're sticking with a theme! Instead of using a blush that falls flat, choose one that can contribute to the overall glow of your look. Have your choice from the available L'Oréal Paris Visible Lift Color Lift Blush shades (there are six!), then sweep your color pick onto your cheeks with a fluffy makeup brush.
Step 5: Highlight! You can't forget the star of the show. Use your fingers to dot the L'Oréal Paris True Match™ Lumi Liquid Glow Illuminator above your cheekbones, down the bridge of your nose, on your cupid's bow, and around the inner corners of your eyes, then blend out.
Step 6: Layer your illuminator. Is one highlighter really enough? Not always! To take your glow to the next level, layer a powder illuminator over your liquid highlighter. This can help your glow last longer and shine brighter. Brush the L'Oréal Paris True Match™ Lumi Powder Glow Illuminator onto the same spots you already illuminated. The powder glow-creator is available in the same shades as the L'Oréal Paris True Match Lumi Liquid Glow Illuminator—perfect for layering.
Now, glow forth and shine on!
Put your new highlighter knowledge to good use by mastering the art of strobing. Get tips for this makeup technique by reading our article, How to Strobe for Every Skin Tone.
Discover more tips & tricks
Keep your skin happy
See all articles
Shop Featured Makeup products
Discover More